*Disclosure: some links may contain affiliate links (meaning if you end up purchasing something when you click on the link then I may get a commission on it, with no extra cost to you, of course). For more information on what this means, visit my disclosure page.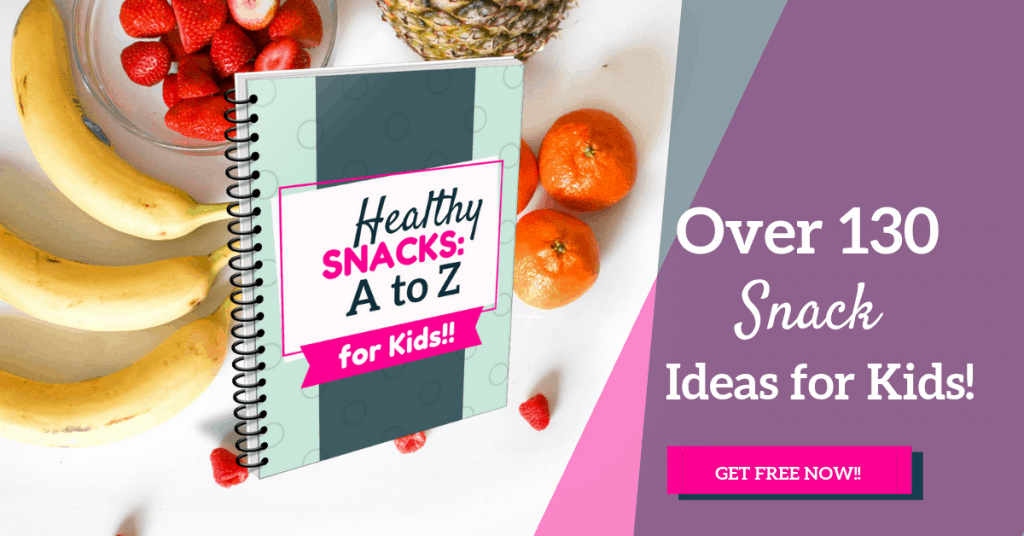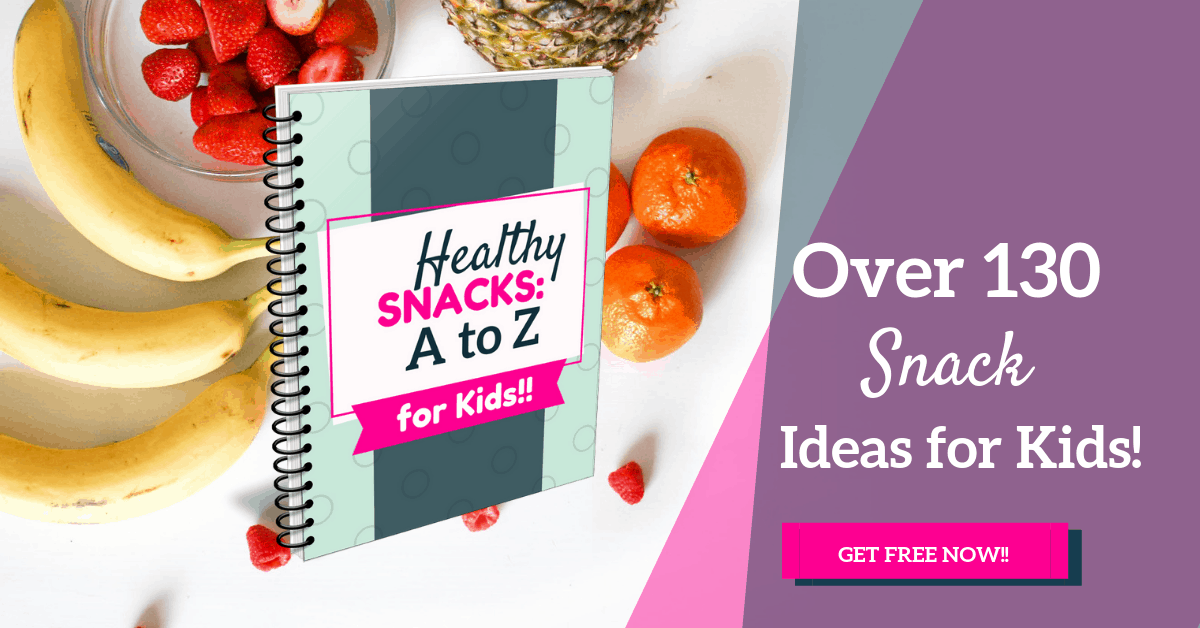 Do you have trouble getting your children to eat healthy snacks throughout the day?
Or have trouble coming up with healthy snacks for your kids?
I used to!
With my girls being picky eaters, especially my 5 year old; I've realized how truly difficult it is to have my girls eat healthy snacks. That's why this past year my two girls and I had an A to Z healthy snack challenge.
Over 26 weeks we came up with over 130 healthy snacks to eat. Some of the snacks immediately became favorite snacks that we all want to have on hand, while others weren't so great. (It may have been a recipe I found, or the fact that it was the first time I tried making it. Don't give up on the ones that didn't work for us!)
Let's have a look back on those 26 weeks, one letter at a time! With each letter, will come at least 5 healthy snacks. So, if you're looking for snacks for your kids at home, or snacks to bring in to your childs school that starts with a specific letter; you've come to the right place!
If you're interested in teaching your little ones the alphabet, with more than the use of snacks, you NEED to check out Prep Through Play: Letters!! Your little one will have tons of fun and conquer learning the entire alphabet in 5 weeks through playing games!
---
Other Related Posts:
10 Amazingly Healthy Things You Can Make with a Nutribullet
 12 Ways to Get Veggies into a Childs Diet
13 of the BEST After School Snacks for Kids
---
Want to Remember This? Pin 5 Snacks For Kids That Start With The Letter J to your favorite Pinterest Board!!

Snacks that Start with J
This week we focused on the letter J. And, I don't know about you, but this was a tough one.
The only fruits/veggies I could think of starting with J was jalapenos and jicama. Jicama was no where to be found in the city I live in, so that was no help, and my girls and I aren't huge fans of jalapenos. But, I attempted to make something with them anyways. Keep reading to find out what and whether or not they turned out.
Almost everything we had this past week was delicious!! I found an amazing homemade jam recipe, that is apparently widely used by vegans, so I'll be sharing that with you!! And, out of everything I made this week, there was only one thing that turned out horribly wrong.
If you would like to catch up with the other letters of the alphabet that have been accomplished with this challenge so far, you can. Go here to check out letter I if you missed that, or head over to the A to Z series homepage!
Juice
On Monday I made orange juice.
Yes, made.
If you're new to this challenge, then I'll let you know that awhile back my husband and I bought a juicer. I've been having a lot of fun with it, making healthy fruit and veggie juice. But, lately I haven't been using it as much, maybe just once or so a week. So, this week I used it more than once and made juice with just oranges.
We hadn't gone grocery shopping for the week yet and that was all the produce we had, besides bananas and frozen produce. It was delicious though. My older daughter could not get enough of it! It was probably a little high in sugar, but in my defense, it was made of only healthy fruit, nothing else.
So, if you have never had fresh orange juice before, go ahead and make this. There are cheaper, smaller versions of juicers for citrus fruit if you don't have a juicer.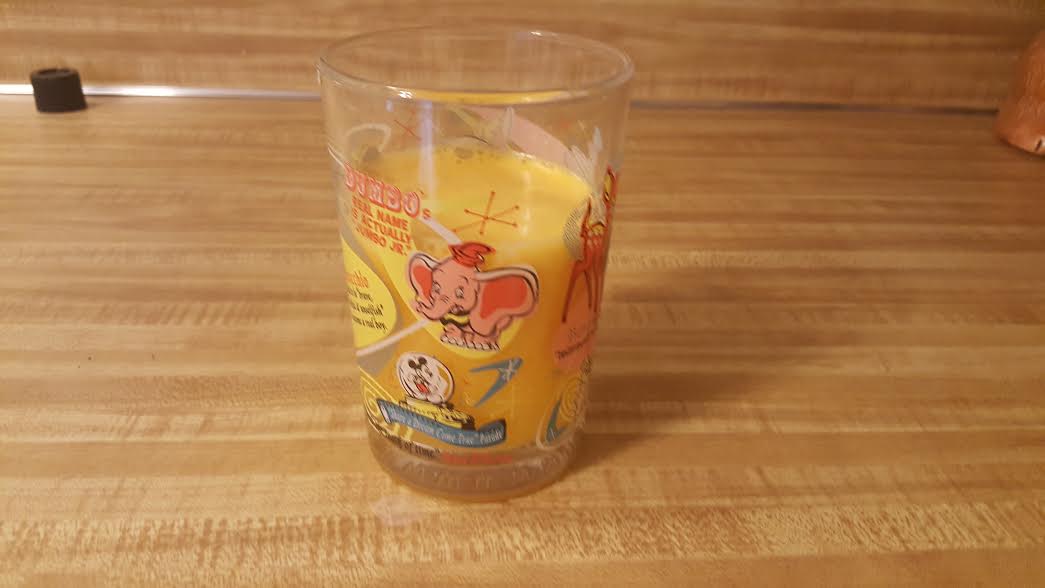 Juice Pops
On Tuesday we had juice pops.
I worked smarter, not harder this week. I took some of the juice I made on Monday and poured it into our crayola popsicle molds. We let them freeze overnight, and by morning we had some very yummy juice pops.
My girls enjoyed them very much. I would have enjoyed one, too. But, one of the popsicle molds from the set went missing during one of our moves, so we only had two pops. My older daughter did share a little with me, so I was able to taste it. And, I have to say, they were way better than store bought popsicles, and healthier; only one ingredient!
If you have never tried making your own popsicles and you're trying to eat healthier, now is the best time; it's almost summer! Home made popsicles, whether you make a smoothie and then use that for the popsicle, or however you would make them; they are yummier and healthier than store bought alternatives. Although, the ice pops we had last week were pretty healthy; no preservatives and made of all fruit.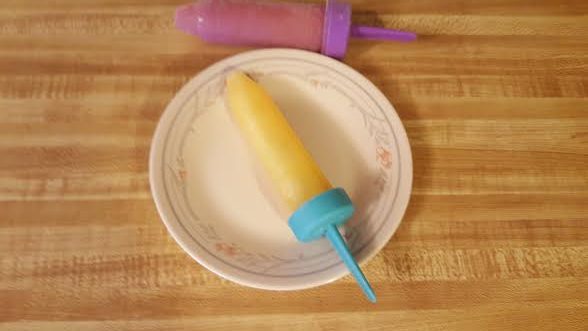 Jam
On Wednesday I made jam.
At first, I didn't think I'd be able to find a home made jam recipe that was vegan. Apparently, I was missing something in my thought process because store bought jam doesn't have gelatin in it, why would home made jam have gelatin in it.
After typing in vegan jam into google and pinterest, I found one recipe that was repeated multiple times by multiple people. It was a vegan recipe for jam!! So simple and easy to make; it took me only a couple minutes to put together, too.
All you need is 1 cup fruit (I used mixed berries), 1 tablespoon chia seeds (for their gelatinous characteristic), 2 tablespoons pure maple syrup, and some warm water. Blend all the ingredients together and let sit in the fridge til somewhat firm, maybe a couple of hours. You can double or triple the recipe as needed. If you're using frozen fruit, like I did, make sure it's defrosted before mixing it with the other ingredients.
I may have said this already, but this jam isn't only vegan, but absolutely delicious! And, so easy to make. It can be put on anything! In the picture, I put it on toast. Since making it, my girls and I have used it for peanut butter and jelly sandwiches, a topping for pancakes (we ran of out maple syrup making jam), and more!
Jam Muffins
On Thursday we used the jam we made on Wednesday and made jam muffins!
The recipe I used made 18 muffins! This could be a good thing, or bad.
I tried to save some so that my girls and I could have some on mothers day. But, seeing as how they disappeared yesterday (Friday), even with keeping them in the freezer, I'll have to find something else to bake for us for mothers day. It may not happen…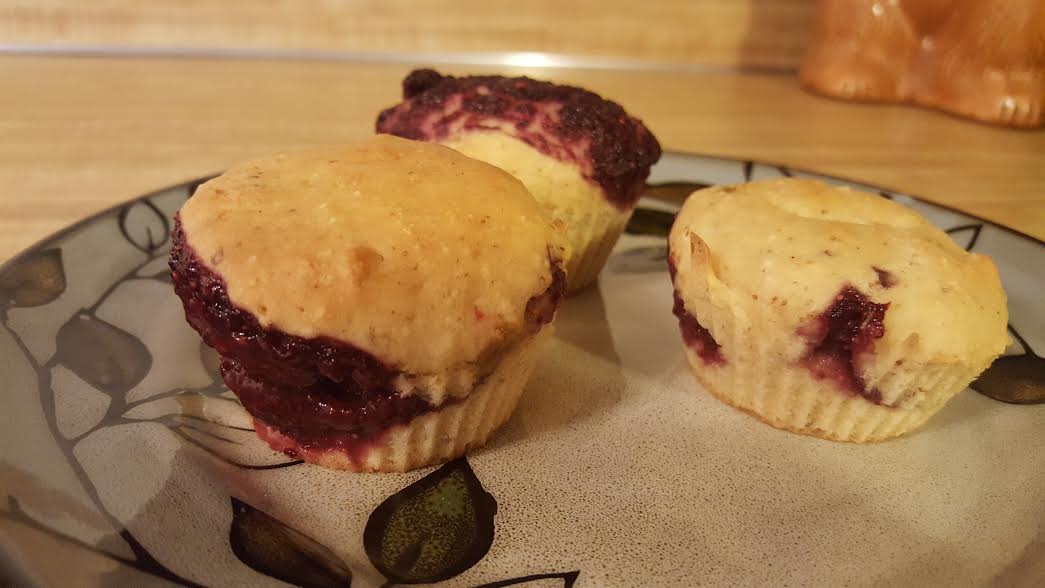 Jalapeno Breakfast Muffins
My silicone baking cups were busy this week, two muffin recipes in one week!
Friday was the day I made jalapeno breakfast muffins. And……they were disgusting.
My older daughter was the first to try them. She's always the first to try the food in these letter challenges, I think it's rubbing off on her. I can get her to try just about anything now. If she doesn't feel like trying something, all it takes to get her to try  is reminding her of the Daniel Tiger's Neighborhood episode of when he had to try new food. Then she's all about it again.
Plus, she loves it when I take pictures of her snacks first. She sometimes asks me to take pictures of her food; her excuse being that it's healthy and I take pictures of her healthy snacks.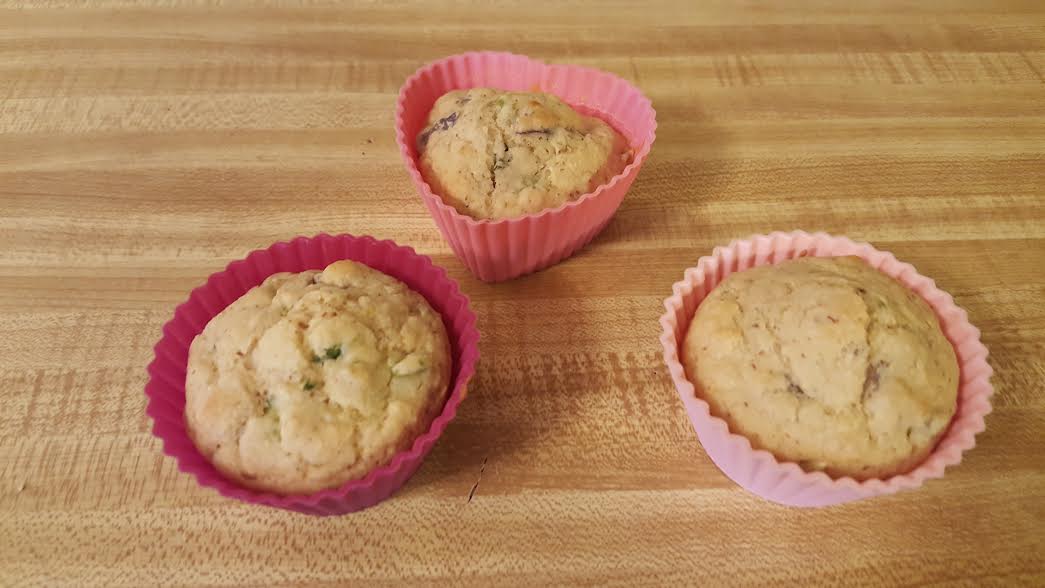 Kids are so cute, and grow up way too fast. But, to sum up this past week with a list,
5 SNACKS THAT START WITH J
Juice
Juice Pops
Jam
Jam Muffins
Jalapeno Muffins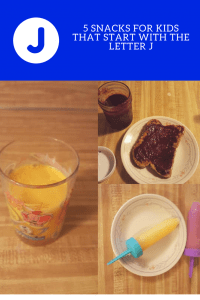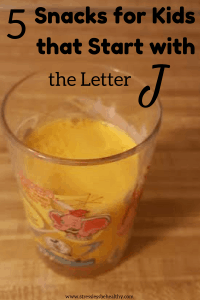 Please share if you found this useful. Go ahead and try this challenge out yourself with your kids; we all know it can be a challenge to get our children eating healthy, and the more options we have to choose from, the more we can all be successful at finding something they will actually eat!!
It's easier to show them how delicious fruits and veggies are now, than waiting til they're older and hoping they will eat healthy. This is something we need to teach them and lead by example with.
If you would like to find out all of the other snacks we had on this challenge, from the rest of the alphabet, you can:
Leave a comment with other snacks that start with the letter J. And, don't forget to check out snacks that start with the letter K!
---
Or, if you want an amazing bundle to help yourself and children be healthy, check out this bundle I created specifically for moms who want their children to eat better!
Don't forget to check out Prep Through Play: Letters to teach your little ones the entire alphabet through fun games you can play with them. It's like a mini curriculum to help get them ready for school!!