*Disclosure: some links may contain affiliate links. For more information on what this means, visit my disclosure page.
Do you have trouble getting your children to eat healthy snacks throughout the day?
Or have trouble coming up with healthy snacks for your kids?
I used to!
With my girls being picky eaters, especially my 5 year old; I've realized how truly difficult it is to have my girls eat healthy snacks. That's why this past year my two girls and I had an A to Z healthy snack challenge.
Over 26 weeks we came up with over 130 healthy snacks to eat. Some of the snacks immediately became favorite snacks that we all want to have on hand, while others weren't so great. (It may have been a recipe I found, or the fact that it was the first time I tried making it. Don't give up on the ones that didn't work for us!)
Let's have a look back on those 26 weeks, one letter at a time! With each letter, will come at least 5 healthy snacks. So, if you're looking for snacks for your kids at home, or snacks to bring in to your childs school that starts with a specific letter; you've come to the right place!
If you're interested in teaching your little ones the alphabet, with more than the use of snacks, you NEED to check out Prep Through Play: Letters!! Your little one will have tons of fun and conquer learning the entire alphabet in 5 weeks through playing games!
---
Other Related Posts:
10 Amazingly Healthy Things You Can Make with a Nutribullet
12 Ways to Get Veggies into a Childs Diet
13 of the BEST After School Snacks for Kids
---
Want to Remember This? Pin 5 Snacks For Kids That Start With The Letter A to your favorite Pinterest Board!!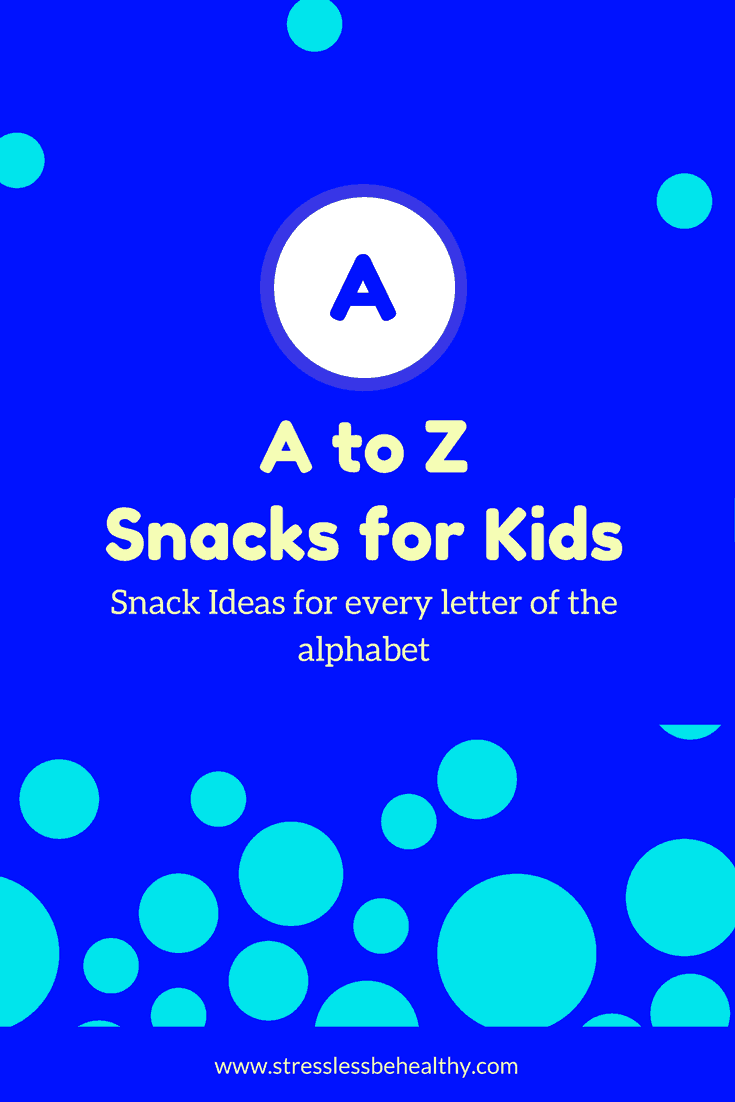 Letter A
Having children is, to say the least, interesting, and amazing. And I don't know about you, but I get so excited when my one year old says a word. It's such an exciting time for little ones, and parents, when little ones start to talk and understand what others are saying! During our A to Z healthy snack challenge, my 14 month old (at the time) was saying ba ba ba ba when I was making apple sauce, so I started saying apple, apple, apple, to her. And guess what, she said apple, clear as day! It was so cute, luckily my husband was in the kitchen too and was able to hear it.
That was a great ending to a week, or I should say to A week. The challenge this week was to get myself and my girls to eat more fruits and veggies that started with the letter A. This week wasn't too challenging (thanks to apples), some weeks will be harder, like Q.
I know it's hard sometimes to find healthy food, or fruits and veggies, that your kids will actually eat. So, during this challenge, I will provide you with 5 different options each week to try to get your little guys, or girls, to eat a little better!
Apples with Cinnamon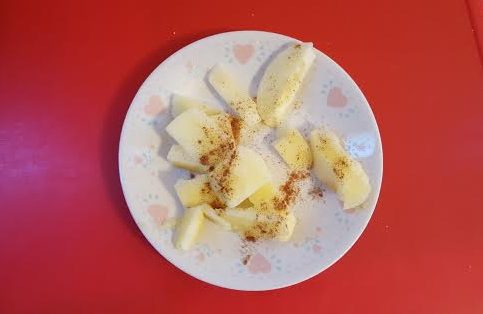 This week was quite easy.
Who doesn't have a favorite apple recipe?
My older daughter told me that in her pre k class her teachers would give her apples with cinnamon, and she absolutely loves apples like this!
Therefore, I kept the first day that simple. Per her request, we had sliced apples with cinnamon and everyone loved them!!
Surprisingly Delicious Apple Muffins
The next day, Tuesday, I was much more adventurous.
I attempted to make my own recipe and bake muffins!
And I had an amazing result! Much better than expected, seeing as how all I did was throw a bunch of ingredients together and hoped for the best!
The apple muffins that I created this day were absolutely delicious.
Check out the Recipe Here: Surprisingly Delicious Healthy Apple Muffin Recipe!!!
But, let me just warn you, these do not last very long, mine barely lasted two days. And the recipe makes about 18 muffins.
I love freezing muffins and saving them for a later date when I'm craving them, so all I have to do is reheat them! Saves on time, and if we were to limit ourselves to one or two a day, it'd save us money on snacks, too. Unfortunately, I did not get a chance to try that out with this recipe yet. No point in freezing something that's going to disappear in a few days!
Apple with Peanut Butter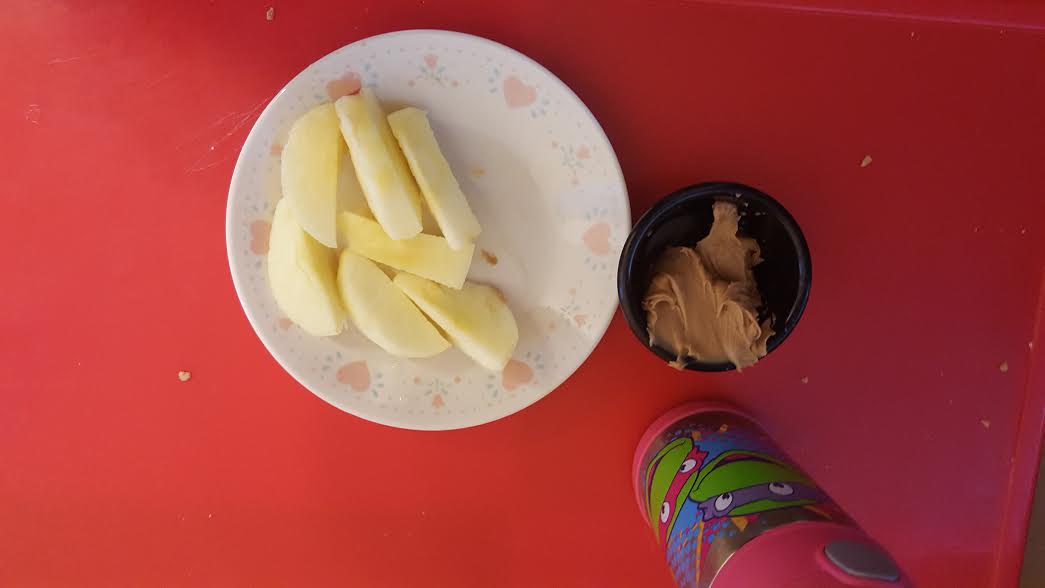 Wednesday was simple again.
And again, this is one of my older daughters favorites.
Apples with peanut butter!
This may not be appropriate for children under one, but my five year old loves this simple snack.
Although, she'd also eat spoonful after spoonful of peanut butter if I let her. And yes, that is her pink ninja turtle water bottle. She loves ninja turtles, too!
Avocado and Tomato Sandwich
Thursday was more of a meal than a snack, and doesn't involve apples. Instead, it involve avocados! Another fruit that starts with the letter A, and a healthy fat.
I started feeding my girls avocados when they were babies, it was the second or third food I had them try, and they love them! My girls will eat avocados plain, right out of the skin, using the skin as bowl. But I wanted to make something a little more advanced than plain avocado.
You may even like this one yourself, I know I do!
I made avocado tomato sandwiches!
They are pretty simple to make, not as simple as cutting an avocado in half, taking out the pit and handing it to your kid.
If you've never made an avocado tomato sandwich before, I'll tell you how I make mine.
First, take two pieces of bread and put them in the toast them, and toast them to your liking.
Then use the avocado like you would butter and spread it over both slices of bread.
Next, slice up a tomato and lay the slices on one piece of bread.
I then take a garlic sea salt mixture and sprinkle over both pieces of bread with avocado and tomato.
Then close the sandwich and enjoy!
Pretty simple, isn't it.
You can get the full recipe here: How to Make Awesome Avocado and Tomato Sandwiches
Homemade Applesauce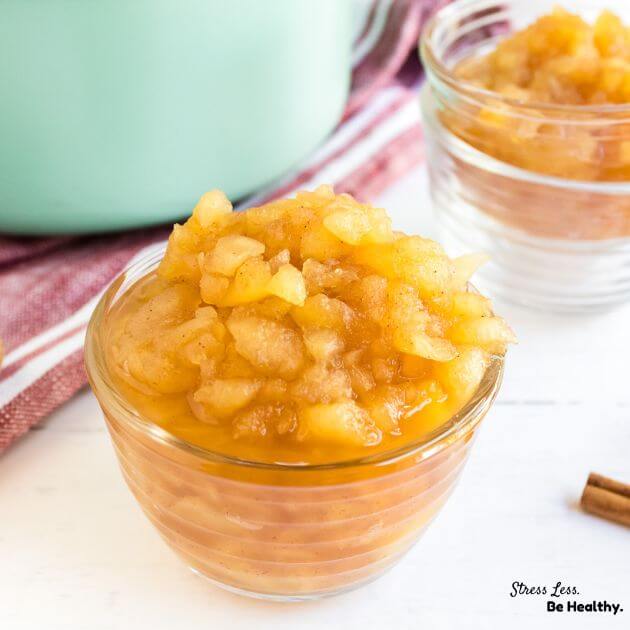 Friday was another day for one of my five year olds favorites!
I used to think I could never make good homemade applesauce. But then I tried making it a few different ways and I discovered a way to make sure it always turns out delicious!
What I do is:
peel the apples
then slice them up small into a pot
add some water
turn the stove onto medium to low heat
instead of using a spoon to stir, use a whisk; this will help chop up the apples even more when they are soft enough
when its almost done, sprinkle some brown sugar and cinnamon on top if you want it to be sweet
You need to add just enough water so that you can see it, but not so much that you're drowning the apples. Good consistency is key when making good applesauce.
Check out the full recipe here: My Simple Homemade Applesauce (that you'll regret not making)!!
And there you have it. The first week of the challenge complete. To sum it all up quickly with a list.
5 Snacks that Start with the Letter A
Apples with cinnamon
Apples with peanut butter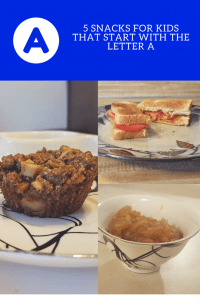 Please share if you found this useful. Go ahead and try this challenge out yourself with your kids; we all know it can be a challenge to get our children eating healthy, and the more options we have to choose from, the more we can all be successful at finding something they will actually eat!!
It's easier to show them how delicious fruits and veggies are now, than waiting til they're older and hoping they will eat healthy. This is something we need to teach them and lead by example with.
If you would like to find out all of the other snacks we had on this challenge, from the rest of the alphabet, you can!
Leave a comment with other snacks that start with the letter A. And, don't forget to check out snacks that start with the letter B!
---
Don't forget to check out Prep Through Play: Letters to teach your little ones the entire alphabet through fun games you can play with them. It's like a mini curriculum to help get them ready for school!!