*Disclosure: some links may contain affiliate links (meaning if you end up purchasing something when you click on the link then I may get a commission on it, with no extra cost to you, of course). For more information on what this means, visit my disclosure page.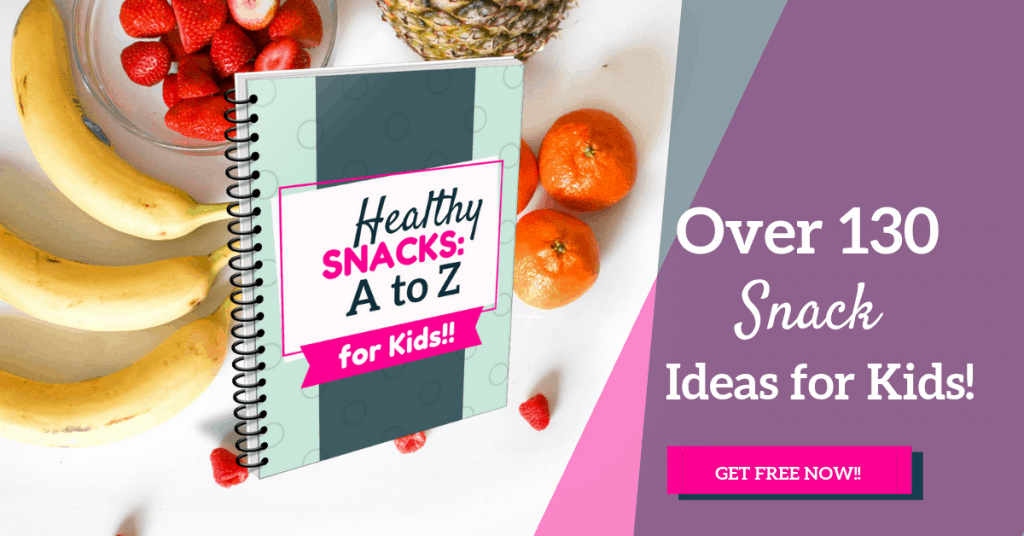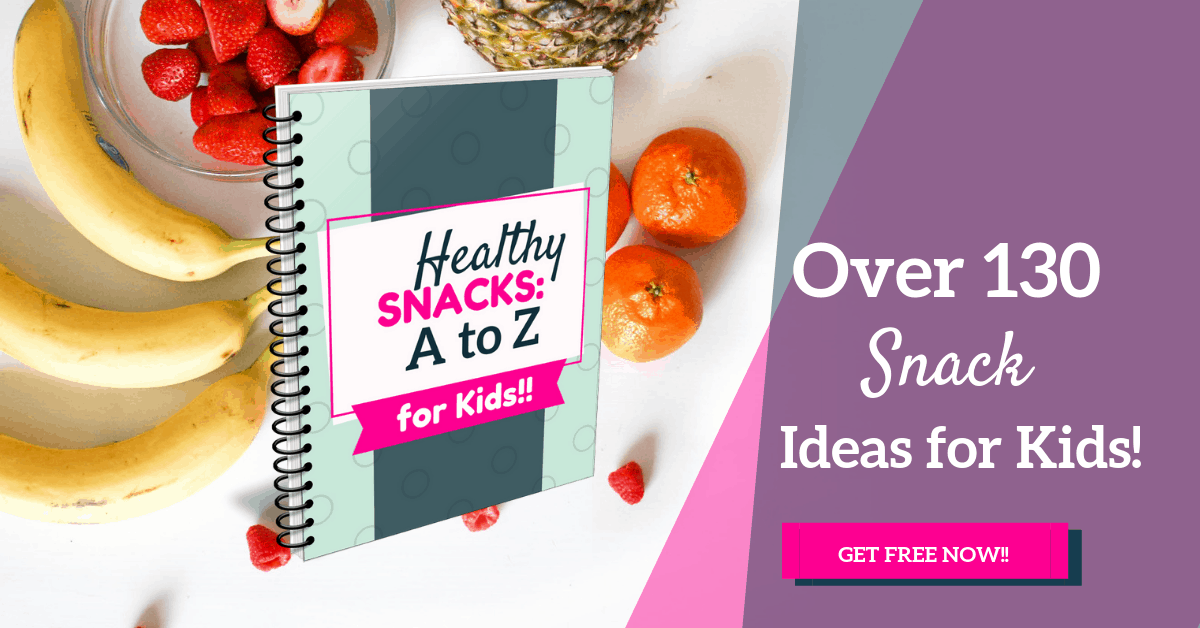 Do you have trouble getting your children to eat healthy snacks throughout the day?
Or have trouble coming up with healthy snacks for your kids?
I used to!
With my girls being picky eaters, especially my 5 year old; I've realized how truly difficult it is to have my girls eat healthy snacks. That's why this past year my two girls and I had an A to Z healthy snack challenge.
Over 26 weeks we came up with over 130 healthy snacks to eat. Some of the snacks immediately became favorite snacks that we all want to have on hand, while others weren't so great. (It may have been a recipe I found, or the fact that it was the first time I tried making it. Don't give up on the ones that didn't work for us!)
Let's have a look back on those 26 weeks, one letter at a time! With each letter, will come at least 5 healthy snacks. So, if you're looking for snacks for your kids at home, or snacks to bring in to your childs school that starts with a specific letter; you've come to the right place!
If you're interested in teaching your little ones the alphabet, with more than the use of snacks, you NEED to check out Prep Through Play: Letters!! Your little one will have tons of fun and conquer learning the entire alphabet in 5 weeks through playing games!
---
Other Related Posts:
10 Amazingly Healthy Things You Can Make with a Nutribullet
 12 Ways to Get Veggies into a Childs Diet
13 of the BEST After School Snacks for Kids
---
Want to Remember This? Pin 5 Snacks For Kids That Start With The Letter D to your favorite Pinterest Board!!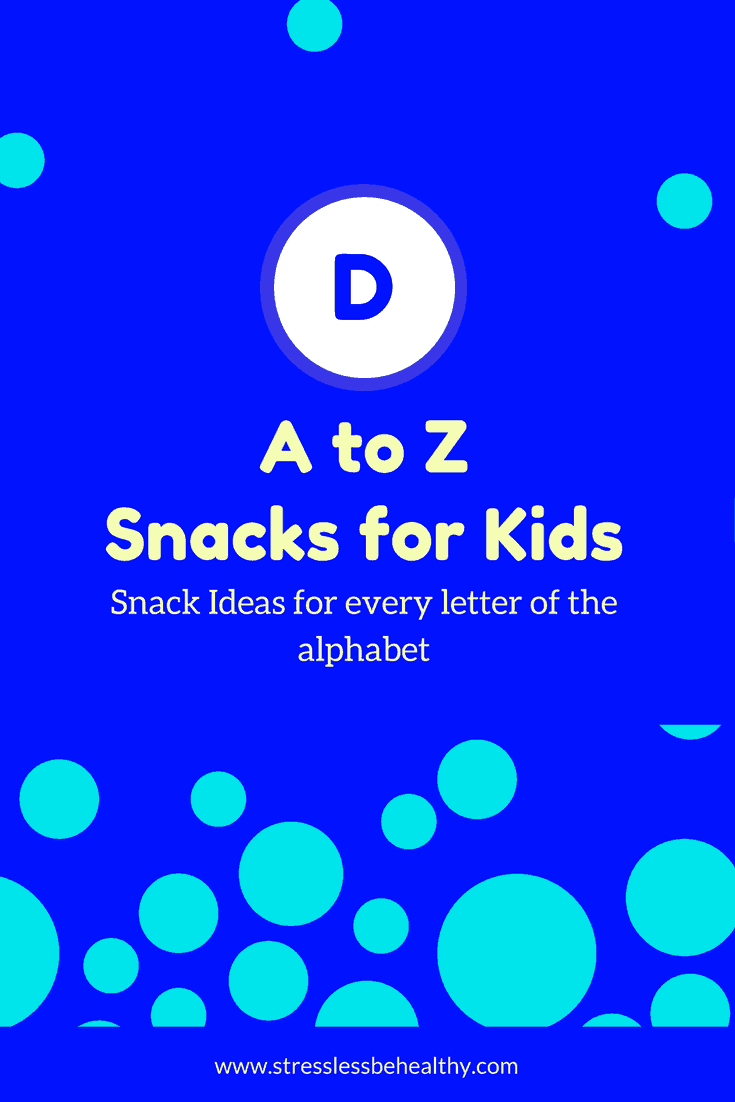 Letter D
We made it to the fourth week of this series! And this past week has been a challenge.
There are not many fruits and veggies that start with the letter D. And, unfortunately, there was no dragon fruit to be found anywhere near me.
But, I was still able to come up with 5 snacks this past week that, creatively, start with the letter D. Even if the snack is just described with the letter D.
If you missed last week, you can catch up here for the letter C.
To start off the week my girls and I had diced veggie vegan burritos, which could be considered a snack or a full meal. It just depends on how much you have.
We had it as a meal, everyday of the week.
My recipe makes a lot, especially when only feeding myself and two little girls under the age of 5. The good news is, if you have a larger family, or older kids(teenagers), it should be enough for a meal for everyone.
This is also a super simple meal. The longest part for making it is honestly, making the rice. So, if you already have that cooked on hand you could make this practically as fast as you can dice veggies.
Check out the full recipe here: Delicious Diced Veggie Vegan Burritos
Delicious Fresh Juice
On Tuesday we did something crazy!!
We bought something that I had actually wanted for over a year now!
And, I can proudly say that we have used it everyday since it has been bought.
We bought a juicer!!
Thanks to the documentary Fat, Sick, and Nearly Dead. 
Apparently, my husband was watching this while I was; I had no idea. I thought he was just reading articles on his phone, until he apparently had enough and wanted to try juicing. The juicer we bought wasn't too expensive either! And, the juice itself is amazing, we haven't had a bad tasting juice yet!! It doesn't matter what fruits and veggies we combine, everything tastes so good.
I'll let you know what we put in our juice the first day; that was the only day I actually wrote down what went in it.
One key to juicing is the order the produce is put in. We always put in leafy greens(or spinach) first, then any berries, then harder/juicier fruits and veggies. If you buy a juicer, it'll come with directions about this and what not to put through it (like bananas).
Remember to stir after everything is juiced, no matter how pretty it looks.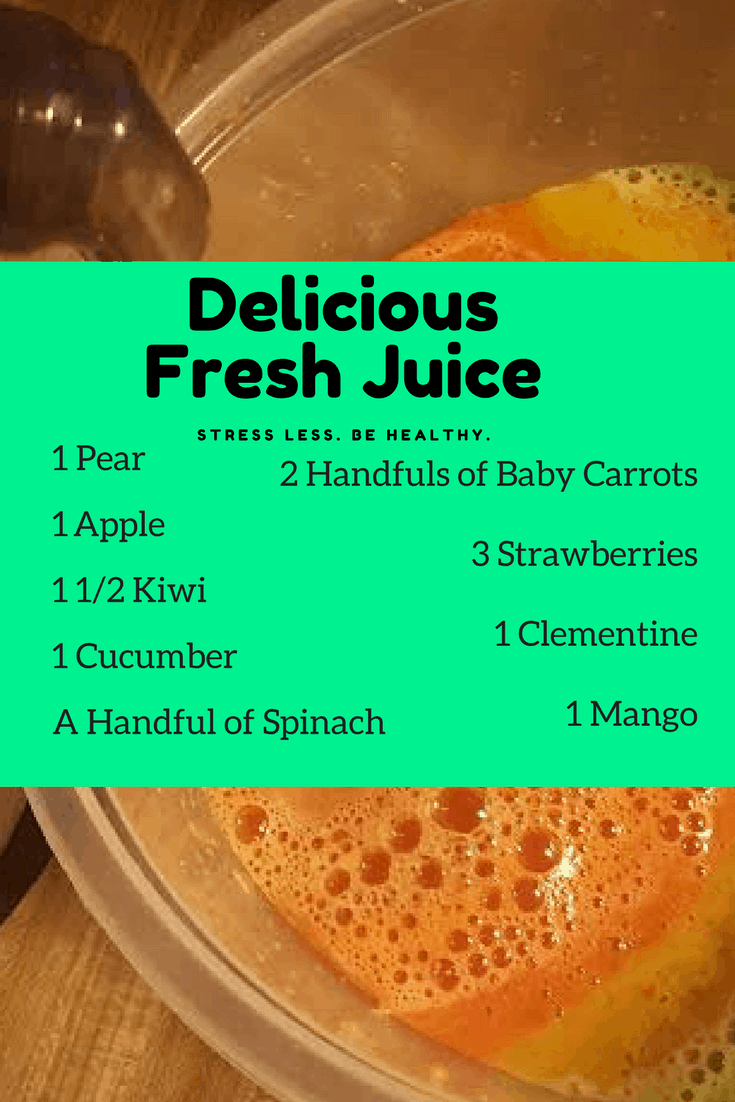 Dried Cranberry Muffins
On Wednesday we had dried cranberry muffins.
I really wanted to make some type of "healthy" donut this week for the letter D. But, I don't have a donut mold and there aren't any sold in any stores near me. I know this because I looked…and I didn't have the time to wait for it in the mail. Maybe sometime in the future.
So instead, I found a donut muffin recipe, which is actually pretty healthy. I used pear puree instead of oil, and added in dried cranberries for the letter D. And, it actually turned out better than I had thought! My four year old wasn't impressed. My one year old was, though! I've never seen her eat anything so fast!
Everyday after, when I heated these up in the morning for myself, my one year old would immediately wake up and beg for mine. Good thing I heat up two at a time!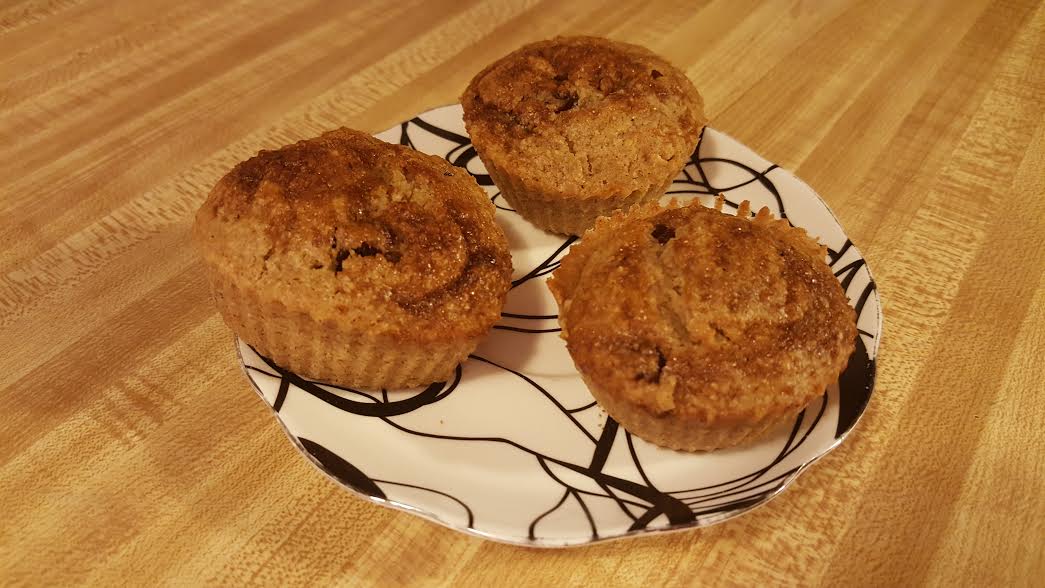 Date Shake
Thursday was simple.
I used another recipe that I found and simply removed one ingredient. Plus, I've been using my new juicer everyday; it seemed as if I was neglecting my nutri-bullet. Which I still love, and have not replaced (I've had it for 4 years and it's still going strong)!
For morning snack; we had date shakes.
This was actually really easy to make. Just add frozen bananas, dates (make sure they are softened), and some soymilk to your nutri-bullet, or blender, and blend.
It's that simple, and super delicious.
The dates add extra sweetness. I loved it, and if we hadn't used the rest of the dates up on Friday; I would've made it again. Just make sure the dates are soft, soak them in water for awhile if they're not. Or, if you want them soft quicker, you could always boil them and then let cool completely before making.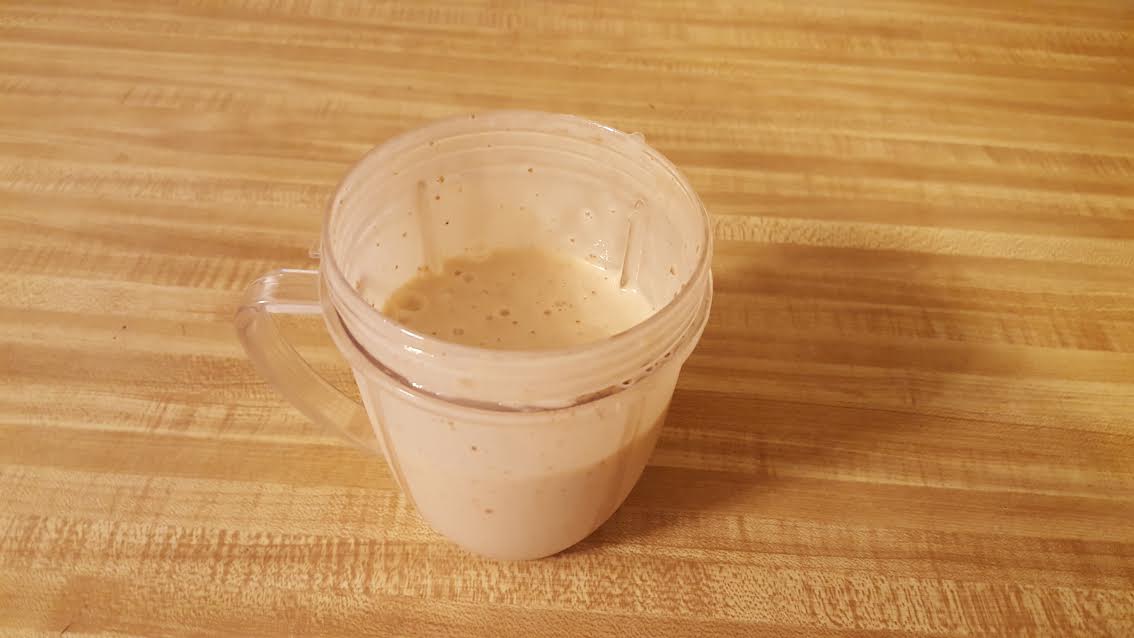 Date and Cashew Bars
On Friday we used up the rest of the dates.
My older daughter is not a fan of dates. She didn't like the date shake from Thursday or the date and cashew bars Friday.
However, I did, and you and your children may, as well! You do need a food processor to make these. I also recommend soaking both the cashews and dates before making these. I made a double batch, not knowing I was going to be the only one eating them. But, for one batch, it makes about 4 small bars. You just need 2/3 cup dates, 1/4 cup cashews, and a drop or two of vanilla. Blend well in a food processor, you want it to be sticky. Then remove and flatten down, cut into bars, keep in fridge to store, and enjoy!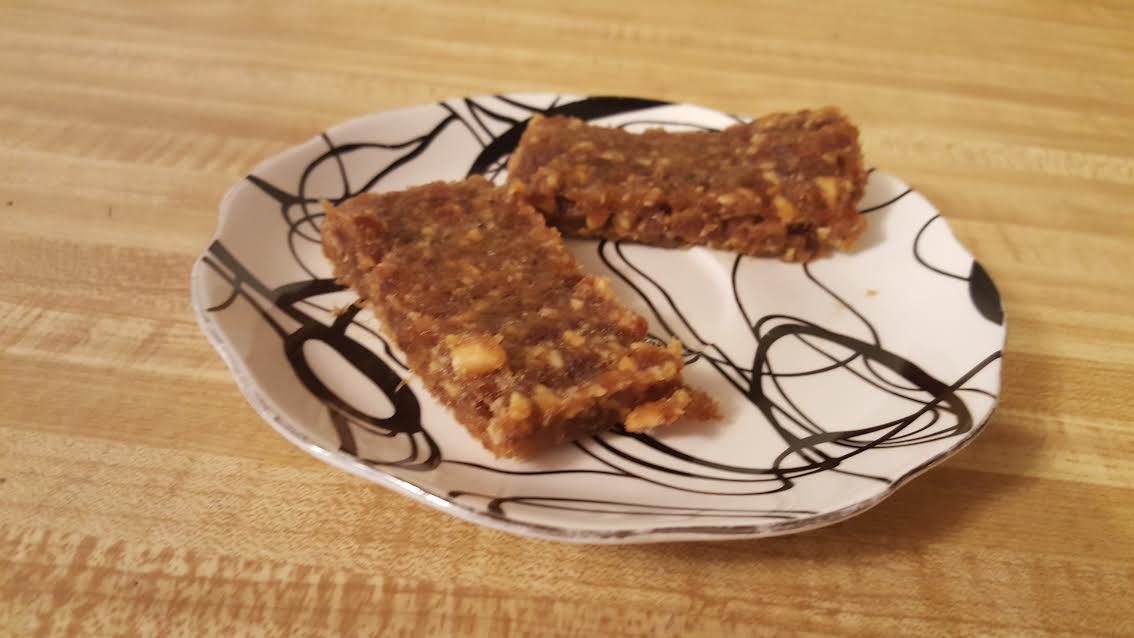 Ok, so this week didn't impress my older daughter as much as the other weeks have. But, she did love the fresh juice. And she loves it so much that she drinks it every night with my husband and I. I would give it to my younger daughter as well, but it doesn't come out of her sippy cup well. And anytime I tried giving it to her in a regular cup, she would take the cup and dump the small amount I had given her. Maybe in a few months she can start drinking it.


To sum up this past week with a list,
5 SNACKS THAT START WITH D
Delicious Fresh Juice
Dried Cranberry Muffins
Date Shake
Date and Cashew Bars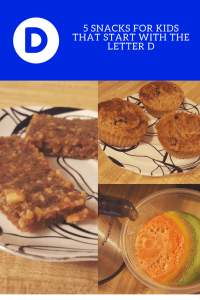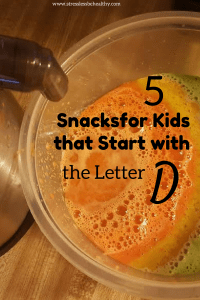 Please share if you found this useful. Go ahead and try this challenge out yourself with your kids; we all know it can be a challenge to get our children eating healthy, and the more options we have to choose from, the more we can all be successful at finding something they will actually eat!!
It's easier to show them how delicious fruits and veggies are now, than waiting til they're older and hoping they will eat healthy. This is something we need to teach them and lead by example with.
If you would like to find out all of the other snacks we had on this challenge, from the rest of the alphabet, you can:
Leave a comment with other snacks that start with the letter D. And, don't forget to check out snacks that start with the letter E!
---
Or, if you want an amazing bundle to help yourself and children be healthy, check out this bundle I created specifically for moms who want their children to eat better!
Don't forget to check out Prep Through Play: Letters to teach your little ones the entire alphabet through fun games you can play with them. It's like a mini curriculum to help get them ready for school!!