*Disclosure: some links may contain affiliate links. For more information on what this means, visit my disclosure page.
Apple Cinnamon Oatmeal Recipe
What's better than some nice warm apple oatmeal on a cold fall morning?
Not much!
Just imagine, waking up to clean dishes. Throwing together a few simple whole ingredients into a pot and letting them cook; making your home smell like fall with the scent of apple and cinnamon flowing through out.
And, in just about 15 or so minutes, you have a healthy home made breakfast ready and on the table as the chaos of your day begins!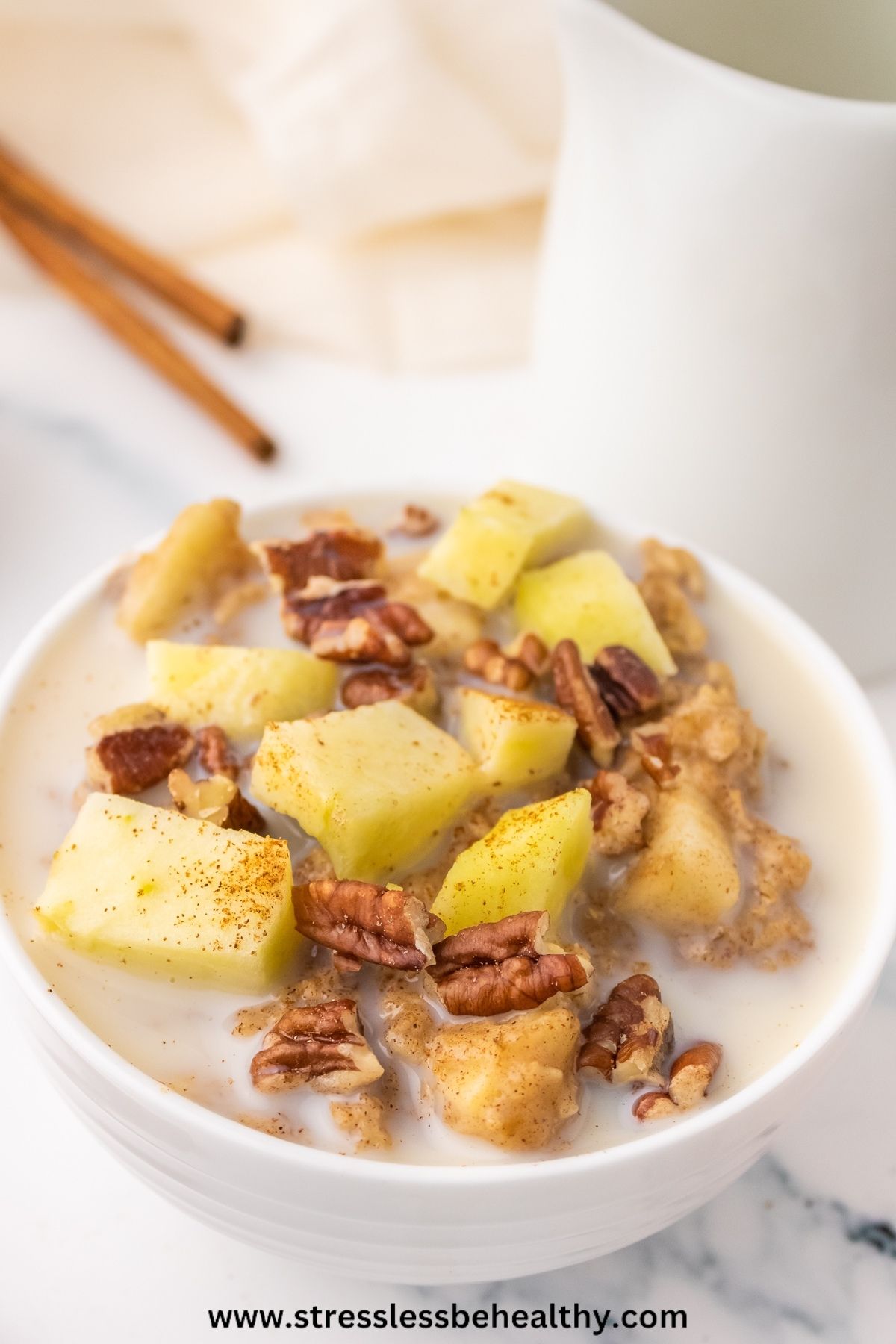 Between the delicious cinnamon lure into the kitchen in the early morning (you know, for your kids, because you're probably the one making it), to all the health benefits this breakfast serves up; it's no wonder this is a favorite in my household. Even my picky eater will ask for this in the morning!
Related Posts:
Why Oatmeal?
This oatmeal recipe is a go to breakfast in my home. Why?
it's super easy to make, I'm sure my six year old could make it herself if I cut up the apples
it's cheap ($3 for a large container of oats, $3 or 8-9 apples, $2 for a thing of cinnamon, $2 for a bag of brown sugar- all of these ingredients could potentially last up to a month or longer)
it's filling, no 'mom, I'm hungry' as you start to walk out the door to take your kids to school
it is super healthy for you and your kids!
Oatmeal claims many health benefits for those who eat it. In contains quite a few nutrients, such as fiber, vitamins, minerals, antioxidants, and even protein.
Since it's so filling, it's known for helping people lose weight because they are satiated and don't need to keep eating. I even grind oats into flour for some Christmas cookies so they last longer and my girls and I don't eat the whole batch in one sitting!
Apples and cinnamon have their health benefits as well, such as additional antioxidants, fiber, and anti-inflammatory properties.
Let's Make Apple Cinnamon Oatmeal!
Start by measuring out your oats and water; put them in a pot on the stove. DON'T turn the stove on yet.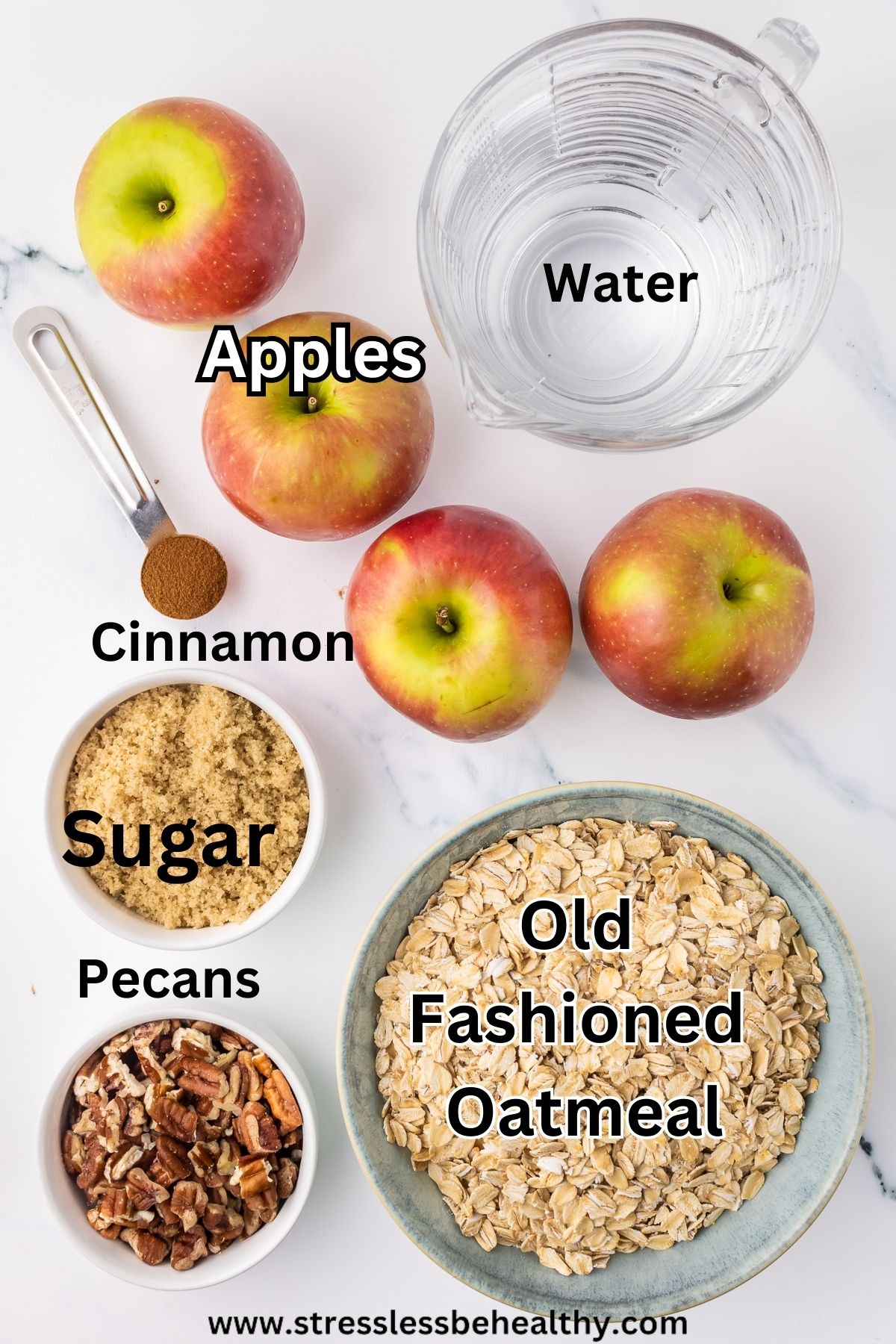 Peel and chop up two apples and pour into the pot. You can dice these, or simply slice them into the pot as to not dirty a cutting board. That's what I like to do.
I've experimented before with adding my simple homemade applesauce in with the oats and extra cinnamon, but the slight crunch of fresher apples makes this oatmeal the best. So, just cut up and add the apples when you make this.
Add half the cinnamon.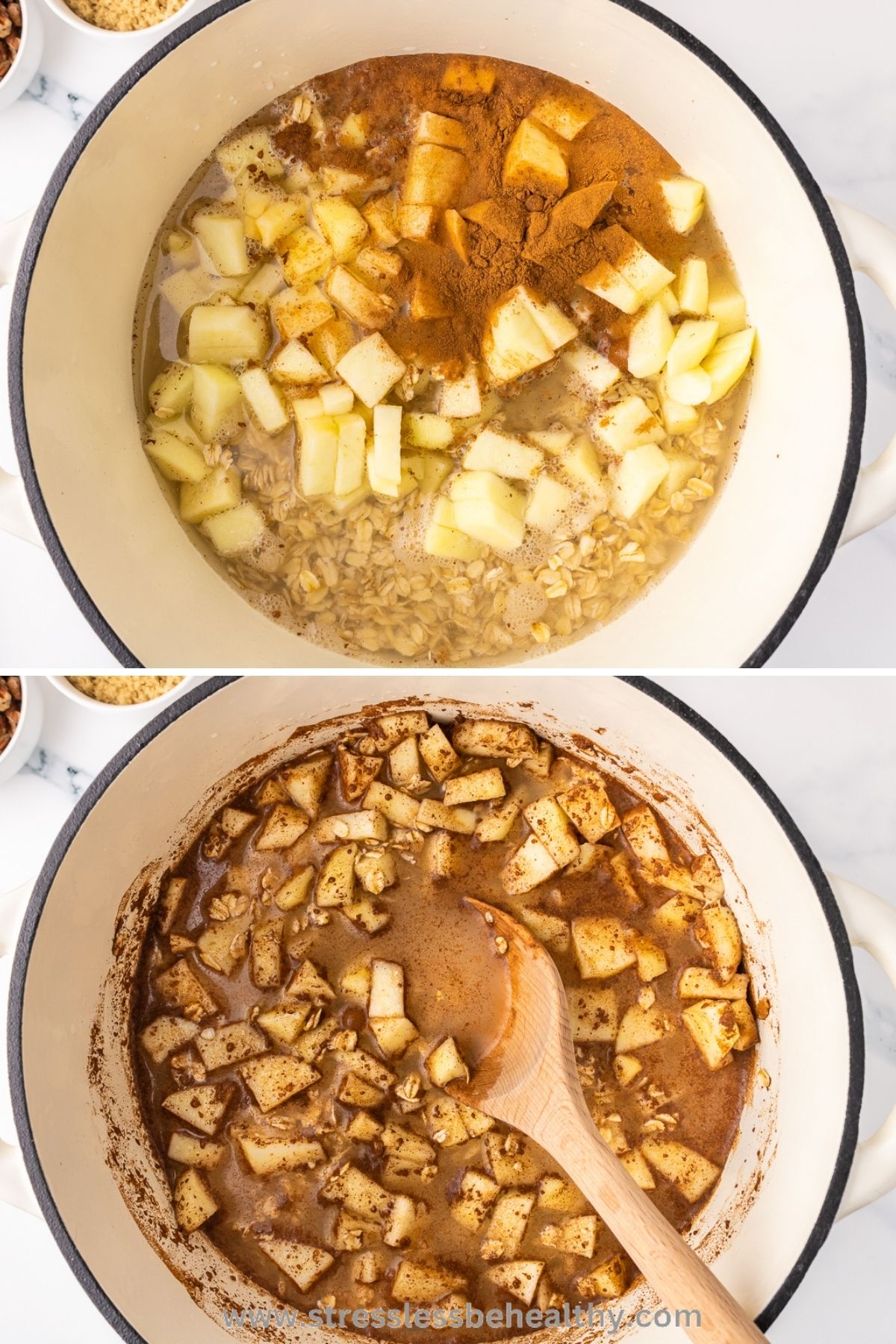 NOW, turn the burner the pot is on onto medium heat and let it cook. You don't need a cover on the pot, just let it cook and stir occasionally. Don't let it stick to the bottom.
Once it's thickness is to your liking, go ahead and turn the heat off.
Add in the rest of the cinnamon and the sugar.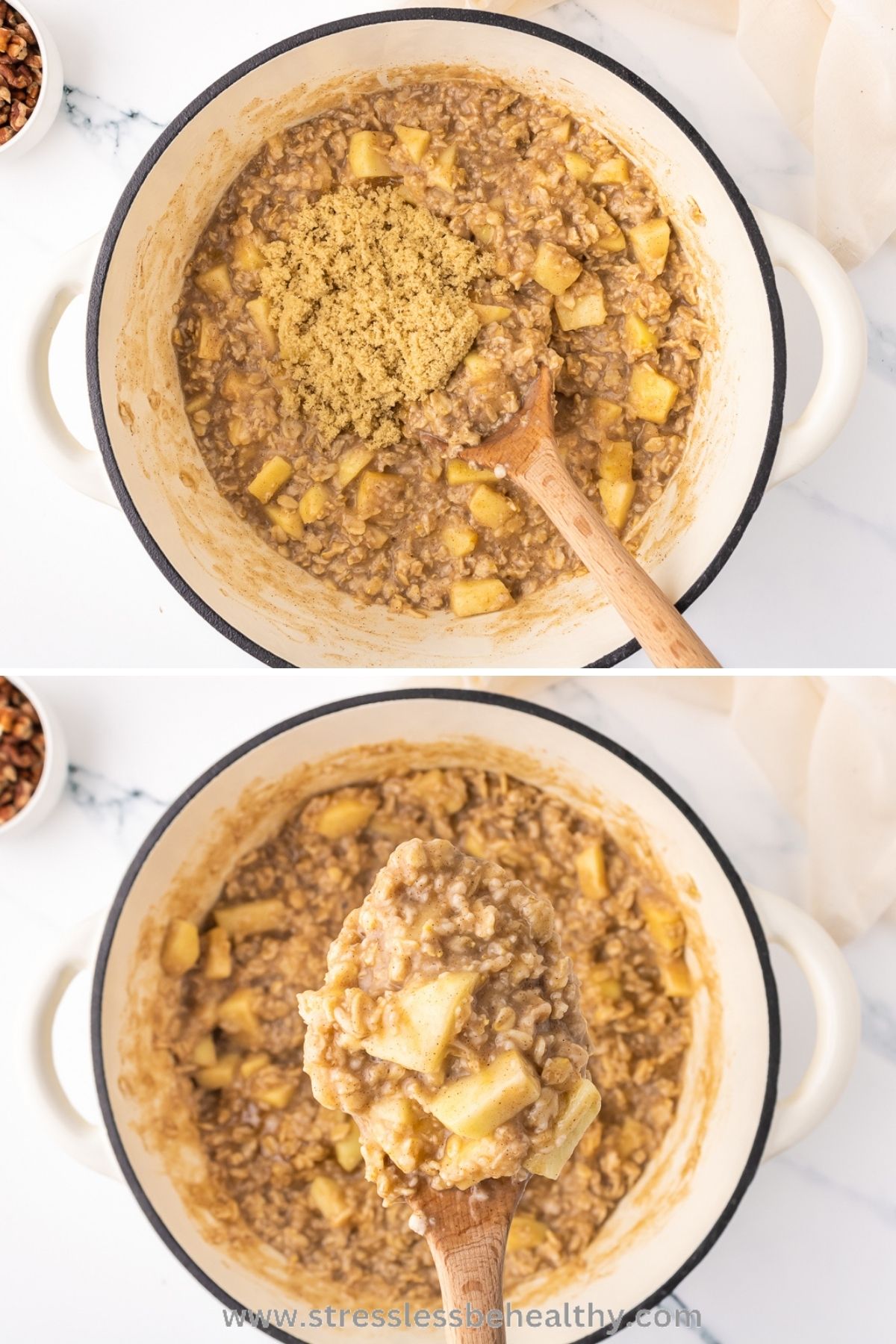 Stir, serve, and enjoy!
See, super simple!
I hope you and you children enjoy this healthy recipe as much as my girls and I do.
Feel free to leave out the raisins if it's not to your liking. I feel like they get omitted every other time I make this depending on what type of mood we're in, and whether we have them or not.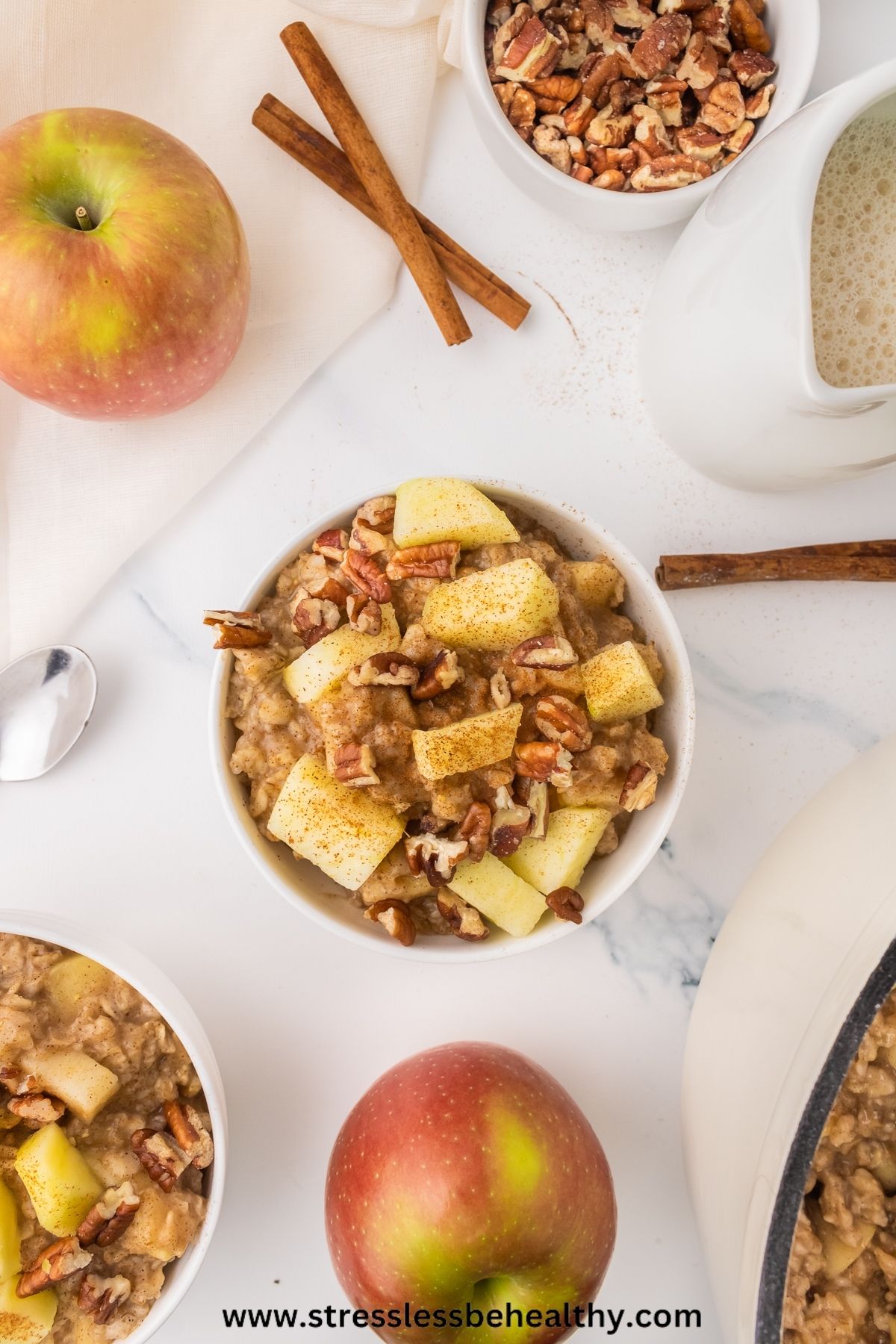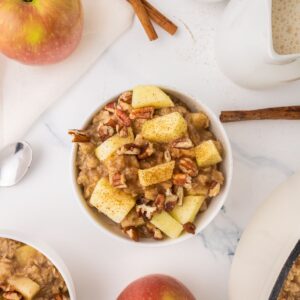 Apple Cinnamon Raisin Oatmeal
This is my families 'go to' oatmeal; it's cheap and easy to make!
Ingredients
2

cups

oats

4

cups

water

2

apples

diced

1/3

cup

brown sugar

2

tsp

cinnamon
Instructions
Dice both apples; about 1/4 cubes and add in. Or, simply slice them into pot.

Pour in water and start to cook.

Stir in 1 tsp cinnamon, and let cook.

Once cooked, add in the rest of the cinnamon and brown sugar. 

Stir everything together, serve, and enjoy!
Notes
*You can replace the brown sugar with the same amount of maple syrup.
Make sure you share this delicious apple cinnamon oatmeal recipe with anyone who may need a little autumn in their lives. Or, who simply wants a healthy homemade breakfast that's quick to make and will feed the whole family!