*Disclosure: some links may contain affiliate links (meaning if you end up purchasing something when you click on the link then I may get a commission on it, with no extra cost to you, of course). For more information on what this means, visit my disclosure page.
Healthy Peanut Butter Balls (Vegan)
In this article you will find a healthy, yet still amazingly delicious, peanut butter balls recipe! AKA- buckeyes!!
Do you have a favorite Christmas cookie from your childhood?
Is it healthy?
Or, is it full of sugar and butter?
(I'm going to guess the latter, mine certainly was!)
My all time favorite Christmas cookies are peanut butter balls, or some people call them buckeyes.
Since going vegan I changed the original recipe my mom always makes, slightly.
I wanted to be able to enjoy these and know that I'm not just consuming empty calories. Or, feeding my girls fat and sugar. So, I changed up the recipe to make these a bit healthier (and, with a lot less sugar)!!
My healthier version of peanut butter balls isn't really new to me this year; I created the recipe a few years ago and wrote it down in my recipe book. (Thank goodness!! I don't have much of a memory since having kids.) T
This recipe happened all because my moms recipe calls for almost 3 cups of powdered sugar and half a cup of butter, among other ingredients, and I wanted a healthier version to feed myself and my girls.
(Although, I still really appreciate anytime she makes them and gives me some!! When I had my second daughter right after Christmas a few years ago, my mom brought peanut butter balls to me in the hospital, and they were amazing!)
I did try finding a healthy version online a few years ago and tried out a few recipes….didn't go over so well; most of them called for dates as the sweetener. My older daughter who was about 2 at the time was the only one who liked them, I doubt she'd like them now.
So, after those failed attempts to make something so delicious that mom makes, into something healthy by following a strangers instructions; I knew I had to just go with trial and error til I got it right!
(And, I knew it had to be more so based on my moms recipe; but with healthy alternatives I have on hand all the time.)
Let's Bake!
Start by getting out the ingredients.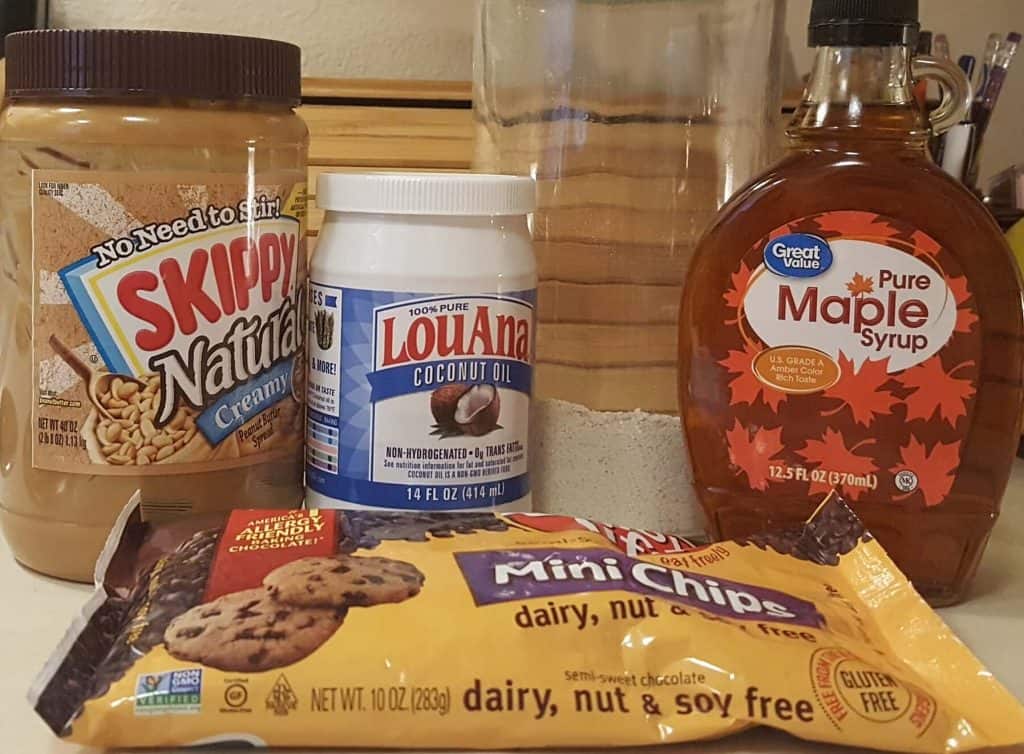 There aren't that many, but look, no sugar.
That's right, I replaced all of the sugar from the recipe I loved, with maple syrup. And, guess what?! They are still just as delicious. And, no wax! I use coconut oil instead; it's way better for you!
Once you have out all of your ingredients; mix together the oat flour, maple syrup, and peanut butter til it forms a dough that can then be formed into balls.
If you don't already have oat flour or don't know how to make it, it's simple. Start with oats, I use these(or the store brand), then grind in a nutribullet, food processor, or blender til fine.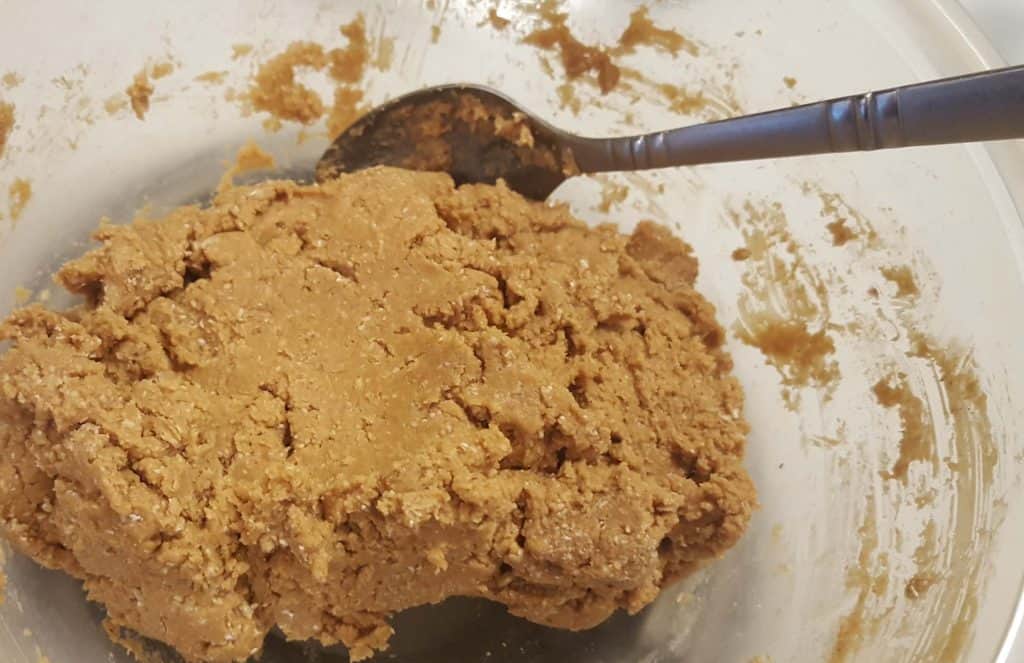 If the dough is too soft after mixing you can leave it in the fridge, covered, for a half hour or so, and then try rolling the dough into balls.
Don't forget to get your kids helping you with the cookies!! Simply remind them to wash their hands and break them off a piece of the dough to roll. In all honesty, my five year old rolled these better than I did; hers were more round than the ones I rolled. Next time, she's rolling all of them!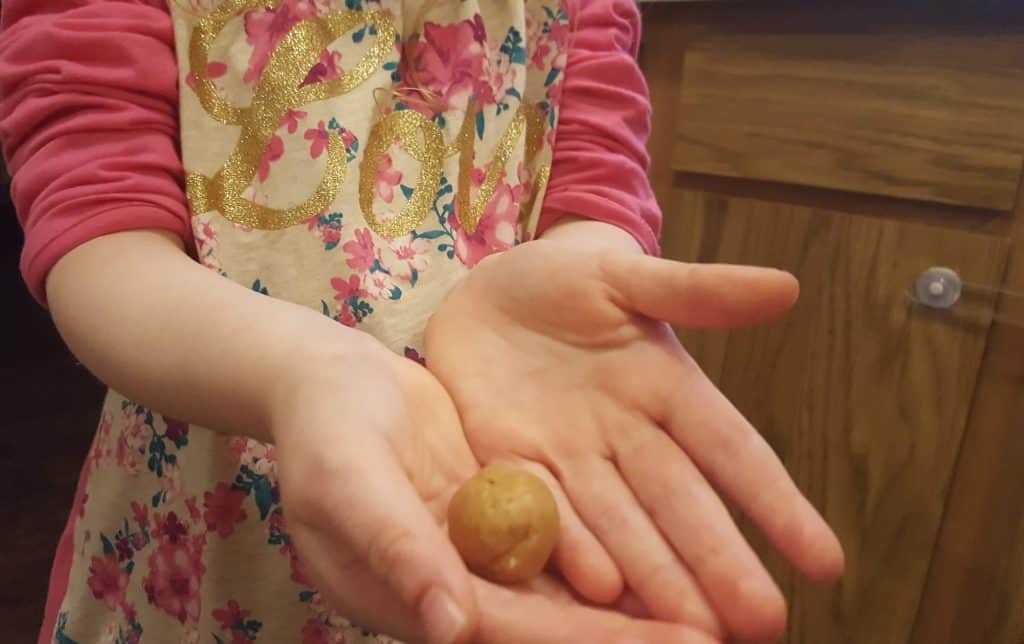 Once all the dough is rolled, or while you let your kids roll it for you, go ahead and start melting the chocolate and coconut oil.
My mom has a double boiler for this part in her recipe. She went many years without one though, just as I probably will. (Not that they're really all that expensive, like this one.)
So, just grab two different sized pots. Fill the larger one a quarter to half way with water, set on the stove and turn to medium heat.
Then, place the smaller pot inside the larger one, making sure the water touches it but isn't anywhere near the top of either pot.
Place the chocolate chips and coconut oil in the smaller pot to melt.
Once the chocolate chips and coconut oil is completely melted, dip the peanut butter balls into the chocolate and roll them in the chocolate til completely covered. You can do this one at a time, or more. I did 5 at a time, but that's just me.
Lay them carefully on a baking sheet once covered in chocolate. I put parchment paper down on my baking sheet for an easier clean up; this is optional, but recommended. They should start to cool on the baking sheet when out, but you'll need to place them in the freezer to solidify.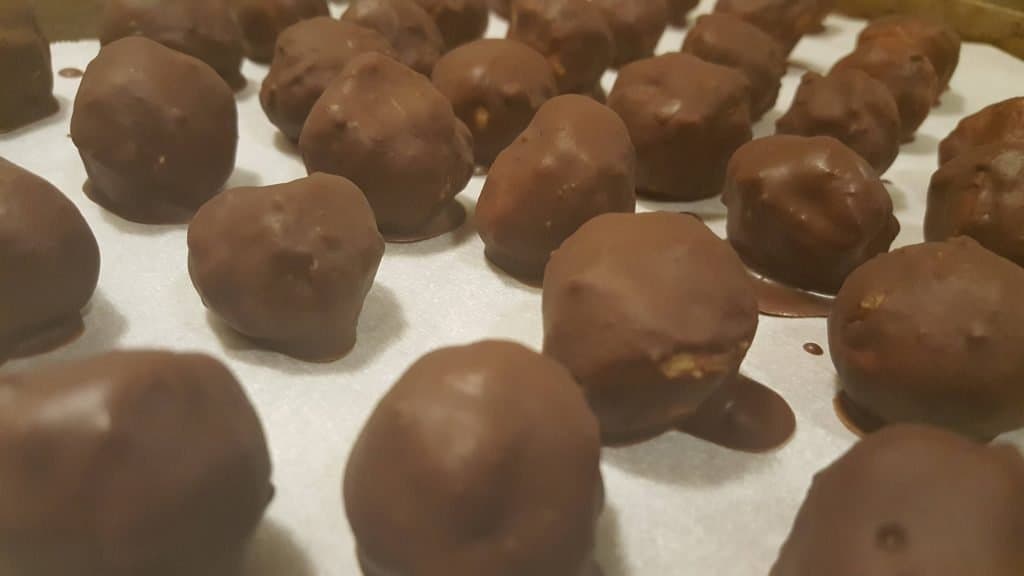 Once these are solid; enjoy!! And, try to share with your friends and family!!
I highly recommend keeping these in the freezer til you're ready to serve them. Using coconut oil instead of wax does make them a bit more melty if simply kept in the fridge instead of freezer. But, the good thing about these is that you can eat them right out of the freezer and they are delicious cold!
One of the easiest ways to eat better, and still love the food you eat, is to swap out ingredients; go here to find out my most common food swaps for eating better!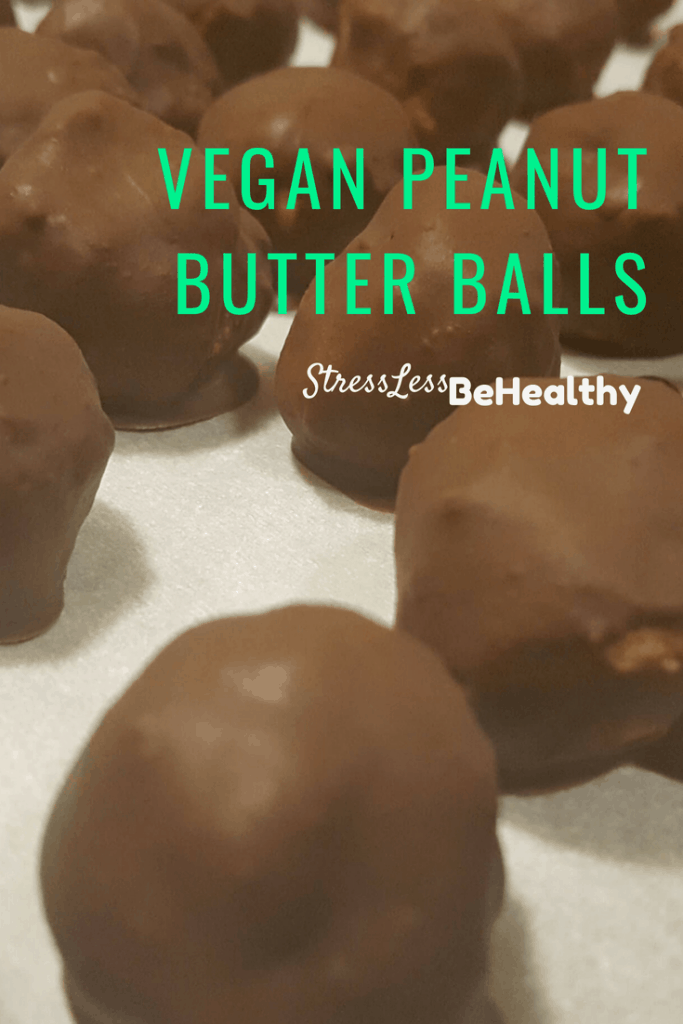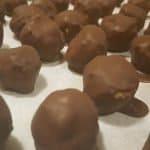 Healthy Vegan Peanut Butter Balls
Taking my all time favorite Christmas Cookie and making it vegan and adding in some nutrients. No more empty calories and loads of sugar. And, they still taste delicious!! During the holiday times you can't sacrifice taste for health, and with these cookies you aren't!!
Ingredients
1

cup

peanut butter

1

cup

oat flour

¼

cup

maple syrup

½

cup

vegan chocolate chips

such as Enjoy Life

1 ½

tbsp

coconut oil
Instructions
Start by making your oat flour if all you have is oats, and no oat flour. (Simply grind the oats in a nutribullet with the milling blade, process in a food processor, or even blend in a blender, until fine.)

Then mix the oat flour with the peanut butter and maple syrup.


Once this forms a dough and you can't 'see' the flour anymore; roll into small balls.


Set aside until you melt the chocolate chips and coconut oil on the stove. (I use two small pots for this next step; the larger pot has water in it and the smaller one sits inside the larger one touching the water, but the water is not high. The smaller pot has the chocolate and coconut oil in it. If you have a double boiler then use that.)


Once the chocolate and oil is melted; roll the balls in it til they are completely covered.

Then move to a parchment covered baking sheet to cool.


When all the balls are covered in chocolate, place the baking sheet in the freezer for the chocolate coating to solidify. Enjoy!!

Recipe Notes
Keep in the freezer until ready to devour them!!
If you enjoy this recipe, please share it so we all can have a little bit healthier holiday season this year!! And, to help those with children reduce the sugar at their holiday parties!
Related Posts:
Healthy Peanut Butter Balls (Vegan)
Vegan Sugar Cookie Recipe For Christmas For Kids!!