*Disclosure: some links may contain affiliate links (meaning if you end up purchasing something when you click on the link then I may get a commission on it, with no extra cost to you, of course). For more information on what this means, visit my disclosure page.
Warm Overnight Chia Oats (with Sautéed Fruit)
In this article you will find a delicious and and super easy Warm Overnight Chia Oats (with Sautéed Fruit) Recipe that will easily become one of your favorite breakfast!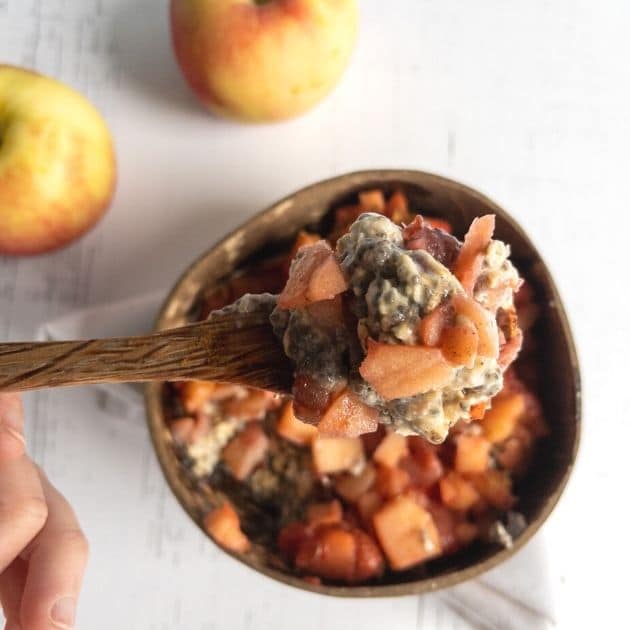 This is one of my favorite 'go to' breakfasts!
And not just because it's delicious, it's also super nutritious and one of my toddlers favorite things to eat in the morning!
Maybe you're thinking, why would you make your kids dessert for breakfast?
And maybe you're wondering why I'm saying this recipe is 'warm' when it's supposed to be overnight oats. It is overnight oats, but with a twist.
This recipe includes freshly sautéed fruit, at least for the first day. I like to batch my food; when you have three kids, anything you can do to have your food last longer (such as making more of it at a time) is basically essential to your sanity.
After the first day, my toddler enjoys her chia oats cold, and so does another one of my kids; myself and my other child enjoys it warm.
Want to Remember This? Pin Overnight Oatmeal Recipe to your favorite Pinterest Board!!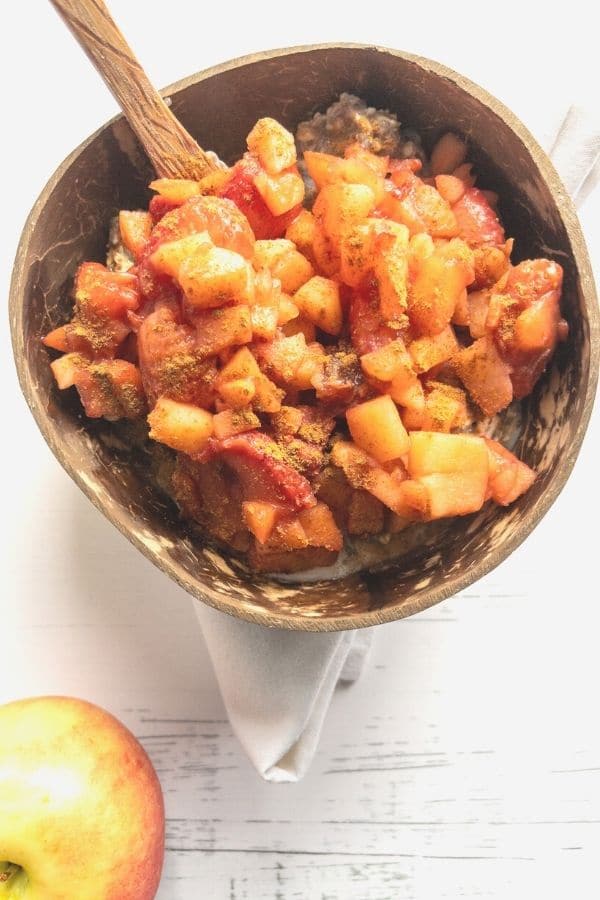 The Night Before…
This recipe is so easy you could have your child make it, at least the steps for the night before.
ALL YOU DO IS…
Choose a container with a lid
Add chia seeds
Add oats
Add non-dairy milk
Stir & let sit in fridge overnight
It's really that simple!
The Morning Of…
The morning of is where your part comes in, unless you have older children who are able to use the stove & a knife by themselves.
First, you'll want to chop up your apple(s) and put in a pot.
Add in some frozen strawberries, maple syrup, and cinnamon.
Then it's as simple as stirring til everything is warm…
…Adding in the overnight chia oats, and then stirring again til everything is warm.
Then you're done!
It's really that simple, and it's absolutely delicious & nutritious!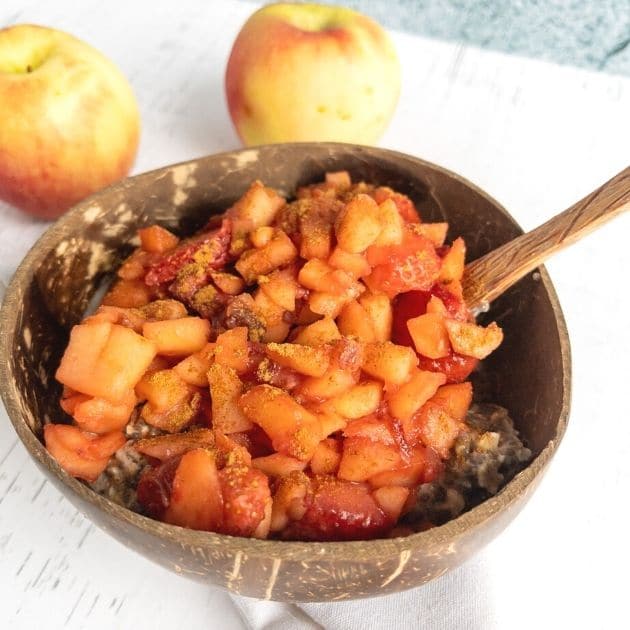 Your Chia Oats questions Answered!
If you're new to eating healthy or eating overnight oats, then you may have a few questions, such as…
Can you eat overnight oats warm?
Absolutely! I don't know about you, but I don't like eating cold food for breakfast, it always needs to be warm, or at least room temperature for me. One of my daughters on the other hand, she'll eat nice cream for breakfast no problem.
Luckily, overnight oats can be enjoyed warm or cold.
The directions in this recipe are for warm overnight chia oats.
We actually warm them up by adding them in the pot with the sauteed fruit, while the stove is still on.
If you'd rather enjoy these cold, simply make everything ahead of time and store in the fridge (fruit separate from the chia oats for the first night, if they last longer than one day).
Why do you put Chia seeds in overnight oats?
You put chia oats to enhance the nutrient profile. Basically, it's to add in some extra omega-3 fatty acids (fat), protein, and fiber. They're also good for helping reduce constipation (just like oats). (Can you tell I have a toddler?)
Adding them into the oats and non-dairy milk before putting them in the fridge overnight also allows them to soak up the milk, just as the oats do; allowing them to be easier to consume.
Can you put fruit in overnight oats the night before?
You certainly can, it may even help the oats absorb the flavor of the fruit. So depending on the outcome you're looking for, it may be best to do so.
However, this recipe is for warm chia oats, where we make the fruit fresh and sautee it on the stove the morning of eating the oats. But, after the fruit is sauteed, they do get stored in the fridge with the chia oats if there are any leftovers.
The one exception to putting fruit in overnight oats the night before would be with bananas; I do not recommend that. With bananas, I recommend adding them fresh the morning of.
Also, if you're adding dried fruit, keep in mind that if you add them in the night before that they will also soak up the liquid. So if you don't want your dried fruit to be plumper when you eat them, add them in the morning.
Are overnight oats soggy?
Overnight oats only slightly more soggy than normal oatmeal the first morning. They simply soak up the milk slowly overnight, rather than quickly and with heat.To help reduce any sogginess, be sure to follow the correct ratios, one of which you can find in this recipe.
Which is healthier; chia pudding or oatmeal?
Both chia pudding and oatmeal can be super healthy. But, if you combine them, they're even better for you!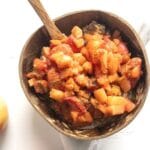 Warm Overnight Chia Oats (with Sautéed Fruit)
Warm fruit with overnight chia oats will surely become one of yours, and your kids, favorite breakfast recipe all year round!
Ingredients
Overnight Oats
¼

cup

chia seeds

1

cup

oats

(old fashioned)

1 ½

cups

soy milk

(or other non-dairy milk)
Sautéed Fruit
2

tbsp

maple syrup

2

apples

chopped

2

cups

strawberries

frozen

cinnamon

(powdered)
Instructions
Add together the oats, chia seeds, & non-dairy milk; stir; place in fridge for overnight

Chop the apples and add to a pot with frozen strawberries, syrup, & cinnamon. Put on medium heat and occasionally stir til everything is warm.

Once all fruit is warm (even the strawberries) add in chia oats and warm again
If you like this recipe, you may also enjoy:
Chocolate Peanut Butter Overnight Oats
PB&J Overnight Oats (How to Make Overnight Oats Vegan)
Homemade Vegan Cinnamon Toast Crunch Recipe
How To Make Jam; Quick and Easy Berry Chia Jam Recipe
Healthy Blueberry Oatmeal Recipe
Want to Remember This? Pin THIS overnight oats recipe to your favorite Pinterest Board!!