*Disclosure: some links may contain affiliate links (meaning if you end up purchasing something when you click on the link then I may get a commission on it, with no extra cost to you, of course). For more information on what this means, visit my disclosure page.
In this article you will find vegan grocery lists for beginners (or non beginners). Whether you need a vegan grocery list on a budget or want to learn what the vegan basics are and what you need to keep stocked in your kitchen at all times.
These vegan food lists will be useful if you've been vegan awhile (and we're in the middle of a pandemic like we are now in 2020), or if you're just beginning your journey to eating vegan and healthier!
WANT A PRINTABLE OR DOWNLOADABLE GROCERY LISTS?? GRAB THEM HERE!!
Want to Remember This? Pin Vegan Grocery List for Beginners (Vegan Foods to Stock up on) to your favorite Pinterest Board!!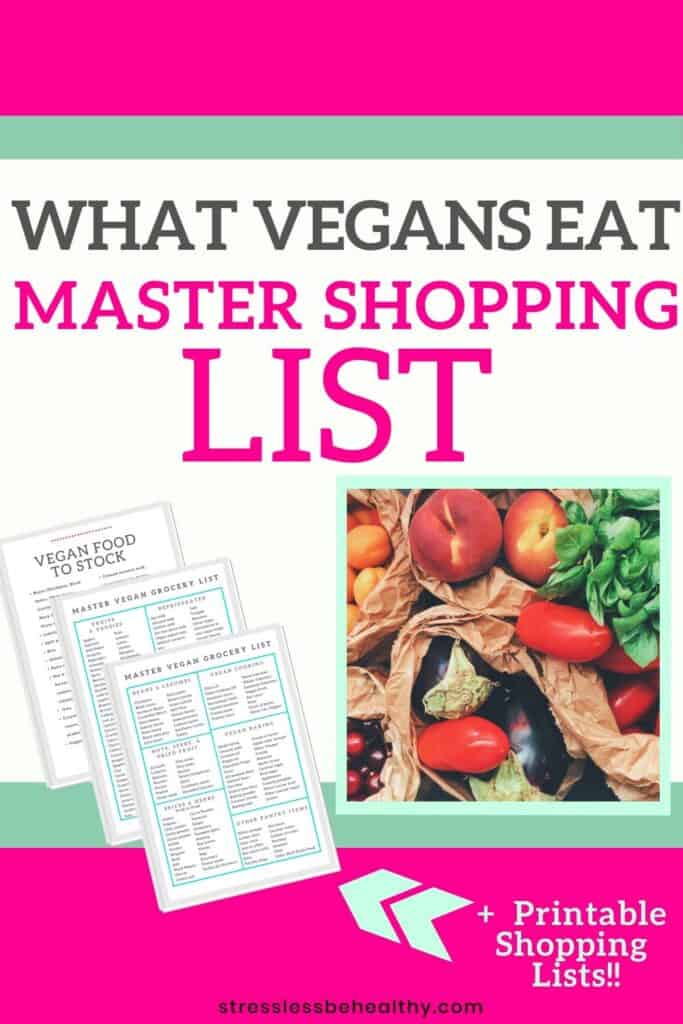 The type of shopping list you will need for vegan food, just like any other diet- whether the Standard American Diet or something else, will depend on why you are going to the store.
Need to stock up on food because you won't be able to go out for awhile? (Check out the Vegan Food to stock up on list below.)
Are you a beginner vegan and trying to change your diet and have no idea what to buy? (Check out the master list below.)
Trying new dishes?
If you're trying new dishes, then your grocery list is going to be based on the dishes you'll be making for the week; in which case you may want to check out this article on how to meal plan. There's a whole section on how to know what you need to put on your grocery list, along with other helpful tips!
Attempting to be frugal with your food budget? (Check out Going Vegan on a Budget: The Complete Guide )
Or, is this just a simple, run of the mill, grocery trip? (This will be covered in another article.)
Everyone is different, so some things I put on my 'once a week' grocery list may be different than yours, but there may also be a lot in common, too! For example, you will probably end up with these items on your list:
fresh fruit and veggies
frozen fruit and veggies
beans, rice, and quinoa
nuts, seeds, and dried fruit
non-dairy milk
and possibly even coffee!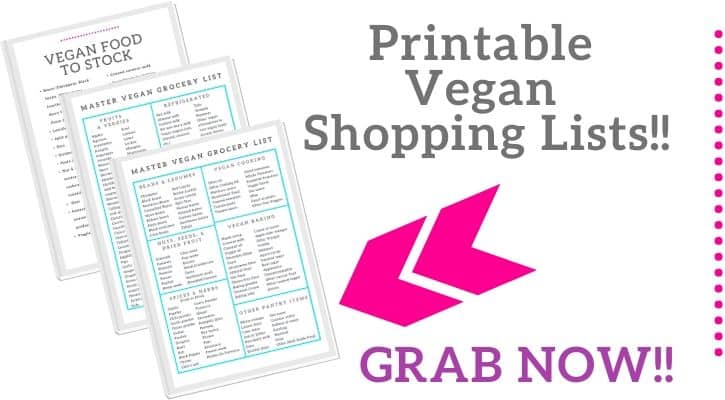 Vegan Food to Stock Up On
This is a list of non-perishables, if you are simply looking to stock up on food in case of an emergency, like a snow storm, flood, or a pandemic; this list is for you.
And, if you can't find something in stores, try finding in on Amazon (this way you won't even have to leave your home, or can still get it when you no longer can leave your home.)
Dried (Bulk) Foods
Beans (Chickpeas, Black beans, White beans (northern of cannellini), Navy beans, Kidney beans, Pinto beans, Lima beans)
Lentils (red, brown, green)
Split peas (yellow and green)
Rice
Quinoa
Pasta (all varieties)
Nut & Seed butters (peanut butter, almond butter, cashew, sunflower, and tahini)
Oats
Canned or jarred tomato sauces and other tomato products
Veggie broth
Canned coconut milk
Ingredients for baking
Ingredients for cooking
Gallons of water
Spices you use
Frozen fruits and veggies
Tortillas
Bread (to freeze)
Jam
Canned fruits and veggies (preferably in water or no added salt or sugar)
Shelf stable non-dairy milk
Nuts, seeds, and dried fruit (basically anything you'd need for trail mix- can be used for more than trail mix)
Vegan soups (Amy's brand)
Basically, you'll want to buy extra of what you usually buy and think ahead on how long those foods will last, or how you can make them last longer.
For example, if you tend to buy a lot of fresh produce, you may want to freeze some to save for later, or make food with it to freeze and save for another time.
WANT A PRINTABLE OR DOWNLOADABLE GROCERY LISTS?? GRAB THEM HERE!!
If you're stuck home for an extended time, you may have to get creative with your recipes and eat mostly from your cupboards or freezers. (Unless of course, if you have your own garden you eat from! That's my plan as soon as my family is able to get our own house.)
Some foods that always need to stay stocked in my own home are:
● Frozen fruit
● Frozen veggies (especially broccoli)
● Peanut butter
● Quinoa
● Brown rice
● Pasta
● Some type of beans
● Old Fashioned Oats
● Flax seeds
● Chia Seeds
● Soy Milk
● and plenty of fresh fruits and veggies (but these need to be bought on a weekly basis and can't be heavily stocked without freezing)
● etc.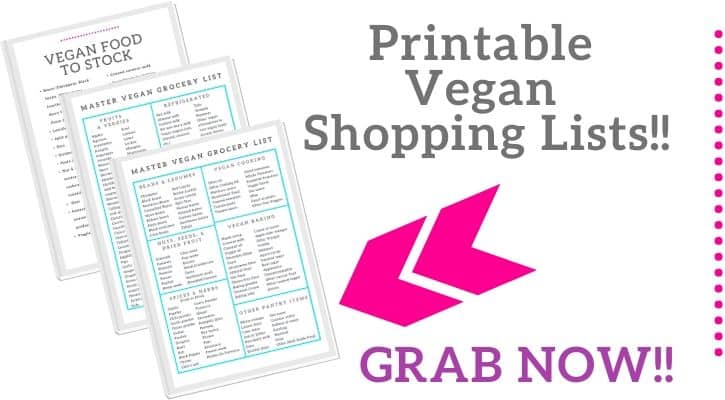 Master Vegan Grocery List
If you're completely new to being vegan, or are simply looking for a new food to try or ideas on what to stock up on; this list is for you! Though, don't try 'stocking up on' fresh fruits and veggies unless you are planning on freezing it, or storing it another way to help make it last longer.
Fruits and Veggies
Fruits and veggies should be the largest part of your vegan grocery list, as they are what gives us so many beneficial vitamins and minerals. Try to add as many different colors to your vegan grocery haul as you can eat in a week!
Like I tell my kids; eat the rainbow!
Apples
Apricots
Artichokes
Arugula
Asparagus
Avocado
Bananas
Beets
Berries (blueberries, blackberries, wild berries, raspberries)
Broccoli
Brussels sprouts
Cabbage (red, green, napa)
Cantaloupe
Carrots
Cauliflower
Celery
Cherries
Collard greens
Cucumbers
Dragonfruit
Eggplant
Figs
Garlic
Ginger
Grapefruit
Green Beans
Green peas (and snap/snow peas)
Honeydew
Jackfruit
Kale
Kiwi
Lemons
Limes
Lychee
Mangoes
Mushrooms
Nectarines
Onions (all kinds- red, yellow, etc.)
Oranges (or cuties)
Papaya
Parsnips
Passionfruit
Peaches
Pears
Peppers (bell peppers, jalapenos, and all others)
Pineapple
Plums
Pomegranate
Potatoes
Radishes
Spinach
Squash (all varieties)
Strawberries
Sweet potatoes (or yams)
Tomatoes (all varieties)
Turnips
Watermelon
Zucchini
Vegan Refrigerated Foods
Besides produce, other items you may put on your vegan grocery list each week that you would store in your fridge may be;
Soy milk
Almond milk
Cashew milk
Any other non-dairy milk available where you're located
Vegan yogurt (soy, almond, coconut, etc.)
Non-dairy creamer (if you drink coffee)
Tofu
Tempeh
Hummus (or make your own)
Other vegan alternatives to non-vegan foods (cream cheese, sliced or shredded cheese, etc.)
Earth balance butter
In all honesty, I do not buy all of these every week, I only buy 1-2 types of non-dairy milk and tofu each week from this section.
Vegan Freezer Food
Even if you like and would like to plan to eat all fresh produce and then freeze any you don't use in a week, instead of adding it to your vegan grocery list and in your cart; you should still buy some frozen fruits and veggies to keep your freezer well stocked in case you're not able to get the produce you were hoping to.
Even if that means they sit in your freezer for a couple months unused; better to be safe than sorry!
All frozen veggies available
All frozen fruit available
Edamame
Morning Star products (if you need super easy and convenient)
Other Vegan Alternatives
Non-dairy ice cream or popsicles
Vegan pizza's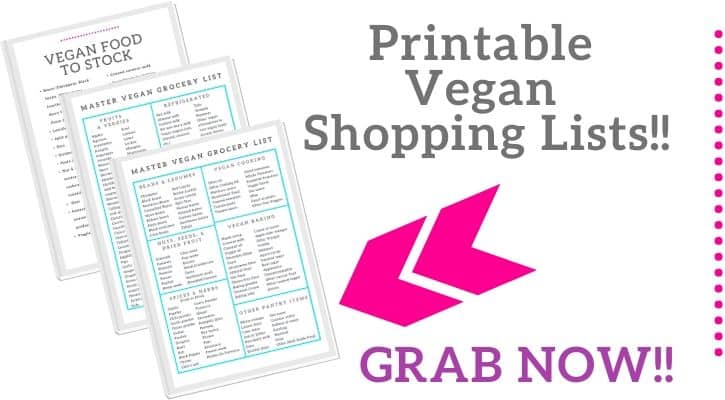 Grains, Pasta, and other Carbs
Oats (steel cut and rolled)
Millet
Quinoa (white, red, and tri-colored)
Rice (basmati rice, jasmine rice, brown rice, white rice, wild rice- my husbands favorite, and pink or black rice)
Buckwheat (toasted and raw)
Couscous
Bread
Buns
Tortillas
Pasta (bow, elbows, shells, jumbo shells, penne)
Manicotti and Lasagna Noodles
Linguine
Farfalle
Soba noodles
Polenta
Vermicelli
Spring Roll Wrappers
Any others you have available in your area
Beans, Legumes, and other Proteins
Chickpeas
Black beans
White beans (northern of cannellini)
Navy beans
Kidney beans
Pinto beans
Black eyed peas
Lima beans
Lentils (red, brown, green)
Split peas (yellow and green)
Nut & Seed butters (peanut butter, almond butter, cashew, sunflower, and tahini)
Nuts, Seeds, and other Trail mix Essentials
Almonds
Cashews
Walnuts
Peanuts
Pecans
Sunflower seeds
Pepitas
Hemp seeds
Chia seeds
Flax seeds (or flaxmeal for smoothies, cereals, etc.)
Raisins
Dried Cranberries
Dates
Shredded coconut
Spices
Cumin
Paprika
Chili powder
Garlic powder
Onion powder
Italian Seasoning
Parsley
Oregano
Basil
Salt
Black Pepper
Curry Powder
Turmeric
Ginger
Cinnamon
Pumpkin Spice
Nutmeg
Bay leaves
Thyme
Sage
Rosemary
Fennel seeds
Herbes De Provence
Chives
Celery salt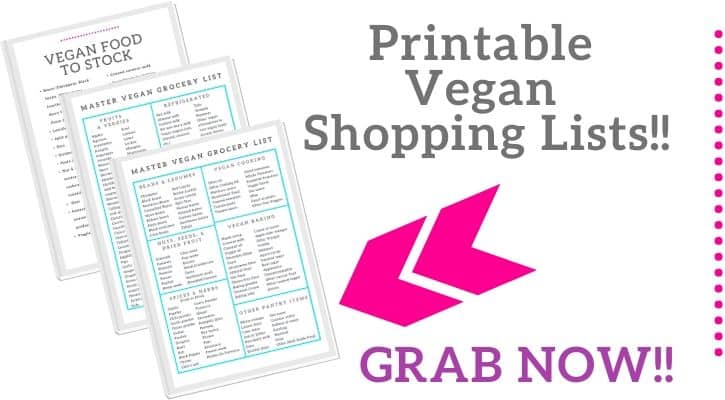 Vegan Cooking Essentials
Olive oil
Marinara sauce- in a jar
Canned tomatoes (tomato paste, tomato sauce, diced tomatoes, whole or sundried)
Veggie broth
Soy sauce
Miso
Heart of palms (and other canned/jar veggies)
Vegan Baking Essentials
Maple syrup
Coconut oil
Veggie oil
Chocolate Chips
Yeast
Flour (all purpose, almond, oat, gluten free, etc.)
Baking powder
Coconut Cream
Baking soda
Cream of tarter
Apple cider vinegar (and any other vinegar you usually use)
Vanilla
Molasses
Agave syrup
Coconut sugar (or other vegan sugar)
Raw sugar
Applesauce
Canned pumpkin (and other canned fruits/veggies)
Other Pantry Items for a Vegan Kitchen
White vinegar
Lemon Juice
Lime Juice
Jam or jellies (if you don't make your own)
Salsa
Tortilla chips
Hot sauce
Gallons of water
Ketchup
Mustard
Any other shelf stable foods (soups, etc.)
This is NOT an exhaustive list, but it should give you a very good idea of what you should(or could) be buying as a vegan!
And, as you can see, us vegans eat quite a bit of different types of foods!
So, when someone tells you that you can't get all the nutrients or have a variety of foods in your diet as a vegan; show them this list!
And, this is just a list of most of the food vegans eat; it doesn't even go into all of the combinations of meals and recipes that can be created with them!
Think of the list above like the alphabet, with each food being a letter. Then think of how many words can be made up with the letters of the alphabet….there are a lot more foods listed above than in the alphabet!
WANT A PRINTABLE OR DOWNLOADABLE GROCERY LISTS?? GRAB THEM HERE!!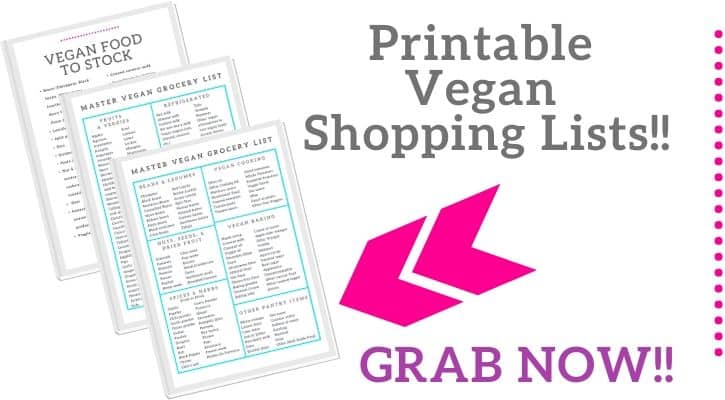 What Vegans Don't Eat (AKA- what NOT to put on your vegan grocery list)
Alright, so we've covered some things that vegans eat and what you could potentially put on your grocery list as a beginner vegan, or long time vegan, or someone who is vegan and trying to stock up on some foods.
But, non-vegans think we're missing out on vital nutrients and a whole ton of 'delicious' meals by avoiding animal products.
But, that's just it, the ONLY thing we don't eat (in general) is animal products. The products that come from animal abuse and that is making the biggest contribution to greenhouse gases and global warming.
If you'd like a list:
meat
fish
milk from another species
eggs (I recently saw someone refer to this as a chickens period, so gross, but true!)
cheese, yogurt, and other milk derivatives
anything else that is made from animals or their secretions
But, Isn't Eating Vegan Expensive?
Not necessarily!
As a beginner, while you're transitioning into eating a vegan diet and are relying on vegan alternatives of non-vegan foods; then yes, it may be a bit more expensive than what you're used to. Though, with the price of meat, it's still probably cheaper.
Luckily, you don't have to go to a specialty store or a 'natural healthy food' store to get most of the foods in the above lists. You can most of the items from:
Walmart
Aldis
Wegmans
Safeway
Publix
Price Chopper
most 'bargain' food stores
Whole Foods
Trader Joes
and many different online stores, such as Amazon!
Once you're through transitioning to eating vegan, and it becomes 'normal' for you; you'll become more comfortable with experimenting with new vegan recipes and making healthier alternatives to the vegan store bought alternatives. Many recipes like this rely heavily on beans, veggies, and other super cheap food!
So, my answer is NO! It is not expensive, as long as you're focused on eating vegan and eating healthier, less processed foods. Which is what you should be doing as it is better for your health, our bodies, and our minds!
It may take a little time to find your groove with eating a healthy vegan, or plant based, diet; but you'll get there and you'll wonder why you didn't do it sooner!
And in case you have kids and don't really feel like cooking, check out 55 Easy Vegan Kid Meals (For When You're Too Tired to Cook!)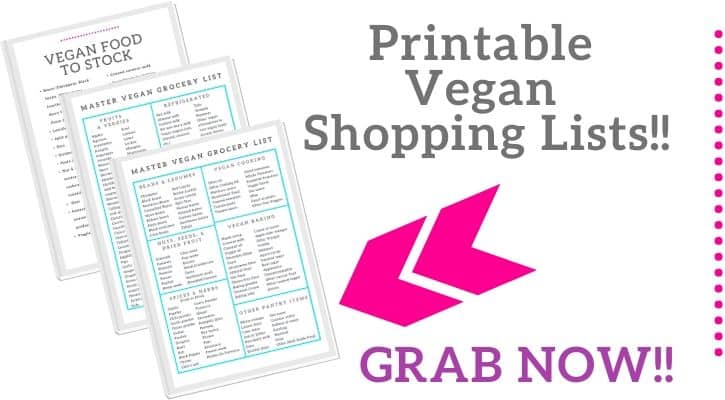 Want to Remember This? Pin Vegan Grocery List for Beginners (Vegan Foods to Stock up on) to your favorite Pinterest Board!!