*Disclosure: some links may contain affiliate links (meaning if you end up purchasing something when you click on the link then I may get a commission on it, with no extra cost to you, of course). For more information on what this means, visit my disclosure page.
55 Easy Vegan Kid Meals (For When You're Too Tired to Cook!)
In this article you will find dozens of easy vegan kid meals to make when you're tired or just don't feel like cooking!
If you're reading this, then you're probably feeling super sick of cooking, or just plain exhausted!
Maybe you have morning sickness and can't bare the smell of food. Or you just don't feel like cooking during pregnancy. I get it!
Maybe you're not pregnant, but have just had a long day and can't even think about what to make, let alone spend more than 10 minutes in the kitchen making it.
But, you know you need to eat, and so do your kids; so here you are, in the right place looking for quick, easy, and mostly healthy vegan meal ideas for kids!
Some of the meal ideas below, not all or even most, are store bought, aka- a little more processed than what you'll usually find on stresslessbehealthy.com.
But, it's hard enough finding something that sounds good to eat for everyone; if that something happens to be a bagel and vegan cream cheese (and not homemade vegan cream cheese), then so be it!
You need to eat and so do your kids, and you shouldn't feel bad about what you're eating when you're exhausted and don't feel like cooking!
Pin this post (55 Easy Vegan Kid Meals (For When You're Too Tired to Cook!) for later with the image below, or sign up above to get the printable list to hang on your fridge!!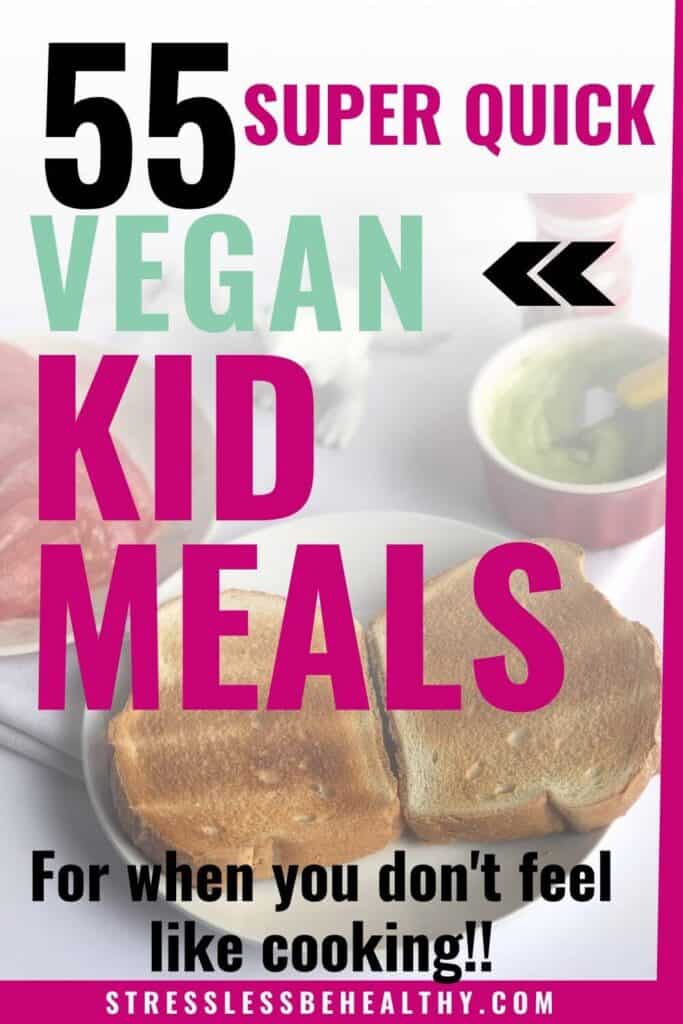 If you are pregnant with morning sickness and are desperate to find things for YOU to eat that won't make it worse, check out What to Eat When You Have Morning Sickness All Day: 54 Ideas
Simply want more specific meal and snack ideas for your vegan kids, check out these!
What to Eat When You Don't Feel Like Cooking
When you can barely stay awake and really don't feel like cooking, what are you to feed the kids?
Well, first off, maybe you should teach them how to cook all by themselves! Learn how here!
But, teaching them to cook and be confident to make their own food takes time, and you need some quick ideas now. So, that's what I'm going to give you below!
Once they start cooking by themselves, though, you won't have to worry if the meal takes 5 minutes or an hour to make, because you won't be the one making it!
Some things you may end up feeding yourself and kids when you're not up to cooking or making a full meal may seem like a 'mismatched' meal, like a salad wrap (literally a salad inside a tortilla and rolled up)! But hey, it has all the main food groups, tastes delicious, and you can literally throw a few together in just a couple of minutes, so it's all good!
Easy Vegan Breakfasts That Kids Love:
Oatmeal in the microwave
Overnight Oats
Make ahead French Toast
🥞 Make ahead Pancakes
🧇 Make ahead Waffles
Make ahead Muffins
Oat Smoothies
Nice Cream
Fruity Moods
🥯 Bagels
Avocado Toast
Tofu Scramble
Chia Pudding
Parfait (Vegan Yogurt, Granola, Berries)
Fruit Salad
Quick And Healthy Vegan Lunches For Kids:
🥜 Peanut Butter & Berry Sandwich
Peanut Butter & Banana Sandwich
🍓 Strawberry & Peanut Butter Roll Up
🍌 Banana 'Sushi'
🥗 Salad (pre cut the veggies on the weekend!)
Salad Wrap
Quinoa Salad
Grilled Cheese (with vegan cheese)
🌈 Rainbow Vegetable Tortilla Wrap
Easy Vegan Dinner Recipes (Kid Friendly):
🌮 Lentil Tacos
Lentil Sloppy Joes (Canned Lentils + Mannich)
Plant based nuggets (we love Morningstar) and a bag of microwaveable veggies
Couscous and microwaveable veggies
Tortilla Veggie Pizza
English Muffin (or Bagel) Pizza (with vegan shredded cheese)
Vegan Burgers
Make Ahead Freezer Burritos
Pasta with Vegan Alfredo Sauce
Pasta with Marinara Sauce
And Some Easy Vegan Snack Ideas:
🍎 Apple & Peanut Butter
🍌 Banana & Peanut Butter
🍊 Orange (or Clemenetine) and Trail Mix
Ants on a Log (Celery, Peanut Butter, & Raisins)
Nice Cream
Veggies with Hummus
Fruit Salad
Edamame
Trail Mix
All Fruit (and maybe veggie) Popsicles
Frozen Banana Dessert (sliced bananas with peanut inbetween two, then covered in chocolate!)
Strawberry Milkshake (with non-dairy milk, frozen bananas, strawberries, and you can even add in some cashews for more protein and nutrients!)
Avocado (my girls eat it right out of it's skin with a spoon, kind of like they do with peanut butter)
Pin this post (55 Easy Vegan Kid Meals (For When You're Too Tired to Cook!) for later with the image below, or sign up above to get the printable list to hang on your fridge!!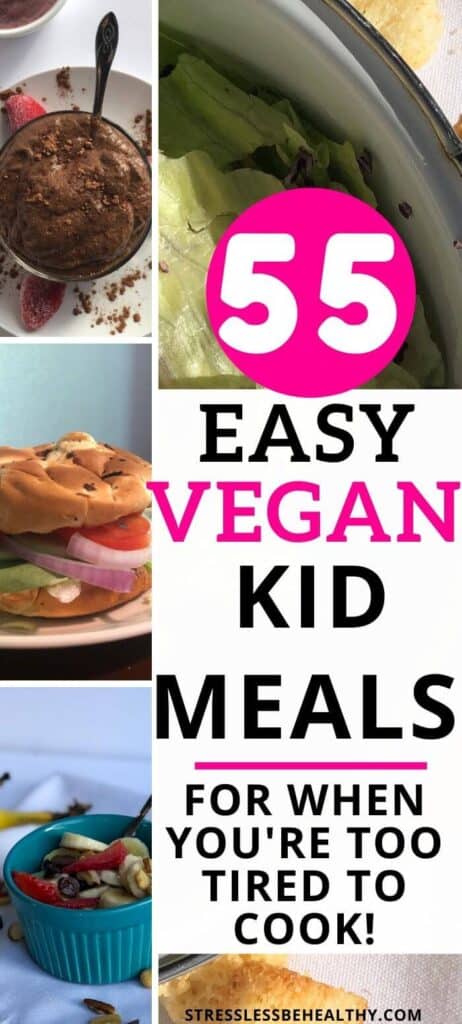 Need more help with Feeding Vegan Kids? Check out:
8 Steps to Raising a Vegan Child
Raising Vegan Children: 6 Vital Questions Answered by a Nutritionist
What should a vegan toddler eat?
Sometimes, ok a lot of the time, when us parents are too tired to cook, it's because we've spent all day chasing around our little active toddlers!
Luckily, vegan toddlers should eat what every other healthy vegan eats! So, every idea above is on the table (except maybe anything containing whole nuts or seeds).
If you did baby led weaning, then you probably already knew this!
If your toddler starting their eating journey as a baby with purees and then slowly increased the chunkiness of their food, then this may seem strange.
As long as the food isn't a choking hazard, then it should be fine for them to eat. For example, even my one year old loves eating sweet potato chickpea curry with me! My older girls aren't fans of it, but they eat it anyways.
Just know that you know your toddler best and know what they can eat without choking.
The main food that I would be worried about giving a toddler would be whole nuts and seeds; but you can always puree them into a nut or seed butter, into a sauce, or add them to smoothies!
Feed them plenty of whole plant foods, such as:
Fruit
Veggies
Nuts & Seeds (pureed, added to sauces or smoothies, use caution)
Beans, Legumes, & Soy
Whole Grains
Of course, if there are dietary concerns, you should follow those, such as if there are allergies or if a certain food worsen any medical conditions.
Fortunately, vegan toddlers can get all the nutrients they need from the food they eat on a varied vegan diet. The only exception may be Vitamin B12, which can be found as a supplement (we use a liquid vitamin), or in fortified foods, such as some non-dairy milk, cereals, and nutritional yeast.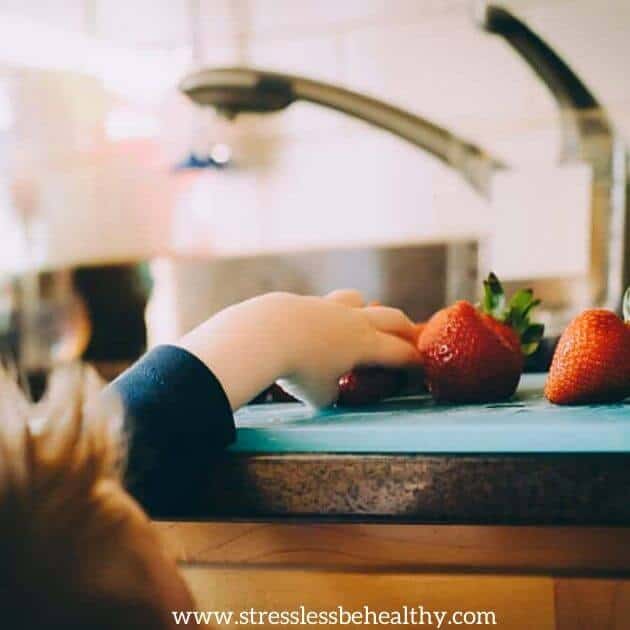 A Few Tips For Feeding Vegan Kids When You Don't Feel Like Cooking
Trying to make nutritious meals when you're too exhausted, or just don't want to cook, can be a challenge. You know you and your kids have to eat, but many nutritious meals that probably come to mind take a bit of time to prepare.
That's why I'm a huge fan of meal prepping.
But, when you don't have time, or let's be real here, forget to or don't want to meal prep; the lists above of the super quick and easy kid meals will be a meal saver!
If you buy a lot of minimally processed foods, like dried beans, rice, and fresh produce, there are a few basic food prep steps you should take:
wash all berries, grapes, and other small produce that you eat the skin of, like cherry tomatoes
wash lettuce and other leafy greens
chop/slice any veggies that you can to make cooking or preparing food easier during the week
If you're like me, and like meals to be super easy, whether you feel like cooking or not, you may want to do a bit more food prepping on the weekend, or when you have the time!
What I have been doing lately to save time cooking during the week is:
make two batches of pancakes (freeze one batch) and two batches of vegan french toast(freeze all, in the bag the bread came in) on Sundays (Sunday is pancake day, so I'm already making them and using the stove)
make any snacks or desserts that we're having for the week, but only if they are freezer friendly recipes
wash all small produce
wash lettuce and leafy greens
dice peppers and onions and freeze
slice veggies for salads and keep in the fridge
chop up any melon or large fruit we get
You can save so much time by batching your tasks in the kitchen together!
Check out these posts for some freezer safe and kid friendly vegan recipes:
But, if you don't meal prep, you can still make your kids and yourself a healthy meal in no time at all!
Let me know in the comments any other easy vegan kid meals you have for when you don't feel like cooking; if it helped you then there's a good chance in may help someone else!