*Disclosure: some links may contain affiliate links (meaning if you end up purchasing something when you click on the link then I may get a commission on it, with no extra cost to you, of course). For more information on what this means, visit my disclosure page.
10 Savory Vegan Freezer Meals To Prep for Crazy Busy Nights!
Ever want a nice home made meal at night, but can never seem to find the time to cook during the week?
Yeah,
Me too.
That's where meal prepping comes in!
Unfortunately, not all food was created to be saved in the fridge for more than a couple of days; some need to be frozen to stay well all week. And, it can be a pain to cook a meal, freeze it, and then try to reheat it; simply to find out that it just doesn't taste quite the same.
Related Post: 11 Family Friendly Quick and Easy Vegan dinner recipes for Hectic Weeknights
Or, maybe you're like me and batch cook, so that you can pull out a frozen meal when you forgot to meal plan or when you just don't feel like having what's on the menu in your home that night. (This also comes in super handy if you have a newborn at home, just prep a ton of these meals and freeze before baby is born.)
Either way, the recipes below have been tried and tested for your convenience. AKA, they freeze and reheat well.
You'll find childhood favorites, soups, wraps, and more! Be sure to check out the full vegan recipes and follow the food blogger who created them!
You can also follow and subscribe to my email list here!
Related Posts:
17 Healthy and Delicious Snack Recipes You Can Freeze
12 Healthy Vegan School Lunch Ideas
10 Vegan Comfort Food Recipes My Kids Go Crazy For
How to Make Awesome Avocado and Tomato Sandwiches
I can't even tell you how long I've been looking for a vegan ravioli recipe! It's been far too long and I'm so glad I found this one here.
I know this says it's a breakfast burrito, but feel free to eat it any time of day! Get the recipe here.
This recipe post not only gives you the recipe, but also walks you through the whole process, from freezing to cooking when you need it! If you're a beginner at making and using freezer meals, this is the one you should start with!
Related Post: Delicious Diced Veggie Vegan Burritos
I don't know about you and your kids, but my toddler loves sweet potato and will eat anything with it in it. Check out this recipe here and enjoy it with your kids!
Want something sweet yet filling? Check out this pineapple fried rice recipe!
Before I became vegan I used to love calzones. I can gladly say that this recipes can compare and has even more natural flavors than what I had way back when!
This freezer meal isn't a chop it, dump it and freeze. This recipe is one that you make first and then freeze; which is great for an evening you have time now to cook, but also like to plan ahead for the future!
If you have an instant pot, go ahead and try this recipe out.
Related Post: 7 Awesome Meals for Beginner Vegans!
These are perfect easy meals for those crazy busy weeknights that you just don't have time to cook, but want a hearty meal in just a few minutes. Just be sure to either omit the cheese or use vegan cheese to keep this a vegan freezer meal.
This recipe needs to be made prior to freezing. Be sure to use the vegan options for the recipe!
It can be hard sometimes to find vegan freezer meals. Unfortunately, this healthy diet is often overlooked by those obsessed with freezer cooking.
But, if you find a freezer meal that you think would be great, but has non-vegan ingredients; it can be quite simple to replace those ingredients and make them vegan!
So, whether you're in a very busy season of life, or stocking your freezer full of super easy meals before you new baby comes into this world; I hope you're able to enjoy these meals, and the ease of simply heating them up, for when you need them!
Don't forget to follow me on Pinterest for more vegan and raising healthy kids inspiration!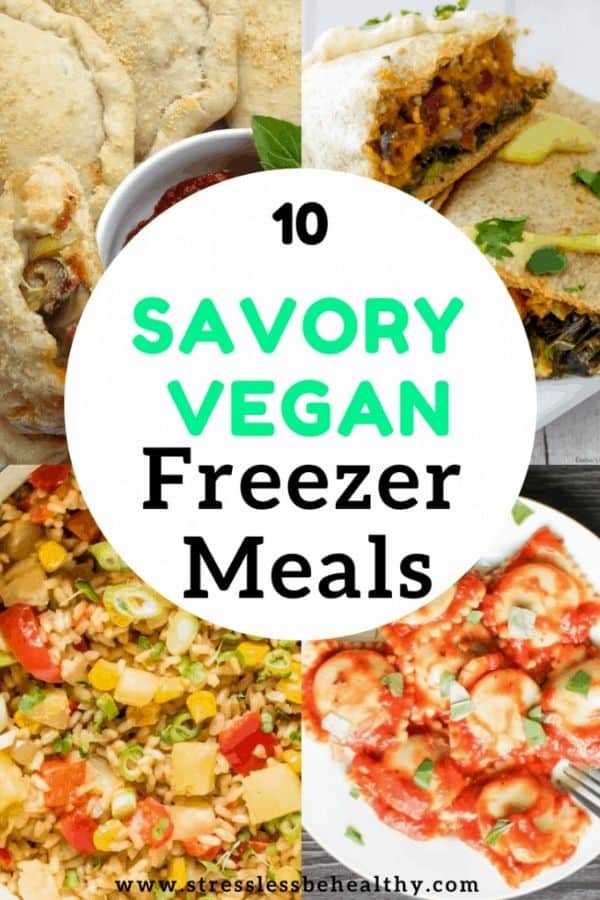 What are your favorite vegan freezer meals? I'd love to know, leave it in a comment below!