*Disclosure: some links may contain affiliate links (meaning if you end up purchasing something when you click on the link then I may get a commission on it, with no extra cost to you, of course). For more information on what this means, visit my disclosure page.
10 Super Cheap Vegan Kid Breakfast Ideas (that kids will actually eat)
Keyword: Super Cheap Plant-Based & vegan kid breakfast ideas
If you're looking for super cheap plant based & vegan kid breakfast ideas then you have come to the right place!
In general, these ideas and recipes will be based on super simple and healthy breakfast ideas.
Think, how can you get the most nutrients for the cheapest amount possible, and still make it appetizing for your kids to eat!
The easiest plant based breakfast recipes will have a base of the following type of food;
Oats
Pancakes
Smoothies
Fruit
Of course, there are some exceptions that don't start with one of those as a base, but those are unique recipes that we'll go over below.
This recipe uses just a few ingredients, such as;
Oats
Sugar
Baking Powder
Water
Applesauce (or another fruit puree)
As you can see, these ingredients are NOT expensive. Water is the cheapest drink you can get. Oats hold a powerful nutritional boost, while also being quite affordable. And the other ingredients you probably already have on hand! Actually, you probably already have all the ingredients on hand if you ever bake with kids.
Check out the full vegan pancake recipe here!
2. Green Smoothies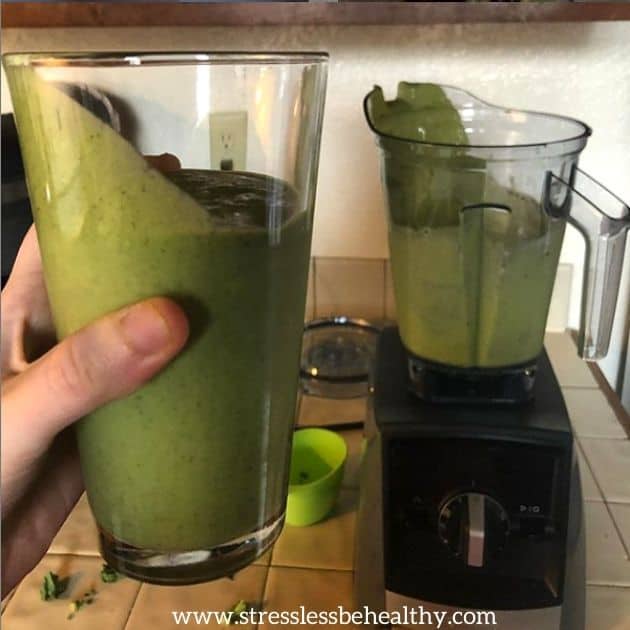 There isn't a breakfast much healthier than a green smoothie, call them 'monster smoothies' for your kids, if that makes it easier for them to want to drink it!
With leafy greens, non dairy milk, and frozen fruit; it's a combination that will make kids and parents happy! Because who doesn't like a delicious smoothie for breakfast!
Plus, you can put any variation together, please your kids taste buds, and make sure they are getting more nutrients that they need.
Try out our 'go to' green smoothie recipe here!
3. Microwaveable Blueberry Oatmeal
You knew some type of oatmeal was going to make the list, and this isn't the only one, either!
And, you know those oatmeal packets that you're supposed to add water or milk and then make in the microwave?
Well, my girls and I have cracked the code of making them without all the preservatives and sugar that you'll find in those individual quaker oat packets. (I'm not bashing on quaker oats, in fact, you can use their old fashioned oats for this recipe if you'd like, or buy store brand to save even more money.)
I'm not even going to link to a recipe here, as this is so quick and simple.
Ingredients
½ cup old fashioned oats
1 mashed banana
½ cup blueberries (or sub in other berries of choice)
½ cup non-dairy milk
Directions
Add oats to a large microwave safe bowl.
Mash the banana into the oats.
Add the non-dairy milk and stir.
Add the blueberries and stir.
Microwave on high for 1 minute.
Stir.
Microwave for another 30 to 60 seconds, let cool, and enjoy!
Recipe notes
I use frozen blueberries, as they can be found quite affordable all year round.
If you would like to add a little maple syrup to sweeten up the oatmeal, my girls have tested this (quite a few times) and approve!
If your kids are preschool age and under, you may want to start them off with half a recipe, just in case they don't finish it all and are not a fan of leftovers.
If you are cooking for multiple kids, then it would be more practical to use this stove top blueberry oatmeal recipe instead.
Basically the same ingredients, but will feed more than one child, and their portion sizes can be more customized to their appetite!
Check out this full blueberry oatmeal recipe here!
5. Smoothie Bowls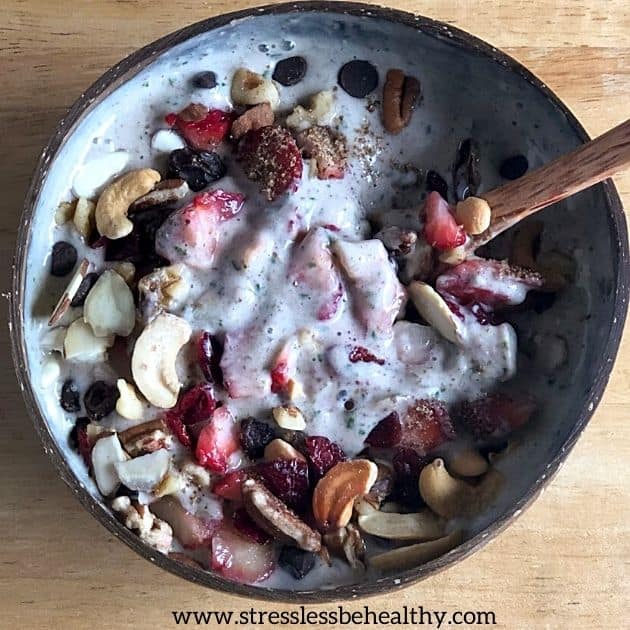 Green smoothie are great for getting greens into your child diet, but so can smoothie bowls.
But, you can also get other types of nutrient dense foods in, too! Such as nuts and seeds.
Smoothie bowls are versatile enough for your kids to have the toppings they like (or that you want them to have), on top of a melted like ice cream (made of nutrient dense food)!
Check out my girls favorite Ultimate Smoothie Bowl recipe here!
6. Chia Pudding
If you're just starting your journey to eating healthy, and bringing your kids along with you (yay for you!!), then you may think chia seeds are weird or expensive.
Don't worry, I used to think this, too.
And, they may be more pricey than buying the same size container in oats. But, they seem to last forever! A large container, like 2 lbs, can easily last you a couple of months. And that's with making chia pudding, adding to smoothies, oats, and more!
The add ins for chia pudding are even more affordable, like cocoa powder or frozen berries.
Here's my girls favorite chia pudding recipe;
Ingredients
¼ cup Chia Seeds
¼ cup Cocoa Powder
1 cup Almond Milk
2 tablespoons Maple Syrup
Directions
Blend everything in a blender!
You can also make chia pudding without blending, and by simply mixing everything together and letting it sit in the fridge for 10-15 minutes. I'm not a big fan of the texture of the chia seeds (unless its in a smoothie with raspberries or blackberries), so we pulverize the chia seeds to change the texture to be a nice creamy pudding!
7. Overrnight Oats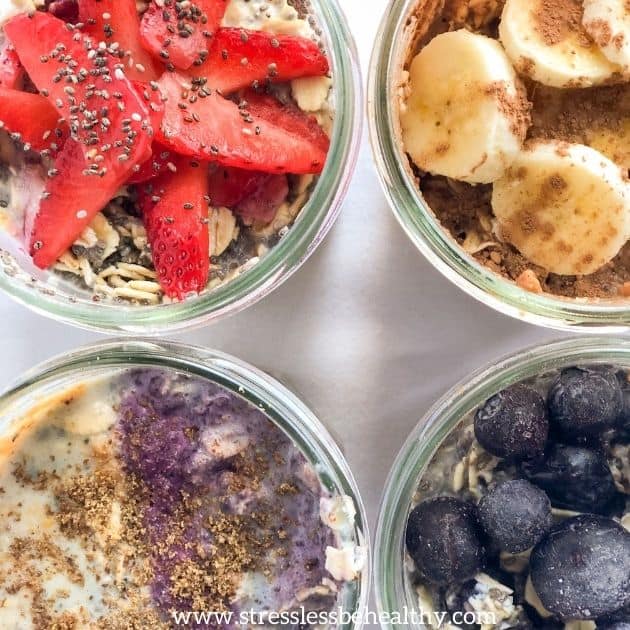 You already know that oats are super cheap, and kids would rather a cold breakfast, or they want it at a super inconvenient time for you, then overnight oats are great!
Most school aged kids would even be able to prep this breakfast themselves the night before.
They can be practically any flavor you can imagine. The only limits are what you have in your home to flavor it.
You can find a pb&j overnight oats recipe here and a chocolate peanut butter overnight oats recipe here!
8. Muffins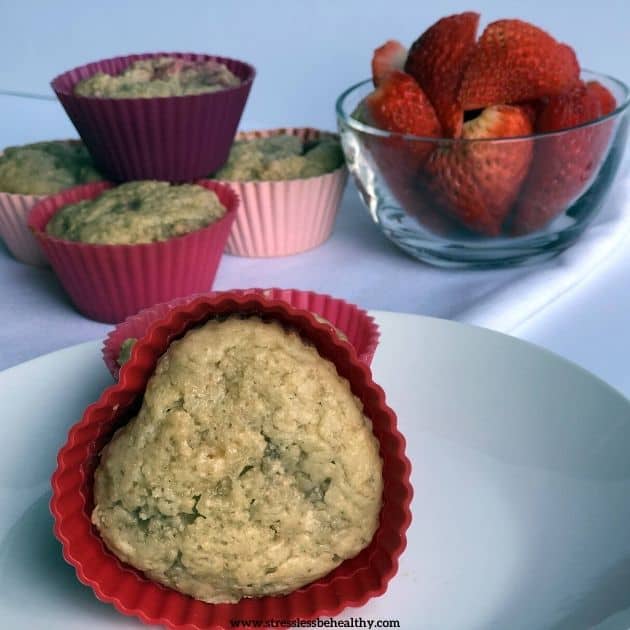 Muffins are another really affordable, meal prep-able, vegan kid breakfast. One small muffin is the perfect size for toddlers or preschoolers, older kids may need more or served with fruit and some trail mix.
Muffins are also great for on the go breakfasts, or to eat during e-learning. Make a double batch once and freeze them til you need them. (How long they'll last will depend on how many kids you have and their appetites.)
Here are some of my kids favorite vegan muffins:
9. Quick Breads
Quick breads are just as affordable as muffins.
However, they take longer in the oven, and if your family is anything like mine, there won't be any leftovers.
The great thing about quick breads, though, is their warm and cozy feeling; like you're eating something special and delicious for breakfast that you don't usually have.
Plus, there's a flavor for everyone, even those who don't like the classic banana bread!
If you do like banana bread, find my own vegan banana bread recipe here!
And if you don't, be sure to try this super moist pumpkin bread recipe, it's not just for fall!
And, one more oatmeal recipes, because they're so affordable and nutritious!
But, you can't just serve a child plain oats, even if you make it with nondairy milk that's fortified with a bunch of vitamins and minerals, like B12.
Kids need a little more excitement in their breakfast, whether it be from the flavor or the color of the food. Which is probably why breakfast cereals make a fortune off selling kids cereals.
The 'excitement' in this oatmeal is with the flavors, apple and cinnamon!
It's a flavor perfect for fall, winter, or simply a nice flavor for a warm and cozy breakfast at home.
Check out the full apple oatmeal recipe here!
Common Questions about vegan breakfasts for kids…
What is the best breakfast for a vegan?
The best breakfast for a vegan is going to be different for each vegan depending on their own preferences, though I'm sure oats and smoothies make the top of the list for most!
What can you eat for breakfast on a plant based diet?
Every recipe above can be eaten on a plant based diet. However, if you're looking for a whole food plant based diet, be sure to omit any recipe with flour and sugar (such as muffins, bread, and possibly the pancakes).
Is it OK for a child to be vegan?
Yes, it is ok for a child to be vegan. In fact, I'm raising 3 vegan kids. Yes, their doctor knows and doesn't have any problem with it!
For more questions and concerns with raising vegan kids, check out this (FREE) Ultimate Guide for Raising Vegan Kids Ebook!
Is peanut butter vegan?
Yes, peanut butter is vegan. And, as any other health nut will tell you, look for the kind with the least ingredients, preferably just peanuts or peanuts and 1 or 2 other ingredients.
Or, if you truly don't trust that peanut butter is vegan, you can always make it yourself by dumping de-shelled peanuts into a food processor and processing it into peanut butter.
Can Vegans eat yogurt?
Absolutely, check for yogurts that are non-dairy at the grocery store. Depending on where you live, you may be surprised at how many different kinds of yogurts are available for vegans.
Most use almond, coconut, or another type of non-dairy milk base. Then, just like other yogurts, a varying number of flavors.
I hope this list of cheap vegan kid breakfast ideas will help you more easily, and able, to make your kids vegan breakfasts.
As you can see, you don't need to spend a fortune to feed a vegan breakfast that the whole family will love!
And, with vegan breakfasts, unlike non-vegan, you can be sure there's no ldl cholesterol in it, and they tend to be healthier too!
Looking for more vegan breakfasts for kids, be sure to check out these articles;
Don't forget to save this post for future reference! Pin 10 Super Cheap Vegan Kid Breakfast Ideas (that kids will actually eat) to your favorite vegan meal idea board on Pinterest!