*Disclosure: some links may contain affiliate links (meaning if you end up purchasing something when you click on the link then I may get a commission on it, with no extra cost to you, of course). For more information on what this means, visit my disclosure page.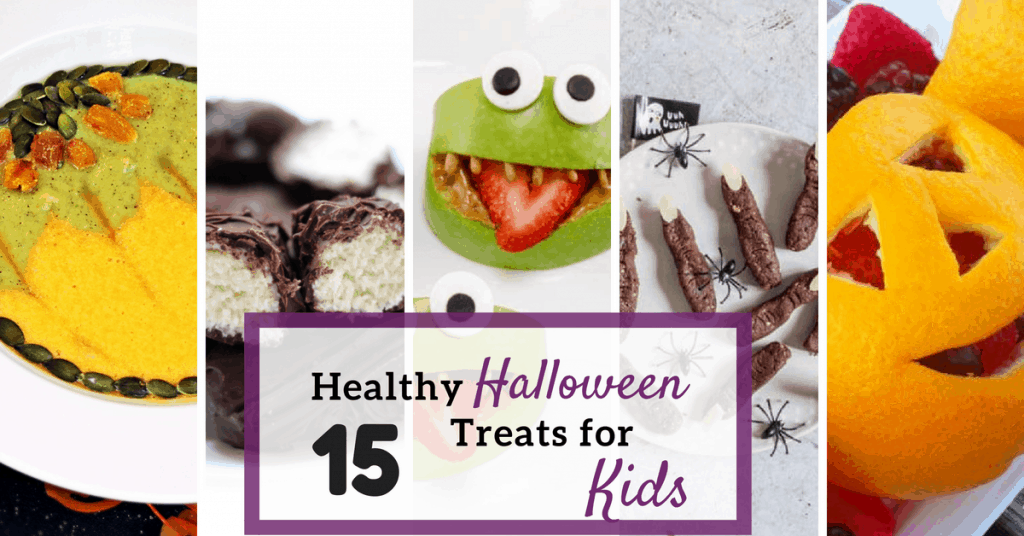 15 Healthy Halloween Treats for Kids!
Halloween is usually a time when kids shove their faces with candy and so much sugar that they may go crazy and then have a sugar crash. At least, that's how I remember it! But, with this new generation, the one we are raising; I'm hoping we don't give into this craze. I'm opting for healthy Halloween treats for my girls!
Healthy homemade halloween treats can still be fun for kids, even if they don't contain 25 grams of sugar in every bite.
Take a look at all of these fun and healthy Halloween treats. Towards the end there are vegan copycats of 'regular' candy bars, and even a special recipe for us moms who love coffee! (That would be me, and probably you, too.)
These clementine pumpkins are so cute, and super easy to make with just two ingredients. Can you guess what they are? I'll give you a hint, a fruit and a veggie; you can't get much healthier than that. Head over to thriftyjinxy.com to check out the full post on these healthy Halloween Treats.
These adorable little jack-o-lanterns are sure to be a hit at any Halloween party! Or, as a cute healthy Halloween treat anytime during the day on Halloween. This treat also provides anti-oxidents and vitamin C. Go check it out at thriftyjinxy.com.
The awesomeness of this healthy Halloween treat may be missed by toddlers and kids under 10, but they'll still love it and so will you! If you have older kids, or know anyone obsessed with Harry Potter (like I do), then you'll want to share this with them, as well. Find the recipe over at healthyslowcooking.com.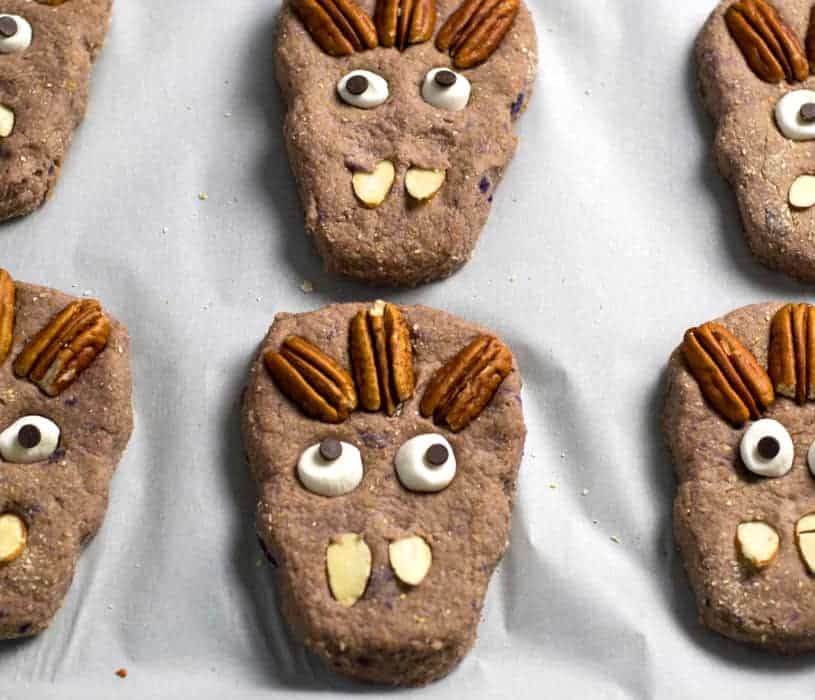 These adorable little monster biscuits are healthy and, though using a purple vegetable as the most distinct ingredient, don't taste like beets. Honestly, if they did contain beets I wouldn't have included them in this list; you can only go so far with trying to turn holiday treats healthy. Head over to healthyslowcooking.com for the full recipe.
This super healthy dip isn't a full Halloween treat in itself, but combine it with some veggies and you have an awesome display for a Halloween party that your kids will love! Or, if your kids aren't big on veggies, let them dip some tortilla chips or pita chips in the dip; it'll still provide them with many nutrients. Check out the recipe, and how to make it look great at hedgecombers.com.
Are your kids huge fans of smoothie bowls, like my girls are? Smoothie bowls are a great way to get tons of nutrients into your kids without them even realizing it. This Halloween smoothie bowl is no exception! Go check out what's in it at fabfood4all.co.uk, and try it out yourself!
I you don't think you're creative enough to make some of the treats above; first, I'm sure you are, so stop doubting yourself and just go for it. Second, this spider treat is super simple, anyone can make it and you only need one ingredient! Check it out at tastygalaxy.com.
Or, maybe your kids aren't up for the super healthy Halloween treats, and want more of a 'treat'; you'll want to head over to strengthandsunshine.com for this brownie recipe. Don't worry, these brownies are secretly healthy and perfect for Halloween!
These zombie fingers are a must-have for any kids who are obsessed with zombies, my 5 year old daughter included! They'll be eating these zombie fingers like zombies eat brains. Find out the delicious ingredients needed for these fingers at recipesfromapantry.com.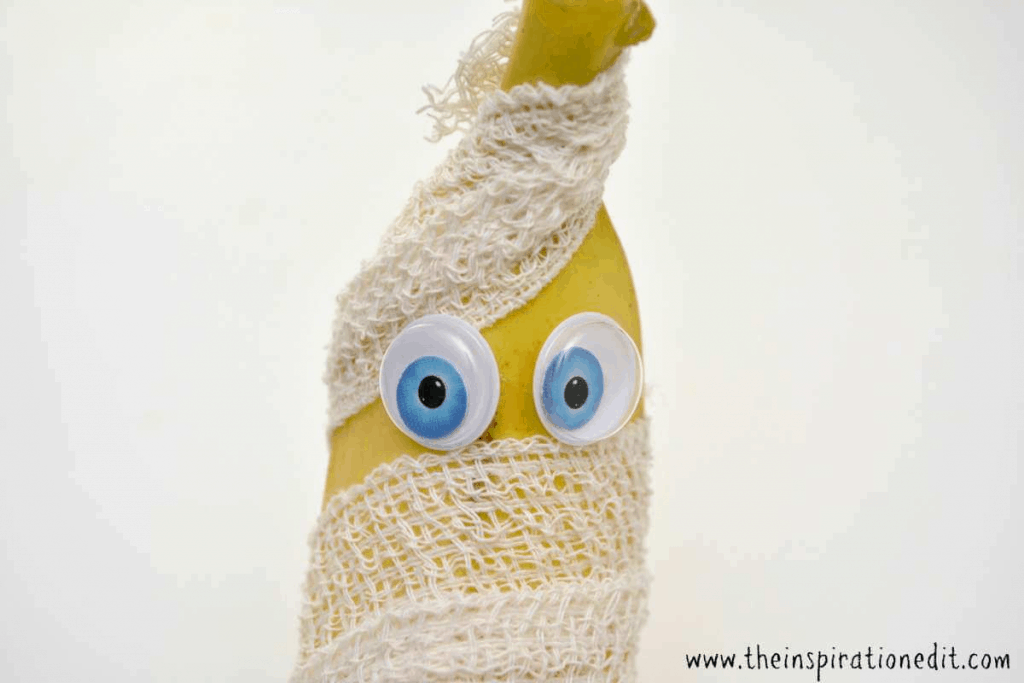 For your little ones who get frightened by the simplest of things, this banana mummy may be more their speed! Check out the full post about this cute and healthy Halloween treat at theinspirationedit.com.
Or, be a little more creative and make Funky apple monsters! My 5 year old said they look like frogs, and they kind of do, it may be the teeth that helps them look more like monsters. Find out how to make them at theinspirationedit.com.
Another adorable and healthy Halloween treat, check out these Fruit Bat Skewers. You may just want to help little ones with these and put the fruit in a bowl, but for older kids leave them on and let them eat them as is!
Vegan Candy Bar Copycats
Whether you simply want a healthier alternative to store bought candy bars, or are vegan and are looking for a vegan candy bar option, this would be it! Check out how to make this vegan Twix bar over at mommafitlyndsey.com, you won't be disappointed, and neither will your kids.
This healthy Halloween treat, aka a healthy veganized candy bar, can be found over at strengthandsunshine.com and tastes just like a mounds bar! Plus, it's needs less ingredients than the vegan Twix bar. So, try whichever one you prefer, or both!
Just for Mom
These pumpkin latte cookies contain coffee extract, so I wouldn't recommend you give them to your kids. So, this unique cookie is just for us moms! Who doesn't love pumpkin spice lattes, anyways? Find out the cookie version recipe at strengthandsunshine.com.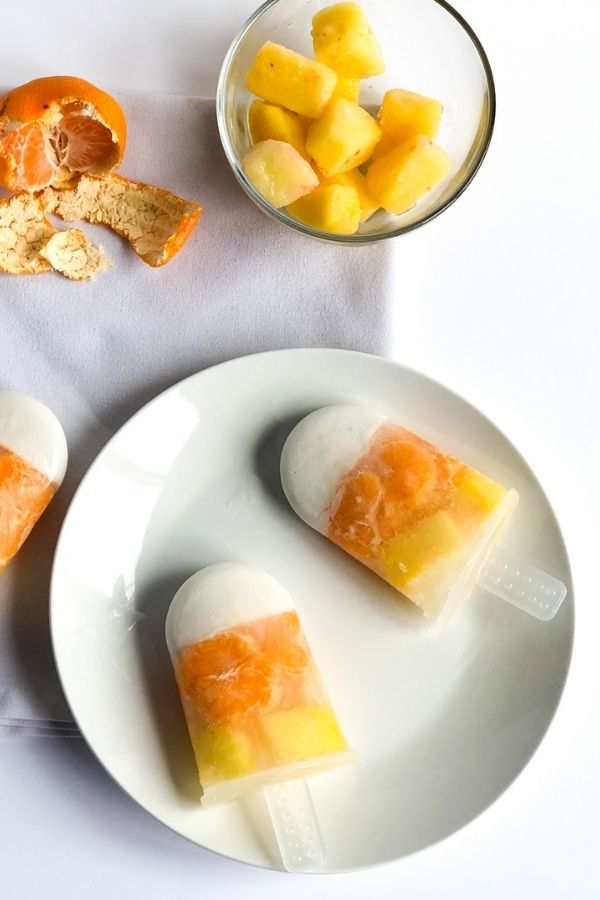 These fruit filled, simple popsicles are perfect for kids, babies, adults, anyone really! Using simple ingredients and something that kids can help make, it's really a no-brainer to try these out! Grab the recipe at stresslessbehealthy.com (that's the site you're on now!)
Be sure to also check out these adorable Halloween Treats, perfect for toddlers and preschoolers: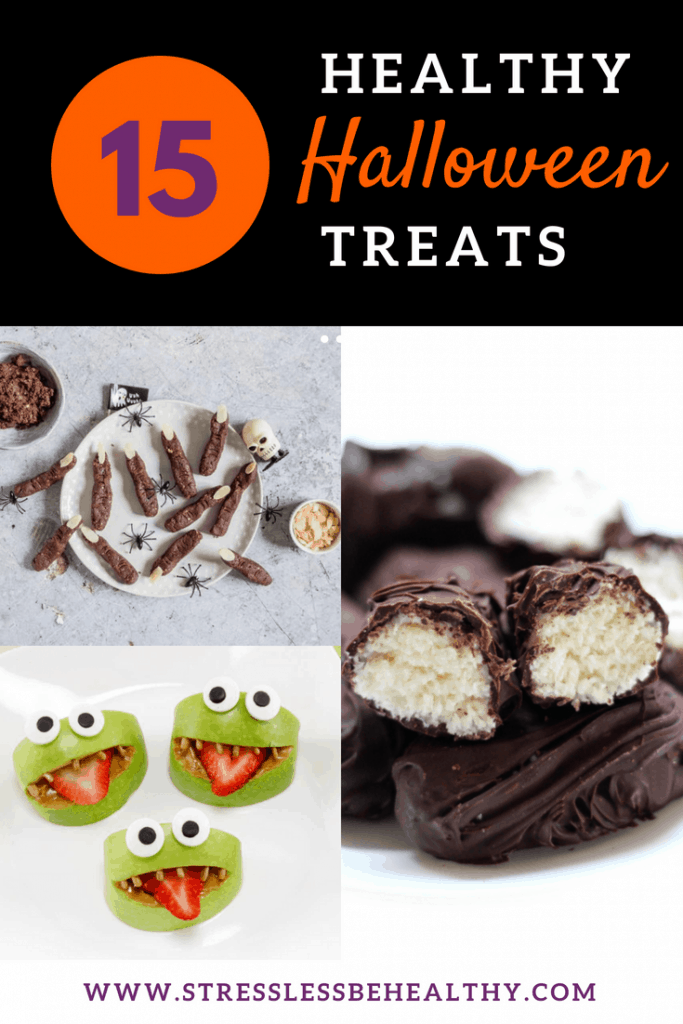 Links for all Healthy Halloween Treats
https://healthyslowcooking.com/a-vegan-halloween-cookbook-announcement-and-a-recipe-for-pumpkin-juice/