*Disclosure: some links may contain affiliate links (meaning if you end up purchasing something when you click on the link then I may get a commission on it, with no extra cost to you, of course). For more information on what this means, visit my disclosure page.
3 Super Cute & Healthy Halloween Snacks For Kids
In this article you will find 3 super cute, easy, and healthy Halloween snacks for kids! Two are even easy enough for toddlers to make themselves! The other one is great for early elementary school kids!
Halloween 2020 is in no doubt going to be a bit different than years past.
Whether that's good or bad, that's up to you.
And, whether you take your children out Trick-or-Treating, or if random strangers open up their doors to hand out candy; that may still be up for debate.
But, there are a few things that you can do to make this Halloween special for you kids, and that making fun Halloween treats at home!
If you aren't aware, this website you are on is called Stress Less Be Healthy, so the 3 craft snacks I'll be sharing with you below are healthy!!
These healthy Halloween treats are fun, easy, and your kids will love them!
However, there is one that isn't super toddler safe, but that's only because you need toothpicks to make it. The other two are absolutely safe enough and easy enough for toddlers and older children to make by themselves (without any help!!).
These 3 snacks are:
a fruit 'spider'
little 'pumpkins'
banana 'ghosts'
Before we get to the craft recipes, be sure to pin 3 Super Cute & Healthy Halloween Snacks For Kids to your favorite Pinterest Board!!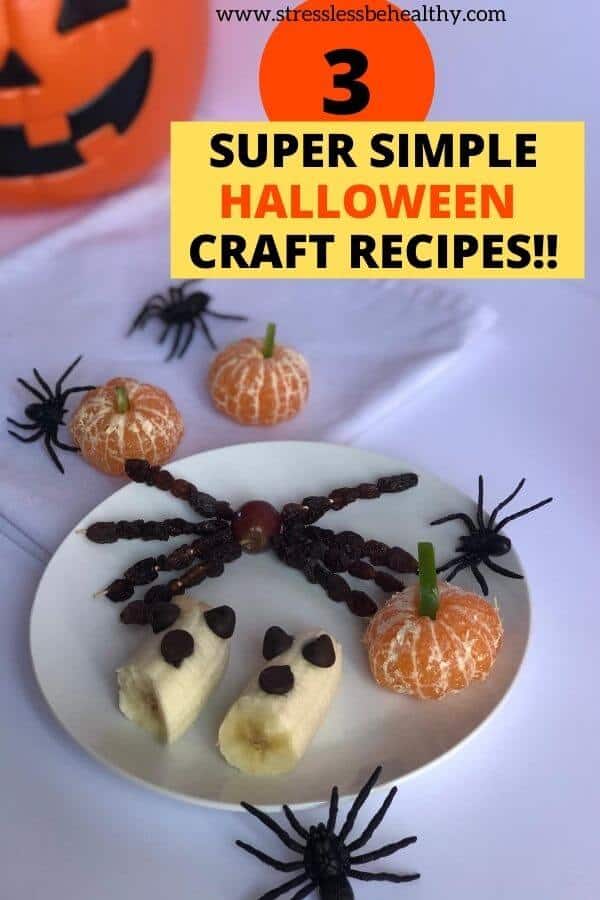 Be sure to also check out 15 Healthy Halloween Treats for Kids! for even more Halloween treat ideas!
Healthy Halloween Snack #1: Fruit Spider
This is the ONE snack that may not be suitable for toddlers to make.
However, since it does take a bit of skill (not much, but some), and more fine motor skills, this would be a perfect snack craft for preschoolers and older children.
My 4 year guessed how to put the raisins on the toothpicks for the spiders legs. She put them on horizontally…
So, instead of having nice thin spider legs, like how my 7 year olds turned out, my 4 year olds spider had chunky legs, and she had a lot more raisins to eat!
The legs are the most difficult part of this snack, as once you're done making the legs, you stick the toothpicks into a single grape. Four on one side, four on the other. Then it's done.
Simple as that!
Fruit 'Spider'
These adorable spiders only have two ingredients and makes a great craft, as well as a healthy snack! Yet, they are still spooky enough that my 4 year old refuses to go anywhere near them!
Ingredients
1

Grape

~¼

cup

Raisins

8

Toothpicks
Instructions
Start by gathering ingredients.

Then thread the raisins onto the toothpicks til every toothpick is covered.

Add the raisin toothpicks onto the grape like spider legs. Display and eat!
Recipe Notes
*Multiply the ingredient list by the number of spiders you want to make!
The amount of raisins will vary depending on how the raisins are added onto the toothpicks, so the amount is a rough estimate. But, a quarter cup should be plenty for 1 spider!
*Be sure to remove toothpicks if giving to toddlers.
Healthy Halloween Snack #2: Little Pumpkins
I know, I know, this snack is quite popular on the internet, but it's such a great healthy Halloween treat that I had to include it in this article!
Plus, I believe most people who make this snack make it with celery sticks as the stem poking out of the peel clementine.
But, my girls hate celery. I've tried many different ways to get them to eat it. I honestly can't even force myself to eat it, unless it's covered in peanut butter and chocolate! Ants on a log is the ONLY way they'll eat it.
So, instead of celery sticks, we use a slice of green bell pepper. My 4 year old loves these and would eat a full bell pepper sliced, all by herself!
For this craft recipe ALL your child needs to do is peel a clementine and stick the pepper slice in the middle. Easy enough for a toddler to do!
Little 'Pumpkins'
This adorable craft snack recipe is great for little hands, encouraging fine motor skills, and of course, eating!!
Ingredients
1

clementine

1

piece

green bell pepper

sliced and cut into 8ths
Instructions
Add the small piece of green bell pepper to the middle of the clementine. Display and eat!
Recipe Notes
*Multiply the ingredients by the number of 'pumpkins' you want to make!
If you want to make a whole bag of clementines into 'pumpkins', one bell pepper should be enough for all of the 'stems'.
Healthy Halloween Snack #3: Banana Ghosts
This craft recipe is also super simple, and cute!
All your kids need to do is peel a banana, break it in half, and stick some chocolate chips (or dried cranberries or raisins) on the banana like eyes and a mouth.
Then it's done!
My 7 year old suggested to use dried cranberries, as she feels those are healthier than dark chocolate chips. But you can let your own kids decide that for themselves.
She also suggests to make the bottom of each 'ghost' have a 'wave' on it to make it look more like a ghost.
No matter what your own kids suggest or want to do with this craft; the important thing is that they have fun.
Because it is just so much easier to get our kids to eat their healthy snacks if they can play with them first!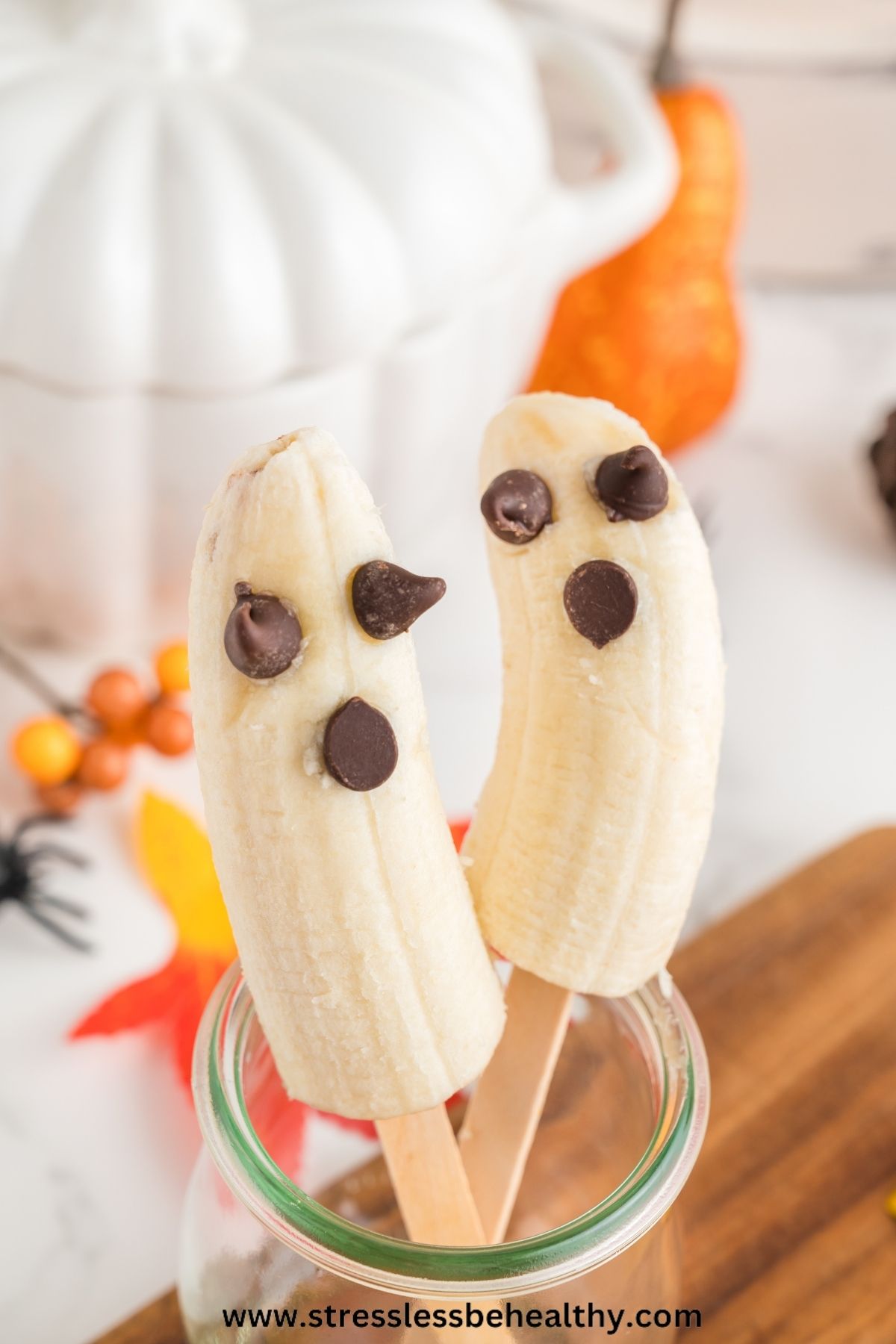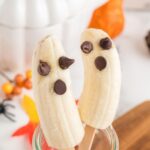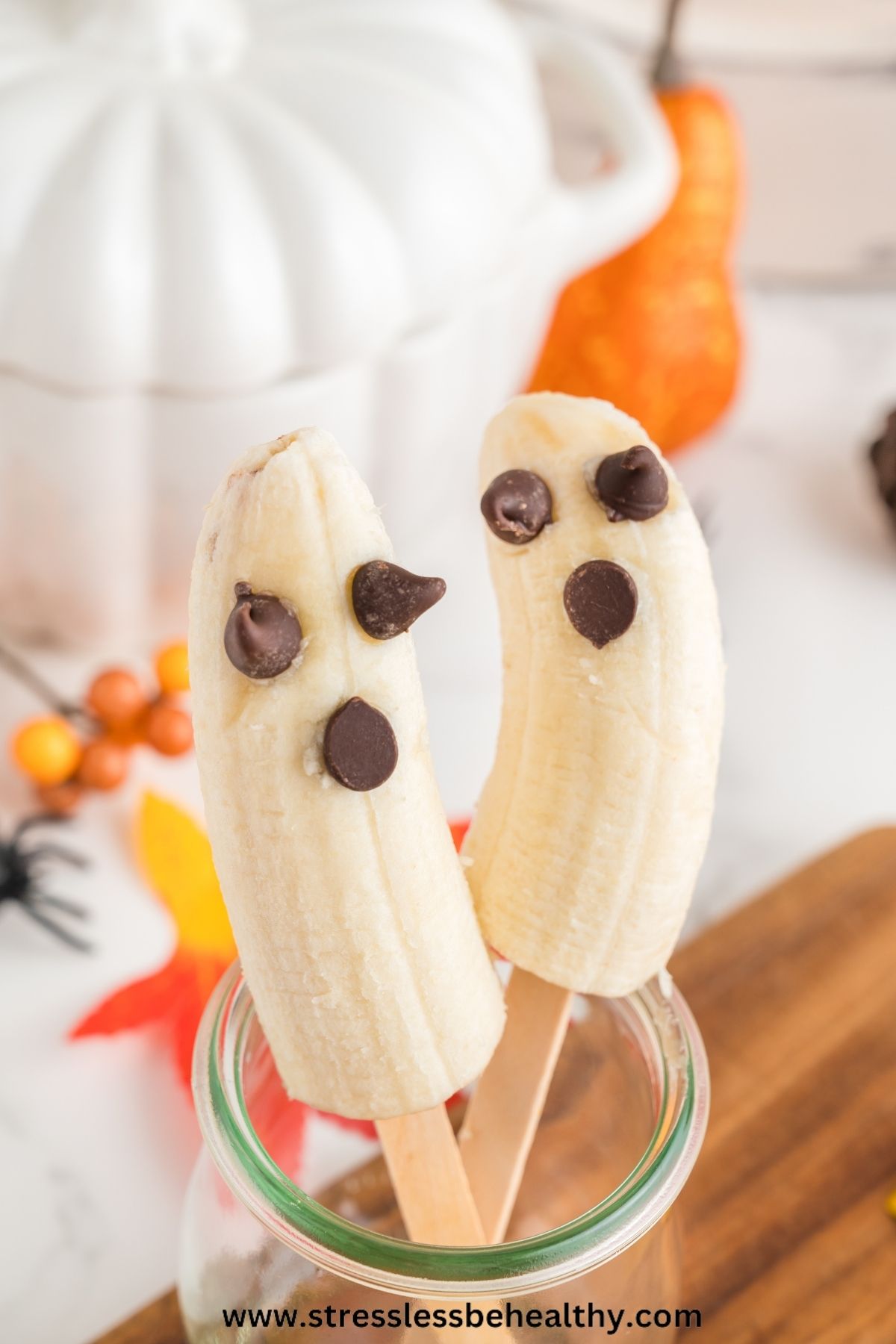 Banana 'Ghosts'
Your kids will love these cute little banana 'ghosts'! Easy enough for toddlers to make and practice using their fine motor skills!
Ingredients
1

banana

6

chocolate chips
Instructions
Peel the banana and cut (or break) in half.

Add the chocolate chips to the banana as if they were eyes and a mouth. Display and eat!
Recipe Notes
*Feel free to substitute cranberries or raisins in the place of the chocolate chips!
Before we get to the craft recipes, be sure to pin 3 Super Cute & Healthy Halloween Snacks For Kids to your favorite Pinterest Board!!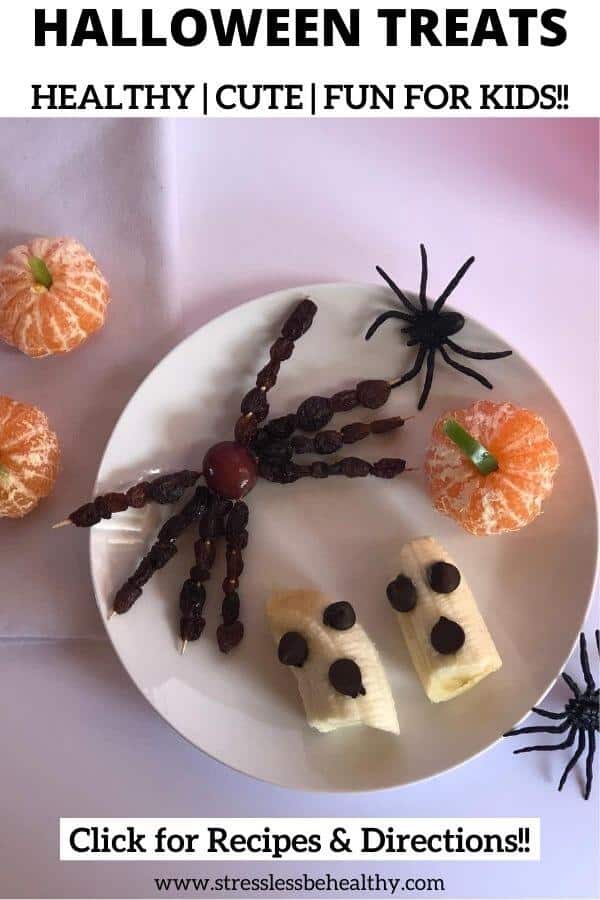 Now that you have the recipes, let's talk a little more about THIS Halloween and a couple common questions about what kids should eat on Halloween…
What should I get my kids for Halloween?
Luckily, Halloween isn't a holiday in which you really need to get your kids anything!
With that being said though, there are some things that kids should have on Halloween, whether it's DIY or bought. These things are:
a Halloween costume
Something to collect candy with
And, for this year in particular, it may be best to just buy a bag of candy and/or healthy food and some craft supplies and make Halloween as special as possible AT HOME!
Check out some great easy craft & other fun Fall activities for kids:
That is exactly why my girls and I have created these healthy Halloween craft recipes to share with you and your kids!
Plus, the snack crafts above are an excellent (and fun) way to get some healthy food into your little ones!
Check out these articles if you need Halloween Costume Ideas:
What is a good Halloween treat?
I guarantee you that a 'good' Halloween treat is going to differ depending on who you ask!
Ask a child and they are most likely going to say candy, cupcakes, or some other treat.
Ask an adult, and you might get a little bit of a healthier answer.
The BEST kind of Halloween treat, whether it is healthy or not, is going to have a 'Halloween theme' to it.
Maybe it's spooky.
Maybe it's cute.
Or maybe it's just orange, yellow, purple, black, or white, or some combination of those!
You can check out some other awesome Halloween treat ideas HERE!
A candy corn Popsicle recipe that kids can help make HERE!
Or, if you want to have a Harry Potter Themed Halloween Party- click here!!
How to have a healthy Halloween?
This year may be the easiest year yet to have a healthy Halloween, especially if you're still trying to physically distance yourself from others.
Don't focus on candy, instead focus on Halloween or Fall crafts.
Make this year fun with healthy Halloween snacks like the ones above, or by having your kids get creative without involving food.
Some other ideas to make Halloween special this year are:
Making their own costumes
Making their own decorations
Fun Halloween-like science experiments (really, most science experiments could relate to Halloween if your kids think of themselves as 'mad scientists')
Playing Halloween themed games (such as simple matching games, outside games, and more!)
My girls and I are even planning on setting up little stations at the doorway of each room in our home with little bowls of treats, so it can feel a little more like they are out Trick-or-Treating!
They are very excited about this idea, especially since the baby (she's 13 months old) has been trying to say 'Trick-Or-Treat' lately, and they think that is just the cutest thing ever!
I hope you and your kids enjoy the healthy Halloween craft snacks above.
If you or your kids make them, I'd love to see them on Instagram!!
Be sure to tag me @stresslessbehealthy_veganfood and I'll be sure to like and possibly even comment on your post!!