*Disclosure: some links may contain affiliate links. For more information on what this means, visit my disclosure page.
These cute clementine pumpkins are the easiest, allergen friendly Halloween treat that isn't sugar laden and are so easy that kids can make it!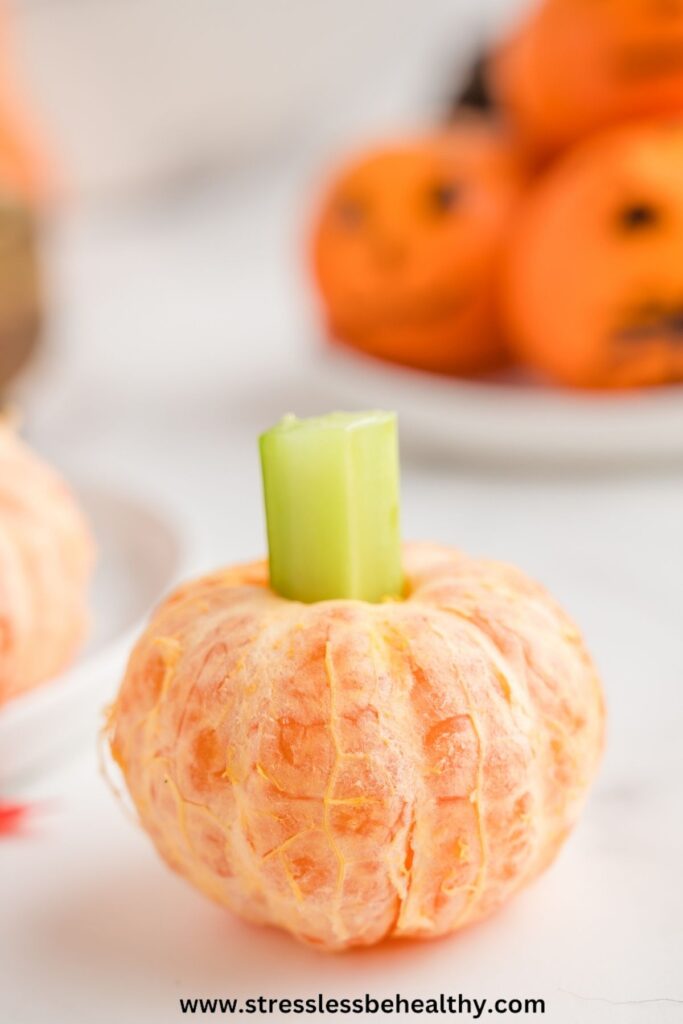 It's October, and that means Halloween (the holiday with sugar laden treats found everywhere – and trick-or-treating) is right around the corner.
Luckily, there are ways to make it a healthier Halloween, and one way is to help kids make snack crafts!
My kids love snack crafts, they're fun for kids and usually on the healthier side, with less sugar. Plus, it entertains them for a little bit.
Ingredients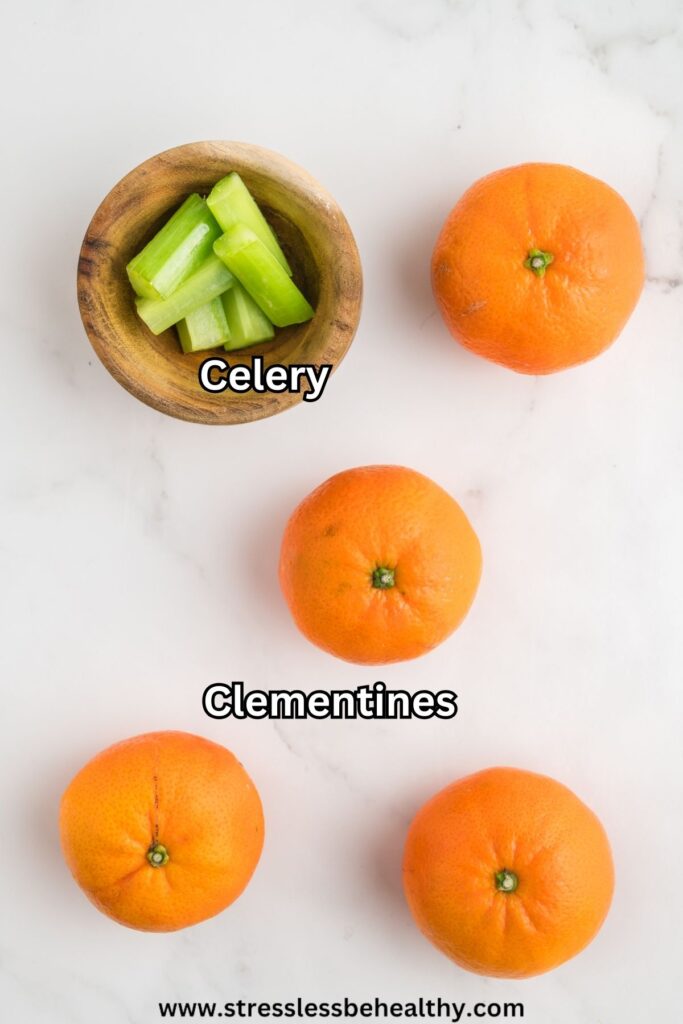 Clementine: The clementine is the pumpkin. If you don't have clementines then choose another fruit in the orange family that's easy to peel.
Celery: The celery is used for the 'stem' of the pumpkin, but if you don't have, or aren't a fan of celery, you can use any green food that can be cut into a small stick.
Some alternatives are:
Green pepper slice
Cucumber
Parsley
Anything else that's green and could resemble a stem!
How do you make a pumpkin out of an orange?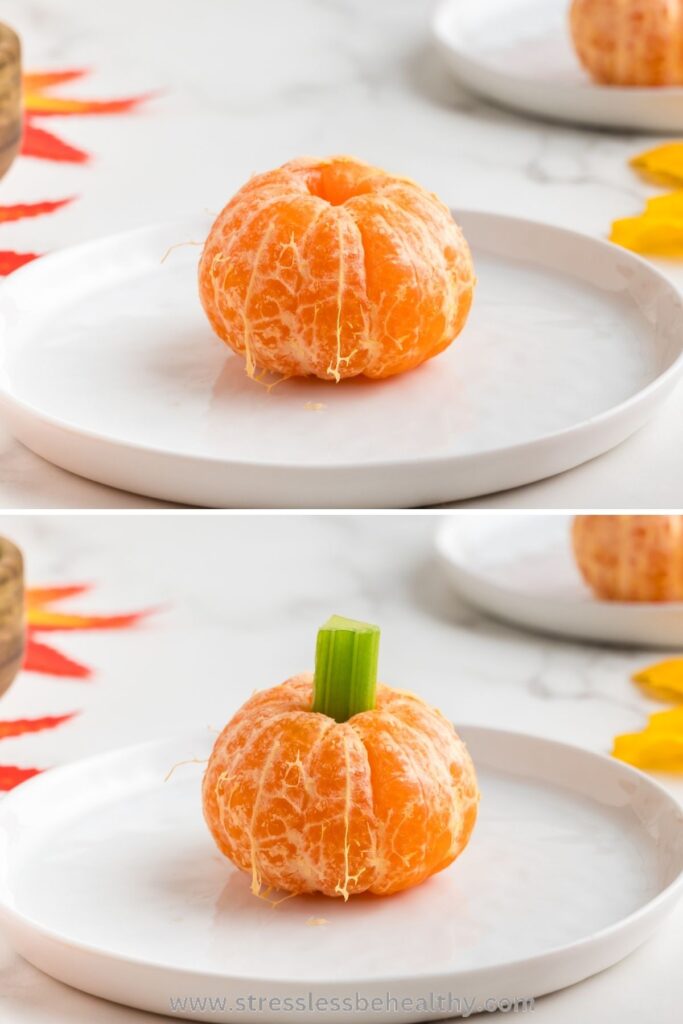 Step one: Peel the clementine.
Step two: Stick the cut celery (or pepper, or cucumber), piece into the hole on the top of the clementine.
Ta-da, you're ALL done!
It's so simple and would be a great motor or sensory skill builder for little ones.
Why You'll Love There Cute Clementine Treats for Halloween
Kids love them! These super simple treats are perfect for kids of all ages, they're just the right size for their little hands.
Great for Halloween Parties. With not including any of the top 9 allergens they are perfect for classroom parties at school, Halloween parties at work or daycare. Or bring them to your annual Halloween potluck or festival!
Super easy to make! Seriously, they are so easy to make, it's only 2 steps and great for fine motor skills for toddlers.
A great healthy Halloween snack idea! This is a whole food plant based fun Halloween snack for kids. The food came from the Earth and was not processed, you can't get much healthier than that!
Perfect for groups. These cute little pumpkins are great for a group setting. Again, just like with handing these out in place of candy – be sure to keep the peel on and let everyone make their own!
Not loaded with sugar. The only sugars found in this little Halloween treat is natural sugars, still attached to the fiber that we're meant to eat with sugar.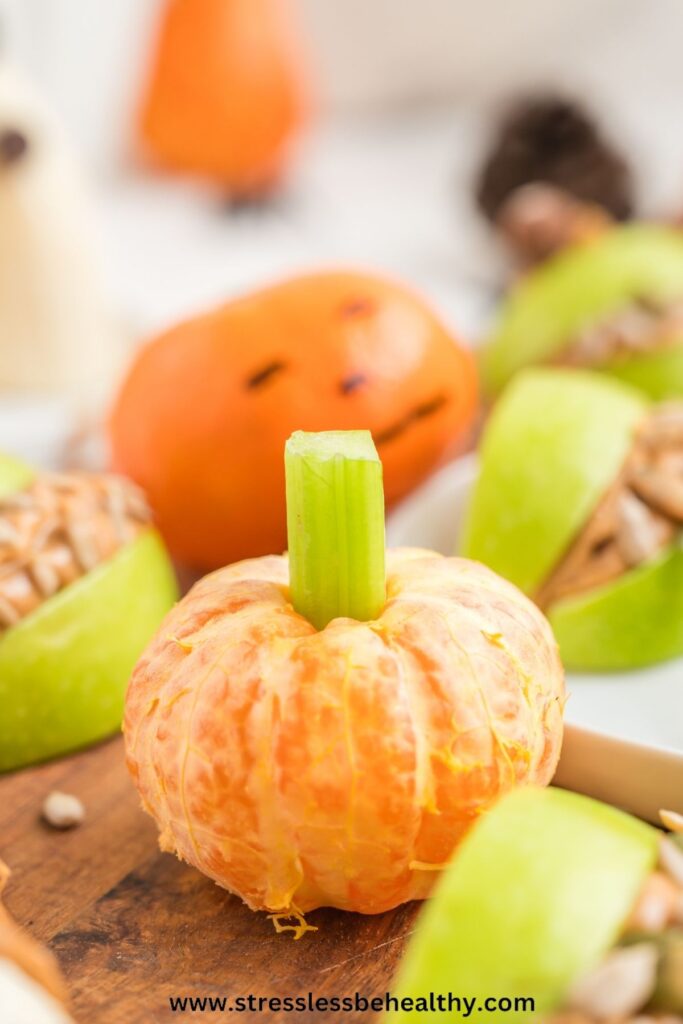 Alternative Ways to Make this
If you're planning on handing these out and giving them to people in a group setting then leaving the peel on and drawing Jack-O-Lantern faces on them with a sharpie, or smudge proof marker, is the way to go!
They'll last much longer this way, and then everyone can actually eat their Halloween snack without having to worry about other people's germs when the cuties were unwrapped.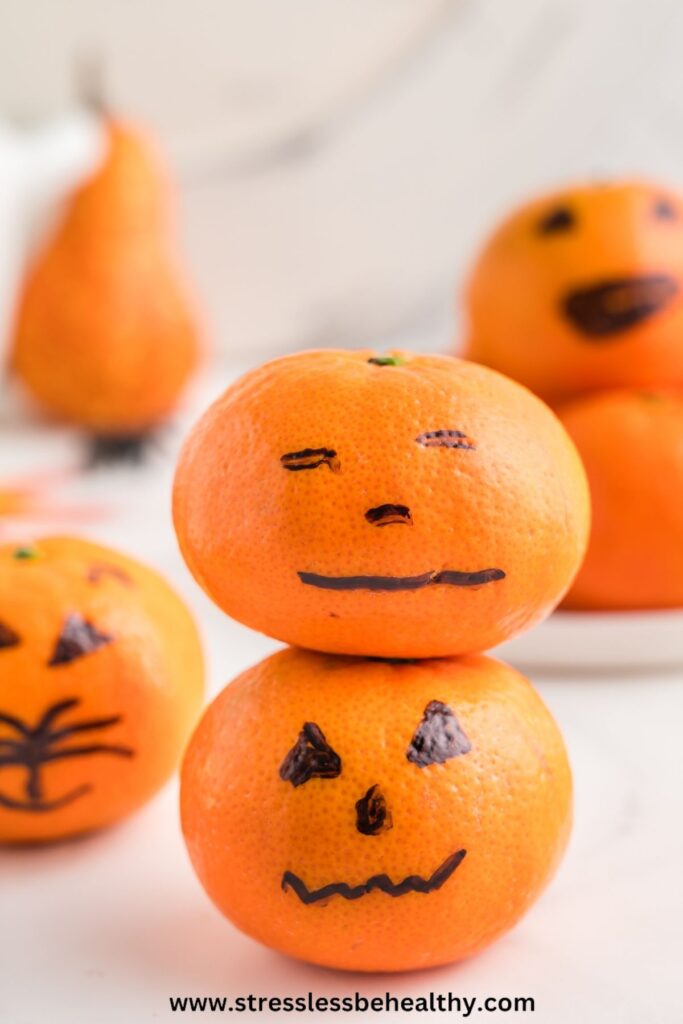 How to Serve
These are great to serve at classroom parties, as it's an inclusive party food and generally a safe bet as far as allergies go and they are portable!
Or, make them at home as a treat for your own kids.
If handing out in the place of candy, I'd recommend using the alternative method, and simply draw a jack-o-lantern face on them, instead of peeling them.
How to Store
Fridge: If peeling the cuties, store them in an airtight container in the fridge until ready to serve.
To last the longest, don't make these until you are ready to enjoy them, or use the alternative method of making adorable faces with markers on them.
Clementines last a really long time in the fridge if kept unpeeled, like weeks or longer if stored properly.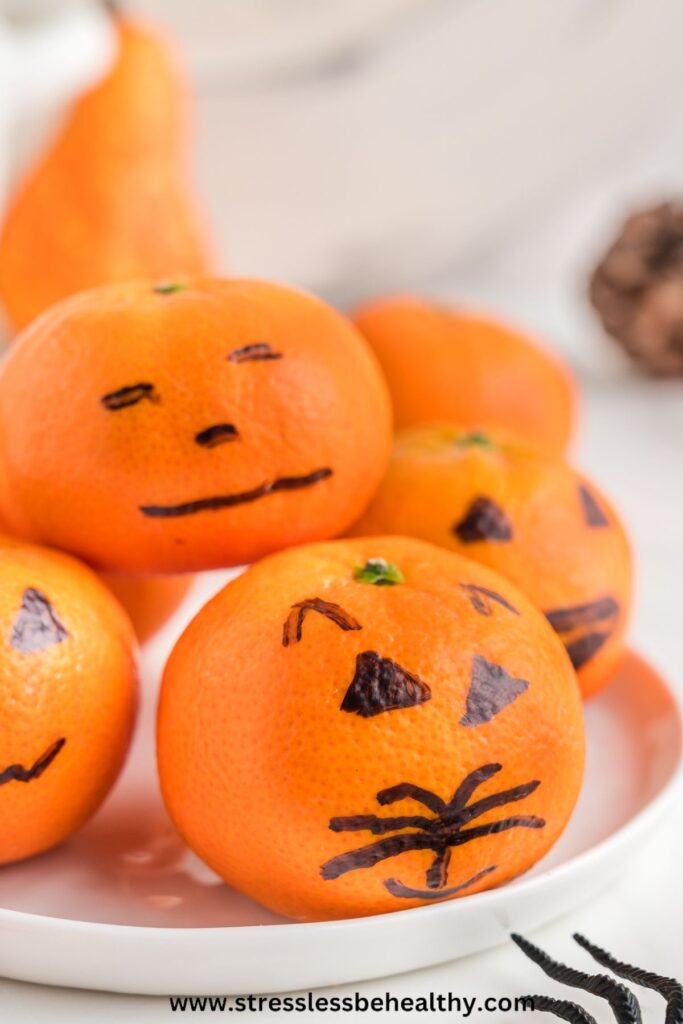 Other Low Sugar Or Allergy Friendly Fun Fall Treats: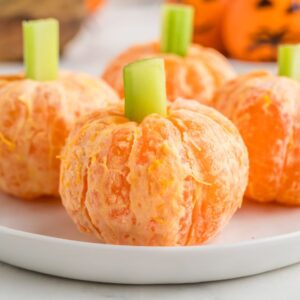 Clementine Pumpkins
These cute little Halloween Clementine Pumpkins are going to be the best little treat at the party! You're kids will be begging you to make these all year long as a fun little snacks!
Ingredients
4

Clementines

4

small pieces of Celery

cucumber or bell pepper
Instructions
Peel the clementine.

Take one of the small pieces of celery and wedge into the hole in the middle of the top of the clementine.
Notes
If making these for a party, consider drawing on the peel to make clementine Jack-o-lanterns, to keep it a little more sanitary!
Nutrition
Calories:
35
kcal
Carbohydrates:
9
g
Protein:
1
g
Fat:
0.1
g
Sodium:
2
mg
Potassium:
134
mg
Fiber:
1
g
Sugar:
7
g
Vitamin A:
4
IU
Vitamin C:
36
mg
Calcium:
23
mg
Iron:
0.1
mg