*Disclosure: some links may contain affiliate links (meaning if you end up purchasing something when you click on the link then I may get a commission on it, with no extra cost to you, of course). For more information on what this means, visit my disclosure page.
The Easiest Candy Corn Popsicle Recipe You Can Make With Your Kids!
In this article you will find a healthy and delicious candy corn popsicle to make this Halloween! Picky eater approved homemade popsicle recipe made with Whole Foods! (No yogurt required!)
If you're looking for super healthy popsicle recipes for Halloween then you've found it!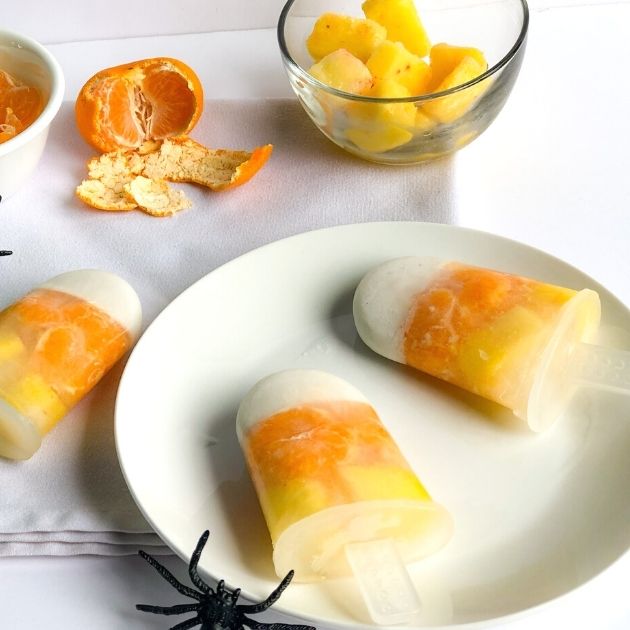 Usually we think of Halloween as a day our kids collect tons and tons of candy, with loads of sugar.
A dental visit just waiting to be needed…
But it doesn't have to be that way!
Your kids can have a fun Halloween treat without the added sugar!
The popsicle recipe below is full of fruit, water, and coconut milk…
That's it!
These popsicles are healthy enough, and simple enough to give to babies; baby popsicles!
Want to Remember this recipe? Pin The Easiest Candy Corn Popsicle Recipe You Can Make With Your Kids! to your favorite Halloween Pinterest board!!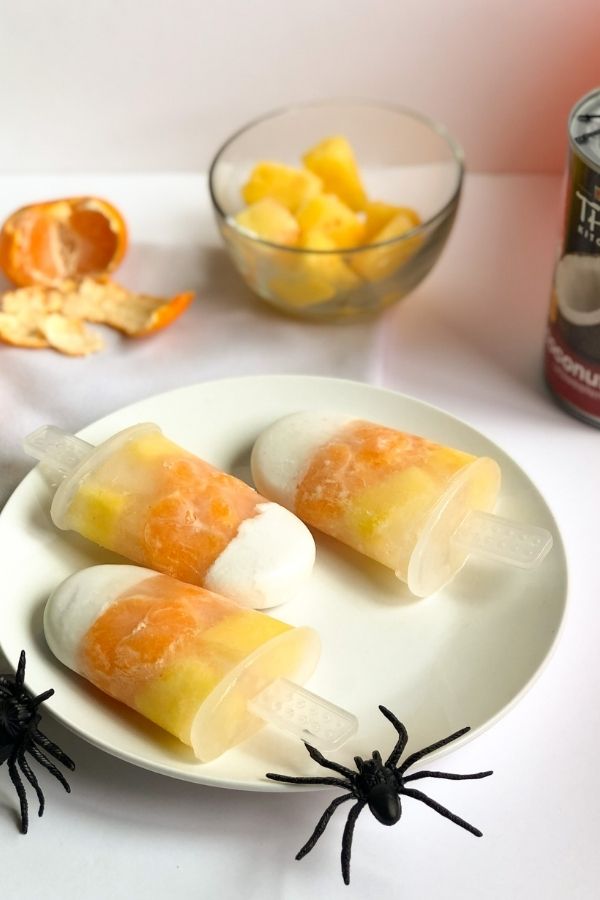 How to make Halloween Homemade Popsicles that Look Like Candy Corn
There aren't many steps to making these popsicles. However, since they are popsicles and need to be frozen, they do take some time til they will be ready.
Start by adding coconut milk to the bottom of your popsicle molds (these ones are great).
Then you'll need to let the coconut milk set in the freezer before adding the rest. 
If you don't let the coconut milk freeze first then the fruit for the rest of the popsicle will fall into the coconut milk and it won't look like candy corn…
That's what happened the first time I tried making these!
Once the coconut milk is frozen, take a clementine and add half of the sections of it to the popsicle mold. Just squish them in, if you need more to make it more even, that's fine, but half should do it.
Then add a couple of pieces of pineapple at the bottom. Add water to fill in any cracks and carefully add the popsicle sticks.
*Note- if you need to cut up a pineapple, keep the popsicles in the freezer while doing so. I used frozen pineapple, but fresh will also work!
Wait til completely frozen, then enjoy!
It will take a couple hours for these to freeze. Best to make these the day before and let them freeze overnight.
Don't forget to let your kids to snack on the extra fruit and coconut milk while they wait for the popsicles to be ready to eat. Go ahead, add some kale and flaxseeds and make a super healthy smoothie!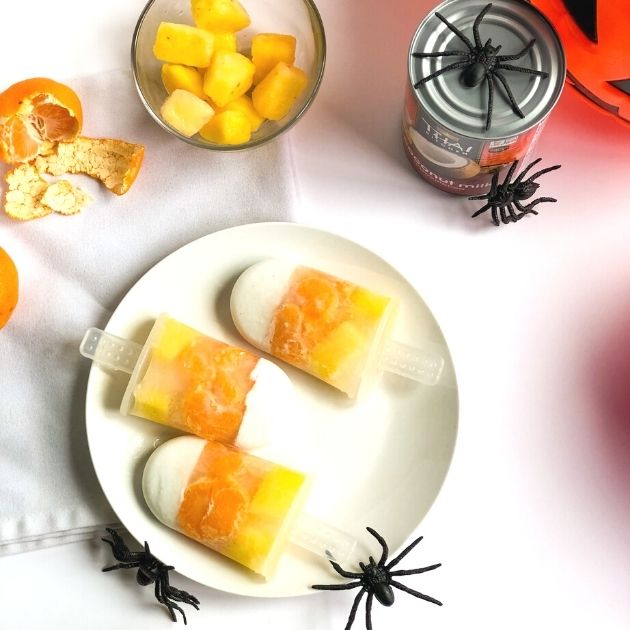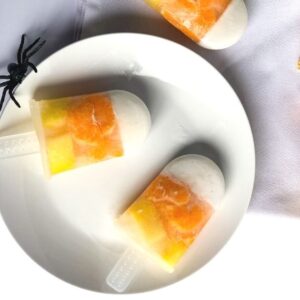 Candy Corn Popsicles
You and your kids are going to love these candy corn popsicles! They are also sooo much healthier and more delicious than the candy itself!
Ingredients
Water

(enough to fill in the empty space in the popsicle molds)
White Section of Popsicle
4

tbsp

coconut milk

(full fat)
Orange Section of Popsicle
Yellow Section of Popsicle
8

pieces

pineapple

(small pieces)
Instructions
Pour 1 tablespoon of coconut milk into each popsicle mold. Set in freezer and allow to solidify.

Once coconut milk is frozen, peel the clementines and break them into sections.

Add half of a clementine to each popsicle mold.

Add two pieces of pineapple to each popsicle mold.

Pour water over the popsicle molds to fill in the empty space.

Add in the popsicle sticks and let freeze in the freezer for a few hours. Enjoy once frozen!
Notes
*Do not try to add the fruit to the mold before the coconut milk is frozen, as they will sink.
*Do not try to blend clementines or pineapple for a smoother texture, unless you have a small blender or want to become frustrated. I tried with my nutri-ninja and it did not go well.
*You may substitute the clementines out for an orange, but the amount you need may differ.
More Halloween Treats and Snacks Your Kids Will Love!
3 cute and healthy halloween snacks for kids
15 Healthy Halloween Treats for Kids!
Halloween Crafts & Party Ideas:
Everything You Need for a Harry Potter Halloween Party
Simple Spider Web Craft (An Easy Halloween Craft for Preschool!)
Halloween Costume Ideas for kids:
The Ultimate Disney Princess Halloween Costume Guide for Your Little Princess
The Cutest Baby Costumes for Halloween 2020
11 of the Cutest Toddler Girl Superhero Costumes
Want to Remember this recipe? Pin Better THAN Candy Corn Popsicle Recipe for Kids to your favorite Halloween Pinterest board!!