*Disclosure: some links may contain affiliate links (meaning if you end up purchasing something when you click on the link then I may get a commission on it, with no extra cost to you, of course). For more information on what this means, visit my disclosure page.
Vegan Zucchini Bread Recipe
In this article you will find an AMAZING vegan zucchini bread recipe. It's packed full of nutrients and 3 different kinds of fruits & veggies, but it's still kid approved and loved!
This recipe does contain sugar, but other than that it's quite healthy; vegan, mostly plant-based, no oil (uses applesauce instead), and it uses oat flour instead of all purpose flour. Overall, it's better to give your child this than any processed breakfast food!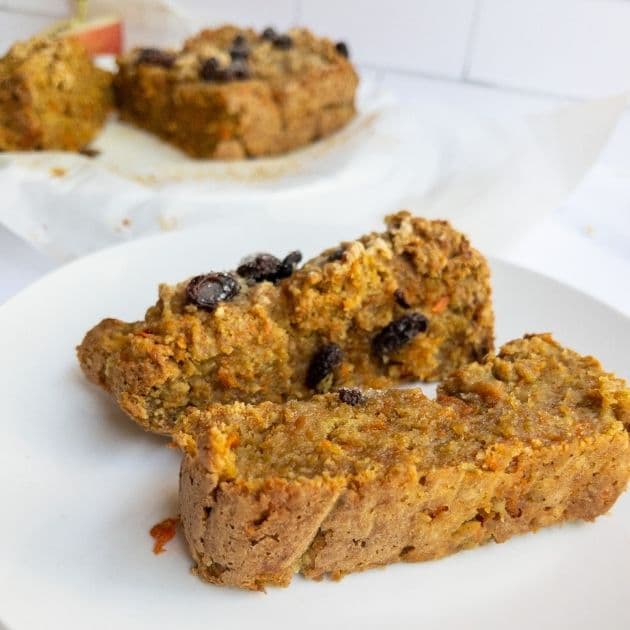 Ok, so this is the tastiest way to use up leftover zucchini AND to get your kids to eat more VEGGIES!
Yes, I'm here to tell you that IT IS OK to get your kids to eat healthy by adding a little sugar to it!
Just don't do it all the time; moderation is key to anything with sugar in it, especially with kids.
But this vegan zucchini bread is nice to make every once in awhile when you have a little extra time in the morning and are craving something sweet, but still want to get those veggies into your kids without going through a fight!
You can also customize this recipe to your own liking; add in raisins, chocolate chips, walnuts, etc.
Feel free to sub in all purpose or another type of flour in place of the oat flour, and use whichever sugar you have on hand. (Seriously, I've even tested this recipe with powdered sugar and it came out fine!)
I do have to say, this is probably one of my longer recipes, because so many recipes on this site are quick and easy…
But it's so good, I couldn't help but add it to the wonderful collection of recipes I share on this site for FREE.
Want to Remember This? Pin Vegan Zucchini Bread Recipe to your favorite Pinterest Board!!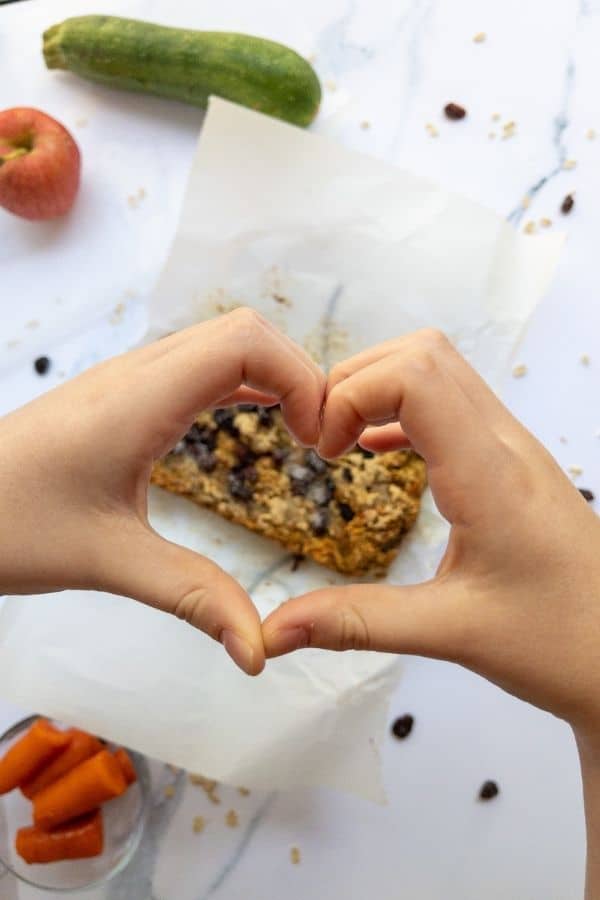 How to Make the Best Vegan Zucchini Bread Healthy
Alright, so I may be a little biased when I say they are the best, but what can I say!
I love taking recipes from my childhood (that I never was taught how to make), veganize it, swap out most of the unhealthy ingredients for healthy ones, and then make it as simple as possible.
Plus, it doesn't have any butter or oil in them, not even vegan butter, like some 'quick bread' do.
I've found a way to get it to taste just like my moms old recipe, but without the saturated fat or oil.
*Hint- just because it's vegan, does not mean it's healthy! It took me a long time to realize this- the sooner you understand this and are able to implement it in your daily life; the better!
So, you'll want to start this recipe by preheating the oven to 350F.
Then gather all the ingredients, grab a mixing bowl & spoon, measuring cups & spoons, a bread pan and parchment paper.
Line the bread pan with the parchment paper for less clean up after the bread is done and then we can start to actually make this bread…
Add the ingredients for Vegan Zucchini Bread
Add in the applesauce, non-dairy milk, sugar, and optional vanilla.
Then go ahead and peel your product and shred it.
You can chop it up real small if you don't have a grater, but a grater makes it a ton easier and quicker to do. I've tried it both ways, so do know that either way will work; one way is just easier.
After ALL the produce is grated, or thinly chopped, grab a clean towel and squeeze all of the liquid out of it. It's kind of impressive how much liquid you'll be able to squeeze out of the fruit & veggie shreds!
Then add the shredded produce to the first mixture (with applesauce, sugar, etc.) and stir well.
Now it's time to add the flour and the rest of the ingredients, minus any toppings or add ins you feel like adding in. Just make sure everything is stirred well.
Now comes the fun part; the add-ins & toppings!
In the pictures you see in the post, I added a handful of raisins and some cane sugar on as toppings before baking and it turned out amazing!
If you don't want to add anything extra, that's fine as well.
But, if you do, choose from these and more:
raisins
craisins
walnuts
chocolate chips
cane sugar
coconut shreds
blueberries
etc.
Recipe Notes
You can use any non-dairy milk with this recipe, we use soymilk.
You can easily make oat flour at home with oats and a blender. Simply blend for at least 30 seconds. Of course, this depends on the amount of oats you are grinding into a flour and the type of blender you have. Just blend until it comes to a flour-like consistency.
For example, a Vitamix half full with oats will take 30 seconds, whereas if it were full to the max line, I would blend it for a full minute.
Like said above this recipe is easily customizable, swap out different fruits and veggies for the ones in it, add in raisins or chocolate chips, etc.
Also the brand of any ingredient does not matter- I usually get store brand of things when I can to save money on food; the price doesn't determine the quality in most cases.
Why You Will LOVE This Zucchini Quick Bread!!
You and your kids will love this vegan zucchini recipe because…
loaded with fruits & veggies
something different than what they may be used to for breakfast or snack
nutritious (mostly- there is sugar in them)
Rich and delicious!!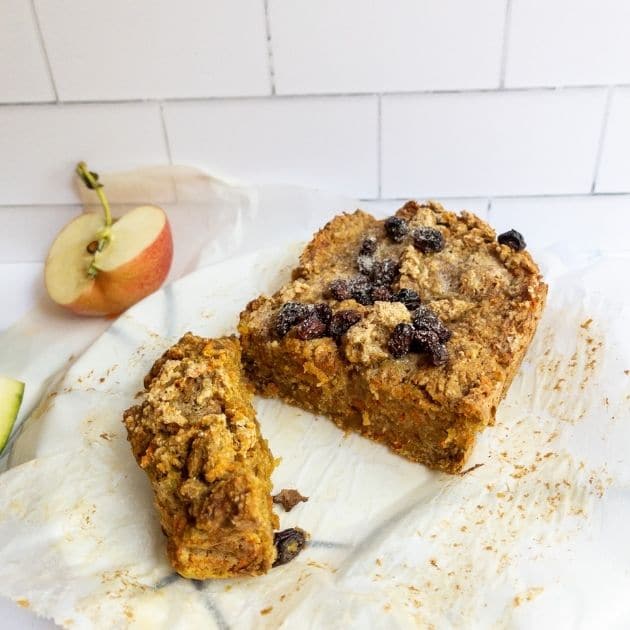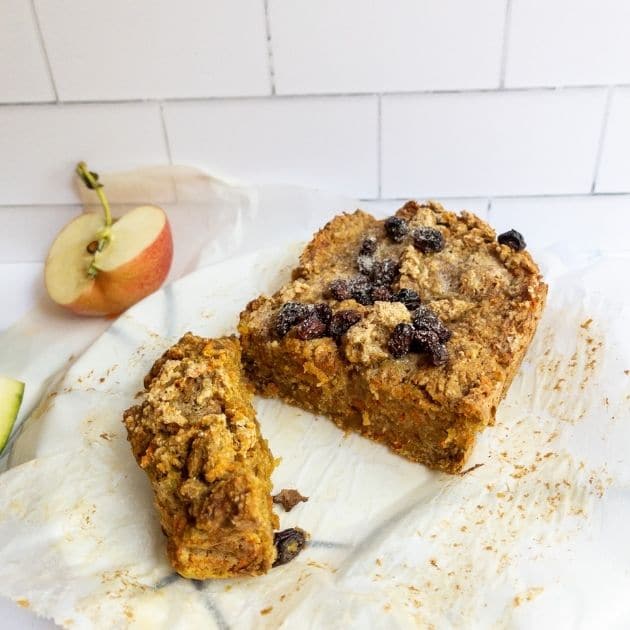 Vegan Zucchini Bread Recipe
Moist and delicious, easy and nutritious! Your kids will be asking you to make this vegan zucchini bread recipe.
Ingredients
1/4

cup

applesauce

1/3

cup

non-dairy milk

1/2

cup

sugar

2

tsp

vanilla

(optional)

1/2

cup

shredded zucchini

(or 1 medium zucchini)

1/4

cup

shredded carrot

(or 1 medium carrot)

1/4

cup

shredded apple

(or 1 medium apple)

1 1/2

cup

oat flour

1/2

tsp

baking powder

1/2

tsp

baking soda

1

tsp

cinnamon

1

cup

raisins

(optional)
Instructions
Mix ingredients together in the order listed above.

Add parchment paper to cover bread pan, pour batter in and bake for 45-55 minutes

Let cool, slice, and enjoy!
If you enjoyed this recipe, you may also like:
Want to Remember This? Pin Vegan Zucchini Bread Recipe to your favorite Pinterest Board!!