*Note: some links may contain affiliate links (meaning if you end up purchasing something when you click on the link then I may get a commission on it, with no extra cost to you, of course). For more information on what this means, visit my disclosure page.
Simple Spider Web Craft (An Easy Halloween Craft for Preschool!)
In this article you will find a simple spider web craft that is easy enough for preschoolers to do all by themselves, after a small amount of prep work, of course! But it'll keep them busy for at least a few minutes while you take a break; whether you're a mom or teacher, you totally deserve it!
If you have young kids and want to make this Halloween special for them, then you'll want to follow along with the tutorial below for this fun and easy spider web craft!
I'ts easy enough for toddlers, but perfect for elementary school aged kids, as well, since they won't need any help setting it up or creating it!
They can make it all by themselves, and possibly even help their younger siblings!
Want to Remember This? Pin Simple Spider Web Craft (An Easy Halloween Craft for Preschool!) to your favorite Pinterest Board!!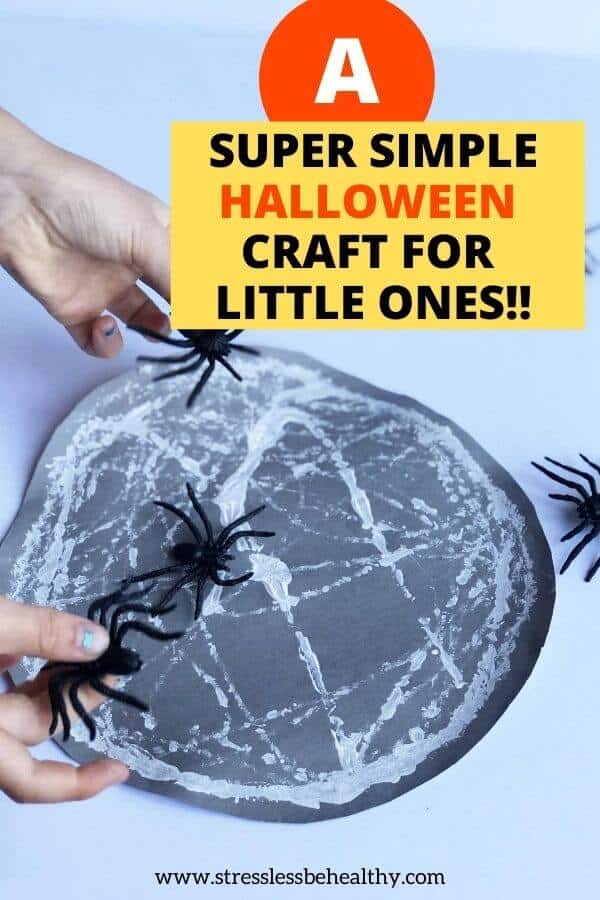 To start, you'll want to gather supplies.
Go get:
some black paper
marbles
white paint
and a cake pan
scissors
If you can't find marbles, small bouncy balls will work as well. That's we we ended up using because somehow all of the marbles we had disappeared. Marbles certainly work better due to their size and weight.
If you did this craft as a kid, then you probably already know the rest of the instructions. But just in case…
cut the black paper in a circle to fit inside of the cake pan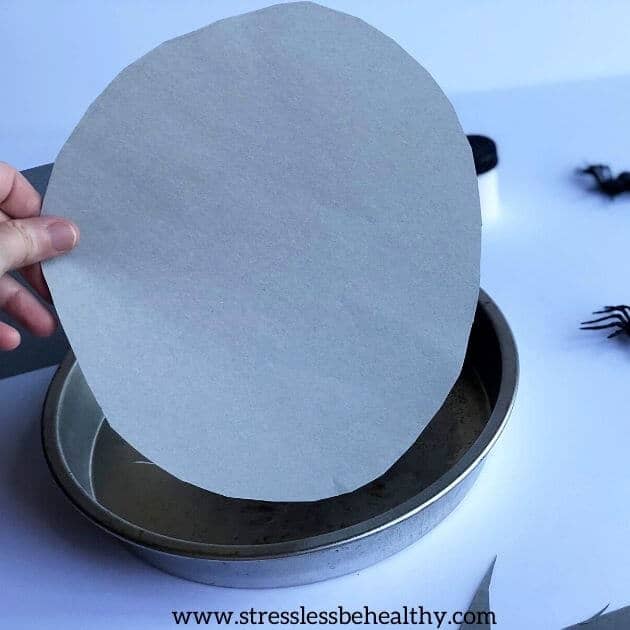 cover the marble in white paint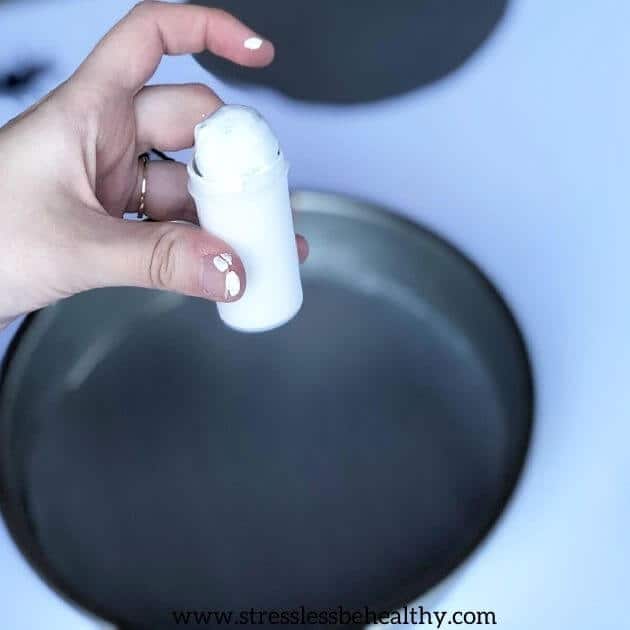 drop it in the cake pan and have some fun!!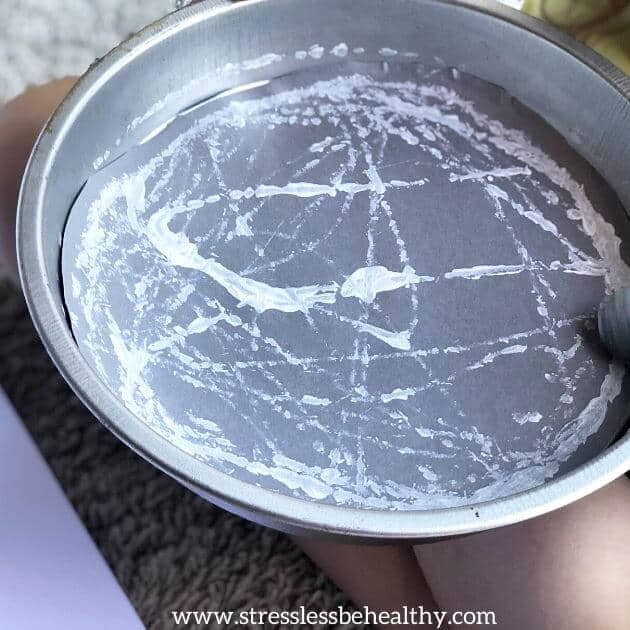 Actually, if you're setting this craft up for a toddler or young child, once you drop the marble in the cake pan with the paper at the bottom; that's when you hand it over to your child.
Then they can tilt and tip the cake pan as much as they want, as long as they don't turn it upside down.
The tilting and tipping will create a unique spider web with the white paint.
Then, simply let dry and display!!
For more fun Fall Crafts, check out 23 Easy Fall Crafts for Kids and How to Make a Puzzle Piece Wreath; An Easy Fall Craft for Kids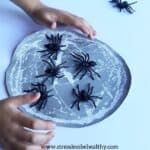 Simple Spider Web Craft
This simple spider web craft is easy enough for toddlers to make, but your young elementary school age kids will enjoy it, too! It can also be done using everyday items you can find around your home!
Ingredients
1

piece

black paper

1

marble

(or small bouncy ball)

white paint

1

cake pan
Instructions
Cut the black paper to the size of the cake pan to fit inside.

Place paper inside cake pan and cover marble (or bouncy ball) with white paint.

Place marble (or ball) inside cake pan on top of the paper and tilt from side to side; this will result in a unique spider web! Have fun!
Notes:
*A marble will work best for this craft. However, if you can't find one a small bouncy ball will also work, the heavier the bouncy ball the better.
Want to Remember This? Pin Simple Spider Web Craft (An Easy Halloween Craft for Preschool!) to your favorite Pinterest Board!!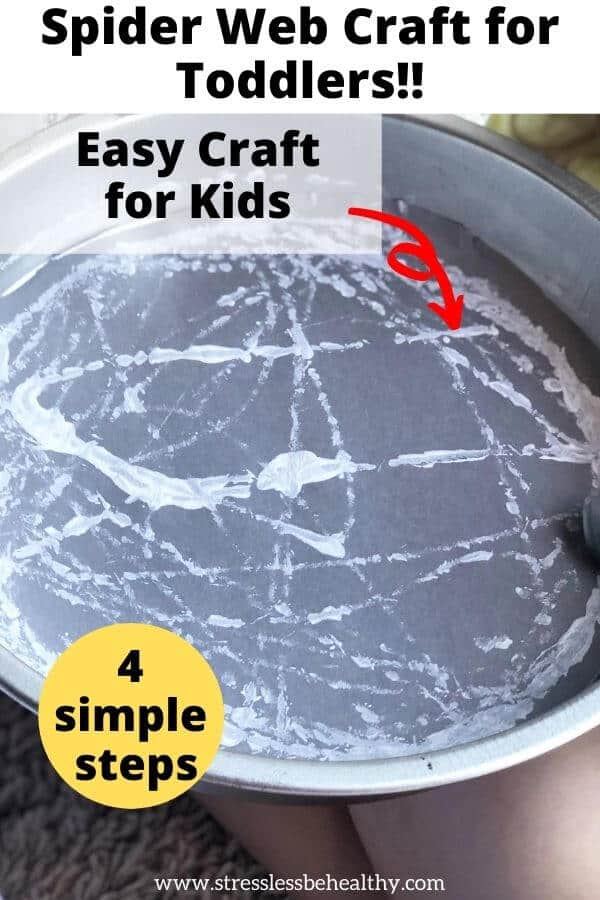 Now, if you need a different spider web craft for whatever reason, such as:
this craft was too easy for your child
need more spider web crafts
don't have the supplies on hand
your child is super crafty and simply wants a ton of crafts to choose from
Then keep reading for some of your questions to be answered and your crafting needs met!!
How do you make a spider web?
There are a lot of ways you or your child can make a spider web craft!
Older kids could use string, fishing line, or some other material to help make it look more realistic.
Some stores even sell premade spider webs for Halloween Decor.
Some other spider web craft ideas could include:
You will find links for tutorials to some of the different types of spider web crafts below, so keep reading!!
How do toddlers make a spider web?
One of the easiest ways for a toddler to make a spider web craft is the way I explained above!
You will have to cut the paper into a circle to fit into the cake pan, and then dip the marble in the paint. But once you do those two things, an older toddler should have no problem tipping and tilting the cake pan to make a web!
How do you make a spider web snowflake?
My girls and I have never made a spider web like you make a paper snowflake, but the tutorial below is amazing and shows you exactly how to do it, with a lot of high quality photos!!
How do you make a spider web with yarn and glue?
There are a few ways to make a spider web with yarn and glue:
How do you make a paper plate spider?
I don't have a tutorial on how to make paper plate spiders, but it's pretty simple to do!
Start by gathering a few supplies:
Paper plates
Paint
Craft pipe cleaners (8 per spider)
Google eyes (however many you want)
Glue or tape
Then let your kids start the craft
Paint the paper plates and let dry.
Add on the googly eyes
Glue or tape on the pipe cleaners for legs
Ta Da! You're done!
For more fun Fall Crafts, check out 23 Easy Fall Crafts for Kids and How to Make a Puzzle Piece Wreath; An Easy Fall Craft for Kids