*Disclosure: some links may contain affiliate links (meaning if you end up purchasing something when you click on the link then I may get a commission on it, with no extra cost to you, of course). For more information on what this means, visit my disclosure page.

How to Start Christmas Eve Gift Traditions & What to Gift!
Do you remember when you were young and had Christmas Eve Gift Traditions?
Or, maybe you didn't have those traditions as a child. But now, as you're growing a family of your own, you'd like your children to grow up with great memories and traditions for the holidays?!
Well, whether you want to bring your childhood memories back for your kids, or start some new ones; you'll want to read what's below to have all your questions answered, and to get some Christmas Eve gift ideas!!
---
Related Posts:
Gift Ideas For 3 Year Old Girls
Gift Ideas For 6 Year Old Girls
The Best Gifts for 2 Year Old Girls This Year!
---
Want to Remember This? Pin Christmas Eve Gift Traditions & What to Gift! to your favorite Pinterest Board!!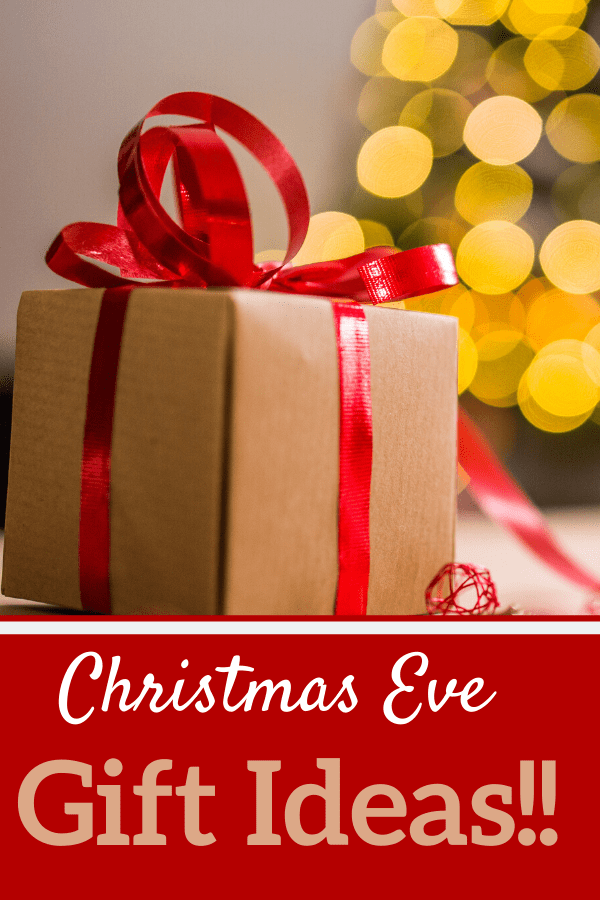 Some questions you may have about Christmas Eve Gift Traditions…
What are some good Christmas Eve traditions?
When I was growing up our Christmas Eve had some pretty great traditions!
These traditions included:
Make more cookies, enough to bring to Christmas Eve get togethers and for the next day (or week!)
Going to both sets of Grandparents' house to open presents, play with cousins, and eat way too many cookies!
Eating more cookies when we got home
Opening up one present before bed….the same type of present every year; pj's
It's not too much to plan for or handle as parents, and not too little that it's forgotten. I'm a mom of three and I still remember those Christmas Eve's like they were yesterday!
What can you do on Christmas Eve night?
Believe it or not, there's plenty you can do on Christmas Eve night with kids before they shut their eyes and wait for Santa to come!
Some things you could do are:
spend time with relatives
watch Christmas movies
eat cookies
open a Christmas Eve present (look below for ideas!)
read Christmas stories
last minute shopping…shhh…don't tell anyone you forgot til last minute!
How do people celebrate Christmas Eve at home?
How people celebrate Christmas Eve at home will differ depending on many things.
Some of the best ways is by:
opening Christmas Eve gifts as a family
eating cookies
watching movies
reading Christmas stories to kids
drinking hot cocoa and enjoying your families company
helping your child write a letter to Santa
setting out cookies for Santa and carrots for his reindeer
setting out Christmas stockings (here's a list of ideas to fill them)
And, for us adults…waiting for our kids to finally fall asleep so we can finish setting up to make Christmas morning a magical time for our kids! (And hopefully getting at least a few hours of sleep before they wake up!)
Don't forget to set the coffee pot.
What can toddlers do on Christmas Eve?
Toddlers can do many of the same things other kids can do on Christmas Eve. But, depending on if they're just coming into toddlerhood or if they're on the older end, there may be a slight difference.
All toddlers may enjoy these activities on Christmas Eve:
Ripping open a Christmas Eve present
coloring Christmas printables or in coloring books
watching a movie (or sleeping on mom or dad while we watch a movie)
listening to Christmas stories
decorating a small or paper cut out of a Christmas Tree
eating cookies
What are good Christmas traditions?
To start off:
making cookies
being around friends and family
watching movies together
having a Christmas Eve routine
having a Christmas morning routine
For more awesome Christmas traditions to start with your family this year, click here!
Be sure to grab this gift tracker to remember who you've bought for and what you've bought. Print it out, or edit it on your computer, phone, or tablet, so keep it a bit more secure so others won't see what they're getting for the Holidays! (Plus, who doesn't have their phone on them while shopping, make this Holiday Season a bit easier on yourself and download this PDF.)
Christmas Eve Gifts to Give!!
New Pajamas
You know how you're always taking photos of your kid on Christmas morning?
Well, you don't want to be taking pictures of them in old pj's that may be getting too small on them. Get them a new set of pj's to wear for Christmas morning! That way they don't have to stress about what to wear in all those pictures you'll be taking (especially for teens), and that's one pair less pj's you'll have to buy them simply because they are growing!
It's a win-win.
You could do matching pj's or pj's that you think your kids will love, or just let them pick out their own and buy them when they're not looking!
Plate Set for Santa
We all know how excited kids get when they set out cookies for Santa, and then the look on their face in the morning when they see that some of them are gone.
And, we tell them "Santa must have loved the cookies you put out
last night!" (wink, wink- we make some awesome Christmas cookies for a reason here).
Why not make those moments even more special by getting Santa his very own plate!
Christmas Movies
Watching Christmas movies is acceptable from the time you stop eating on Thanksgiving, all the way through to the New Year. And, there are some Christmas movies you just have to watch, and can't skip a year without!
Click on the image above to grab that collection or find more Christmas movies to reminisce about.
Get them an ornament of their favorite character.

Or, get them DIY ornaments so they have even more to do on Christmas, and during their winter break from school. You know, so you won't have to keep coming up with more and more ideas for them to entertain themselves with!
(I didn't expect that DIY set to be soo inexpensive when I first saw it!! Save yourself some money and check it out here.)
I remember the Christmas tree from my childhood was always full of so many different kinds of ornaments, not like those trees you find in magazines with all the matching ornaments hanging on them; so not personal!
Don't Over Do Christmas Eve…
There's more gifts you can give to your kids on Christmas Eve, but let's keep this simple and not try to out do ourselves here!
Doing too much on Christmas Eve is just going to set our kids up to expect and even bigger Christmas day. And, I'm not sure about you, but my bank account just cringes when it comes time for the holidays.
But, if you let them open up even just one present on Christmas Eve, and turn that one present into a tradition for every year; they'll remember those Christmas Eve's all through adulthood and remember the good times!
Keep it simple, keep it special!
Be sure to grab this gift tracker to remember who you've bought for and what you've bought. Print it out, or edit it on your computer, phone, or tablet, so keep it a bit more secure so others won't see what they're getting for the Holidays! (Plus, who doesn't have their phone on them while shopping, make this Holiday Season a bit easier on yourself and download this PDF.)