*Disclosure: some links may contain affiliate links (meaning if you end up purchasing something when you click on the link then I may get a commission on it, with no extra cost to you, of course). For more information on what this means, visit my disclosure page.
Impress your guests with this vegan stuffed shells recipe! Easy to make, but there are a few different parts of the recipe to turn it into the masterpiece it is, so consider giving your kids a job for it! My 4 year old is the tofu masher and 7 year old cooks the spinach to make sure it doesn't burn. Enjoy this vegan version comfort food!
It's vegan eggplant Parmesan is so delicious and the perfect entrée for your Christmas dinner.
Light legume-free veggie stew topped with creamy potato and celeriac mash. It looks lovely if you serve it in individual pots.
THIS IS A SIMPLE AND CLASSIC RECIPE FOR THE BEST VEGAN LASAGNA! NO MORE WONDERING HOW TO MAKE THE PERFECT LASAGNA, WE'VE GOT YOU COVERED WITH A GREAT MEAL THAT EVERYONE CAN ENJOY! CAN BE MADE ALLERGEN-FRIENDLY.
No more missing out on your Italian favorite! A Classic Baked Gluten-Free & Vegan Manicotti recipe with homemade tomato sauce, a creamy dairy-free & soy-free cheesy filling, all topped with a homemade 2-ingredient "parmesan"! A perfect comfort food dinner the whole family will enjoy!
This Vegan Wellington is crispy and flaky, rich and hearty and so full of flavour! A seriously satisfying plant-based showstopper!
Our family's favorite famous comfort food recipe, remade! Mom's Best Classic Gluten-Free Vegan Baked Ziti without the dairy, but still under 5 ingredients! This make-ahead "cheesy" pasta dinner casserole is soy-free too, super easy, delicious, and baked in 20 minutes! Great as a freezer meal or having leftovers throughout the week!
Vegan pasta soup (vegan pasta e fagioli)
You'll love this incredible vegan pasta soup aka Pasta E Fagioli. It's vegan, gluten-free, high in protein, quick to prepare and suitable for the whole family!
This easy Vegan Eggplant Parmesan recipe is gluten-free, allergy-free, and quick to prepare! Crispy eggplant slices made without oil or eggs in the air fryer, then layered and baked with homemade Italian tomato sauce and dairy-free, soy-free, nut-free cheese! A quick and healthy dinner for the whole family!
This hearty and nutritious vegan lentil loaf is perfect as a delicious plant-based addition to any holiday meal or winter day! It's really easy to make and requires only 15 minutes of hands-on time. Our menu comes with parsnip fries and a green salad for perfect balance.
Simple to make and delicious hot or cold, nut roast is the classic main course for a veggie Christmas.
Christmas Rice makes a complete vegan meal comprising brown and wild rice, green beans, spices, pomegranate, nuts and dried fruit. Loved by kids and adults alike!
Why do we call this recipe Lazy Vegan Pot Pie? Because you will not find an easier recipe than this one. It is a creamy vegetable pot pie topped with a crispy sliced potato crust. So no need to fuss with making, kneading or rolling a pie pastry.
This healthy vegan sweet potato casserole is easy to make with simple ingredients like oats and pecans and makes the perfect side dish for Thanksgiving and Christmas. This recipe is oil-free, gluten-free, plant-based and refined sugar-free.
This vegan Wellington is perfect for Christmas dinner and super easy to make. Kids love the flaky puff pastry and you can get them involved to help roll out the dough
A hearty plant-based dinner idea that will satisfy even meat-eaters! A Vegan Cauliflower Lentil Loaf that mimics the classic meatloaf with no meat, gluten-free, nut-free, and soy-free! Get all your protein and veggies in this healthy recipe!
Red sauce pasta is a delicious recipe of pasta and mixed veggies in a homemade red tangy tomato sauce. This meal can also be made without veggies but I usually add them as they give a good taste and also increase the nutrition factor. This meal is especially good for kids who like pasta but refuse to eat vegetables.
This vegan, gluten free sweet potato casserole has a delicious crispy, crumbly topping. It's perfect as a plant-based main course, but consider making a double batch because any non-vegan guests will want to eat some as a side dish too!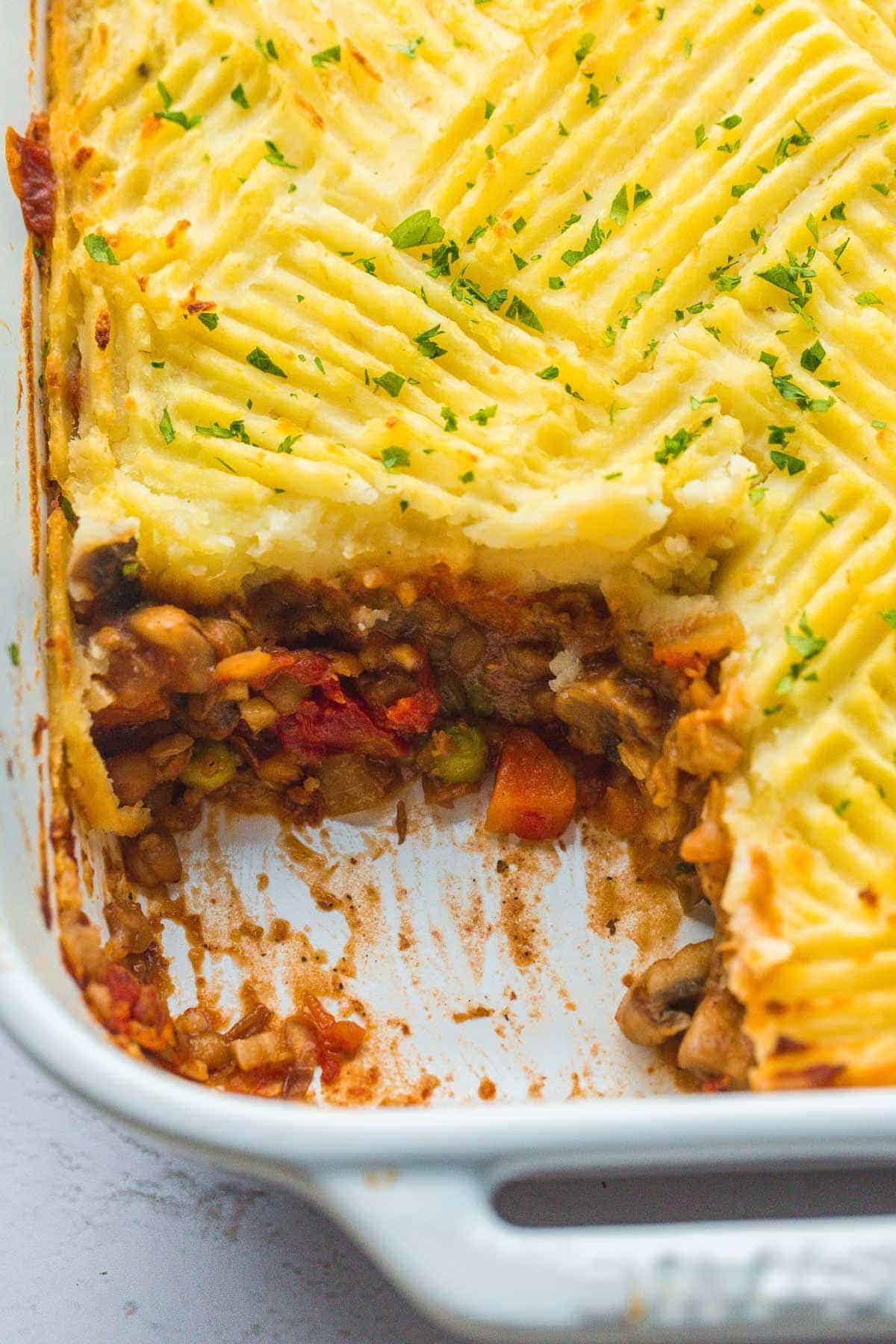 This vegan shepherd's pie is packed with plant-based protein and great flavors! It's easy to make, and ready in under an hour. Serve this for special occasions, a wintery dinner, or pack it for lunch.
Easily make a pot pie by turning it into a casserole rather than individual servings. This vegan pot pie casserole can be customized to your tastes.
Now, let's answer some Vegan Christmas Dinner Questions you (or that nosy relative of your's who despises you being vegan) may ask:
What do vegans eat for Christmas?
This may be one of the most common questions of all when it comes to making a vegan Christmas dinner for the first year.
Honestly, we eat the same as most people, just without the cruelty to animals.
Today, it's a whole lot easier to find vegan versions of almost anything that's not vegan.
You can now easily find at stores:
vegan butter
vegan cream cheese
vegan eggnog
vegan cheese shreds
vegan cheese slices
vegan parmesan
vegan yogurt
vegan meat alternatives
and so much more!
It's so much easier to make vegan main dishes for Holidays today then 20, or even 10, years ago.
If you're still not sure what vegans eat for Christmas, scroll back through the recipes above, or check out:
What can a vegan eat for dinner?
If you've been vegan for as long as I have, you may not understand why so many people have such a hard time grasping the concept that we have so many options, it's sometimes hard to choose which nourishing dish to eat next, because they're all so good!
But, to make things a bit simpler, here are some of my own families favorite vegan dinners:
lasagna
stuffed shells
quinoa soup
split pea soup
curry
sloppy joes
bean burgers
pizza
lentil tacos
burritos
stuffed sweet potatoes
stuffed bell peppers
pasta with vegan alfredo sauce
pot pie
ziti
mac and 'cheese'
and so many more!!
And those were just the ones I could think of right off the top of my head….without going on Instagram for some yummy inspiration!
What should I serve for Christmas dinner?
YOU SHOULD SERVE VEGAN FOOD!!
Such as the recipes above, along with vegan side dishes!
The recipes above will be very helpful while putting together your Christmas Dinner Menu.
Sides, on the other hand are more likely to be vegan without non-vegans even thinking about them, or at least super easy to make vegan, like:
mashed potatoes
roasted veggies
salads with grains
and more!
Christmas Dinner should be…
More about the people you're with, your family and friends, or whoever you are blessed to be sharing the day with.
In this instance, it's not just about the food; though the food is a very important detail and no one (including animals) should have to die or suffer for you to have a a delicious Christmas Dinner that will warm your home and fill your families bellies!
Want to Remember This? Pin 225 Vegan Christmas Dinner Recipes That Your Kids Will Actually Love! to your favorite Pinterest Board!!