*Disclosure: some links may contain affiliate links (meaning if you end up purchasing something when you click on the link then I may get a commission on it, with no extra cost to you, of course). For more information on what this means, visit my disclosure page.
36 Vegan Christmas Dessert Recipes
In this article you will find delicious vegan Christmas dessert recipes to make your childrens Christmas magical and impress those around you who haven't adopted a vegan diet, yet! Enjoy these vegan Holiday desserts and keep the season cheery!
Christmas desserts for my family, whether growing up or now, have always stopped at Christmas Cookies.
But why?
Is this what happens in your home at the holidays, too?
My oldest daughter has grown to love baking over this past year, as I'm sure many people have with being stuck at home with not much else to do!
So, this year we are venturing into more complex vegan holiday recipes! And by 'more complex' I mean NOT JUST COOKIES!
The recipes below are a combination of
easy
cute
simple
cold
warm
gooey
light
rich
complex
So, you'll be sure to find one right for you where you are at in your baking experience and what you dream of your Christmas dessert table to look like!
To give you an idea of some of the recipes, before you just keep scrolling, there are recipes for:
Chocolate Bark
Fudge
Ice Cream
Cake (beautiful, beautiful cakes that will simply make your Christmas wonderland dreams come true!)
Donuts
Pie
Cupcakes
and more!
Get ready!
Your taste buds will be craving for you to make one of these (no matter the time of year) by the time you're done scrolling through all of these desserts!
Want to Remember This? Pin 36 Vegan Christmas Dessert Recipes to your favorite Pinterest Board!!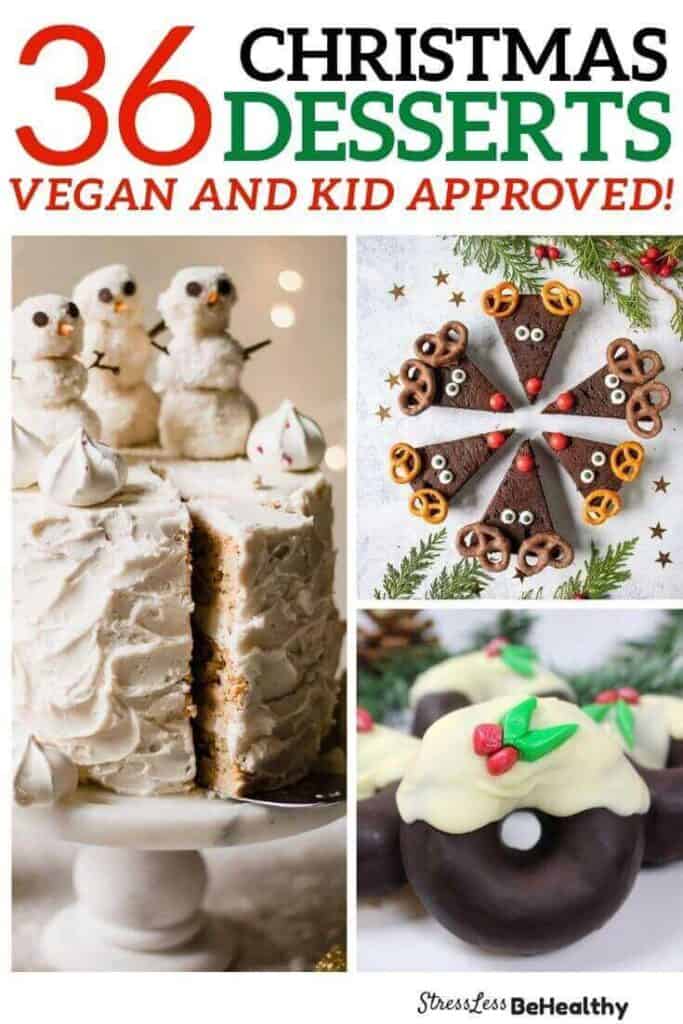 Decadent Vegan Holiday Desserts!
This Pomegranate + Pistachio Dark Chocolate Bark recipe is an incredibly easy-to-make, delicious, healthy treat! Only four simple ingredients are needed!
This easy recipe is perfect for busy people who want quickly prepared, fantastic food. I am certain that you will enjoy this delicious, easily made, fruit cake which is gluten-free, vegan, nut-free and with no added sugar.
These Gingerbread Balls are just delicious. Sweet, flavorful and beyond amazing. Perfect treat for Christmas.
This mint chocolate fudge is creamy, easy to make and is a little healthier than traditional fudge (but no less delicious!). It's also paleo and vegan.
Thanks to a few simple ingredients, the decadent flavor of this Vegan Chocolate Salami will surprise your holiday guests. It's quick to assemble with just a few ingredients you certainly already have in your kitchen (cocoa, biscuits, sugar…) and it's so easy and fun to make you can ask for help to your children
Alright, so there is one cookie recipe in here, I just couldn't resist! They are super festive though!
This vegan fudge is super creamy, easy to make and stays solid at room temperature! It really tastes like traditional fudge and can also be made paleo.
Looking for a new way to enjoy sweet potatoes? Jamaican Sweet Potato Pudding is a traditional Jamaican dessert that is rich, amazingly spiced, moist and delectable.
Kiwiberry cheesecakes (raw, vegan, dairy-free, gluten-free, refined sugar-free recipe)
Creamy, light, sweet and more-ish cheesecake made with coconut cream, cashews, dates, walnuts and kiwi berries.
An easy vegan apple pie made from scratch! It requires simple staple ingredients, and can be ready in under an hour!
Need more Vegan Christmas Recipes? Check out:
This adorable cake is delicious and tastes just like eggnog, but don't worry it's 100% vegan!
These Reindeer Brownies have a healthy secret – avocado! The pureed avocado makes these fun festive shaped brownies moist and gives extra goodness. Perfect for the holidays!
This Gluten-Free Vegan Yule Log is moist and fluffy, super indulgent, and coated in a velvety chocolate buttercream made from chestnuts! It's the perfect festive dessert for Christmas!
This Gluten-Free Vegan Gingerbread Loaf Cake is perfectly spiced, fragrant, and covered in a rich "cream cheese" frosting. It's the perfect festive sweet treat for Christmas!Hide or report this
Need a fast and easy holiday dessert? These Vegan Vanilla Almond Christmas Tree Cupcakes are just the thing! Super simple to make, and they're crowned with a fun Christmas tree inspired swirl of frosting.
This pretty Vegan White Chocolate Peppermint Crunch Bundt Cake is sure to get you in the Christmas spirit! Fluffy vanilla cake is flavored with white chocolate chips, peppermint extract, and crushed peppermint candies. It is then topped with a pink peppermint glaze and more candies for a fun finishing touch!
This vegan Never Fail Fudge will take you right back to the Christmases of your childhood! Rich, chocolatey, and decadent, it will be hard to stop at just one piece!
Bright and minty, Candy Cane Ice Cream is one cool Christmas treat you won't want to miss!
These fluffy baked donuts are decorated with chocolate to make them look like Christmas puddings! They are easy to make in the oven and are dairy-free & eggless too!
Super fudgy vegan chocolate peppermint cake with a dairy free vegan vanilla frosting for the easiest holiday cake recipe! Gluten free and dairy free, this fudgy chocolate cake will be a hit!Hide or report this
This delicious Snickerdoodle Dip tastes just like the Christmas cinnamon sugar cookie but it's healthier! The surprise ingredient is chickpeas but don't let that scare you away – no one will know (unless you tell them)!
Vegan Matcha Cake Bites Topped with Pomegranates and Homemade Blueberry Jam. Sweetened With Dates. Refined Oil + Sugar Free – Gluten Free. The most delicious red and green treat for the holidays that kids will LOVE!
Need desserts for another holiday or any day? Check out:
this Cranberry Fluff Salad is a retro classic! a vegan holiday recipe with a new flavor of the nostalgic dish we grew up with.
Decadent maple syrup and sweet dates combine to make a smooth and creamy filling for these Paleo Pecan Pie Bars. Add some nutty chopped pecans, and a delicious almond flour shortbread crust – it's a match made in heaven!
7-Ingredient- Vegan Chocolate Truffles. Create the perfect healthy desert for any occasion without baking in twenty minutes flat. This vegan chocolate truffle recipe is so easy. They're chocolatey on the outside and chewy on the inside. The best part is that they are ultra healthy without sacrificing deliciousness.
This vegan marshmallow peppermint fudge was so easy to make. It's my favorite holiday recipe for Christmas.
Rich chocolate combined with sweet, minty freshness! These Gluten-Free Mint Chocolate Cupcakes are vegan, allergy-free, and a perfect way to take your chocolate cupcake craving up a notch! Homemade chocolate cupcakes topped with a naturally green, minty, & dairy-free buttercream frosting with a dash of chocolate sprinkles!
A healthy holiday donut recipe you'll love! These Baked Gluten-Free Vegan Gingerbread Doughnuts are paleo, allergy-free, grain-free, and perfect for breakfast, dessert, a Christmas brunch, or an afternoon snack! They're seasonally spiced, topped with a sugar-free glaze, easy and kid-friendly!
This delicious cheesecake is the perfect light dessert after a heavy meal over the holidays. Or take it to a Christmas party or pot luck. Your guests won't even believe it's vegan!
This delicious vegan chocolate orange cake will be a sure hit at Christmas time. Our easy recipe is simple to make and has just the right amount of orange flavor.
These triple layer, no-bake chocolate caramel bars are easy to make and taste incredible. All you need to make them is walnuts, dates, almond butter and chocolate chips. Yep, just 4 ingredients! This recipe is vegan, gluten-free and oil-free.
An easy, vegan and delicious dessert idea for the Christmas holidays: chocolate dates with dried fruit filling!
These no-bake vegan Nanaimo bars are easy to make with just a handful of wholesome ingredients but they taste just like the classic Christmas dessert.
The best recipe for an easy vegan sticky toffee pudding! Made without eggs for a twist on the traditional British dessert. It is a rich and moist sponge topped with a rich caramel sauce
I'm sure by now you've found a vegan holiday recipe that you will love, your kids will love, and that non-vegan relative of yours (who always gets on your nerve because you're vegan) won't even realize it's not vegan!
And, by now, your kids are probably starting to ask you for something to eat, if they haven't already!
So, go ahead, get them a snack, pin this article to come back to, enjoy your day, and bring those plans for a Christmas wonderland full of delicious (vegan) desserts alive this year!
Want to Remember This? Pin 36 Vegan Christmas Dessert Recipes to your favorite Pinterest Board!!