*Disclosure: some links may contain affiliate links (meaning if you end up purchasing something when you click on the link then I may get a commission on it, with no extra cost to you, of course). For more information on what this means, visit my disclosure page.
In this article you will find easy vegan pantry meals that your kids will actually eat! Healthy breakfast, lunch, and dinner recipes that use pantry staples, in case you're not able to get fresh produce or get groceries for a couple of weeks.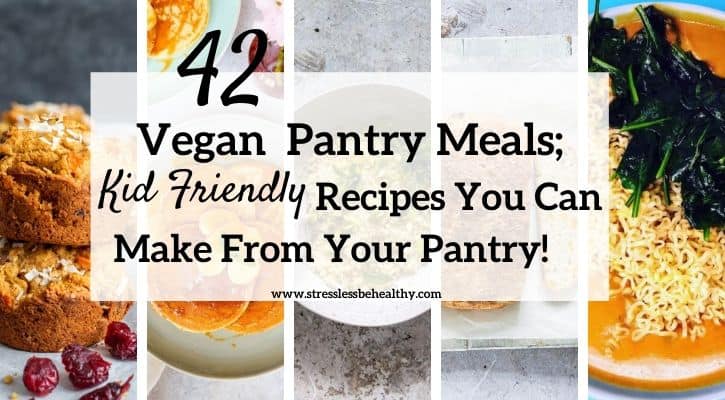 In case you're over stuck home for a period of time; whether it be from a bad snow storm, living in the middle of nowhere (and being an introvert and loving staying home), or because of what is going on now, in 2020 with this pandemic.
There are recipes you, and your kids, can make that are healthy, vegan, and made primarily from foods that are shelf-stable!
Honestly, in times like these it's a good thing to be vegan; no having to worry about meat and dairy going bad.
We can always freeze, can, or preserve our fruits and veggies another way!
Want to Remember This? Pin Easy Vegan Pantry Meals; Kid Friendly Recipes You Can Make From Your Pantry! to your favorite Pinterest Board!!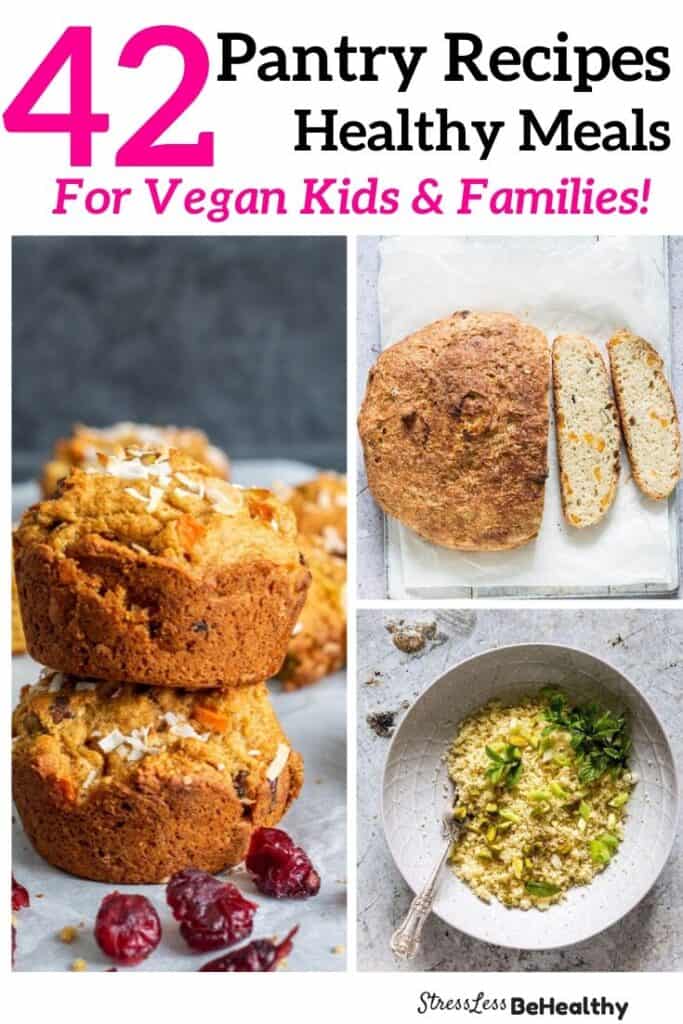 Easy Vegan Breakfasts Made with Non-Perishables
Breakfast is crucial, at least in my home; lately my oldest has been waking me up before my alarm goes off to tell me she's hungry…I tell her to go make breakfast!
She knows how, and has even gained more confidence in making breakfast herself after going through this mini online cooking course.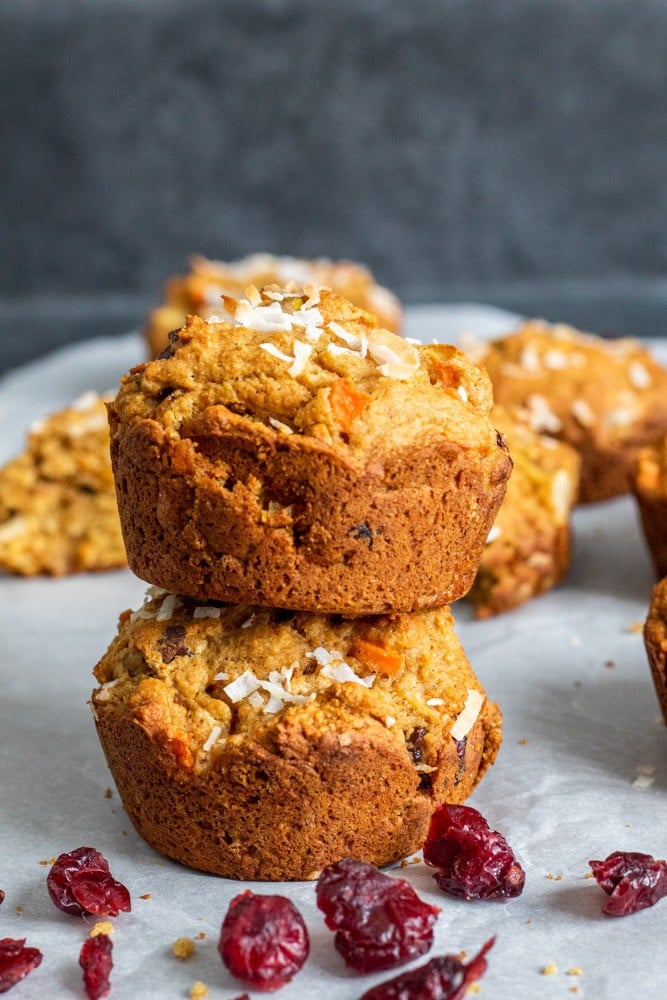 This healthy, vegan Morning Glory Muffins Recipe is packed full of fruits and veggies to please both kids and adults! Great for a quick breakfast on the go, or lunchbox treat for kids. (Does require carrots and apples, but those last a long time in the fridge.)
More Easy Vegan Muffin Recipes You Can Make From Pantry Staples: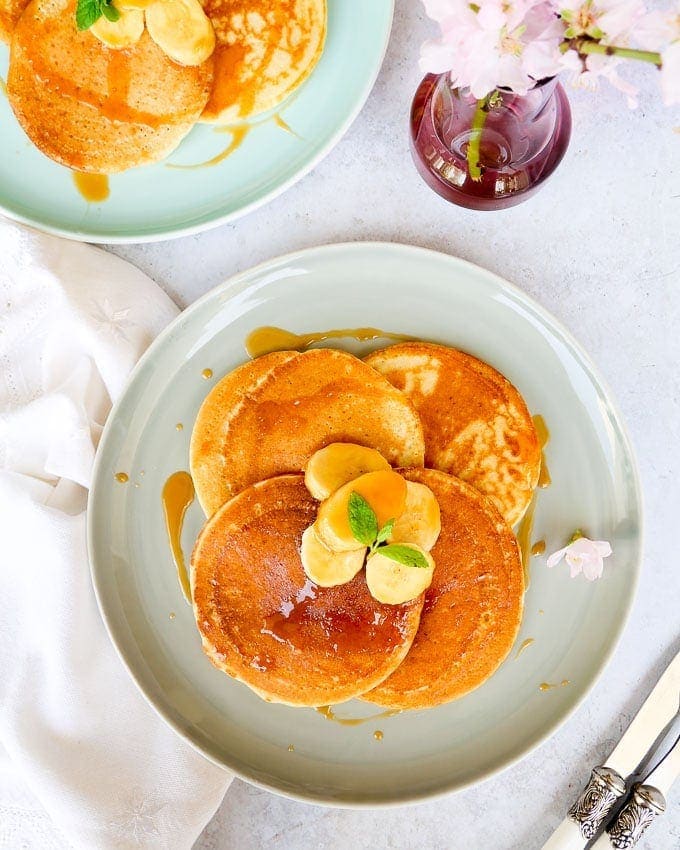 Vegan coconut pancakes make a great weekend breakfast, and can be ready in just 25 minutes! (Simply make it without the Caramelized Bananas to make it all from your pantry.)
More Pancake and Other Vegan Breakfast Recipes Made from Pantry Staples:
Easy Vegan Meals (Lunch or Dinner) Made from Vegan Pantry Staples
Lunches and dinners, though not as important for most people as breakfast, is going to be what you need the most planning for.
Luckily, there are plenty of recipes that use vegan pantry staples and basic shelf-stable foods, that are both affordable, and easy to make!
This vegan creamy tomato ramen uses canned tomato paste and package noodles.
It's the perfect kid friendly non perishable item recipe! (As long as you have shelf-stable soy milk and some frozen veggies on hand.)
More Soup Recipes from Pantry Staples:
This Crunchy Instant Pot Muesli Bread recipe combines muesli, coconut and apricots into one perfect crusty bread loaf. Best of all, you use the Instant Pot to get your bread dough to rise, with no kneading required at all! Suitable for vegan diets.
More Comforting Bread-like Recipes Using Pantry Staples:
The only ingredient in this recipe that isn't shelf-stable is carrots, and they always seem to last awhile in the fridge, or simply use frozen! And, the only person in my family who doesn't LOVE this recipe, yet, is my 8 month old; and that's only because she hasn't tried it! It's picky eater, toddler, and husband approved!!
More Stove Top Meals Using Ingredients from Your Pantry:
If you want to learn how to cook couscous in only 10 mins, you'll find out how in this informative post. Couscous is an ingredient every well-stocked pantry should have!
More Easy Vegan Pantry Meals:
Omit the bell pepper, unless you have some frozen, but this is an easy, comfort food meal that is high in carbs and protein. Keeping you full from the starch in potatoes and the energy in the quinoa; even your kids will love it.
More Easy Vegan Quinoa Recipes:
Easy Vegan Pantry Meals
As you can see from the recipes above, eating from your pantry doesn't mean all you're able to eat are rice and beans!
Even as vegans, there are so many more foods we can throw together to actually enjoy the food we're eating. Even if it means getting a little creative, or following someone else's directions.
Just because you're stuck home with what you've got, doesn't mean you can't still one simple pleasure in life; delicious tasting good!
Want to Remember This? Pin Easy Vegan Pantry Meals; Kid Friendly Recipes You Can Make From Your Pantry! to your favorite Pinterest Board!!