*Disclosure: some links may contain affiliate links (meaning if you end up purchasing something when you click on the link then I may get a commission on it, with no extra cost to you, of course). For more information on what this means, visit my disclosure page.
36 Kids Christmas Party Snack Ideas: Fun & Cute Vegan Treats
In this article you will find 36 kid approved recipes to share at a Christmas party, or to make at home for your own little Christmas party! They are all vegan, adorable, and your kids will love them! Not all of them are the 'healthiest' holiday snacks, if you're looking for holiday craft snacks using fruits and veggies, go here!
There is no doubt that Christmas parties for kids this year will be different from the past. However, that doesn't mean our kids won't want fun holiday snacks that make Christmas all that much more special!
With 36 recipes to choose from, from Christmas cupcakes to Nightmare Before Christmas cookies and more, you're kids will be sure to find one that they like and are super excited to try!
Take them with your to a kids Christmas party, or enjoy them at home during a virtual holiday party!
But before we get to the recipes, let me answer a few questions you may have about Christmas parties and snacks!
Want to Remember these recipes for Christmas? Pin 36 Kids Christmas Party Snack Ideas: Fun & Cute Vegan Treats to your favorite Christmas Pinterest board!!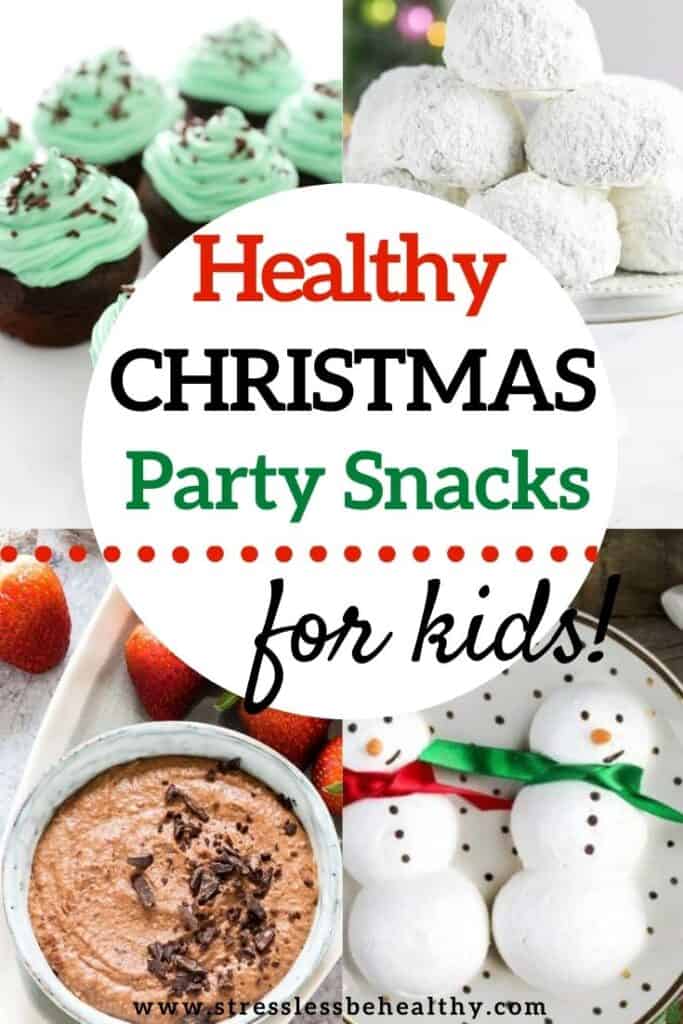 What are good Christmas snacks?
Good Christmas snacks are basically anything that looks, smells, tastes, or reminds you or your kids of Christmas!
This could be as simple as making red and green Christmas cookies or cupcakes, or making gingerbread men or gingerbread reindeer!
It could be something that reminds you of Christmas when you were little.
For example, my mom always used to make cheese bread when I was little, so if I were to make a vegan version of that cheese bread; that would be a good Christmas snack. Same for cookies or other snacks or treats you may remember from your childhood.
There is no bad or wrong Christmas snack if it has some meaning to you!
What do you serve at a Christmas party?
You serve food that kids will actually eat at a Christmas party.
You could serve sweet treats, savory snacks, or other foods.
Ideally, you'll serve something that doesn't require a fork or knife to eat.
Something easy to eat that isn't messy, like finger foods.
What are good finger foods for Christmas?
Good finger foods for Christmas may include (but not limited to);
Holiday cookies
cupcakes
pretzels
pieces of fudge
peppermint bark that's pre-broken
truffles or energy balls
and more!
Fun Holiday Treats for Kids that are VEGAN!!
The holiday season is not complete without Gingerbread Cookies! These classic gluten-free, vegan, and allergy-free gingerbread men (and friends) are such a fun sweet treat for all to have this Christmas. Food allergies don't have to get in the way with this dessert recipe!
Naughty or nice, baking these cookies will put you on the nice list! Chocolate Candy Cane Crunch Cookies to celebrate the season! Gluten-free and vegan, healthy and delicious, the perfect holiday cookie for kids of all ages!
The refreshing taste of mint paired with decadent chocolate is a match made in flavor heaven. These Mint Chocolate Sunflower Bites provide a hefty dose of flavor along with whole grain oats and sunflower seeds, making them the perfect gluten-free, nut-free, and vegan energy snack!
Rich chocolate combined with sweet, minty freshness! These Gluten-Free Mint Chocolate Cupcakes are vegan, allergy-free, and a perfect way to take your chocolate cupcake craving up a notch! Homemade chocolate cupcakes topped with a naturally green, minty, & dairy-free buttercream frosting with a dash of chocolate sprinkles!
Gluten-Free Cinnamon Sugar Pretzels (Vegan, Sugar-Free, Allergy-Free)
A super easy, salty, sweet, and crunchy snack recipe! These Gluten-Free Cinnamon Sugar Pretzels are vegan, sugar-free, and top-8 allergy-free! Perfect for gift-giving, late night snacking, or a healthier kid-friendly
Chocolate Hummus is a dreamy and sweet dessert hummus that's actually healthy (but no one will know it). It is a great spread, appetizer, dip, dessert, snack and me time treat that the whole family will love
Air Fryer Tater Tots are a healthier homemade version of the fast food favorite. They turn out perfectly crispy on the outside and pillowy soft on the inside. Cook up homemade tater tots in air fryer using absolutely no oil at all! The perfect finger food for kids holiday parties (in person or virtual)!
Creamy, light, sweet and more-ish cheesecake made with coconut cream, cashews, dates, walnuts and kiwi berries. One recipe makes 4, be sure to make enough for everyone present!
It only takes three ingredients and a few minutes to make these chocolate apricot balls, yet they look and taste incredible.
These Air Fryer chickpeas make a tasty and super healthy snack! They are spicy, crunchy, vegan, gluten-free, and packed with plant protein. Enjoy them as a snack, top your salads, sandwiches, or even soups!
Sometimes in life, you need a treat, like these Snickerdoodle Cookie Pops. Even better because they are gluten free and vegan. And soooooo good.
These snowman-shaped Vegan Meringue Cookies will be a hit at your next wintertime gathering. They are sweet, crisp, airy and completely adorable!
Make your holiday complete with these festive Vegan Snowball Cookies. They are light, crisp, buttery and coated in sugary heaven! Plus, they require just 7 simple ingredients and take 25 minutes to make.
This vegan peppermint fudge is so yummy and uses 3 ingredients! You can adjust the peppermint flavor if your kids don't love it and add as many candy canes as you want!
These vegan white chocolate cranberry cookies are so delicious and easy to make! Perfect for kids and pretty healthy too!
These Reindeer Brownies have a healthy secret – avocado! The pureed avocado makes these fun festive shaped brownies moist and gives extra goodness. Perfect for the holidays!
Wonderfully sweet, delightfully gooey, this is without question the best chocolate fudge recipe made without condensed milk (and sugar!) you're ever going to have! Feel free to indulge yourself with this vegan fudge without any guilt or second guessing.
These Gluten-Free Vegan Sugar Cookies are soft and chewy, slightly fluffy and covered in a rich, creamy cashew frosting. The best pretty and colourful sweet treat for the festive season! Refined sugar free and naturally coloured.
these salty sweet Chocolate Pretzel Reindeer will bring smiles and fun to your holidays! a fun kid friendly holiday craft for your cookie gift trays!
Be careful if you bring these Nightmare Before Christmas Cookies to a Holiday Party, you won't have any left when you leave! Unless the kids haven't been introduced to that movie yet, in which case it may be a good idea to play the movie for the kids and let them enjoy watching it while eating these cookies!
These Chick-fil-A style tofu nuggets combine agave sweetness and briny pickle juice for a unique yet familiar flavor. Plus everything is oil-free! Pair with a side of vegan honey mustard dipping sauce for the perfect holiday finger food.
This Pomegranate + Pistachio Dark Chocolate Bark recipe is an incredibly easy-to-make, delicious, healthy treat! The red and green in this chocolate bark give it a fun, festive vibe!
Cookies with no butter or oil? Yes! These scrumptious Oil-Free Vegan Sugar Cookies are perfect to cut and bake for your holiday treats!
hese amazing Oil-Free Vegan Gingerbread Cookies are a healthier version of this classic cookie. You won't believe there's no butter or oil! Made with whole grain flour, molasses, and the perfect amount of spices – you're going to love them!
This homemade easy coconut oil Christmas chocolate bark recipe is a great fun and healthy Christmas treat for kids to make themselves!
Fruit & nut chocolate buttons make a fab quick and easy homemade gift idea that's easy enough for kids to make themselves – perfect for Christmas presents or festive party treats!
This is 3-ingredient homemade cranberry jelly made of DRIED CRANBERRIES. It is the quickest and easiest cranberry jelly to make.
These crescent cookies will taste like a nuttier friend of a shortbread cookie. It is really fun to make with kids or for kids.
These super simple vegan coconut almond butter cookies are chewy, sweet, absolutely delicious and they happen to be gluten-free! Taking just a half hour to make, they are the perfect cookie to dunk in milk or enjoy with afternoon tea, or they are great to serve at a party!
This delicious Snickerdoodle Hummus Dip tastes just like the holiday cinnamon sugar cookie but it's healthier! The surprise ingredient is chickpeas but don't let that scare you away – the kids won't even know!
These melt in your mouth vegan truffles are as good as they look! With a hint of orange, these raw orange chocolate truffles are a perfect after-dinner snack.
Whether you'll be celebrating Christmas with others at an actual party, or celebrating at home with a virtual holiday party, I hope you enjoy these vegan Christmas that are also kid friendly and approved!
Looking for more Kid Friendly and Healthy-ish (vegan) Christmas Food Ideas? Check out:
27 Vegan Christmas Cookies You'll Want to Make this Holiday Season!
37 Easy Vegan Appetizers for Christmas
25 Vegan Christmas Dinner Recipes That Your Kids Will Actually Love!
36 Vegan Christmas Dessert Recipes
13 Easy Vegan Christmas Side Dishes
26 Kid Friendly Vegan Christmas Breakfast Recipes
Want to Remember these recipes for Christmas? Pin 36 Kids Christmas Party Snack Ideas: Fun & Cute Vegan Treats to your favorite Christmas Pinterest board!!