*Note: some links may contain affiliate links (meaning if you end up purchasing something when you click on the link then I may get a commission on it, with no extra cost to you, of course). For more information on what this means, visit my disclosure page.
36 Kids Christmas Party Snack Ideas: Fun & Cute Vegan Treats
In this article you will find 36 kid approved recipes to share at a Christmas party, or to make at home for your own little Christmas party! They are all vegan, adorable, and your kids will love them! Not all of them are the 'healthiest' holiday snacks, if you're looking for holiday craft snacks using fruits and veggies, go here!
There is no doubt that Christmas parties for kids this year will be different from the past. However, that doesn't mean our kids won't want fun holiday snacks that make Christmas all that much more special!
With 36 recipes to choose from, from Christmas cupcakes to Nightmare Before Christmas cookies and more, you're kids will be sure to find one that they like and are super excited to try!
Take them with your to a kids Christmas party, or enjoy them at home during a virtual holiday party!
But before we get to the recipes, let me answer a few questions you may have about Christmas parties and snacks!
Want to Remember these recipes for Christmas? Pin 36 Kids Christmas Party Snack Ideas: Fun & Cute Vegan Treats to your favorite Christmas Pinterest board!!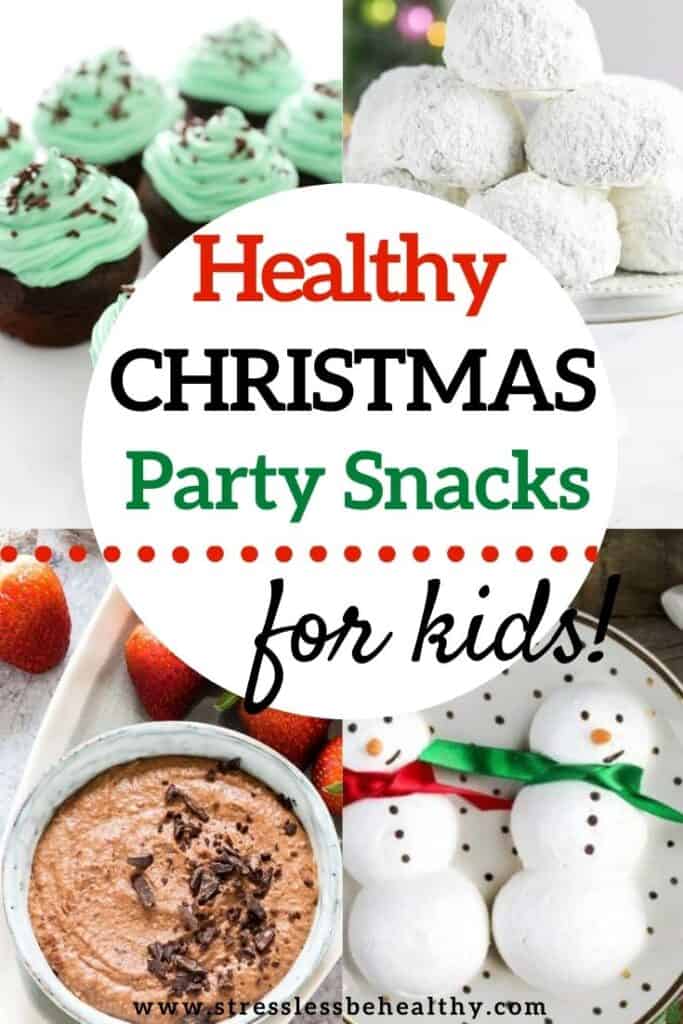 What are good Christmas snacks?
Good Christmas snacks are basically anything that looks, smells, tastes, or reminds you or your kids of Christmas!
This could be as simple as making red and green Christmas cookies or cupcakes, or making gingerbread men or gingerbread reindeer!
It could be something that reminds you of Christmas when you were little.
For example, my mom always used to make cheese bread when I was little, so if I were to make a vegan version of that cheese bread; that would be a good Christmas snack. Same for cookies or other snacks or treats you may remember from your childhood.
There is no bad or wrong Christmas snack if it has some meaning to you!
What do you serve at a Christmas party?
You serve food that kids will actually eat at a Christmas party.
You could serve sweet treats, savory snacks, or other foods.
Ideally, you'll serve something that doesn't require a fork or knife to eat.
Something easy to eat that isn't messy, like finger foods.
What are good finger foods for Christmas?
Good finger foods for Christmas may include (but not limited to);
Holiday cookies
cupcakes
pretzels
pieces of fudge
peppermint bark that's pre-broken
truffles or energy balls
and more!
Fun Holiday Treats for Kids that are VEGAN!!
This homemade easy coconut oil Christmas chocolate bark recipe is a great fun and healthy Christmas treat for kids to make themselves!
Fruit & nut chocolate buttons make a fab quick and easy homemade gift idea that's easy enough for kids to make themselves – perfect for Christmas presents or festive party treats!
This is 3-ingredient homemade cranberry jelly made of DRIED CRANBERRIES. It is the quickest and easiest cranberry jelly to make.
These crescent cookies will taste like a nuttier friend of a shortbread cookie. It is really fun to make with kids or for kids.
These super simple vegan coconut almond butter cookies are chewy, sweet, absolutely delicious and they happen to be gluten-free! Taking just a half hour to make, they are the perfect cookie to dunk in milk or enjoy with afternoon tea, or they are great to serve at a party!
This delicious Snickerdoodle Hummus Dip tastes just like the holiday cinnamon sugar cookie but it's healthier! The surprise ingredient is chickpeas but don't let that scare you away – the kids won't even know!
These melt in your mouth vegan truffles are as good as they look! With a hint of orange, these raw orange chocolate truffles are a perfect after-dinner snack.
Whether you'll be celebrating Christmas with others at an actual party, or celebrating at home with a virtual holiday party, I hope you enjoy these vegan Christmas that are also kid friendly and approved!
Looking for more Kid Friendly and Healthy-ish (vegan) Christmas Food Ideas? Check out:
27 Vegan Christmas Cookies You'll Want to Make this Holiday Season!
37 Easy Vegan Appetizers for Christmas
25 Vegan Christmas Dinner Recipes That Your Kids Will Actually Love!
36 Vegan Christmas Dessert Recipes
13 Easy Vegan Christmas Side Dishes
26 Kid Friendly Vegan Christmas Breakfast Recipes
Want to Remember these recipes for Christmas? Pin 36 Kids Christmas Party Snack Ideas: Fun & Cute Vegan Treats to your favorite Christmas Pinterest board!!