*Disclosure: some links may contain affiliate links (meaning if you end up purchasing something when you click on the link then I may get a commission on it, with no extra cost to you, of course). For more information on what this means, visit my disclosure page.
34 High Protein Vegan Snacks for Kids After School
Everyday after school your kids need to eat, right? (*Hint – they need high protein vegan snacks!)
So, you give them a snack.
Maybe it's a piece of fruit, or something else.
After they're done eating, maybe you have them do their homework or maybe they just relax from the school day, or maybe they have sports.
Well, if they're still at home after snack time; there's a good chance they'll end up saying 'mom, I'm hungry' 10 or 20 minutes after they eat their initial snack.
Or, maybe it's just my kids!
You tell them to wait for dinner; they say they can't.
They end up eating whatever they can find in the kitchen because they are sooo hungry; their little snack (with little protein) didn't fill them up.
The solution, which you probably already know:
Give them a healthy after school snack rich in protein!
AKA – a High Protein Vegan Snack.
This may mean the recipe contains nuts, seeds, nut butters, beans, or even tofu or quinoa!
The solution is not stocking up snacks on processed food that won't nourish your child, and only keep them coming back for more.
Empty calorie snacks won't do them any good.
They'll simply trick their body into thinking they got nutrients, and then when it realizes it didn't, that's when they get hungry again. And, your kids will become HANGRY!!
Did you know that food companies engineer their food to be addictive and the FDA doesn't do anything about it?! Crazy, right?
So, stop trusting food companies to have your childrens health in mind when making food, and start making their snacks yourself!
Many, if not all, of the snacks below can be made over the weekend and last all week! Especially with my batch cooking hacks!
Go ahead and give the snacks a try.
(You should know that some of the recipes below do require a food processor, not all of them do, but I honestly don't know what I did before I had one, this is the one I have.)
Want to Remember This? Pin 34 High Protein Vegan Snacks for Kids After School to your favorite Pinterest Board!!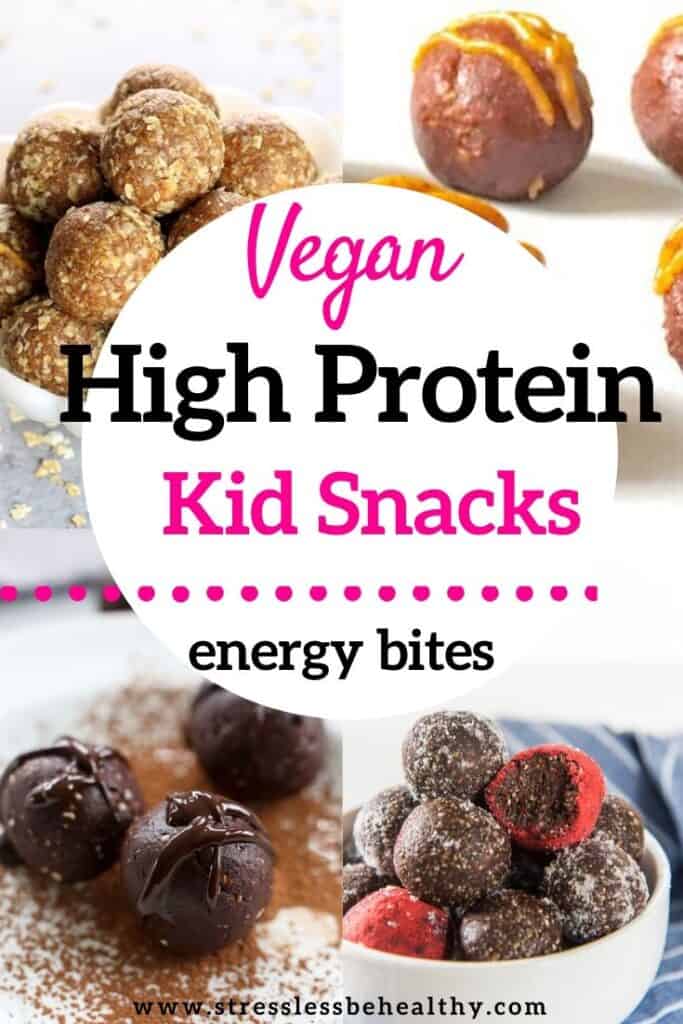 34 High Protein Vegan Snacks for Kids After School
High-Protein Vegan Kid Snacks: Energy Bites (Great high protein vegan snacks on the go!)
With 'energy' being right in their names (or most of their names) it's an easy way to tell that they should help keep your child full til dinner!
If your child is in any type of sports or after school activity, these are also a great 'on the go snack'!
---
Related Posts:
---
These Vegan Protein Bars are perfectly chewy, filling and satisfying, and super nutritious. They're also gluten-free and naturally sweetened.
High Protein Vegan Snacks: Chocolate and Dessert-like Energy Ball Recipes
Ok, so maybe you're wondering why there are dessert-like recipes on this list of healthy after school snacks focused on filling up your kids and stopping them from saying 'mom, I'm hungry'.
Well, it just so happens that some desserts, even of the chocolate variety, can actually be healthy, filling, and count as a nutritious after school snack!
Thank goodness! Right!?!
Especially if the ingredients in those snacks are in themselves healthy or whole foods, like dates and nuts, instead of processed sugar.
Check out the recipes below and enjoy eating 'better-for-you' desserts without the guilt feeding your kids a healthy after school snack.
*Hint- if you don't already have this, you may want to look into investing in one. You will NEED it to make some of the recipes below. Plus, it'll help you make tons of other healthy treats, snacks, and even meals to feed your whole family. It's the easiest way to make banana ice cream & vegan mac and cheese!
---
Related Post: 10 Vegan Comfort Food Recipes My Kids Go Crazy For
---
These look delicious, I'm sure my girls and your kids will love these (as long as they like peanut butter- or replace with nut butter of choice). My girls actually call a single apple slice with toppings on it an apple cookie and they eat them like they would cookies, too!
High Protein Vegan Snacks: Savory Snacks
If your child isn't into sweet after school snacks and looking for something a little more savory, check out the recipes below, some are even traditional foods from other countries!
Maybe it's just me, but there's an ingredient in this recipe that I had never heard of before, which is pretty neat! I'm not sure if it's available in stores near me, or you, but Amazon does have it here. Psst…this is one of those snacks from another country, and will not only help you get more protein into your kids, but veggies, too!
High Protein Vegan Snacks: Dips
Maybe your kids are dippers; they'll eat apples, but they prefer to have it with dip (or nutella). Check out these 4 healthy dip recipes that go great with apples and more!
If your kids are still craving tortilla chips to munch on after school, prepare this cheesy vegan dip! It's high in protein and Vitamin B12 (one of the most important nutrients to make sure you get enough of, if vegan.)
Who says vegans don't get enough protein in their diets?
Vegans not getting enough protein in their diets is simply a myth. (Probably to encourage people to keep eating food that supports farmers, or big businesses, or they simply don't know any better. I won't go further into this issue in this post…)
Plus, you don't have to be raising a vegan child for them to enjoy these healthy snacks.
I hope you and your children enjoy these high protein vegan snacks, and you stop hearing 'mom, I'm hungry' everyday after snack and before dinner.
Let's fill those little bellies up with some healthy protein filled snacks, that even a health nut of a mom can approve of!
---
Related Posts:
18 Healthy Recipes with Hidden Veggies for Kids
27 Healthy Smoothie Bowls and Smoothie Recipes for Kids
15 Healthy Halloween Treats for Kids!
---
Don't forget to share these wonderful recipes with your friends who need snack ideas for their kids, too. Especially if they have picky eaters.
The dessert section of high protein vegan snacks above is bound to turn picky eaters into happy little kids with an empty plate in no time!
Want to Remember This? Pin 34 High Protein Vegan Snacks for Kids After School to your favorite Pinterest Board!!