*Disclosure: some links may contain affiliate links (meaning if you end up purchasing something when you click on the link then I may get a commission on it, with no extra cost to you, of course). For more information on what this means, visit my disclosure page.
17 Easy Vegan Kid Breakfast Ideas At Home
In this article you will find plant based and vegan kid breakfast ideas at home, perfect for busy e-learning at home for school aged kids and picky toddlers alike!
Now that most of us are at home in the mornings, either because you're a stay at home mom, or you're now helping one of your kids with e-learning; you'd think that it'd be easier to make nice homemade breakfasts for your kids that take over an hour to make.
But let's get real here, after the first week or so of making elaborate breakfasts, you're not going to want to do it anymore. At least not all the time!
If you tried it, then you're probably already searching for something a bit more realistic.
Just because you're now home all day, doesn't mean you want to spend your whole day in the kitchen
Here are 17 easy at home vegan breakfast ideas.
But first, be sure to remember this & Pin 17 Easy Vegan Kid Breakfast Ideas At Home to your favorite Pinterest Board!!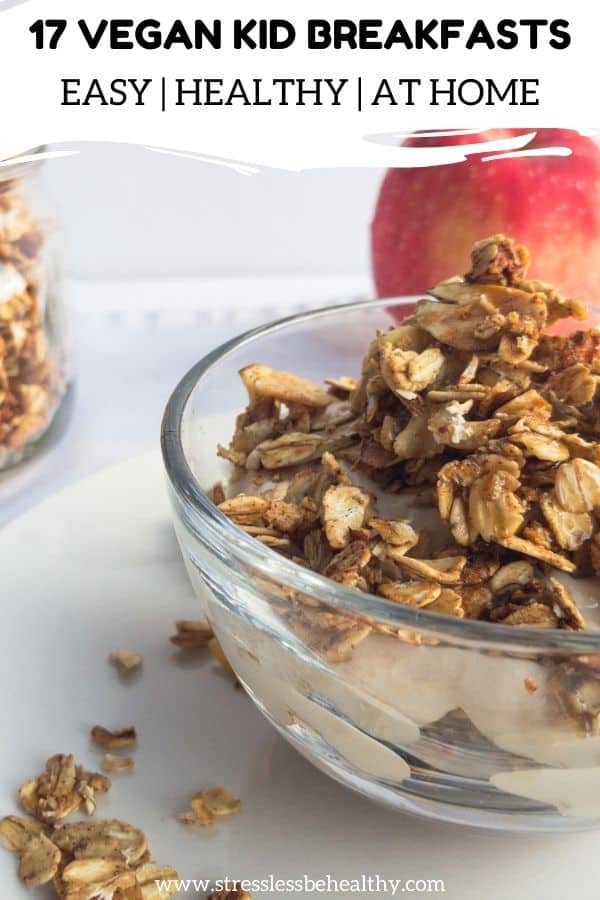 1. Oats
Whether it's a simple bowl of stove stop oats or a full on breakfast oatmeal bar with an overnight oats base and toppings galore; oats are one of the best plant based breakfast for kids and adults!
Choose from;
Microwave blueberry oats
Oatmeal bowls (aka-oats with toppings)
And I'm sure if you take a scroll on Instagram you'll find plenty more; something for everyone, even picky eaters!
Overnight oats are even great for on the go, or when your child would prefer eating breakfast and doing their schoolwork in their bedroom.
Oatmeal bowls are great when your kids can make their own breakfast; have oats ready for them (such as overnight oats) and set out toppings!
Toppings could include;
Melted peanut butter (or other nut/seed butter)
Dark chocolate
Nuts
Seeds
Dried fruit
Sliced fruit
When it comes to oats for breakfast, there's limitless possibilities!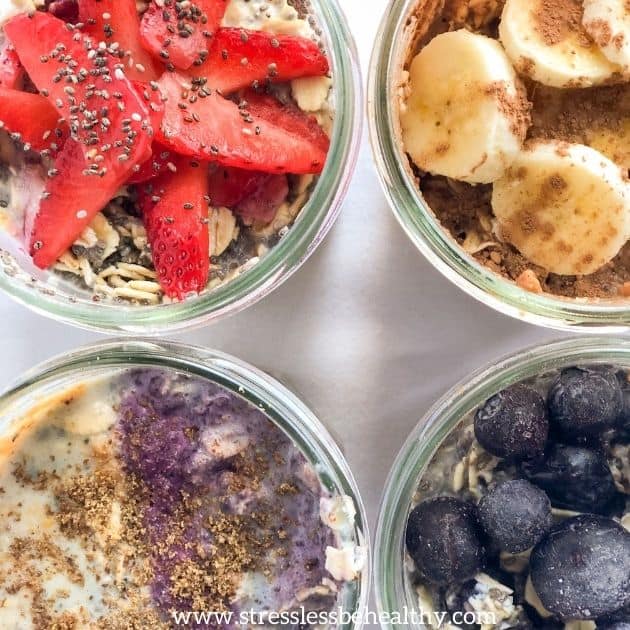 2. Pancakes
Pancakes take a bit of time to make, which is why I prefer doubling or tripling a batch on the weekend and then freezing them. Just heat them up in the toaster, or microwave, as needed.
3. Waffles
Waffles are just like pancakes, kind of.
They do seem to be a bit quicker to make, and if you get a character waffle iron then you're kids may be more likely to eat them. We have a spider man waffle iron and my girls get so excited when we have waffles!
Don't be afraid to add some berries in or on top of the waffles! Berries should be eaten every single day for better health!
4. Chia Pudding
You can make chia pudding in a couple different ways
Mix chia seeds in a bowl or jar with non dairy milk and any add ins, let sit for 10-15 minutes for the chia seeds to soak up all the liquid, then enjoy. The benefit of this way is that kids can easily make it themselves.
Blend all the ingredients together. This requires a lot less time for the chia seeds to soak up the liquid AND doesn't have the seed like texture.
I'm not a fan of the gel seed like texture of chia seeds, so if I'm planning on eating chia pudding, I make it the second way for everyone.
Don't forget the optional toppings!
5. Fruit
Sometimes the simplest breakfast is the best!
From what I've read, fruit is one of the easiest foods for our body to digest, other than water, so it may be best to start the day with fruit.
Whether it's just a banana or a whole fruit salad. You can't really get a breakfast easier than this!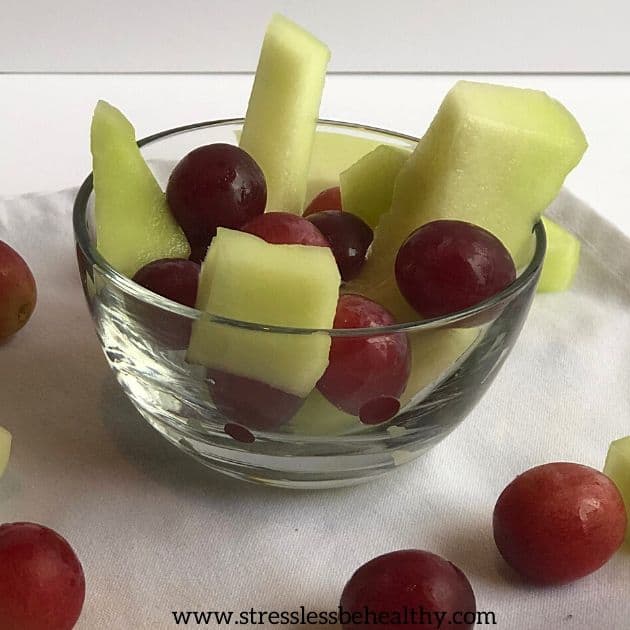 6. French Toast
My girls and I love THIS vegan French toast recipe!
I usually make a whole bag of bread into French toast on the weekend, then freeze it and put it back in its bag to store in the freezer. Pop it in the toaster when someone wants a piece, and there's breakfast! So easy!
7. Avocado Toast
My middle child likes her avocado toast with tomatoes, my oldest does not, and I'm no sure my toddler likes the bread it's on, we've tried multiple types of bread.
You could add slices of avocado to the toasted bread, or spread it on like butter. We spread it on like butter and then add garlic to it, and it is delicious!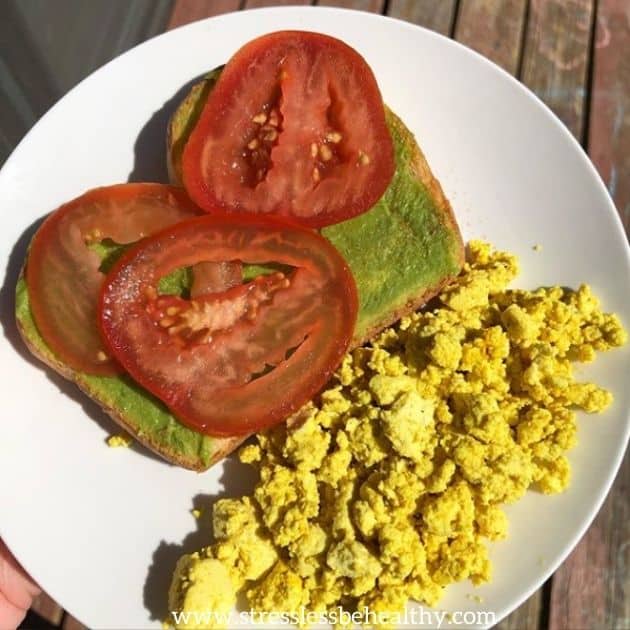 8. Scrambled Tofu
Scrambled tofu would go well with avocado toast. Or, add a bunch of veggies to it to make it it's own breakfast.
My kids like to add garlic powder, onion powder, and nutritional yeast to it, too. For a little more flavor. If that doesn't make it yellow enough for them, then a little turmeric powder would help.
9. Muffins
Muffins are a great breakfast, especially if you're able to get some fruits or veggies in them!
If you're trying to avoid refined carbs (aka flour and sugar), then this would not be the best option. But, they're great for kids because of their size.
We used to eat muffins all the time, before I started to reduce my girls (and my own) sugar consumption. I'm pretty sure reducing my girls sugar (in general- not just muffins) may have helped my middle child's eczema disappear. Either that or she grew out of it. I'm not really sure, I'm not a doctor, but I'm glad it's gone!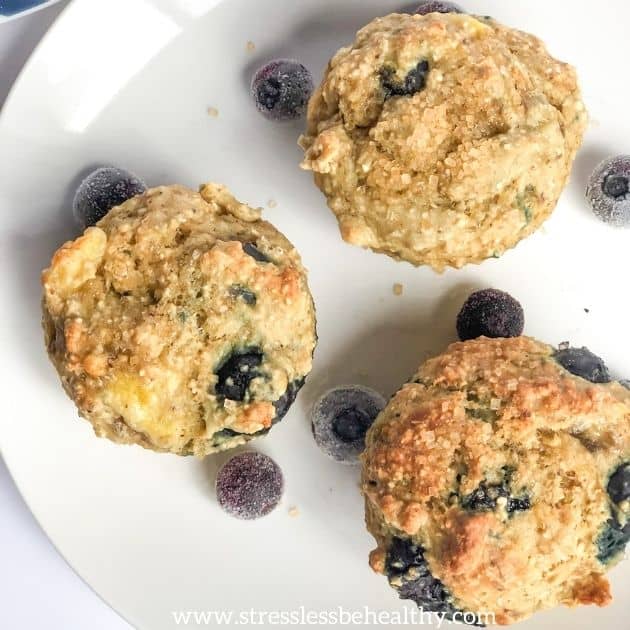 10. Smoothie
Smoothies are the best!
I have two little portable blenders, from blendjet, and my 4 and 8 year old love making their own little smoothies for breakfast in the morning.
Believe it or not (according to my picky eater 8 year old), you can make a smoothie with orange juice, kale, a banana, and chia seeds AND it tastes amazing!
I swear, smoothies are the easiest way to get leafy greens into a child's diet, especially for kids who claim to hate veggies.
I also usually add their B12 vitamin in their smoothie, since we get a liquid vitamin.
11. Smoothie Bowl
Smoothie bowls take a little more work than smoothies. I use my vitamix for these; a nutri ninja, nutri bullet, or even a food processor would also work, you just need something big enough and strong enough to blend frozen fruit with little liquid.
The great thing about smoothie bowls is that you can add extra fruit, nuts, seeds, dried fruit, melted nut butters, and other things on top for more (or different) vitamins and minerals.
Smoothie bowls are basically a thick smoothie with trail mix on top, and my kids wouldn't want it any other way!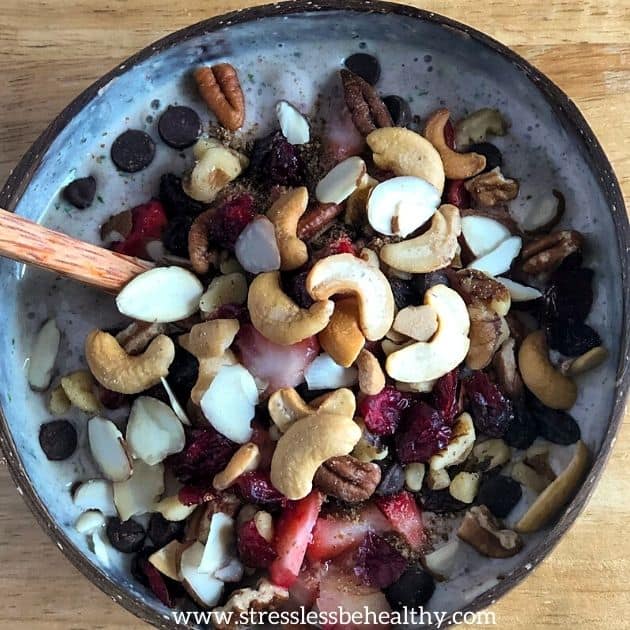 12. Fruity Moods
Fruity moods IS fruit with trail mix on top!
So, this breakfast is not toddler friendly, but absolutely school age kid friendly.
All of the nuts and seeds will help keep your kids full and may even put them in a better mood during the day!
13. Peanut Butter Toast with Banana Slices
Toast with peanut butter may not feel like a full breakfast for you, but add in a piece of fruit and it may be enough to keep your kid full til lunch (or morning snack).
If your child is allergic to peanut butter (like my youngest is), swap it out for another nut or seed butter, or go back up to the avocado toast suggestion.
14. Breakfast Cookies
What kid would say no to eating cookies for breakfast?
Just make sure they are packed with healthy, filling ingredients, like oats, seeds, dried fruit to sweeten it, etc.
15. Quick Breads
Quick breads, like banana bread, pumpkin bread, and others, are probably the most difficult breakfast idea on this list. It usually takes about 40 minutes in the oven, too.
However, if you're able to wake up, put this breakfast together, pop it in the oven, and then get ready for the day and wake your kids up; by the time everyone's ready for breakfast, there's a good chance this will be ready. Or is my home the only one where time seems to fly by in the morning?
16. Nice Cream
My kids also love nice cream for breakfast, or any fruit ice cream, especially in the summer!
This berry ice cream is one of their favorites! And usually gets made at least once a week in the summer time.
To make nice cream, you will need a strong blender or a food processor, I find a food processor actually works best, and are quite a bit cheaper than most strong blenders.
17. Non-Dairy Yogurt Parfaits
Kids love parfaits!
Just be sure to give healthy options to add to it, like;
Sliced fruit
Berries
Homemade granola
Nuts
Seeds
Dried fruit
Avoid extra sugar, sprinkles, or other things like those. It's also best to use an unsweetened non-dairy yogurt for the base. Most yogurt has a lot of sugar added to it, so be mindful of that.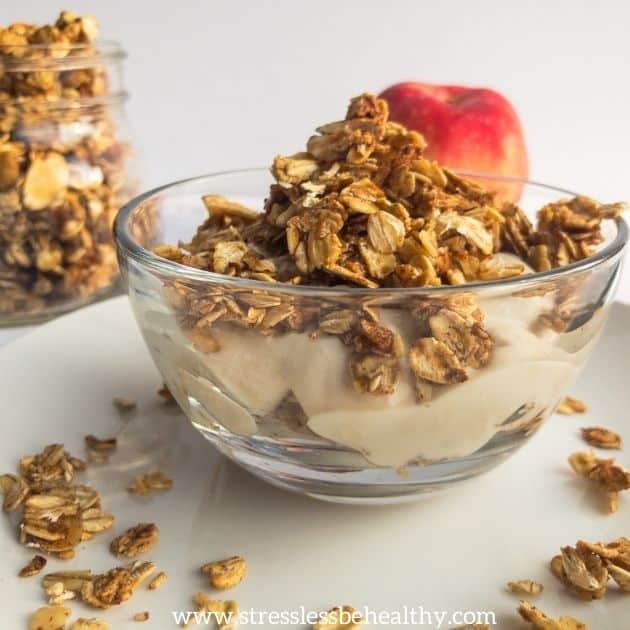 But first, be sure to remember this & Pin 17 Easy Vegan Kid Breakfast Ideas At Home to your favorite Pinterest Board!!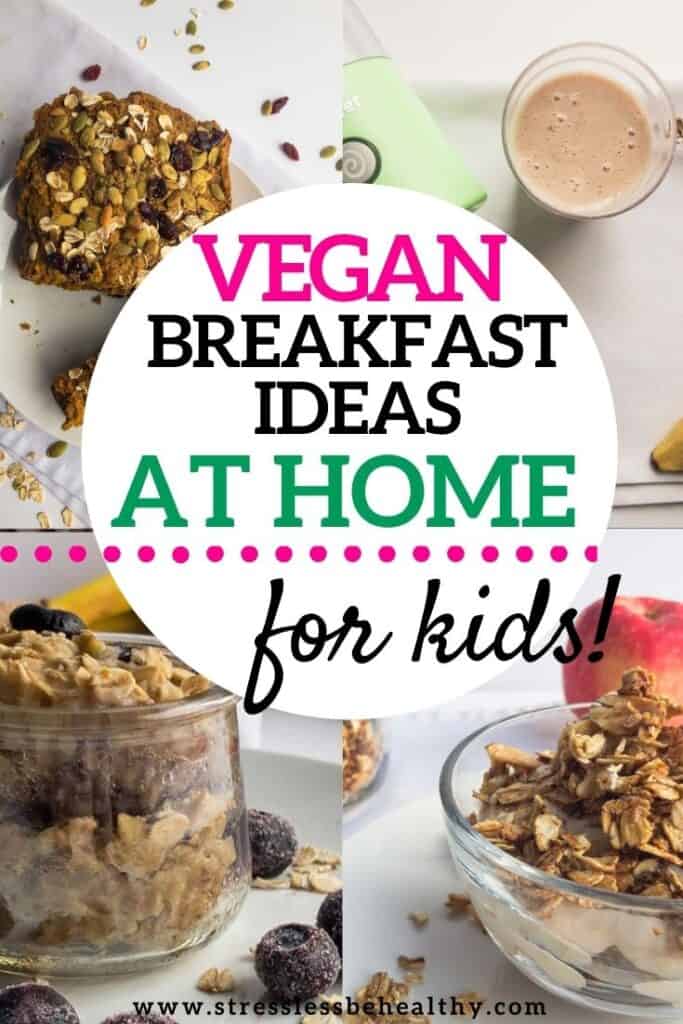 I hope you can see now how easy it is to come up with easy vegan breakfast ideas for your kids!
Most of these recipes, depending on how you make them, could take as little as 5 minutes to make.
And, most of the recipes that take longer than that could be made on the weekend and frozen, or kept in an airtight container in the fridge or on the counter.
Another neat thing about most of these breakfasts is that school age kids would be able to make them all by themselves. And for ones that they might not be able to make, like pancakes, French toast, waffles, muffins, and bread; those would be able to be made ahead of time, frozen, and easily reheated!
I hope your kids enjoy these breakfast ideas as much as mine do and that your mornings go a bit smoother for you!