*Disclosure: some links may contain affiliate links (meaning if you end up purchasing something when you click on the link then I may get a commission on it, with no extra cost to you, of course). For more information on what this means, visit my disclosure page.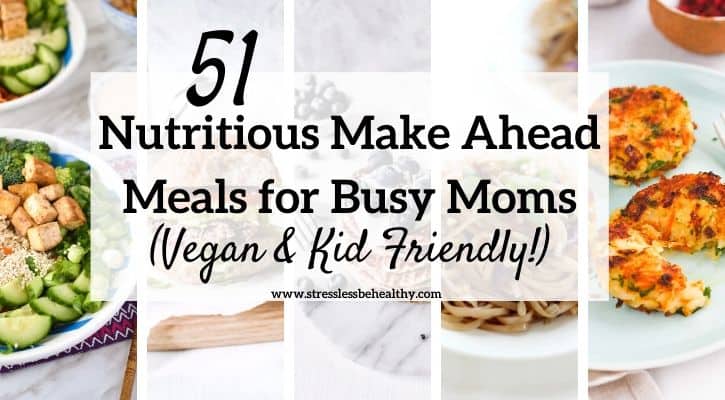 In this article you will find 51 of vegan nutritious make ahead meals for busy moms to make! Along with tips on how to make food ahead of time, meal prep part of a meal, and/or cooking with an infant!
Let's get real, all moms would love to feed their families nutrient dense food all the time, not hear complaints, and not have it take them forever to make!
Correct me if I'm wrong, but us moms like to provide the best we can for our families, whether it's providing for them financially, with love, or with food.
Since you're here, I'm going to assume that you're trying to find a way to provide your family with the best food you can, without going insane trying to find extra hours in the day to make it all!
That is where these make ahead nutritious meals for families come into play. Including the different types of food below, and more!
Breakfasts
Soups
Salads & Pasta
Burgers & Sandwiches
Ratatouille
Curries
Buddha or Power Bowls
and more!!
Want to Remember This? Pin 51 Nutritious Make Ahead Meals for Busy Moms (Vegan & Kid Friendly!) to your favorite Pinterest Board!!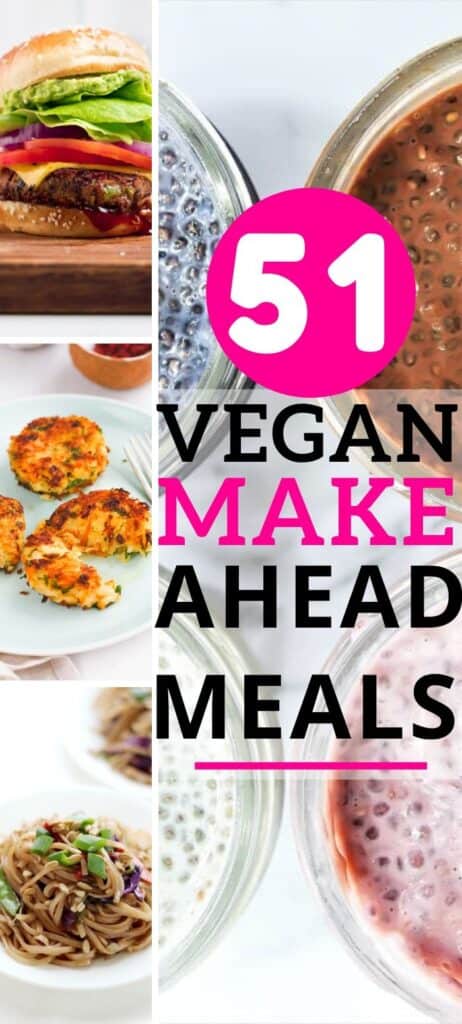 What do working moms make for dinner?
Working moms make the same thing for dinner that non-working moms do.
They simply have to plan better or make the meals ahead of time, to reheat the night they're having it.
Or, prep part of the meal ahead of time, either over the weekend, the night before, or morning of.
Some prep work that can be done ahead of time includes:
chopping veggies
cooking dried beans
making sauces or dressings
cooking grains that always seem to take forever to cook…
and more!
Not sure if meal prepping is worth it?
Read: The Benefits of Meal Prepping & The Pros and Cons of Meal Prep for Already Busy Moms
What meals can I make to freeze?
There are tons of meals you can make and freeze!
My favorite meal of the day to make and freeze is breakfast. I absolutely love having breakfast ready in the freezer to simply heat up in the microwave or toaster. Things I usually make and freeze for breakfast are pancakes, waffles, and muffins.
But, you can also make and freeze a lot of other meals and snacks, as you'll see below!
How do you freeze meals ahead of time?
Freezing meals ahead of time starts with choosing the right recipes!
Then, the proper way to freeze the meal will depend on meal or snack.
For example, baked goods need to freeze on a cookie sheet and be completely frozen before being put in a freezer safe container or bag to stay in the freezer longer.
Need some more freezing tips?
Read: Batch cooking tips and tricks you need to know!
What should I make for dinner every night?
Now, that's up to you!
However, when feeding a family and trying to keep them healthy, it's best to make meals that are nutrient dense.
What does it mean to be nutrient dense?
Well, it simply means that the foods you make should contain a lot of nutrients, or a lot of vitamins, minerals, and healthy fats, carbs, and proteins. (AKA- not a lot of sugar and empty calories!)
This means lots of veggies, beans, legumes, oats, fruits (like avocado), quinoa, etc.
Need help finding out what your family actually likes to eat?
Read: The Easiest Way to Find Out What Food Kids Will Eat!
How do I cook if I don't have time?
This is my favorite question!
Probably because I thrived with making sure nutritious meals were ready made when I was busier than I am now (not that I'm not still busy- homeschooling, raising three kids, and growing a business aren't exactly easy or relaxing things to manage!)
Don't get me wrong, I still thrive in making sure my family eats healthy; it's just easier now because my schedule is much more flexible and if I need to spend 2 hours preparing a fancy dinner (while my daughter finishes a school lesson, and while holding my infant who is currently going through separation anxiety; I can.)
But, the best ways to cook when you don't have time are:
freezer meals
meal prep on the weekends
batch cook (a lot of the same meals- either for the fridge or freezer)
chop up veggies and prepare other time consuming tasks on the weekend
plan super easy meals (like pasta and sauce with boiled veggies on the side, or buddha bowls with any leftovers in your fridge!)
Plus- check out the meals below for even more ideas!
When I was working outside the home, we had a chest freezer (it was awesome, but didn't come with us when we moved cross country). That chest freezer was packed full of nutritious vegan freezer meals, snacks, chopped veggies and fruits! It was honestly amazing and I will get another one…eventually.
In the meantime, or if you don't have a chest freezer or stand alone freezer, you can still take action with the ideas above. For example, I currently keep a few bags of frozen burritos, pancakes, baby food, and other easy nutritious meals in my freezer for everyone in my family.
How do you manage cooking with a baby?
Cooking while you have a baby in your home can be frustrating, for different reasons at different stages.
When they're newborn it's frustrating because you're sleep deprived. Be sure to check out How to Meal Prep Before Baby and do as much prepping/batching before the baby comes.
If you're not able to, then choose very simple meals that are quick and easy to make. This was one of my go to meals during the first few months after my youngest was born last summer.
If they're a couple months old to a year old, but not having separation anxiety, then put them in a jumper, playpen, highchair, or anything else you have that they'll stay in and be entertained in while you cook. Just be sure to keep them within eye sight while you cook!
Recently, my youngest has been having separation anxiety; I've been cooking while she's on my back in a carrier. You could also use a baby wrap, or whatever else you have to keep them on you, however, having them on your back and out of your way while cooking would be best!
If you're not able to do any of those and are beyond frustrated trying to cook with a baby at home, just have someone else do it. You may need to guide them along in the process, whether it's your husband or your kids.
Sometimes, though, this is best. Plus, if it's your older kids cooking, you're teaching them skills that they'll use for the rest of their lives!
If you want your kids cooking but don't have the time, knowledge, or energy to teach them yourself, Kids Cook Real Food e-course is a lifesaver and much cheaper then sending them to an in person cooking class. Check it out here!
Now onto plenty of Nutritious Make Ahead Meals for Busy Moms!
Make Ahead Vegan Breakfasts:
Nutritious Vegan Make Ahead Soups:
Easy Make Ahead Vegan Salads and Pasta:
Make Ahead Vegan Curries:
Vegan Ratatouille:
Vegan (Super Healthy) Make Ahead Bowls:
Other Vegan Make Ahead Meals for Busy Moms:
Eat it or freeze it for an easy weeknight dinner!
Nutritious Make Ahead Meals for Busy Vegan Moms
…cause it's hard enough being a mom, and it's hard enough being vegan (though, that is getting easier all the time!).
I hope you find some of the ideas above as a great fit for your family and that you can relax knowing that you have meals ready for your busy family and busy life….without having to spend two hours in the kitchen everyday making food!
I'd love to know which recipe you and your family will try first! Leave a comment below and let me know.
Interested in more healthy vegan recipes that the whole family will love? Sign up to receive emails from me (Shawna from Stress Less Be Healthy) and get notified when my Kid Friendly E-cookbook comes out!
Related Posts:
Why You Need a Meal Planning System as A Super Busy Mom
How to prepare to meal prep: how to meal prep for beginners
The Pros and Cons of Meal Prep for Already Busy Moms
Want to Remember This? Pin 51 Nutritious Make Ahead Meals for Busy Moms (Vegan & Kid Friendly!) to your favorite Pinterest Board!!