*Disclosure: some links may contain affiliate links. For more information on what this means, visit my disclosure page.
*Updated 1/9/2022
If you're reading this, then you're probably feeling super sick and pregnant, in the first trimester. Maybe you feel well enough where you want to attempt to eat, but unsure what may be a good choice, aka – won't make you get sick, or even foods that fight nausea during pregnancy.
So, you want to know what to eat when you have morning sickness all day long and can barely get any relief from it.
But, you know you need to eat, for you, and the little one you're growing inside you!
If you are not familiar with this site, I tend to stick to only supporting vegan options to eat. But, when it comes to morning sickness and needing to eat and keep the food down, I decided I wasn't going to limit the options to only vegan.
It's hard enough finding something that sounds good to eat; if that something happens to be cheese and crackers (and not vegan cheese), then so be it.
You need to eat, and shouldn't feel bad about what you're eating when you have horrible morning sickness and having to fight to keep the food down every time you eat!
Feel free to download or print off the list below for easy access for the best foods for morning sickness! (They're mostly bland, easy-to-digest foods, along with high protein foods, and more.)
Pin this post for later with the image below, or click above to get the printable list!!
If you want to know more ways to help with morning sickness, or what causes it in the first place; check out This Article on Morning Sickness in Pregnancy and how to deal with it.
Tips for Eating During Morning Sickness: Eat Often!
When you can barely keep your food down in the first trimester, you want to stick with small meals, or even snacks, often.
So, the ideas in the list below may not look like full meals, they're meant to be manageable to eat at one time. You never want to feel too full when you have morning sickness, since that can make you queasy; then again, you never want to be too hungry either, because that'll make you sick, as well.
It's a tough balance, and will require you to listen to your body to know when to stop, or start eating again!
Some things you end up eating at this point in your pregnancy may be food you ate as a child; these foods will feel comforting and very familiar to you, even if they aren't the healthiest.
Snacks for Morning Sickness:
Cheese and crackers
Crackers (by themselves)
Graham Crackers
Banana
Pretzels
Plain Chips- Like Lays Originals, or Ruffles (not the healthiest thing in the world, but then again, you need to eat something)
Pita Chips
Salsa and Tortilla Chips
Baked potato (feel free to use the microwave)
French Fries or Potato Wedges
Thinly Sliced and Baked Potatoes with olive oil, salt, and garlic
Corn
Cold Apple Sauce
Cranberry Sauce
Watermelon
Yogurt (I still ate soy yogurt, but eat whatever you feel most comfortable eating)
Berries (maybe even in your yogurt)
Apples with Cinnamon
Baked Apples
Apples with peanut butter
Oranges
Grapefruit
Plain Rolls (with butter) or biscuits
Popsicles
Easy Meals for the First Trimester:
Plain toast (or add some butter/cinnamon/sugar, jam, or peanut butter)
Dry Cereal
Cereal with Milk (any kind of milk, I needed to have milk on my cereal- just drinking something without food in it would make me sick in the morning)
Bagels with Butter or Cream Cheese
Waffles
Crepes
Peanut butter and Jelly sandwich
Mac and Cheese
Couscous (the NearEast boxes aren't that bad)
Pasta with Marinara Sauce
Pizza
Tortilla Pizza
English Muffin Pizza
Bagel Pizza
Simple Quesadillas (just tortilla and cheese or refried beans)
Soup (I enjoyed Amy's Brand soups)
(Citrus or) COLD Drinks:
Water
Cranberry Juice (such as cran-apple)
Water with lemon
Orange Juice (be careful, this does not feel good coming back up)
Ginger ale
Gatorade
Store bought Smoothies or Green Juices (or make your own if you have the energy)
Ginger, Peppermints, & more:
Crystallized Ginger
Hard Ginger Candy
Sour Candy to suck on
Peppermints (like candy canes)
Molasses Cookies
Sorbet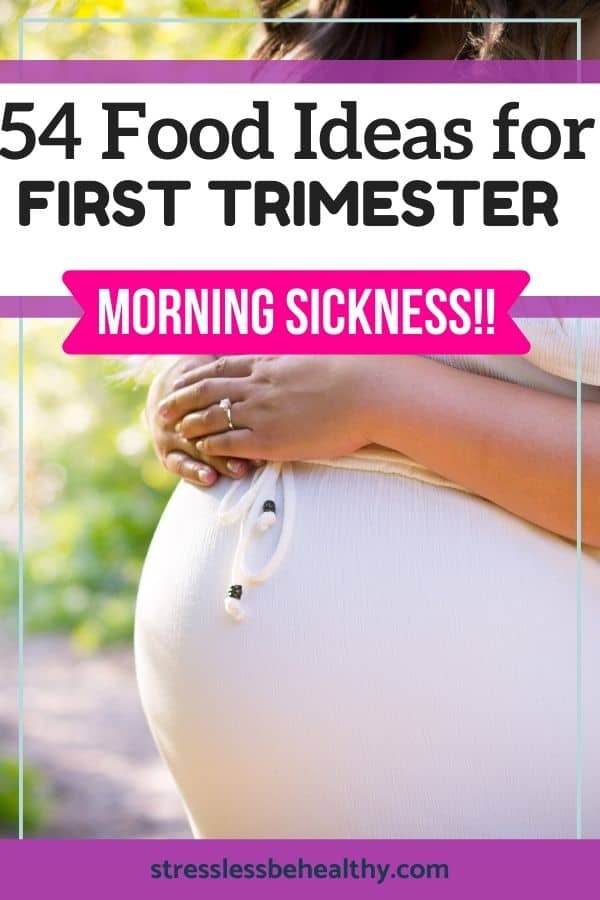 Want to know more about morning sickness, check out this article.
Have other kids you need to care for an make food for while pregnant with morning sickness? Be sure to check out this article: 55 Easy Vegan Kid Meals (For When You're Too Tired to Cook!)
A Few Tips When it Comes to Eating with Morning Sickness
Eating anything when you have morning sickness can be a challenge. You know you have to eat and keep hydrated. But, you also have to balance so many things to help ensure the food, and drinks, actually stay down.
You have to balance how much, how often, what, and when you eat.
For the 'what', the lists above can be your best friend and help you find something that sounds good.
For how much, it can get a little tricky; if you eat too much, you may get sick, too little and you'll be starving or getting sick in about a half hour. Small meals, or snacks are usually best. Don't eat until you are 100% full, but make sure you eat enough so you won't be hungry 5 minutes later.
For how often, this will be different for everyone. But, with morning sickness and all day nausea there's usually a time window you need to eat in, or you'll get sick. For me, I had to eat every hour and a half to two hours or I'd get sick. That's why, in this post, I suggest you eat as often as a baby.
If you have to eat as often as I do, then I hope the suggestions above will help you through this unpleasant time in your pregnancy. Just know, YOU are NOT alone in this, and it'll all be worth it when your baby is born!
Let me know in the comments any other food suggestions you have for What to Eat When You Have Morning Sickness All Day, if it helped you then there's a good chance in may help someone else!