*Disclosure: some links may contain affiliate links (meaning if you end up purchasing something when you click on the link then I may get a commission on it, with no extra cost to you, of course). For more information on what this means, visit my disclosure page.
Vegan Danish Pastry Recipe
In this article you will find a delicious and super easy Vegan Danish Pastry Recipe that your kids will love; tastes just as sugary and mouth watering as a regular danish pastry, but it's vegan!
This pastry is super easy to make and takes almost no time at all, with just a few quick ingredients you'll be able to enjoy this decadent dessert soon enough.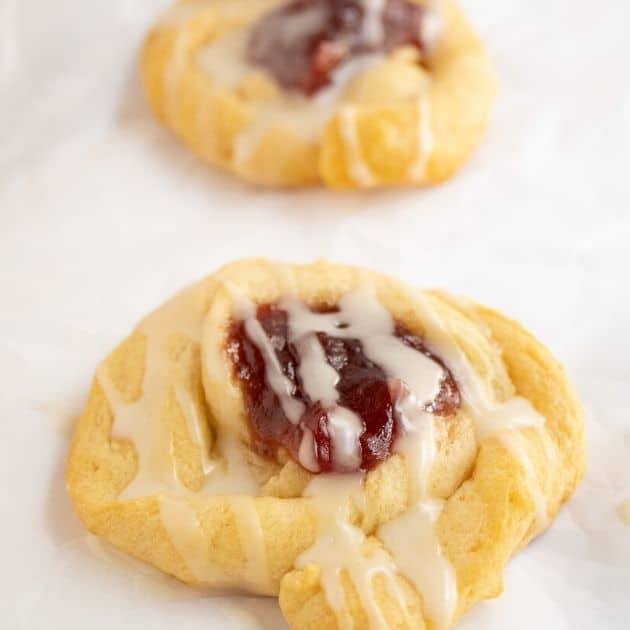 This recipe is so simple that I made it on a whim Christmas morning, and it's now a favorite breakfast or dessert in my home. Even my husband loves when I make these!
Be forewarned, it is not the healthiest recipe in the world; it is however vegan.
It's not plant-based; we use some processed foods to get these on the table in about 15 minutes.
Plus, when dealing with kids, no one has the time to make fresh pastry dough in the morning for breakfast…and have breakfast on the table within minutes of everyone waking up!
That's why we make this vegan danish using puff pastry, or more specifically the crescent rolls you find in a can type container in the refrigerator section of the store. Pillsbury works, or even the non-name brand (95 cent) ones work!
Want to Remember This? Pin This Vegan Strawberry Danish Recipe to your favorite Pinterest Board!!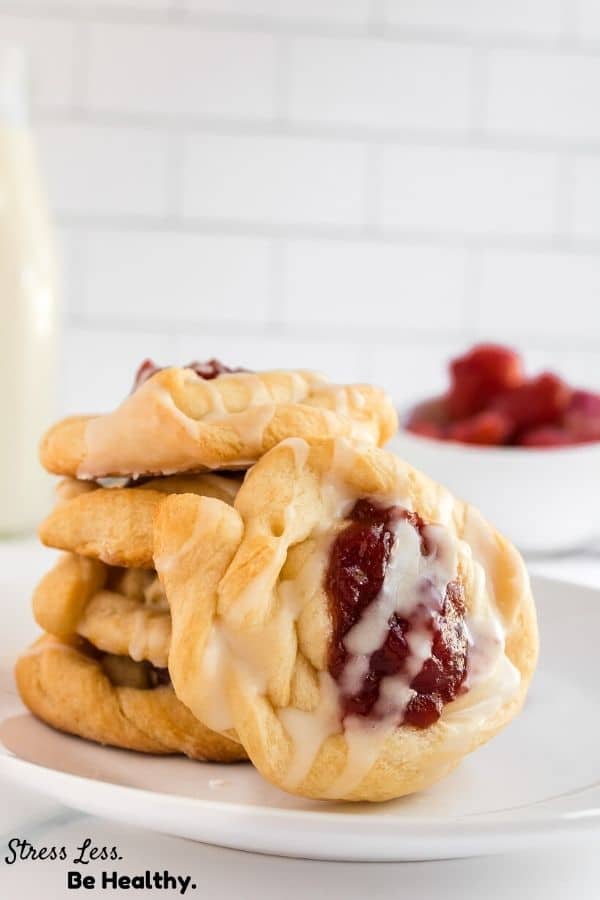 So, how do you make this mouth watering vegan danish using puff pastry?
Simple.
ALL YOU DO IS…
Preheat the oven.
Open the crescent roll dough.
Cut it into 8 strips and wind the strips up into a circle (pictures below)
Push down in the middle, add the jam.
Bake.
Make a simple vegan icing and ice it when it's done baking.
Seriously, that is it!
It's really that simple and delicious!
Why you'll love this Vegan Danish Recipe…
Well, you already know it's easy and you can make it in just about 15 minutes.
But it also tastes just like the danishes you can buy at the store, minus the cheese.
The pastry is light and fluffy, almost delicate, with the taste of flavor centered for enjoyment. And the added icing sweetens it up just enough so you don't even realize the dough was a crescent roll dough.
Honestly, it's a bit perfect. It totally curbs your danish craving without you having to eat a non-vegan food! (Unless you live in an area that is vegan friendly; this is the best you'll get!)
You can also adjust the ingredients to your, or child's, liking. You can make a vegan strawberry danish, raspberry, blackberry, whatever flavor you'd like!
The pictures in this recipe uses a strawberry preserves. But I know for a fact raspberry preserves tastes just as good!
Who would have thought making vegan danishes could be this easy and delicious?!
These vegan pastry recipe is truly the best of both worlds; delicious and can please picky eaters & is super easy. You really can't ask for anything better!
Check out the walk-through of the recipe below. (It's for a double batch, which was gone in one day between myself and 3 kids, and I regret nothing!)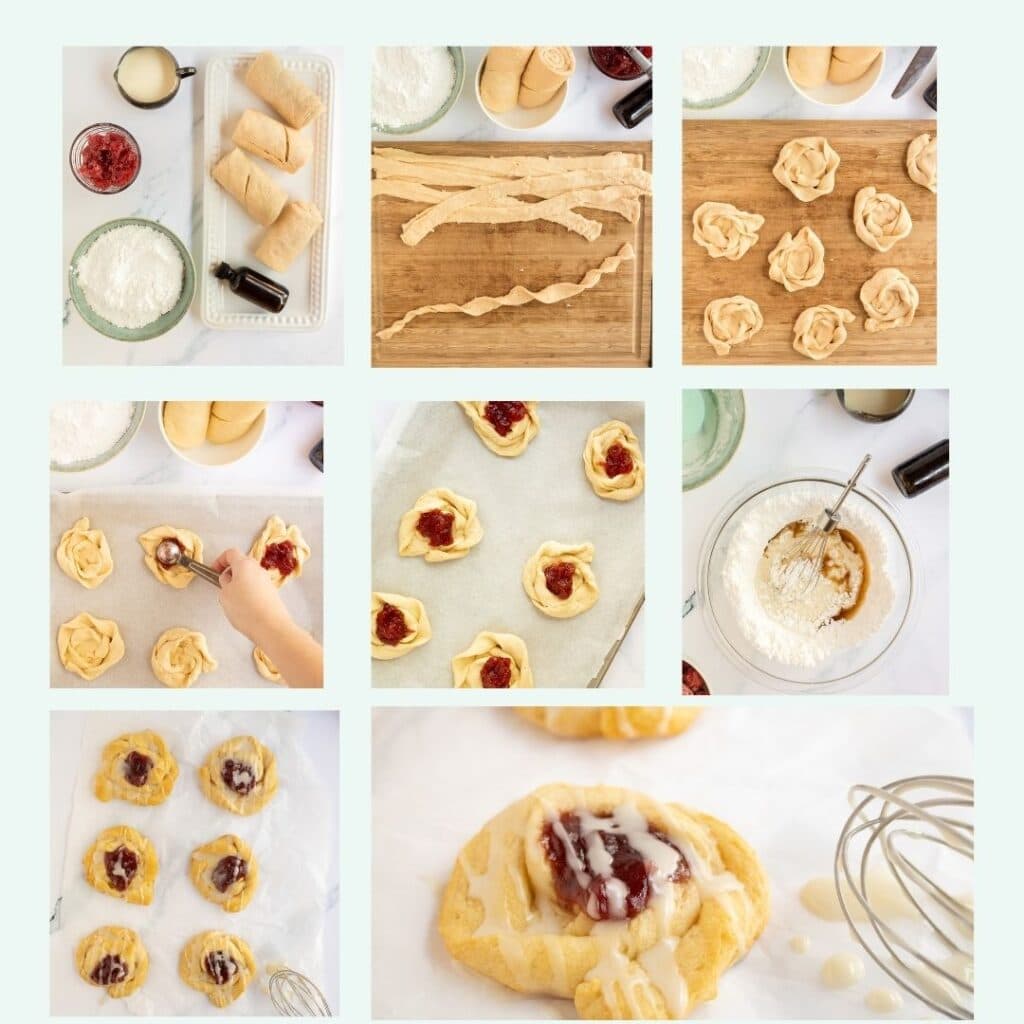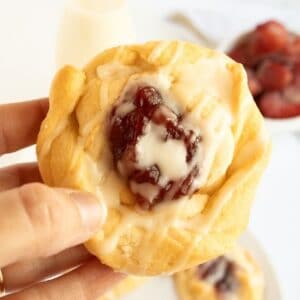 Vegan Danish Pastry
You won't believe how quick and easy it is to make this vegan danish pastry recipe! Simple and delicious with a decadent pastry puff dough and sweet fruity flavor centered to make it the perfect sweet treat, or even kid friendly breakfast!
Ingredients
1

can

Crescent Rolls Puff Pastry

8

tsp

Strawberry Preserves
Icing
1

cup

Powdered Sugar

2

tbsp

non-dairy milk

(I use vanilla soy)

1

tsp

vanilla extract

(optional)
Instructions
Preheat the oven to 375°F

Roll out the pastry dough and cut into 8 strips

Twist the dough around and then into a circle, starting from the middle out

Press down in the center and add your jam or preserves

Bake for 9 to 10 minutes, or til slightly golden

Whish all of the icing ingredients together while the danishes bake, get the consistency you desire by adding more (little by little- see the notes)

Remove the pastries from the oven, drizzle the icing over them and enjoy!
Notes
*For the icing, you may want it thicker or thinner than how I have mine, if needing to adjust for that reason, or because of omitting the vanilla; liquid ingredients go a long way and the powdered sugar goes a little ways.
Make sure you never add more than a few drops of non-dairy milk at a time, if the icing is too thick.
If too thin, add more powdered sugar than you think you may need.
If you like this recipe, you may also enjoy:
Vegan French Toast Recipe (Try with sliced strawberries & coconut whipped cream!)
Healthy & Vegan Strawberry Cheesecake Smoothie
Want to Remember This? Pin THIS Vegan Danish Pastries Recipe to your favorite Pinterest Board!!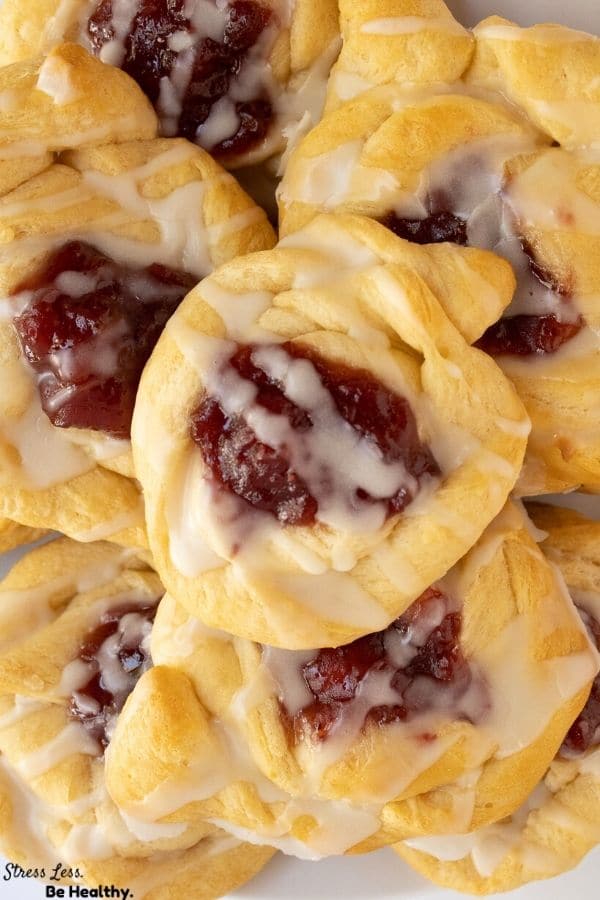 You may have noticed the Thank with Google feature on my website for the past couple of months; I'm one of Google's paid early testers for their Thank with Google pilot program.
The Thank with Google feature allows my fans to purchase virtual stickers to directly show their support and appreciation for the content I create on my website! It's a fun and creative way for my audience (awesome people like you) to connect with me. Every time you send a paid sticker, you can add a personal message which I love seeing the stickers you pick out and receiving the messages from my loyal fans!
If you try out the feature, let me know what you think of it! Thank you for all your support! You can find the Thank with Google feature at the end of any post, such as right below this sentence (it's blue and will show some example stickers next to it- click to try it out).