*Disclosure: some links may contain affiliate links (meaning if you end up purchasing something when you click on the link then I may get a commission on it, with no extra cost to you, of course). For more information on what this means, visit my disclosure page.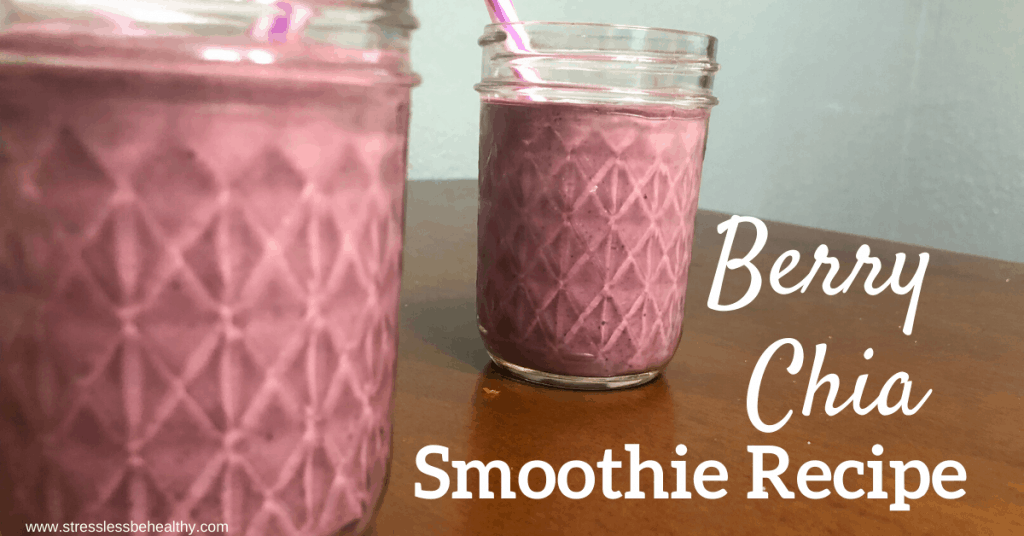 Berry Chia Smoothie Recipe
This berry chia smoothie is perfect for a little pick me up in the afternoon, rather than a coffee. Or, as a snack, anytime of day, for the kids or you!
Smoothies are a great choice for a snack, especially over processed snack foods.
Berries provide so many antioxidants, we could all use some more of them in our daily lives. Along with the chia seeds for added omega-3's and protein. It's even technically a green smoothie, with the secret ingredient that you can't even see when it's made!
Yep, that's right, the smoothie below is a powerhouse of nutrients that tastes super sweet. You'll be wanting to make it day after day after day. Don't say I didn't warn you!
This is why they make the bulk sized bags of frozen berries! Well, for the recipe below, along with vegan berry ice cream, which my kids actually prefer over store bought, thank goodness!
Jump to Recipe
Related Posts:
Strawberry Pineapple Smoothie Recipe
My Go to Green Smoothie Recipe
---
Want to Remember This? Pin Berry Chia Smoothie Recipe to your favorite Pinterest Board!!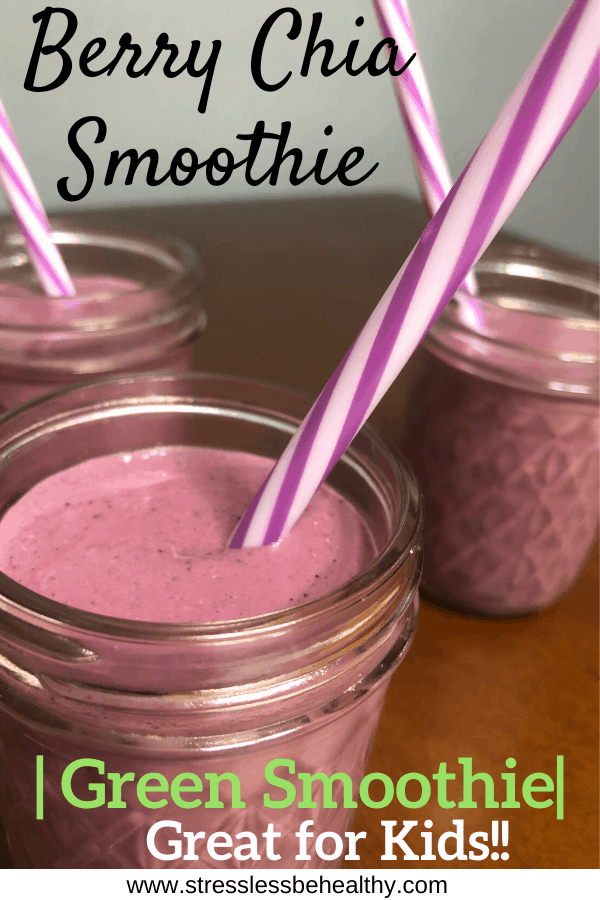 First, Questions About Chia Seeds You May Have…
Can you put raw chia seeds in a smoothie?
Yes, you can absolutely put raw chia seeds in a smoothie. This is the way I have always has them when in smoothies. I suppose you could grind them up before adding them to your smoothie, but that would take extra work and time, and no mom has time for that!
Should you soak chia seeds before putting them in a smoothie?
You don't have to soak chia seeds before putting them in a smoothie.
You can if you want. And, if you want a more gelatinous smoothie, this would be a good way to make one. But personally, I don't like my smoothies gelatinous.
If you do this, you could soak them in any liquid, preferably the same liquid you'll be adding to your smoothie, so there's no strange taste.
How do you eat chia seeds for breakfast?
There are tons of different ways you can eat chia seeds for breakfast. For example:
add to smoothies
add to parfaits
eat chia pudding
add it to your cereal
add to oatmeal
drink it in water or juice
make jam with it for your toast
and more!
What is the best way to eat chia seeds?
This is a personal preference.
I enjoy them most in smoothies, specifically the smoothie below because the seeds in the berries have a similar consistency and I can't even tell there are chia seeds in it.
However, my 7 year old likes chia seeds most in chia pudding.
Why eat chia seeds?
There are so many benefits to eating chia seeds, why not eat chia seeds?!
A few of the nutrients include:
omega-3 fatty acids (this is the kind we all could use some more of, not omega-6's)
antioxidants (between chia seeds and the berries, the smoothie below is full of antioxidants)
fiber
iron
calcium
Learn more about the benefits of chia seeds here.
Let's Make This Berry Chia Smoothie Recipe
Smoothies are one of the best snacks, breakfasts, or desserts you can have, or give to your kids!
They are full of vitamins and minerals and will help you get in your fruits and veggies for the day, at least some of them!
This one is even a 'green' smoothie because it includes kale. But, it's better, because it's a secret green smoothie! Your kids won't even know there's kale in this!
This berry chia smoothie is also super simple to make and is cheap.
The only ingredients you need are:
kale
chia seeds (buy in bulk to save)
banana
frozen berries
and some type of liquid (I use soy milk)
And….
All you have to do is measure out the ingredients.
Pour them into your blender, or blender cup (for nutribullet or nutrininja).
And, blend!
Or, if you have made thousands of smoothies before and know how much of each, approximately, you need; you may not even need to measure! Making this recipe even simpler to throw together and make.
Perfect for a snack for hangry kids, or a hangry you!
So, add the ingredients to your shopping list and this 'green' smoothie a try next time you can!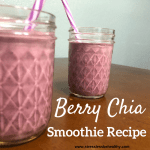 Berry Chia Smoothie Recipe
You and your kids are going to love this berry chia seed smoothie! With so many berries and chia seeds, you'll get tons of antioxidants and omega-3 fatty acids. Great pick me up or go to breakfast to grab and go!


Ingredients
½

cup

kale

2

tbsp

chia seeds

1

banana

1

cup

mixed berries

frozen

1

cup

soy milk

(or other non-dairy milk)
Instructions
Add all ingredients to your blender.

Blend til smooth, and enjoy!
Recipe Notes
*This makes 1 large drink, or 2 small drinks.
Want to Remember This? Pin Berry Chia Smoothie Recipe to your favorite Pinterest Board!!