*Disclosure: some links may contain affiliate links (meaning if you end up purchasing something when you click on the link then I may get a commission on it, with no extra cost to you, of course). For more information on what this means, visit my disclosure page.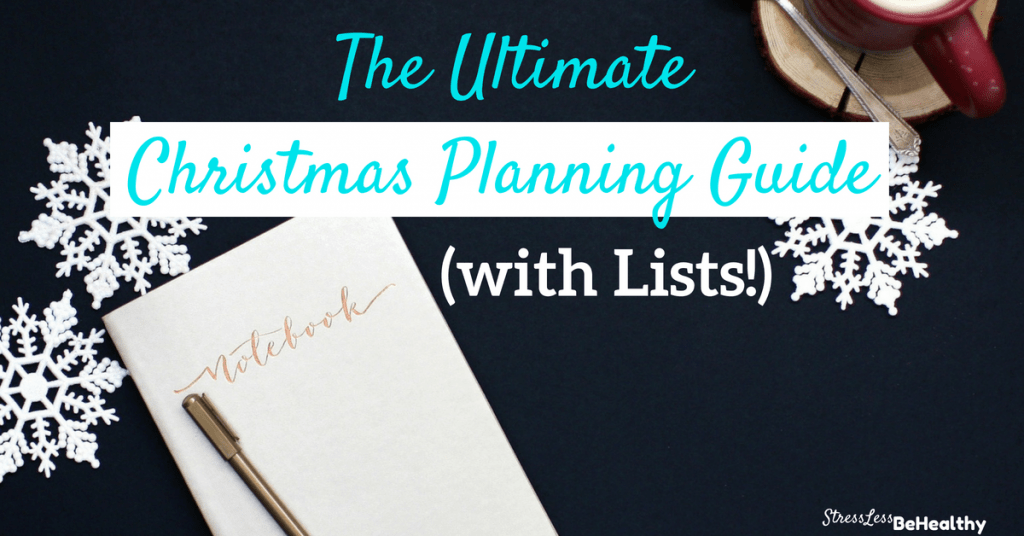 The Ultimate Christmas Planning Guide (with Lists!)
The holiday season is right around the corner. And although it brings happiness and the feeling of warmth with getting to be with family and friends; it also brings chaos and stress. Especially for us moms.
We have all of our regular chores, like cooking/baking and cleaning, making sure our children are happy, and keeping our house functional while carrying the mental load that comes with home management. And then, we have all of the extra stuff we need to do this time of year. All in all, we need some pretty good lists to rely on; otherwise we may as well just say forget it.
And, that can't happen!!!
We have so much to do and so many lists to make to make sure that everything goes right.
We need to find out what our kids want for Christmas, what everyone wants to eat for Christmas.
And then we have to figure out all of the food we're going to bring to holiday parties.
Find out what everyone else we're buying for wants.
And those are just a few of the lists we need; just to simply get through this hectic season.
We need to check our lists off.
We need to shop(thank you amazon and online shopping).
To bake and to cook.
And we need to decorate and put up the tree. (We put ours up before Thanksgiving this year.)
And the list goes on and on for what we need to do.
Plan Your Time
We have all of this planning and all of this doing, and the same amount of time in the day as all of the other days of the year.
Actually, no, this is not true. School age kids have a large amount of time off from school during this time, so we have less time. This is my older daughters first year of school, so it's the first year since she gave up her naps (3-4 years ago) that I get a break during the day. My younger daughter still takes an hour nap…if I'm lucky.
If you need help finding more time in your day, I did write about that here. Or, to learn how to use your stress to your advantage; check that out here.
Make sure to keep your energy up during your planned times to get things done.
And please, please, DO NOT WAIT TIL LAST MINUTE. You will be kicking yourself if you do.
At least don't wait til last minute for everything; food may be the one exception. Food should be started at least a week before if you're planning on making a ton of cookies. Christmas cookies tend to freeze well, too. So, keep that in mind.
Learn From Prior Years
Now, ironically, a few years ago may have gone the smoothest. So, I keep trying to take what works and replicate it; with minor tweaks and let you know what I did to make it run smoothly.
That year was different in a few ways for me. Around the holidays I was nine months pregnant and thought I was going to have my baby any day because of all the labor pains and braxton hicks I was having. I had a bit more to prepare for than just the Holidays.
It certainly helped that I was in supermom mode and had a little bit of help from nesting. I was also still working full time up to the day I had my youngest daughter, which was also the same day we ended up moving, but that's another story; I had to add that little snippet in here though, just in case you didn't think I had enough on my plate?
The only days I took off from work were days I had doctor appointments. So, let me tell you what helped me that crazy year.
Obsess; if you have to
That year I obsessed over having enough frozen meals and frozen cookies stocked up.
This way I wouldn't have to do much work when didn't want to and when I knew I could go into labor at anytime.
I made quite a bit of food ahead of time and froze them. Such as soups, cheese bread (something my mom always makes for Christmas), pizza's and a few other meals. (I was still only a vegetarian at this time.)
I did this late November, early December, and it saved me so much time and energy later in the month; especially on those days when I had no idea what I wanted to eat, or when I was craving cheese.
I made and froze so many cookies, they never seemed to last though. They lasted for maybe a week in the freezer and then they disappeared and I'd have to make more.
It's not like they were hard to make, ok, some of them did take quite a bit of time. But my older daughter, who was 3 years old, had so much fun and it was a relaxing time for me to simply bake with her. I was able to spend quality time with my older daughter before her sister was born.
Understand No Two Years Will Be the Same
We didn't have a house to upkeep that year, just a teeny tiny two bedroom apartment. I felt like I had more time to prepare things.
It was hard to tell if it's because of having a tiny apartment and now I have a larger home to upkeep, or if it's because I only had one child that year and now I have two. Hmmm….I think it may be both.
Another thing that my husband and I made simple last year was gifts. We bought toys for our daughter, but we did gift cards for everyone else.
After having two kids and less money and more chores and more coming up with creative ways to do things; the  next year we decided to make gifts, instead of buy them.
The biggest help I have found for getting things done for the holidays are my lists.
If you don't already know, I am a list person. (I probably inherited this from my mom, I was always watching her make lists when I was younger.)
Are you ready to find out some of the lists you'll need to start making, or should already have made for this time of year?
My List of Lists for the Holiday Season
 Presents We Want (a list of what everyone in our family wants, so that when we're asked by others what they should get us, we know what to tell them)
 Present Shopping List (everything we need to buy for everyone we are buying for)
 Food (cookies, special meals, snacks, meals for the regular week before Christmas and/or New Years)
 Recipes that'll be used
 Food Shopping List
 Schedule (when are all of the holiday get-togethers/ school events)
 Schedule (when can we squeeze in all the shopping, baking, and wrapping)
 Decorating and Tidying up (for when people randomly decide to pop in- my husbands family used to do this all the time without any notice before we moved across the country)
Using the Lists in this Christmas Planning Guide
Now that we have our list of lists and know what needs to get done, lets start filling out our lists to the best of our knowledge.
What do you want for Christmas?
Has your significant other or children given you any ideas for them yet? If not, then ask them. If so, then you're one step ahead and one list done.
Do you know who you need to shop for?
Do you know what they want? If yes, and you have the money, then go out and shop the first chance you get. Roads are just going to get worse and stores are just going to get busier. And you know how the mail seems to get this time of year; best to buy online early to get presents on time to give them!
If you're able to food shop in the same outing as present shopping, even better, saves gas and time.
Then you can get a head start on baking and maybe even do what I did in prior years and freeze the cookies and other food.
Just be sure you fill out List #5 before shopping so you know what you need and wont just buy random items you think you may need. (That's just a waste of money, something that I can't afford to do.)
List #6 is vital if you want this year to go smoothly. Planning is a must. Obviously you need to know when you have to be somewhere, but it's also good to know when you have extra time to get things done. Write these items on your list and then again on your calendar and then again in your weekly planner or agenda, or if you keep a daily to do list- put it on there.
Preparing the Food
Having very detailed lists for food and preparing food ahead of time and freezing it, always makes my holiday season so much smoother.
So, go ahead, write down what you need and want to bake or cook.
What do others in your home want?
What do you need or want to make for others?
For the get-togethers, for people who just stop by, for the holiday parties at school, and for anywhere else you need to bring food to?
Gather up your lists, make sure you label what foods are for who or for where (on your list and on the packaging/container for the food when it's made). This will increase your chances of not having to make it twice due to someone in the house eating it.
The Next Step
Then gather ALL of the recipes for everything you're making. Once you have the recipes, the fun in list making begins. And, if you like math and fractions, hold tight, this step is for you. If you don't enjoy math, then I apologize ahead of time and you may want a calculator in a few minutes or skip this and just estimate.
When you have all of your recipes gathered, write down all of the ingredients for the first recipe. One on each line, and only the ingredient. After you have you all the ingredients listed for that one recipe write next to each ingredient in parentheses how much of that ingredient you need. Take into consideration doubling or tripling the ingredients if you need to make more than one batch. Now you have ingredients for one recipe on your list.
Can you guess what you do next? You guessed it, go on to the next recipe. The difference this time is that for any ingredient already have on the list you'll only need to write down the amount. Keep doing this for all of your recipes, adding new ingredients to the list as needed. I would also recommend to do this for any food you'll be making for the month to make sure you have enough ingredients for those as well.
Example
For example, if you plan on having pancakes this month, many of the ingredients in your pancakes are probably on your list already. Just add to the list how much you believe you'll need for the pancakes. And to make things easier on yourself, make the pancakes in a very large batch and freeze them. They freeze well and I usually just pop the frozen pancakes in the toaster as a quick and easy breakfast when I don't feel like cooking. Just don't forget the maple syrup and blueberries.
After you have you ingredient list and the amounts for all recipes, you will need to buy the ingredients.
This may, and hopefully will be, the most chaotic step of all. Unless you have little ones who want to help with everything in the kitchen, like my daughters.
And of course, after the shopping comes the baking and cooking. For this, I do recommend to do as much as you can at one time and then freeze. It'll also save you when having to do dishes only once or 'as necessary'. And you'll only have to preheat the oven once and then change temperatures when need be.
A Few Freezing Tips
Before you go off to make your delicious holiday food, I have a few tips for preserving the food you're about to make.
For any breads or pizzas- fully cool then wrap in foil a few times, then put in a freezer safe bag before freezing
Sugar cookies- for best results, first frost the cookies, then freeze flat on a cookie sheet and then place in freezer bag (these don't even have to be thawed before eating!)
If you're a fan of chocolate and peanut butter, you need to make peanut butter balls(or buckeyes or whatever you call them) and freeze on cookie sheets then bag in a freezer bag. That is, if they make it in the bag. For me, only about half of what I make actually makes it into the bag, or at least that's how it is most years.
Some cookies freeze best when you just freeze the dough(in balls) and then bake them when you need them, you may need to add a few extra minutes to the bake time. These include snicker doodles and peanut butter blossoms.
Good Luck and Stress Less
If you follow my lists AND make food in batches and freeze it, you will have a much better chance of not being as stressed.
Remember to plan and use lists for everything, especially this time of year. If you have a memory like mine, these lists will be lifesavers.
And if you make and freeze food like I did, then you won't miss a beat when something goes awry or there's a surprise visitor or event that your child didn't tell you about.
Do you have any other suggestions or tips to help reduce stress this holiday season? If so, please share for all of us in the comments below.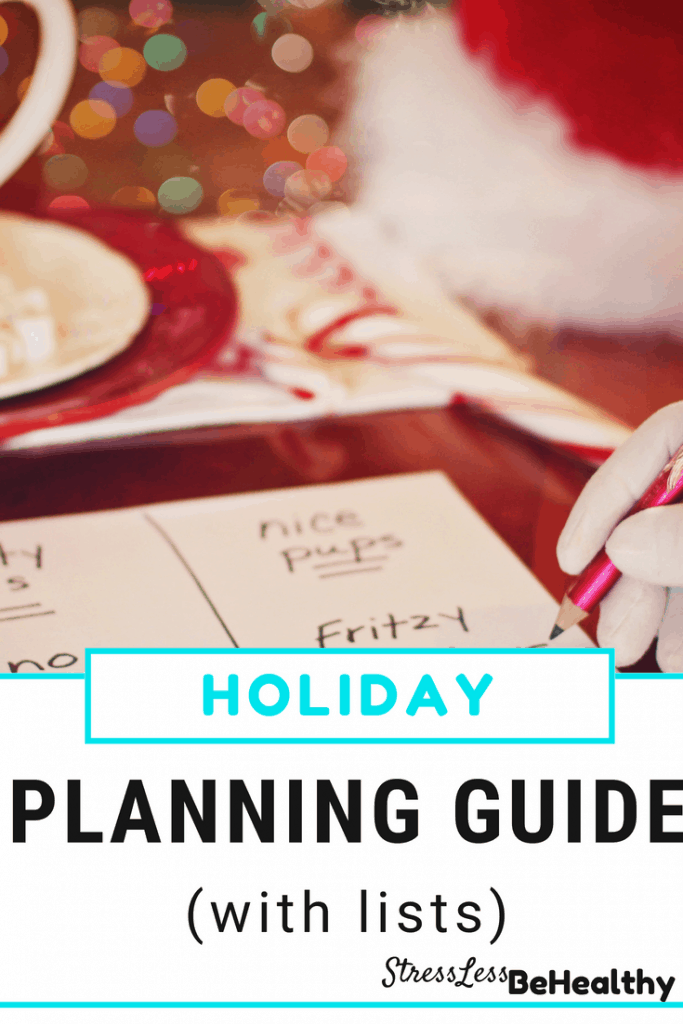 Related Posts:
7 Holiday Stress Relief Tips that ACTUALLY Work!
8 Ways to Teach Children Thankfulness