*Disclosure: some links may contain affiliate links (meaning if you end up purchasing something when you click on the link then I may get a commission on it, with no extra cost to you, of course). For more information on what this means, visit my disclosure page.
24+ Amazing Christmas Gifts For 4 Year Old Girls
Christmas is coming up soon and you may be wondering what to get Christmas gifts for 4 year old girls you should get your daughter this year. Luckily for you, 4 year olds speak a lot better than 3 year olds, so you're much more likely to be able to ask your daughter what she wants for Christmas and get a good response back!
However, what she tells you may be unrealistic; whether too expensive or not possible (this year or ever), such as if she asks for a pony or a unicorn.
If that's the case, or if you don't get a sufficient answer, then check out the gift ideas below! Some are direct gift requests from my daughter, and some are toys or other things she already has and uses every single day!
---
Related Posts:
Gift Ideas For 3 Year Old Girls
Gift Ideas For 6 Year Old Girls
The Best Gifts for 2 Year Old Girls This Year!
---
Want to Remember This? Pin 24+ Amazing Christmas Gifts For 4 Year Old Girls to your favorite Pinterest Board!!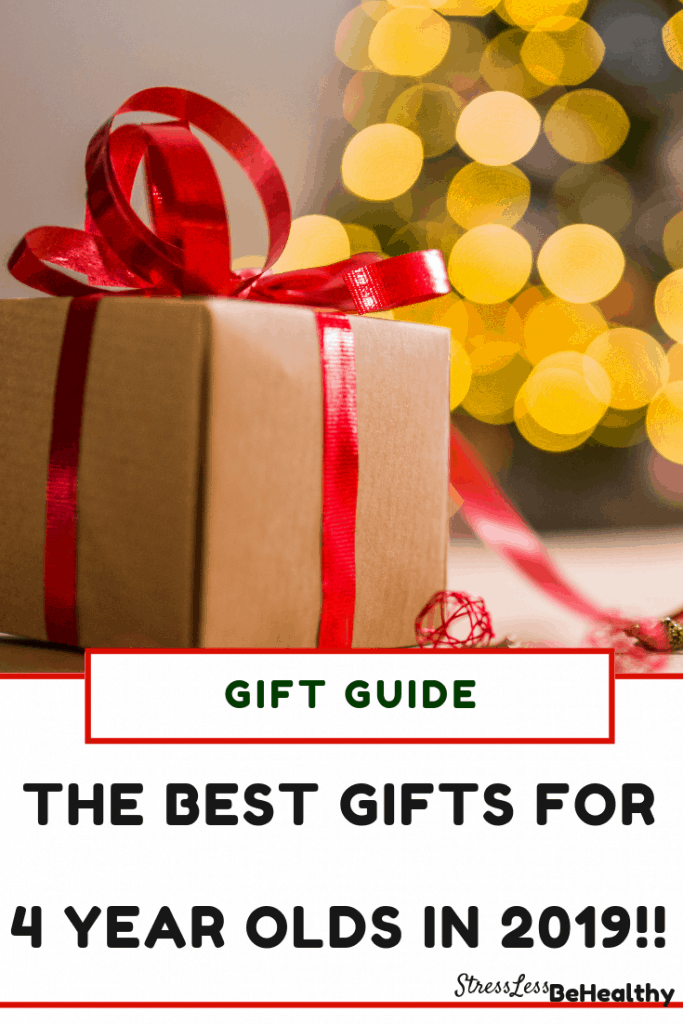 Questions you may have about gift ideas for 4 year old daughters…
What are the best toys for 4 year olds? 
The older a child gets, the more unique to them gifts they'll want, as they're developing their own personalities. So, that should be taken into account when figuring out the best toys for your daughter. Though, these differences may be minor, whereas they may like all the same gift ideas, yet you may need to change out the favorite cartoon character to fit your own childs preferences.
With that said, the best toys for 4 year olds will be ones that help develop their imaginations, their senses, and their mind. Think dolls, dollhouses, art supplies an more!
What do 4 year olds like to do?
Believe it or not, 4 year olds like to do many of the things they did a year ago, but they are also at the point where they start to want to do things a little more grown up, too.
For example, a year ago my two daughters (who are now almost 4 and almost 7), didn't play much together, the younger one couldn't talk even nearly as well as she can now, so it was harder for them to play pretend (or anything else) together easily. Now, they play together all the time! (Not always nicely, but they can at least understand each other better now.
So, short answer is that 4 year olds like to do what their older siblings do. If they don't have older siblings, then they'll still want to do things that older kids would like to do, compared to what toddlers likes to do. This includes (but is not limited to):
playing with dolls
dollhouse
other small character like toys (such as from their favorite show)
pretend play (they like to act like puppies and kittens)
games on electronic devices (tablets, game systems, etc.)
 play kitchen
arts and crafts
play doh or slime
They start to get more creative at this age as they are able to control what they do more and are starting to be able to hold utensils better. This is the age where some kids even start to write their own names, whether it's with pen and on their legs and arms (hey, practice is practice, right?), or on paper as it should be!
What do 4 year olds like to play?
As mentioned before, I have an almost 4 year old and almost 7 year old, and it is so much fun to watch them play together! At least until they start fighting….
But, one thing I've noticed that my almost 4 year old loves to play is dollhouse, or with baby dolls. They also have a baby sister who is just over 3 months old, so my 4 year old will go around with dolls and care for them like they are real; she'll pretend to nurse them and change their diapers. It's quite adorable!
4 year olds also love pretend play and playing with character toys and controlling what the characters say or do. This helps grow their minds and imaginations, along with helping them to understand the world around them better.
For kids, playing is learning, so it's important to make sure they have toys that will help their minds grow. Luckily, this is quite easy, as almost any toy gives themselves to this, you can find some of these and more ideas below!
Be sure to grab this gift tracker to keep track of who you've bought for and what you've bought so far this year for the holidays! The PDF is also editable on your phone, so no need to print unless you want to!
24+ Amazing Christmas Gifts For 4 Year Old Girls
Favorite Character Toys

Kids love TV, and as much as you may try to not let them watch it, let's be real here; they still watch TV and have a favorite show and favorite characters. My daughters favorite show is PJ Masks (which she has always pronounced as Minnie Mouse- another character she likes!).
Maybe your daughter likes PJ Masks, as well. Or, they love a different show, like Doc Mcstuffins, Carebears, My Little Pony, Strawberry Shortcake, Pinkalicious, Paw Patrol, Daniel Tigers Neighborhood, or something else.
Whatever show it is, they are sure to love playing with the characters from it and acting out scenes or making their own 'show'!
Favorite Character Gifts
Along with playing with the characters from their favorite show, they also love having their favorite characters on everything!
From bedding to plates and cups and even their underwear! Kids love showing the world the characters that they love. Here's a list of items that can usually be found to have characters on them:
blankets
pillows
sheets
wall decals
lamps
piggy banks
plates and cups
pj's and robes
shirts
underwear and swimsuits
bags
costumes
stuffed animal and toys
books
and more!
Being a psychology major in college and knowing what type of psychological harm playing with barbies could possibly instill in a child, I tried so hard to keep them out of the house…But, they're on Netflix, too. So, my daughters ended up finding it and watching it and wanting the dolls that go with it. Luckily, barbie is coming to terms that not everyone is alike and has unrealistic bodies, blonde hair and blue eyes. They have made more 'normal' figured dolls, and dolls that look different than what we may remember from our own childhoods.
If you exercise, workout, or do yoga at home and have your own yoga mat, be prepared for your daughter to ask for one, as well! Our daughters love following our example, and providing them for a means to follow our healthier habits is one of the best things we can do.
Water Bottle
Just like with yoga mats, if you keep a water bottle with you at all times, be sure to encourage the same healthy habit in your child! Go get them a water bottle; it doesn't have to be expensive or even have their favorite character on it. Simply something to keep water in so they can keep sipping it all day long.
Stuffed animals are on thing that just about any kid will love getting for Christmas (or Easter, their birthday, or any day anytime, really!). Just be careful and don't go overboard with buying stuffed animals; I know from experience how easily they accumulate!
Little girls tend to love playing with baby dolls, whether they have younger siblings or not! They see what a good mommy you are being and want to be just like you. So, why not buy them their own new baby and accessories for Christmas this year?!
This is such a fun age, at 4, because they are so creative and imaginative. They start to want to create things and are much better at holding drawing utensils and other things at this age. The weird drawings of people they were making a year ago are becoming more defined and easier to recognize as human! 4 year olds also love making crafts, with everything an anything. For some parents, myself included, supervising and cleaning up arts and crafts can be something we don't tend to like to do daily. This only makes the time we allow them to paint and make a mess creating even more special to them! So, check out some of these art supply ideas and start filling up an 'arts and crafts' box for Christmas this year!
As much as you may want to keep your kids away from screens, you've got to admit, by this age they love them and keep them entertained while you get things done. So, why not get them their own tablet! They love watching shows and playing on apps. They can use it in the car for long drives, or for shorter amount of times at home so you can get some cleaning or work done (if you work at home). And, not all apps are purely for entertainment. There are some great apps for helping kids learn, too. Such as ABC mouse!
Whether your think video games are bad for kids or not, they tend to really enjoy them! Plus, playing video games helps your child with hand eye coordination (or knowing how to move the little buttons to make the character do what they want- generally without looking at their hands), spatial recognition, along with math! Both of my older girls (4 and 7) have a 2DS and love it. The one above comes with Super Mario Bros 2, so you may enjoy it, too!

For some reason some 4 year olds love toys and other things to play with that make a huge mess! Such as play doh and slime. Sure, it's great for their sense of touch and learning how to mold things. But, it's not so great for carpets. So, be sure to keep this at the table or place a plastic mat down to avoid having to spend hours combing it out of the rug!
So, What do you buy for your 4 year old daughter?
With so many different personalities there are for four year olds, it can start to become difficult to use a generic gift guide for gifts that they'll actually want! This is why the gifts above are ones that you can form to git your daughters favorite things. Whether they are into princesses for superheros!
Leave a comment!
What do you think are the best Christmas Gifts for 4 year old girls are?
Be sure to grab this gift tracker to remember who you've bought for and what you've bought. Print it out, or edit it on your computer, phone, or tablet, so keep it a bit more secure so others won't see what they're getting for the Holidays! (Plus, who doesn't have their phone on them while shopping, make this Holiday Season a bit easier on yourself and download this PDF.)