*Note: some links may contain affiliate links (meaning if you end up purchasing something when you click on the link then I may get a commission on it, with no extra cost to you, of course). For more information on what this means, visit my disclosure page.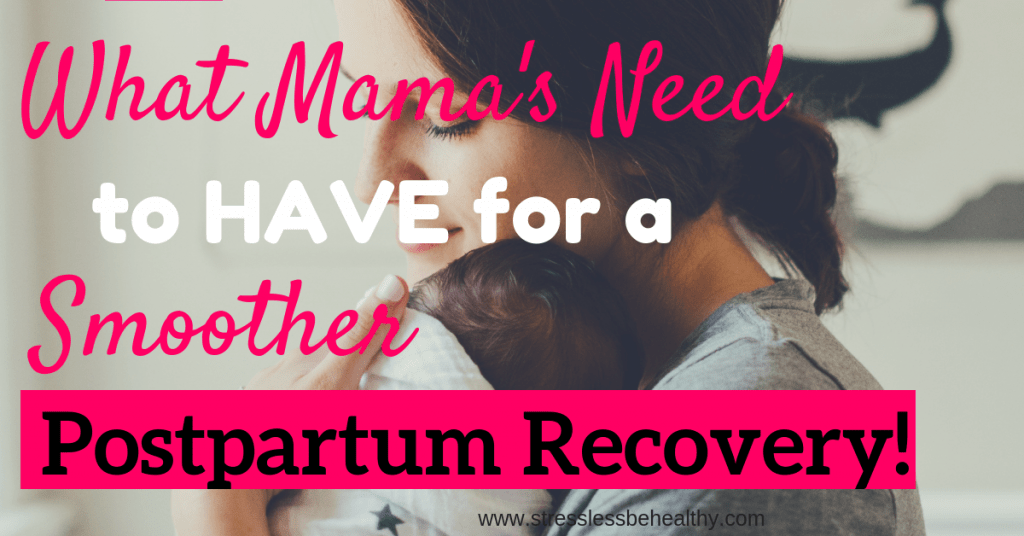 What Mama's Need to Have for a Smoother Postpartum Recovery
Recovering from child birth is no picnic and postpartum recovery should not be taken lightly.
Postpartum is a time for bonding with your new baby, adjusting to life with one more child, and resting to recover. Your body just went through a huge ordeal.
You just grew another human being inside of you, for goodness sake!
And then, you either pushed your baby out; which physically seems like an impossible task before its done. (If you want to understand how it really works in an easy to understand way- check out this video.)
Your body needs to take it easy for a little while, and I've learned the hard way that a week and a half of recovery after having a child is simply not enough.
(That's how much time I took off from college after I had my first child. And, not to give TMI, but I bruised down there while giving birth, and it took around 4-6 months for the bruising and pain to go away!)
After my second child, I took the 12 week maternity leave that my job offered and I took it easy. I was blown away by how much quicker I recovered and how much less pain I was in!
Everything about her birth was easier, too. I was in labor for half the time, and had a completely natural childbirth with no pain meds, or anything. I was induced with my first, and do not recommend that to anyone unless it is absolutely necessary!
There were also a few routines I had in place, and items I had, that I didn't care to use after my first child because I was 'too busy'.
Do yourself a favor; never feel like you're too busy to take proper care of yourself, especially if you have kids!
---
Related Posts:
The Best Frugal Cheat Sheet For Things You NEED For a Newborn
The Ultimate List for Baby Registry Must Haves
The Best Newborn Clothes Checklist
---
Want to Remember This? Pin What Mama's Need to Have for a Smoother Postpartum Recovery to your favorite Pinterest Board!!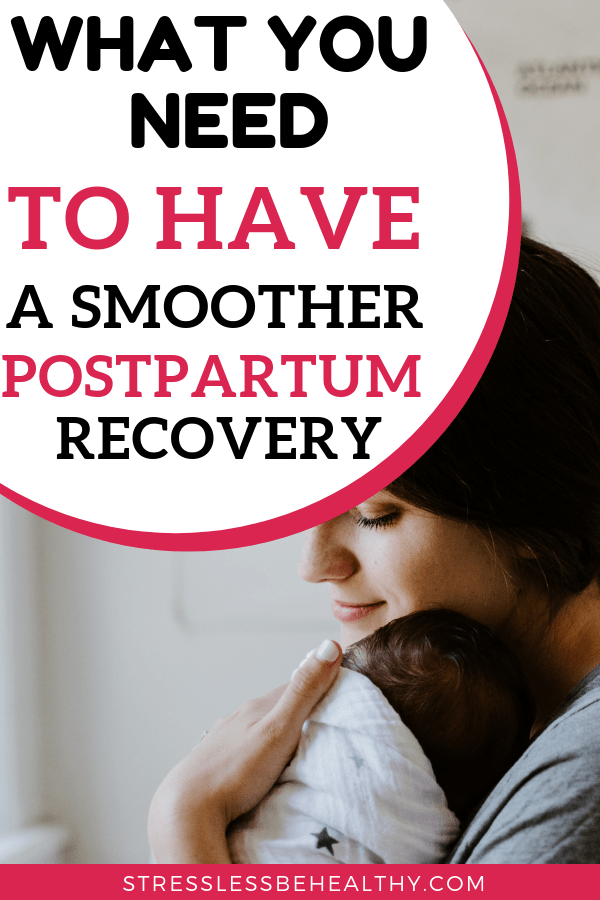 After having two babies and two very different recoveries; I've learned a thing or two about what you need to have a smoother postpartum recovery! Find out what you'll need, and what you should do, below!
You NEED this, I borrowed something like this from my mom after my second child and it helped a ton. The one she has I have never been able to find anywhere. But, you can get this similar one off of Amazon and be glad you did.
It will help with any swelling; you will basically just want to sit on it anytime you sit down, for at least a month after giving birth. Especially if you run out of these!
A size too large underwear
You probably won't fit in your regular underwear during your postpartum period, at least not with everything you'll need to put in it to help you heal!
So, make sure you have underwear that is a size too large, or grab these that are specifically for postpartum. You may also want to be prepared to toss them after you stop bleeding. (If they don't get stained or ruined, you could always save them in case you decide to have another child.)
When I was in the hospital with my second child, the nurses were amazing and really knew what they were doing. They showed me exactly to prepare this underwear, with a few of the items below, to heal faster and not be in as much pain. I wish they had done that for me after my first child; it really didn't take any more than a couple of minutes.
You'll want to:
lay a regular pad down first
add an iced pad
cover that pad with tucks pads
then spray all of those with dermaplast
At least, that's how I remember them showing me how to do it, and that's what I did after the last time I had a baby. The time it took me to heal was much shorter, and I was in much less pain than after my first child; I almost couldn't believe it!
Pads
You will want large and long with wings, and a ton of them! Get at least a few packs, you don't want to run out of them.
You will bleed a lot after giving birth and you'll want to be prepared. Get these to prepare yourself. The first few weeks may be heavy, so I'd recommend wearing pants you're not to fond of either.
These iced pads will also be your best friends during recovery! Do yourself a favor, and get at least one box of them.
Tucks Medicated Cooling Pads
These will help so much with the healing process, simply lay them out over the pads.
Dermaplast
This is used to help with any itching and reduce pain! Spray it over the tucks pads.
Peri Bottle
To be brutally honest, and you may not want to hear this if you've never had a baby before, but it hurts use the bathroom after giving birth. Everything about it is generally pretty painful. Use one of these with warm water to help ease the pain and heal faster!
You could get a fancier one, that supposedly works better, but you don't need it. If you get one from the hospital for free, even better! Use that.
Stool Softener
I'm not a doctor, nor do I really ever take medicine, so I'd recommend talking to your doctor or a nurse about what you can use, especially if breastfeeding.
My recommendation would to make sure you're eating a proper diet, with plenty of fruits and fiber. Maybe even make yourself a quick smoothie for breakfasts and snacks every day to increase your fiber intake. Be sure to add ground flaxseeds to it, too
Nursing Pads
Whether you're breastfeeding or not; you'll need nursing pads right after giving birth, or at least as soon as your milk comes in. If breastfeeding, you'll need to buy these every so often, depending on your milk supply and how often you leak. This is the kind I have always used and loved.
Nursing Cream
Some women experience nipple pain, or even cracking, when they start to breastfeed. To help ease the pain, many women recommend this type of cream.
Cooling Bra Pads
Some new moms will experience breast pain, whether they nurse or not. Grab these to help relieve sore breasts.
Nursing Bras
Nursing bras can make it easier to nurse your newborn with, but you could simply buy a pack of comfy genie bras, instead. That's what I did, and to be honest, that's the only type of bra I've worn for the past few years, whether pregnant or breastfeeding! They're affordable and comfortable enough to wear to bed. And trust me, you'll need to wear a bra and nursing pads at night when you sleep; unless you want to wake up with a breast milk soaked shirt and sheets!
Nursing Shirts
If you have the budget, go ahead and grab a few nursing shirts of the style you like. But, you could also just wear looser fitting shirts and pull it up, or down, when it's time to nurse you baby.
You should aim for a gallon of water a day.
This will help so much with having a smoother recovery. There are so many benefits of water, especially postpartum; don't ignore this advice. My recovery from my second baby was so much easier and quicker, and I feel I owe that to drinking a ton more water all through the pregnancy and after giving birth.
Prenatal Vitamins
If Breastfeeding, continue taking prenatal vitamins. I can barely remember a time when I didn't have to take these, haha. If you have a hard time swallowing pills, try these gummy prenatal vitamins.
A streaming service
Seriously, I did not start watching much TV until I had kids.
There's not much else you can do while you nurse an infant, and as much as you think you won't get even slightly bored holding your new baby; you may. I watched the whole series of Friends while on maternity leave with my second child. The 20 minute episodes were great! It helped me remember when to switch sides!
REST
You'll also need as much rest as you can get. So, be sure to ask for help when you need it, and when it's offered; ACCEPT the help.
Don't feel bad for asking for help when you have a newborn. Maybe you feel like you should be able to do everything yourself, but you don't need to! And, most people actually love helping new moms with anything they need help with.
Guide for what YOU NEED Postpartum checklist:
Stool Softener
Nursing Shirts
A streaming service
REST
Your job during postpartum is to care for your newborn and recover from delivering your beautiful baby. Using the items, and advice, on the list above will help YOU recover faster and more pleasantly.
Don't be afraid to spend a little extra on yourself, your baby isn't the only one who needs some new items after their birth!
Use the checklist as a guide.
What you choose to during Postpartum is a personal choice and up to you; use your mama instincts and go with it!
Don't forget, you can print off this checklist, along with other checklists for you and your infant, right here!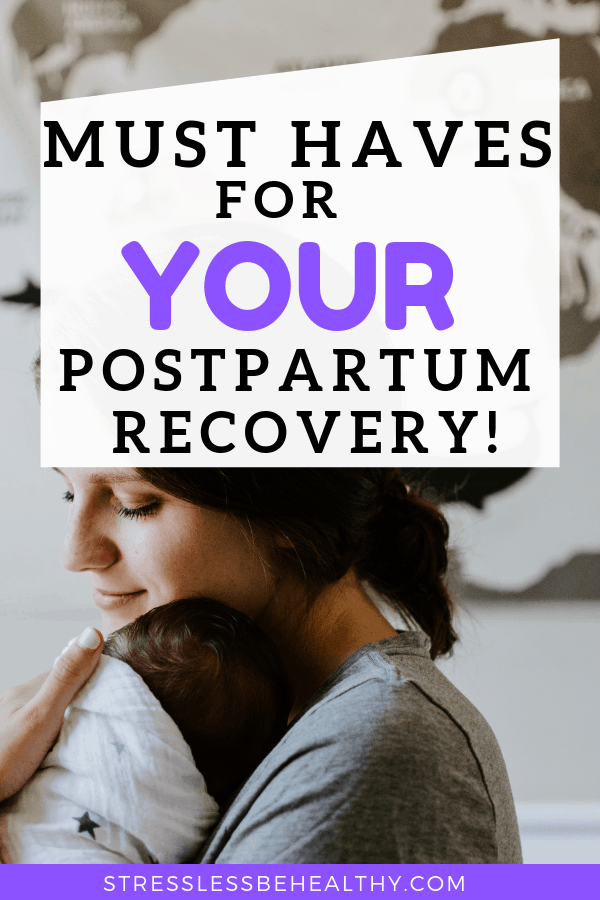 Want to be super prepared when it comes to your infants routines and tracking your own food intake? Grab these baby tracker worksheets!