*Disclosure: some links may contain affiliate links (meaning if you end up purchasing something when you click on the link then I may get a commission on it, with no extra cost to you, of course). For more information on what this means, visit my disclosure page.
The Best Gifts for New Vegans
Did one of your friends or family members recently started being vegan? Looking for the best gifts for new vegans?
Whether you are vegan yourself and forgot which items helped you with the transition, or have no idea what a vegan would like for Christmas; I'm sure you'll find this gift guide helpful!
As a heads up, all of the Christmas gift ideas below are to help with food preparation, and not any other aspect of a vegan lifestyle. As eating vegan has the most impact on improving health and helping to save the planet, rather than the other aspects of vegan living.
Changing the diet can also be the most difficult, and having the right tools in the kitchen can be vital to keeping up the habit!
---
Related Posts:
21 Vegan Christmas Cookies You'll Want to Make this Holiday Season!
Healthy Peanut Butter Balls (Vegan)
Vegan Peanut Butter Cup Blossoms
---
Want to Remember This? Pin The Best Gifts for New Vegans to your favorite Pinterest Board!!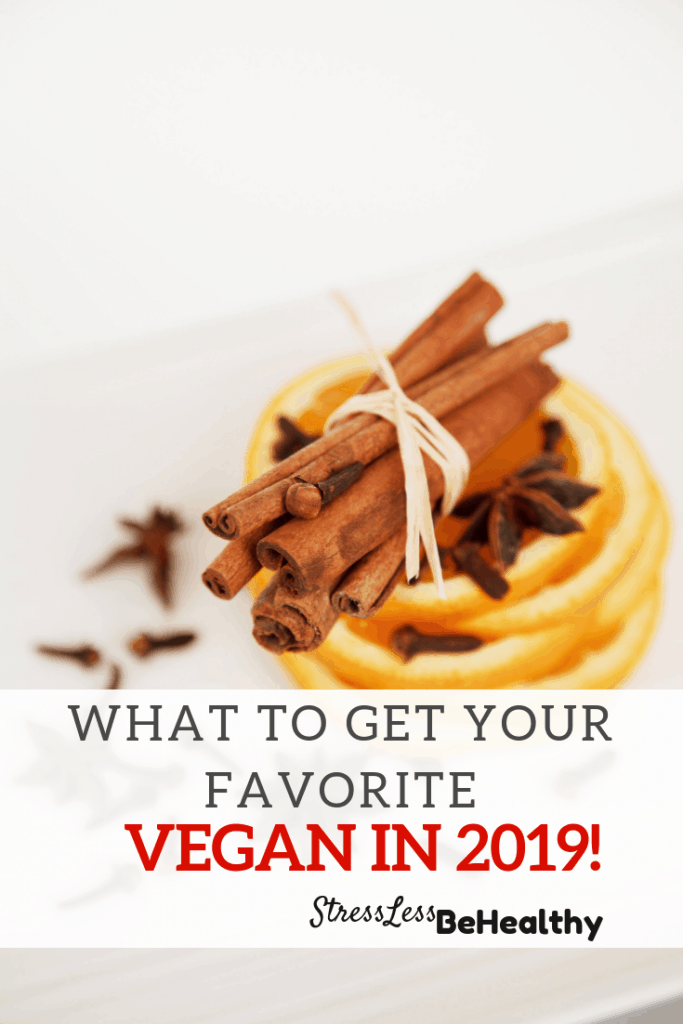 Questions Your May Have Before Buying a New Vegan Christmas Gifts That'll Help Their New Eating Habits…
What are good gifts for vegans? 
In reality, good gifts for vegans are almost the same as for non-vegans. Just don't buy them a leather jacket, shoes, or milk chocolate…be careful with buying make-up, as well.
If you're looking for specific to help someone succeed with eating a vegan diet then you may want to consider:
a nice chef's knife and cutting board for chopping fruits and veggies
or anything that makes eating vegan easier!
What do you buy a vegan for Christmas?
Now, to get more specific here, what you get a vegan for Christmas may differ slightly from a gift for another holiday or their birthday. For example, for Christmas, you could buy them a vegan cookbook, vegan holiday cookbook, vegan candy, or even bake them some vegan Christmas cookies!
But, just because they are vegan doesn't mean you need to get them something that has to do with food. Though, if there are any vegan restaurants in the area, that would also be a great idea; to gift them a gift card to there!
As long as the gift you choose for them doesn't contain any animal products or harmed any animals in the process, it's safe to say it's vegan friendly and can be gifted!
What do vegan people like? 
It's not what vegans like that makes them (us) different, it's what we don't like.
We don't like animal products in our food or used to make our food. In fact, we don't like animal products in anything we own or come in contact with; such as make-up, clothing, furniture, and more!
We also don't like contributing to animal suffering, global warming, and the destruction of our planet. Being vegan isn't just a preference to avoid eating meat, dairy, eggs, and more; it's also an ethical thing.
What are some vegan snacks? 
There's a common misconception that to eat vegan means to starve. I still remember when I first went vegan and another family member had tried it before and lost weight because they basically starved because they didn't know how to eat vegan.
And sure, going vegan may be difficult, but it's easier now, more than it has been in a long time. The only reason people who go vegan feel like they starve themselves is because they don't know how to eat vegan. Either, they don't have the time to learn to cook themselves, or they don't have the money to buy highly processed vegan meals that are ready to eat.
The perceived availability of snacks for vegans could be an issue for some, as well. However, there are many snacks that are 'accidentally vegan', such as oreos, chips, and more. Sure, not the healthiest snacks, but they are vegan.
But, there are some more, healthier options for snacks, too. Which include fruits, veggies, nuts, seeds, nut butter, and so many more options that it's kind of ridiculous for anyone to 'starve' on a vegan diet. In reality, more people starve their cells of nutrients on the Standard American Diet, than on a vegan diet. Take it one more step to a plant based diet, and you're even better off!
Looking for a gift box full of vegan snacks? Check out this one, you also have the option of having the snacks be vegan and high protein, just vegan, or dairy free and gluten free!
What chocolate is vegan?
Speaking of snacks and Christmas, many Christmas treats are chocolate!
Don't worry, vegans can still eat chocolate, just not milk chocolate. Such as:
The Best Gifts for New Vegans
Tofu can be a big part of a vegan diet, and having a tofu press handy can save a ton of time, headache, and mess! There are ways to press tofu without a tofu press, but any vegan would surely appreciate one of these. (The other way to press tofu uses two clean plates, a pile of textbooks, and a ton of hope that nothing falls! It also makes a huge watery mess.)
With eating more veggies, because when people start eating vegan they also tend to include healthier food, such as veggies, in their diets more; you need more and different ways to prepare them and get them into your diet more easily. A veggie spiralizer helps with this by turning veggies into spaghetti, or you can use it with potatoes and make home made curly fries! Just check out the reviews for this one!

Again, increased veggie intake = more ways we need to eat the veggies, and salads are a great way to get in more leafy greens! Honestly, everyone should have one of these, vegan or not!
Honestly, before I started trying to be vegan, I didn't even know what a food processor! But, I bought my food processor almost four years ago and I now use it every week during meal prep day! Use it for vegan mac and cheese, date bars, healthy brownies, other no bake desserts, and even for making your own flour! This is one appliance that every vegan needs.
A cute vegan shirt is absolutely optional for vegans to own, it's a personal preference. But, if the gift is for someone who likes shirts like the one above and is super proud and committed to being vegan, then it'll be a great gift!
a blender
This is the lowest price I've ever seen a nutribullet be! I currently use a nutrininja for my smoothies, and other things, but I loved my nutribullet before it started to make a weird noise. It was completely my fault it started to make a weird noise, though; I wasn't patient enough when making baby food. Note to self, this time around, wait for fruits and veggies to cool completely before trying to puree.
There are so many vegan cookbooks to choose from! And, they're great, especially for new vegans who don't know the ins and outs of vegan cooking, yet. Don't worry, you'll get there! The cookbook above is one I personally have and love. But, there are vegan cookbooks for every taste, even for the holidays!
One thing I've learned from being a mom and wanting to eat well, is that you need to meal prep to succeed. If you fail to prep, you simply fail, so be sure to add these to your Christmas shopping list! Want some inspiration to go along with these? Check out Hello Nutritarian on Instagram, her fridge photos are famous! #goalfridge
Don't be turned away by it's name, it's not made of cheese or is only used for cheese; this clothe has many uses. It's main benefits to most vegans will be in making non-dairy milk at home, such as almond milk, oat milk, and more! There may be other instances in cooking or baking where this comes in handy, as well. I don't have one of these and I'm not sure why, so I've added it to my cart on amazon and can't wait to get it to make my life easier!
Quinoa is a big part of a vegan diet, or at least it is for me! This is one item I can not live without. I never needed one until I started making quinoa, but it can be used to drain other things, as well, such as nuts after soaking, beans, and more!

Just because it won't be used for cutting up meat, doesn't mean it won't be used. I use my cutting board and chefs knife more now than I did before I was vegan. In fact, I didn't get nice ones until I became vegan and starting using them more for chopping up fruits and veggies!
So, What do you think is a good gift for a new vegan for Christmas?
There are plenty of great ideas above for what to buy, or ask for as, a new vegan for Christmas! So, what gift is going on your shopping list this year?
I've love to know which vegan gift you think is the most valuable and will be used the most!
Please leave a comment below to share which Gifts for New Vegans you think are the best.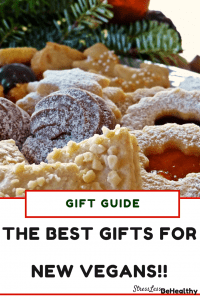 Be sure to grab this gift tracker to remember who you've bought for and what you've bought. Print it out, or edit it on your computer, phone, or tablet, so keep it a bit more secure so others won't see what they're getting for the Holidays! (Plus, who doesn't have their phone on them while shopping, make this Holiday Season a bit easier on yourself and download this PDF.)