*Disclosure: some links may contain affiliate links. For more information on what this means, visit my disclosure page.
In this article you will find a delicious and kid-approved chickpea chocolate chip cookies recipe that uses only pantry staples that you probably already have at home! No need to go out! And, if you have kids, this is a great recipe for them to help you make, or learn to make on their on (with supervision, of course!)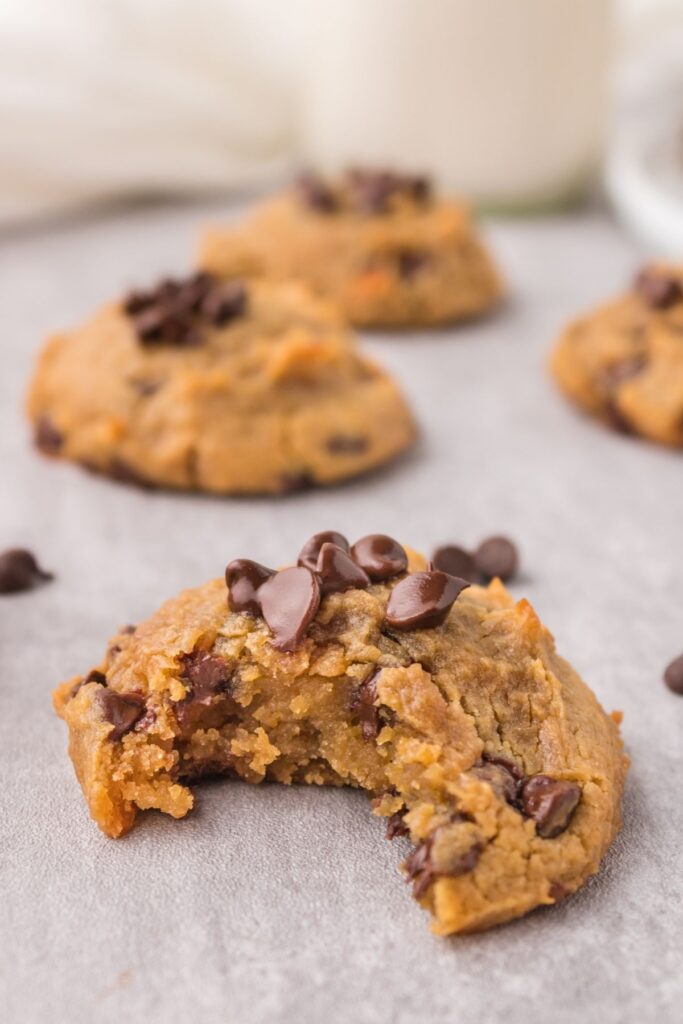 I hope you came to this page because you were intrigued by the name of these cookies!!
Or, maybe you are trying to find a healthier version of chocolate chip cookies for your little ones…
Well, you came to the right place!
These cookies have a not so secret ingredient (chickpeas) in them, so they are full of protein and fiber!!
Everything a mom wants to hear, right?
And, they also have some chocolate in them for our sweet tooth.
Don't get discouraged by the name of these cookies. Sure, it may sound a little strange, like black bean brownies, but they are delicious!! Both my two and five year old will attest to that!!
They love them more than regular chocolate chip cookies, no joke!! Just the other day five year old was telling her grandma all about them and how much she loved them!!
This was also a bonus snack for the letter C in our A to Z healthy snacks series.
Let's Bake
The first thing you should do is get out all of the ingredients and preheat the oven to 350 F°.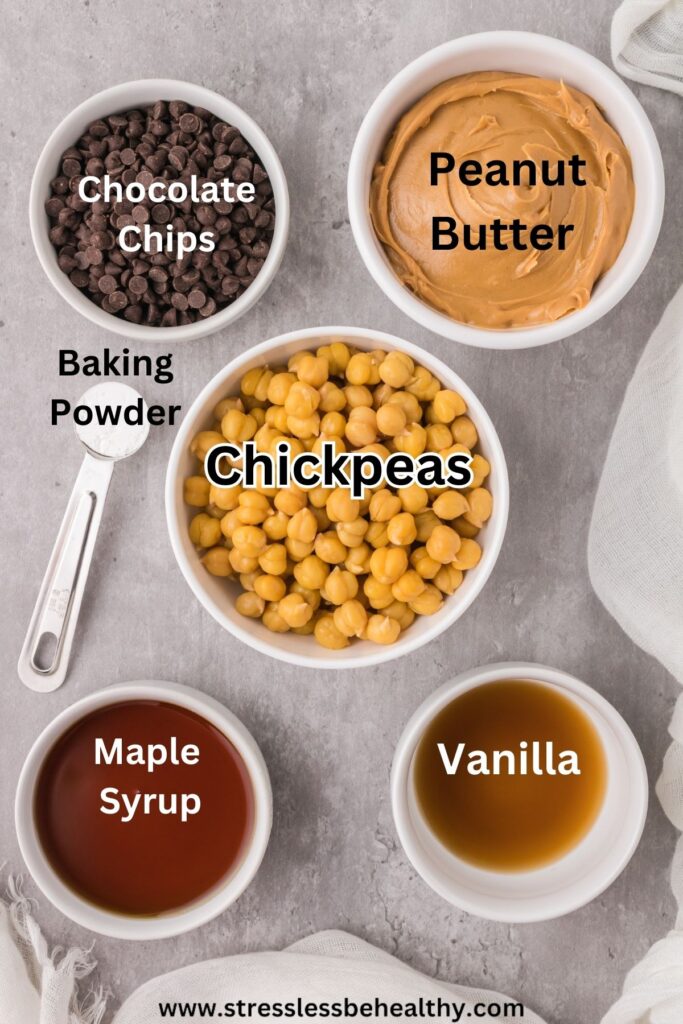 Then prepare the chickpeas!
If you bought can chickpeas, this part will be pretty simple; open the can of chickpeas and rinse them.
If you bought dried chickpeas, they should be soaked overnight first, if you remember. If not, no big deal! Just bring them to a boil in a pot of water, then simmer til soft. This may take a few hours, especially when kids want to constantly test to see if they are done.
If you remembered to soak them overnight; then, simmer the chickpeas for an hour and 15 minutes. They should be soft enough by then!
The next part can be tedious, but is vital for the texture of the cookies.
There's a "skin" covering on each and every chickpea that needs to be removed before being placed in the food processor.
If you have children, I'd recommend you recruit them to do this for you.
They could even make a game of it, as long as the chickpeas don't end up on the floor! The chickpeas tend to just shoot out of the skin when gently squeezed.
When all of the chickpeas are finally in the food processor, you can start adding in the other ingredients.
Or, if you were able to get your kids to help, you can measure out and pour in all of the other ingredients, except the chocolate chips, while they work on the chick peas.
Once all the ingredients are in the food processor, except the chocolate chips, you can start blending everything together.
I like to start by pulsing the ingredients together until it's mostly smooth, then turn on the lower speed until completely smooth.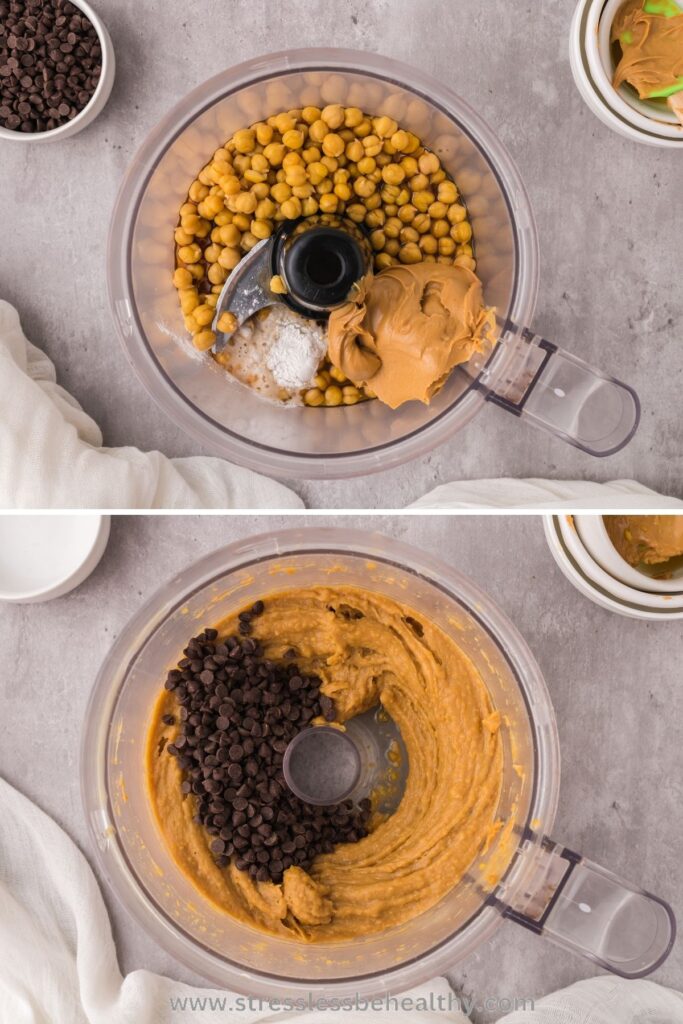 Once the dough is as smooth as you can get it, unplug the food processor, take out the blade and pour in the chocolate chips. Mix evenly with a spoon.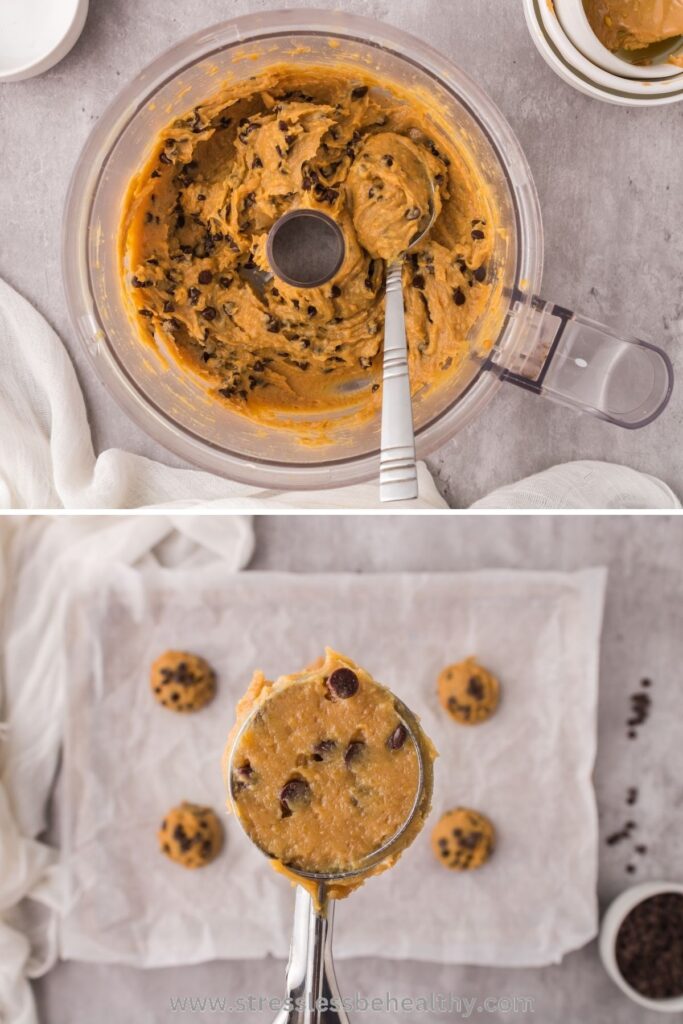 Then scoop out some of the dough with a spoon and place on a cookie sheet.
Don't worry if you place the cookies close together, they don't expand much, at all.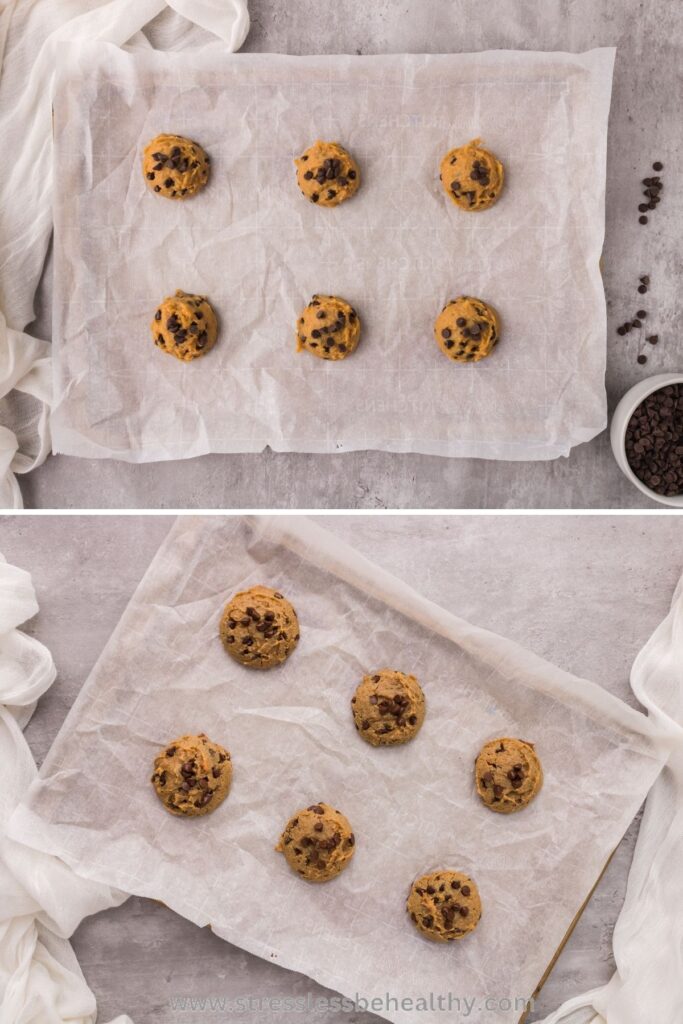 Bake for about 20 minutes. If they still look very gooey you can bake for another 2 to 3 minutes. Once baked, let cool for a few minutes.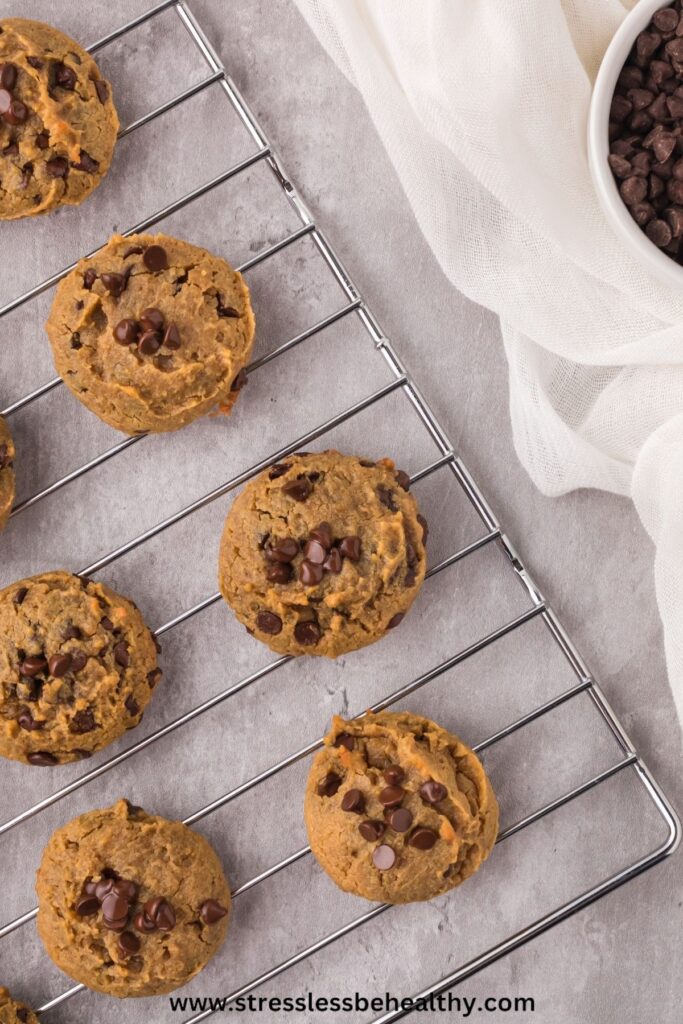 Enjoy!! And try to get a few before your children do, they go fast!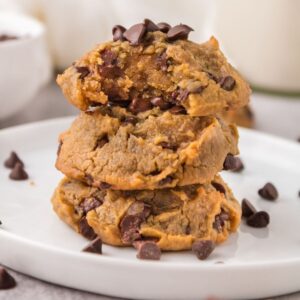 Chocolate Chip Chickpea Cookies
These delicious, protein rich, cookies make about 25 cookies!! But, they don't last long!
Ingredients
1

can Chickpeas

or 2/3 cup dried chickpeas

2

tsp

Vanilla

3/4

cup

Peanut Butter

1/2

cup

Maple Syrup

1

tsp

Baking Powder

1/2

cup

Chocolate Chips

vegan (such as Enjoy Life)
Instructions
Preheat oven to 350 F°.

Soak and cook the chickpeas if needed.

Then take the "skin" off each chickpea and place in food processor.

Add in the vanilla, peanut butter, syrup, and baking powder.

Pulse or turn on low until completely smooth.

Stir in the chocolate chips with a spoon.

Bake for about 20 minutes at 350 F°.

If they still look really gooey, bake for another 2 to 3 minutes. Let cool and enjoy!!
Notes
*These freeze well, too. My girls and I actually enjoy them better when partially frozen. It helps firm them up a little more and even become a little crispy.
Please let me know how you and your children like these in a comments below. My girls and I love them, my husband, however, was not a fan!
Related Posts:
Vegan Pantry Recipes; Kid Friendly Snacks & Desserts You Can Make From Your Pantry!
The Ultimate Crispy Vegan Oatmeal Raisin Cookies
22 Mouth Watering No Guilt Vegan Desserts Recipes