*Disclosure: some links may contain affiliate links (meaning if you end up purchasing something when you click on the link then I may get a commission on it, with no extra cost to you, of course). For more information on what this means, visit my disclosure page.
The Top 10 Foods to Eat Daily for Better Health
In this article you will find which 10 foods to eat daily. The 10 foods listed below are a part of Dr. Greger's recommended daily dozen, which you can also find on his dailydozen app HERE for IOS. (Or HERE for android)
So, you're trying to eat better, or at the very least trying not to eat bad, but it's complicated. Right?
What foods to eat daily is a question you're constantly asking yourself.
You know some foods heal your body and others harm it, but maybe are unsure which is which.
Or maybe you're just having a hard time figuring out what to eat each day and need some guidelines.
So, what are the 10 best foods to eat?
To help you out and save you time, here's a list of Healthy Foods to Eat Daily…
Beans
Berries
Other fruit
Cruciferous veggies
Leafy greens
Other veggies
Flaxseeds
Nuts and seeds
Herbs and spices
Whole grains
But, don't worry, we'll go further in depth about each type of food and some easy ways to fit them into your meals (or snacks) every day, and if you need to know why you should eat them everyday.
And your childs diet, even if they're picky eaters and would refuse half the food groups listed above at first glance.
There are ways!!!
Also, if you noticed, all of the foods above are Whole Foods and plant based. Though, they don't have to be 100% whole when you eat them. You should absolutely grind flaxseeds before you eat you eat them!
Want to Remember This? Pin The Top 10 Foods to Eat Daily for Better Health to your favorite Pinterest Board!!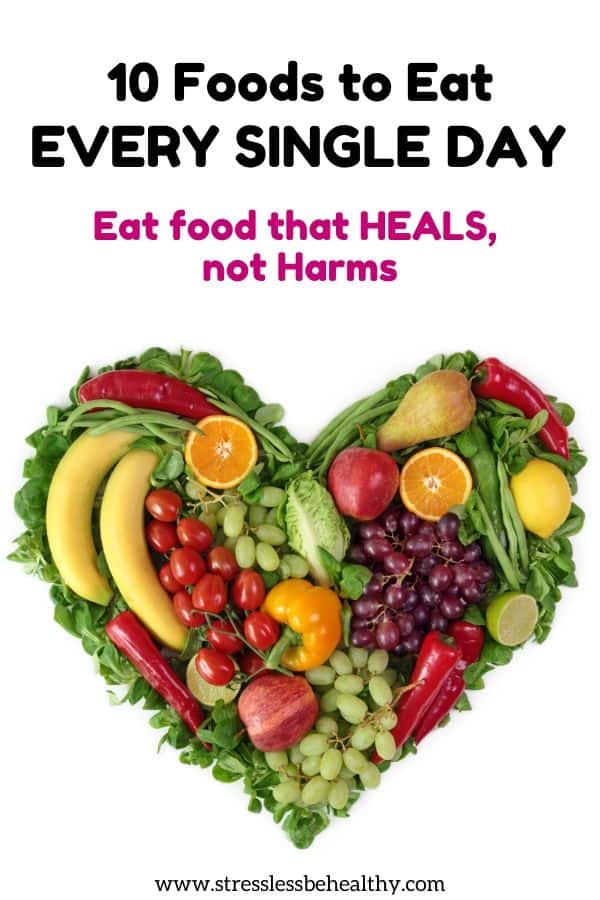 The Top 10 Foods to Eat Daily
1. Beans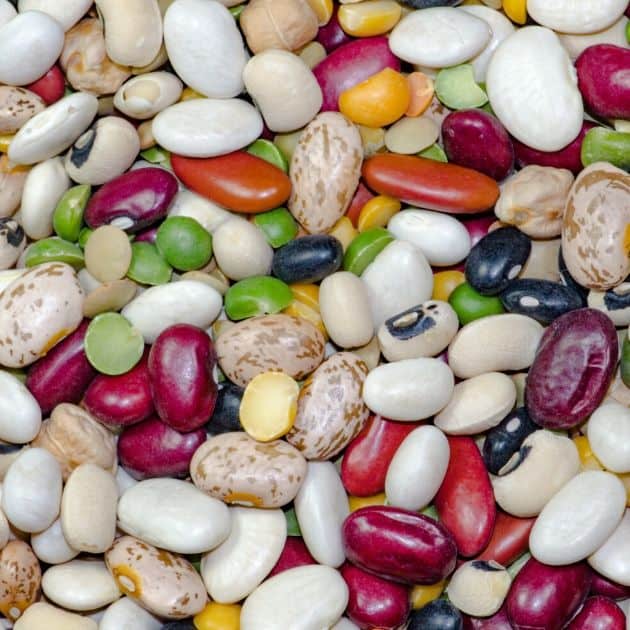 Beans are great for you! They have loads of fiber, protein, iron, zinc, folate, and potassium!
It's recommended to eat three servings a day, everyday.
Unfortunately, some of us didn't grow up eating beans or legumes, so eating three servings every day may seem a bit daunting. Trust me, I was right there with you…until I realized how many different ways you can use them!
Plus, beans and legumes can also help you lose weight; they're filling and our bodies actually knows what to do with the nutrients they provide (this will be a common theme among all foods you should eat everyday!), unlike the processed garbage in the Standard American Diet (SAD).
Some of the beans you should consider are:
Black beans
Cannellini beans
Chickpeas
Black eyed peas
Edamame
Kidney beans
Lentils
Split Peas
Pinto Beans
Tofu
And more!
According to the American Institute for Cancer Research recommends eating a serving of beans (or whole grains) at every single meal.
So, how do we get so many beans and legumes into our everyday life, even if we didn't even start eating them til we were adults (or maybe that's just me)?
Believe it or not, there are tons of ways to do so, even if you have a sweet tooth!
Here are a few ways to eat your beans:
There are plenty more ways you can add beans and legumes into yours and your childs diet, and if all else fails, do a search on Pinterest, or start following some vegan/plant based instagram accounts (like mine) and give it a scroll!
Now, go make your kids some food with beans in it!! Those chickpea cookies really come in handy for getting the 3 recommended servings a day!
2. Berries
Ever ask yourself "What fruits should you eat everyday?"
Well, there are two answers;
berries
any other fruit
Berries are loaded with antioxidants, and therefore help prevent different types of cancer. They also improve the immune system and help keep kidney and liver functionings running properly.
So, they're kinda important! So much so you should eat them everyday!
The different types of berries you should choose from to enjoy every day are:
Strawberries
Blueberries
Blackberries
Grapes
Cherries
Cranberries
And more!
Unlike beans, you don't need 3 servings of these a day. All you need is half a cup, or ¼ cup dried berries.
This makes it super easy to include everyday, especially for kids, as berries are an easy snack whole and all by themselves!
Here are some more ways to eat your berries:
add them to a smoothie
Slice them up and add to cereal/oatmeal
Fruity moods!
Use berries in place of jam in pb&j's
Add to muffins or donuts
Add to pancakes, waffles, French toast
Make popsicles or ice cream with them
Make chia pudding with them
Trail mix (with dried cranberries or raisins)
See how easy that is!
This is the easiest of the 10 foods to get into mine and my kids diets every single day, even for my 1 year old; she just loves her blueberries!
3. Other fruit
Berries are important for us to have everyday, but that half a cup isn't enough fruit for the day!
One of the saddest parts of the SAD (Standard American Diet) is that most people on it don't get enough fruit.
It's sad because fruit is nature's candy; sweet, easy to eat, and delicious!
You don't find too many parents struggling to get their kids to eat fruit. That's why it's so sad that most adults don't eat enough of them.
There are so many other fruits to choose from, such as:
Bananas
Aples
Avocados
Dried fruit (like apricots or dates)
Kiwi
Oranges
Peaches
Lemons
Plums
Melons
Mangoes
And more!
The recommended amount isn't even all that much, either. Just three servings of fruit a day (well, plus the berries).
But, there are so many easy ways to add fruit into your day, there should be no reason not to eat them. They are even easy to transport if you're always on the go!
If you don't like eating them plain, or always having them whole and alone, try out one of the ways below to help you get your three servings a day.
Here are other ways to eat these other fruits:
Pie
In pancakes, waffles, or on top of french toast
In muffins or donuts or other baked goods
Baked or cooked with some cinnamon and oats (great for apples and pears)
Mixed into oatmeal or chia pudding
Peanut butter and banana sandwich (or roll up)
Cashew date bars
There are a ton of more ways, but that should help get you started!
4. Cruciferous veggies
Cruciferous veggies are some powerful veggies, they're the reason you (or your kids) need to eat your broccoli!
These types of veggies help prevent damage to your DNA (aka- basically stops cancer from forming or spreading), and many other things that helps improve many organs in your body. That's very much simplifying what these veggies can do; it's explained wonderfully in this book in the chapter on cruciferous veggies.
Cruciferous veggie includes:
Broccoli
Cauliflower
Arugula
Bok choy
Brussel sprouts
Cabbage
Kale
Collard greens
Horseradish
Mustard greens
Radishes
Turnip greens
Watercress
Some of these veggies may not be the best tasting, or the favorite of many kids (or maybe they are!). But, you only need to get one serving, or a half a cup, a day. Which does not need to be difficult!
This can be as easy as throwing a half cup of kale into a smoothie. Add a banana, berries, flax meal, chia seeds, and some non-dairy milk or water to that smoothie, too, and you just checked off a whole bunch of different types of foods you should eat everyday!
However, other ways to eat cruciferous veggies are:
My girls and I have never been big fans of kale chips, but the mac & 'cheese' and spring rolls are a big hit! Same with roasted broccoli- that's almost a daily occurrence!
5. Leafy Greens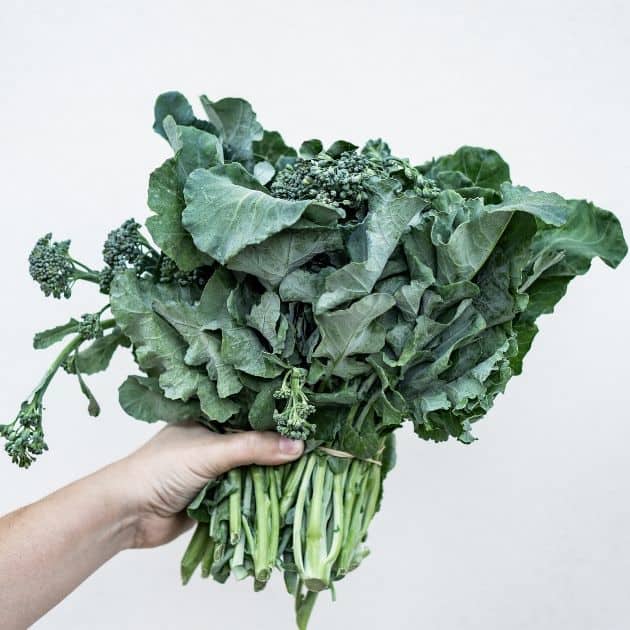 Leafy greens are a powerhouse veggie that helps with longevity. And also helps reduce your chances of having a heart attack or stroke. These veggies are so healing for our bodies that Dr. Greger, in his book How Not to Die, has an image of a prescription pad showing a prescription for 2 servings of greens per day…with unlimited refills!
If you can't already guess, How Not to Die is a very useful book, and one of the most enjoyable books I've read in awhile! There's just so much useful info in it, like how greens are one of the most powerful veggies because they contain all of the colors inside the green color pigment in the veggie.
Greens includes:
Arugula
Collard greens
Kale
Spinach
Swiss chard
Turnip greens
Beet greens
Mustard greens
Baby greens
And more!
This is where salads come in? Well, salads or smoothies; my family prefers smoothies and that's how we all start our day!
If you've noticed that some of these are the same as in the cruciferous section, that's because they are, so you can use some of the ideas from that section for this one, as well!
One difference between greens and cruciferous veggies is the amount you should eat everyday; and that's 2 full cups raw or 1 full cup cooked. Which is considerably more than what most people tend to eat.
Unfortunately, this is one of the harder foods to get kids to eat, too. And probably the reason why so many parents try to find different ways to sneak veggies into their kids food.
So, to get you started on how to incorporate greens into your families everyday meals snacks:
Smoothies (you just can't go wrong with these!)
Salad
Bake them (chips)
Add to tofu ricotta when making stuffed shells, lasagna, or other pasta dishes (cook them first, then you won't need to eat as much!)
This is probably going to be the hardest type of food to eat consistently every single day, but it's completely worth it! It's also one of the reasons my family starts the day with a green smoothie!
6. Other veggies
Other veggies also have loads of antioxidants, along with many vitamins and minerals to help you avoid problems that occur due to deficiency, something the Standard American Diet can't really help all that much with.
Other veggies includes:
Asparagus
Carrots
Beets
Peppers
Corn
Garlic
Onions
Mushrooms
Squash
Potatoes
Sweet potatoes (there IS a difference between these and other potatoes!)
Tomatoes
Peas
And plenty more!
If you're eating a salad everyday then you're easily getting at least half the amount of other veggies you should eat for the day. You need two more servings of veggies per day, on top of the cruciferous and greens servings.
Yes, that is a lot of veggies, and that's the point!
You could have another cup or 2 of leafy greens, a half a cup or raw or cooked veggies or veggie juice, or a ¼ cup dried mushrooms. Honestly, my family doesn't eat mushrooms, I've tried many times and in many different ways; and I can't even get myself to eat them!
But, you could take care of these two servings of other veggies in a similar way as the cruciferous or leafy green veggies. Or, try:
Roasting with any spice of your choice
Curry
Eat them raw with dips or hummus
Boiled or steamed
Turn into a sauce (tomato and basil sauce…with extra veggies!)
Make bread (zucchini bread, pumpkin bread, etc.)
Sweet potato muffins
Pumpkin cookies (they aren't just for Thanksgiving!)
Carrot dogs
And there's about a hundred other ways you can add these to daily meals or snacks, be creative and enjoy them!
7. Flaxseeds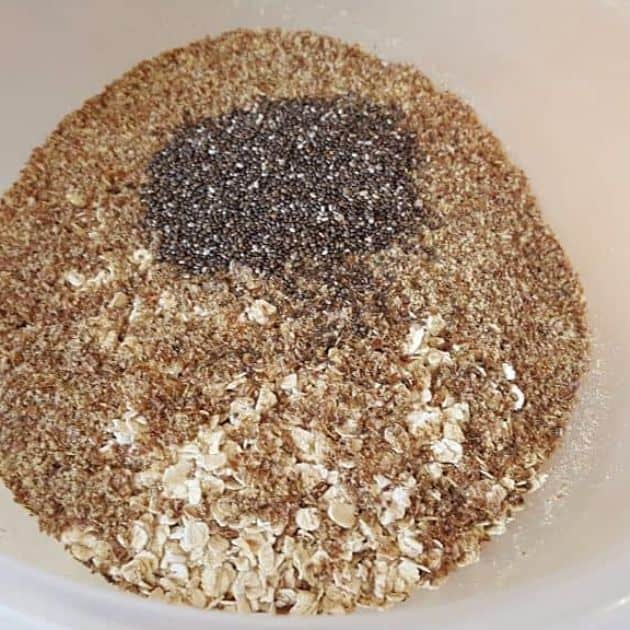 In his book, Dr. Greger talks about flaxseeds as being one of the most amazing foods on the planet, at least as far as it's healing abilities go. They're also full of omega-3 fatty acids and fiber. Therefore, flaxseeds get their own special section, outside of other nuts and seeds, for you to consume every day.
So, if you have ever wondered what is the number 1 healthiest food in the world?
It's flaxseeds.
There are really only two options for flaxseeds, too: brown or golden.
And, you should be consuming a full tablespoon a day. But, not in seed form; flaxseeds need to be ground up before you eat them (or at least before digested), for them to work their magic.
Luckily, it's not that difficult to find flax meal, which is what ground flaxseeds are called. Even if you can't find them preground, they are also easy to grind yourself, with a coffee grinder, food processor, or high speed blender.
If you don't use flaxseeds in your every day life already, first- you're missing out. Second, it's not that hard to get these into your diet. Basically, just sprinkle them on things until your tablespoon is consumed.
Some specific ways to eat flaxseeds everyday includes:
Add in oatmeal or any baked goods you can think of
Use flax eggs to replace real eggs (1 tablespoon flax meal mixed with 3 tablespoons water equals a flax egg, just let it sit a few minutes before adding to a recipe)
Sprinkle on cereal
Add to a smoothie (you probably didn't already guess that, huh?!)
I even found a vegan french toast recipe that calls for it as part of the liquid to dip the bread in, though not enough to cover your whole days worth, but it's a start!
8. Nuts and seeds
Besides being full or protein, delicious, and their butters being a staple for school lunches; nuts and seeds can actually help you add about 2 years onto your life if you eat them regularly! Not that hard, right?
The nuts and seeds I'm talking about are:
Almonds
Cashews
Peanuts
Brazil nuts
Chia seeds
Hemp seeds
Walnuts
Hazelnuts
Pecans
Sunflower seeds
And more (there's always more, isn't there?)
The only thing unfortunate about making sure you're eating nuts and seeds every single day, is that you don't need a lot.
You certainly don't need to eat a bag of nuts a day, like my husband does every so often with pistachios. I've honestly considered growing a pistachio tree with how much of them he eats…but it'd probably die, like any other food producing plant I have tried to grow.
So, how much should you eat each day?
About a quarter cup, or simply two tablespoons of nut/seed butter. (I know, nothing simple about it, it's so hard to not go overboard with nut butters!)
Just in case you're not the type of person to eat nuts and seeds by the handful, or nut/seed butter by the spoonful, here are a few more ideas:
pb&j (use fruit instead of jam)
Cashew & date bars
Some type of homemade cashew cheese (like vegan alfredo or tofu/cashew cream ricotta in stuffed shells)
Blend in a food processor (with some dates) and use as the base of a (vegan) cheesecake
Trail mix (with dark chocolate and dried fruit)
Mix fruit, trail mix, flax meal, then add milk and eat like cereal!
Add to baked goods (works especially well for walnuts)
Chia pudding
Add to smoothies
Use nut/seed butter as a dip for fruits or veggies
There are more ways to add nuts and seeds into your life every day, but my kids favorite ways, by far, is either eating them by the handful right out of the bag, or grabbing a spoonful of peanut butter.
9. Herbs and spices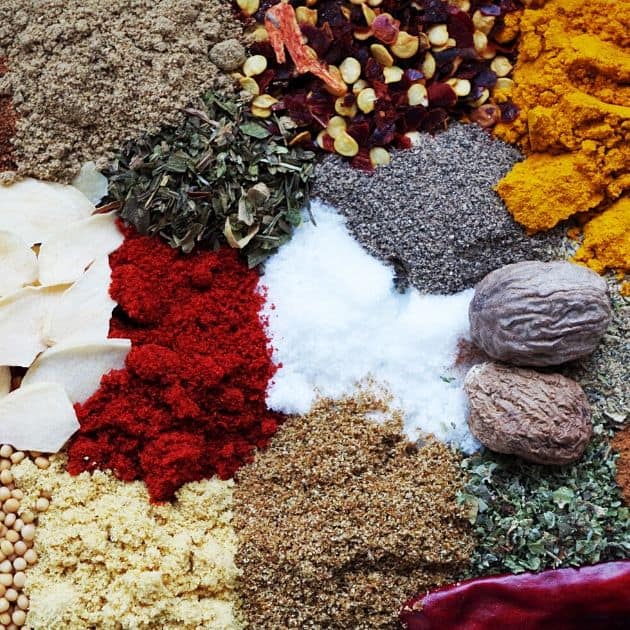 Not only do herbs and spices make the meal, they also help heal, with antioxidants!
I didn't know how much herbs and spices could improve a dish til I accidentally used two tablespoons of dried parsley AND two tablespoons of dried basil into a soup when it had called for the same amount fresh! Luckily, everyone still loved it!
I had no idea how many herbs and spices there were til I started cooking different types of food. I guess I was sheltered from herbs and spices, just like I was many other things as a kid.
The only spices I knew about as a kid were:
Cinnamon
Vanilla
Italian seasoning
Garlic
Nutmeg
Pepper
Basically, the ones you'd need to make pumpkin pie or Italian dishes. And, yes, when I was a kid I didn't know that italian seasoning was made up of different herbs and spices. I thought it was it's very own.
But, there are so many more wonderful herbs and spices, such as:
turmeric
Cumin
Oregano
Chili powder
Paprika
Allspice
Cilantro
Cloves
Curry powder
Ginger
Mustard powder
Thyme
And more!
There are so many different ones to choose from, and besides one specific spice, it doesn't matter which ones you have during the day!
Everyday you should have a quarter teaspoon turmeric, along with any others end up in your meals or snacks for the day, it's as simple as adding cinnamon to oatmeal or vanilla to a berry smoothie!
You probably don't need ideas for how to incorporate herbs and spices into your day, but here are a few ideas anyways;
Add to Soup
Add to Pasta
Use in curry (this is a good way to get turmeric in)
Cinnamon or similar spices (and vanilla) in oatmeal, cookies, and other baked goods
Add turmeric, and other spices, to hot nondairy milk- a turmeric latte
You can add different herbs and spices to almost anything. The only hard part is getting turmeric in your body everyday (especially without staining things!)
10. Whole grains
Don't worry, if you've been wondering where those carbohydrates fit into your daily diet (you know, the thing at the bottom of the old food pyramid that suggests we get 6-11 servings of per day), this is it!
Unlike the old food pyramid, it's whole grains you should eat for carbs (along with fruits and other foods with carbs in them). I'm really not sure what the logic behind the old food pyramid was, besides trying to help farmers with subsidies, but let's not get into the social-economics side of food…there's too much to discuss for it to be included in this article!
To get back to whole grains and why you should eat them everyday, well besides if you ever crave them and feel like you need your carbs. Whole grains help reduce the risk of heart disease, type 2 diabetes, obesity, and strokes.
The main thing you need to remember about whole grains is that it needs to be whole grains. No white bread, white rice, or white pasta. Though, if eating white pasta with whole veggies gets you away from processed pastas (pasta sides or kraft/store brand mac and cheese) then feel free to start there!
Some whole grains that are good for you are:
Oats
Barley
Brown rice, wild rice
Whole wheat pasta
Bread
English muffins
Bagels
Popcorn (NOT microwave popcorn, or heavy on the butter kind!)
Quinoa
Rye
There's certainly more options! Just thinking of oats, I can think of many different meals and snacks- from oatmeal, to cookies and even homemade granola! Yum!
Just like beans, According to the American Institute for Cancer Research recommends eating a serving of whole grains (or beans) at every single meal.
There are sooo many options for meals and snacks with healthy whole grains in them, such as:
Oatmeal (either cooked or overnight oats)
Add barley, quinoa, rice, or another whole small grain to soups or stews
Cook the grain (like the above example) and serve as part of a dish or bowl, such as with curry or in a buddha bowl
Sandwiches (pb&j, veggie sandwich, etc)
Veggie burger with whole wheat buns
Add quinoa to a salad or a wrap with veggies
Homemade bread
Homemade muffins
Oatmeal cups (baked with fruit on top!)
Mini veggie pizzas (with english muffins)
Whole grain bagel with avocado, tomato, and garlic powder
Honestly, I could go on and on and on, but that should get you started!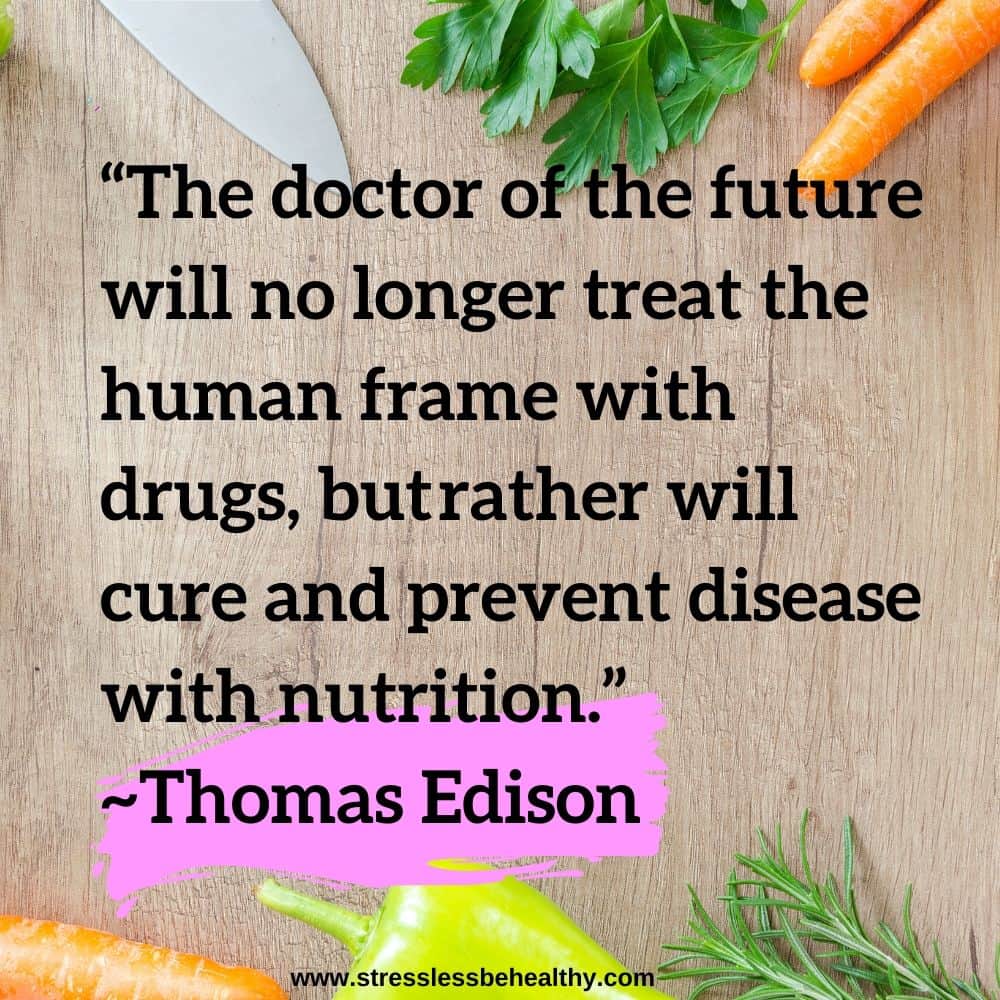 Summary: List of Nutritious Foods to Eat Every Day
If you're new to this healthy eating thing, then the information above may have been a little overwhelming. But, just remember that you don't have to change your whole diet around overnight.
Start implementing one change at a time. Add in one more serving of beans, or another serving of greens, and so on each day. And while you are adding the healthy food in, you'll barely notice the unhealthy food not fitting into your diet, day in and day out!
Here are the recommended foods to eat each day, again, along with the recommended amount of servings according to Dr. Greger:
3 servings of beans
1 serving of berries
3 servings of other fruit
1 serving of cruciferous veggies
2 servings of greens
2 servings of other veggies
1 serving of flaxseeds
1 serving of nuts
1 serving of herbs and spices (including ¼ tsp of turmeric)
3 servings of whole grains
Don't forget to download this app for an easy way to keep track of your healthy eating!! (It has check boxes for the above list!) (Download HERE for android.)
If you're curious why the app is called the DailyDozen, the other 2 categories for the 'DailyDozen' are for water (and other drinks) and exercise. So, it's really 11 foods to eat daily plus exercise!
Want to Remember This? Pin The Top 10 Foods to Eat Daily for Better Health to your favorite Pinterest Board!!